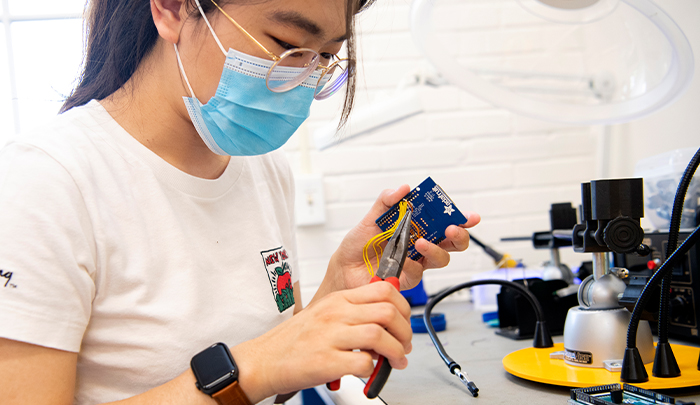 Make Room for Women
Engineering makerspaces are often filled with men. How can we ensure women are welcomed?
By Megan Tomko, Melissa W. Alemán, Wendy C. Newstetter, Robert L. Nagel, and Julie S. Linsey

Makerspaces are touted to be open, collaborative learning environments. However, researchers are finding that women may not equally engage in them. Given the need to increase the numbers of women in engineering and the potential for makerspaces in learning, it is essential to investigate the pathways women take into makerspaces, including both the barriers that inhibit participation and the catalysts that broaden it.
Societal messaging often depicts tools and making as masculine and arts and crafts as feminine. Prior research has shown that the associations of men with makerspaces and the dominant male presence in them can cause women to avoid makerspaces altogether. If they do enter, women's lack of prior experience or assumed lower competence may lead the men to view them as less legitimate. Our research employed qualitative interviews with 20 women students identified as makers; these women repeatedly mentioned lifelong instances of sexism related to making, makerspaces, and STEM culture. Despite the gender biases that at times result in demeaning encounters, empowering experiences in the makerspace provide women with support and respect that validates their work.
Several of our participants cited as catalysts their design classes, which require prototyping and makerspace use. After taking a design course, one woman started using the makerspace on her own. Then, during her capstone class, she spent "133 hours of the 150 hours leading up to expo" in the basement makerspace. "I literally lived there," she reported. Her immersion in the space throughout college led her to feel that "all the things I am most proud of that I did at [my university] were because I used these makerspaces."
The desire to create objects that others would enjoy was another common catalyst for many of the women we interviewed—for example, one woman designed and 3-D-printed a cake for a friend whose birthday she couldn't celebrate in person.
Friends and campus jobs can also help women engage with makerspace equipment and gain the "self-confidence to be the expert," as one woman referred to herself. As women take on more responsibility in the makerspace, they gain respect from peers, faculty, and staff and confidence, which helps to further their investment and enjoyment. If women maker-mentors are visible in these spaces, women on the fringes, curious but intimidated, are better able to see the potential opportunities.
Our research suggests that a single intervention is inadequate for opening doors for women to participate in makerspaces. Intersecting factors such as family, friends, and on-campus makerspaces, if connected and coordinated in a more coherent and supportive fashion, create on-ramps at different times into the maker movement. Diverse pathways demonstrate that people can bring little or no background in making but still become members of the maker community and build a repertoire of skills.
Future research must continue to examine the nuanced experiences of Black, Indigenous, and other women of color in makerspaces, particularly at predominantly White institutions such as the ones we studied.
To challenge the dominant narrative of making as a White masculine activity, a multipronged approach must support early life making experiences, legitimize arts and crafts as important contributions, and create opportunities for leadership in makerspaces at both the K–12 and university levels.
Megan Tomko graduated with her Ph.D. from Georgia Institute of Technology's George Woodruff School of Mechanical Engineering, where Julie S. Linsey is a professor. Wendy C. Newstetter is the retired assistant dean for educational research and innovation in Georgia Tech's College of Engineering. Melissa W. Alemán is a professor in the School of Communication Studies at James Madison University, where Robert L. Nagel is an associate professor in the Department of Engineering and the director of JMU's Center for Innovation in Engineering Education.
This article is adapted from "Participation Pathways for Women Into University Makerspaces" in the July 2021 issue of the Journal of Engineering Education. Read it at https://doi.org/10.1002/jee.20402.
© Getty Images / Alexander Da Silva