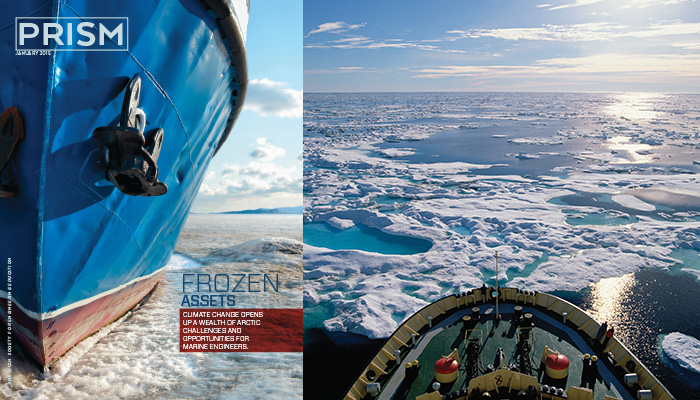 From melting polar ice to savage storms, the shifting global climate inspires new research  – and opportunities – in naval engineering.
On September 19, 2014, a 189-meter Canadian-owned cargo ship named Nunavik left Deception Bay in northern Quebec, carrying more than 23,900 metric tons of nickel concentrate. Twenty-five days later it sailed into the Chinese port of Bayuquan after a voyage that for centuries would have seemed impossible: an unescorted transit of the fabled Northwest Passage.
The Arctic's opening is one of the effects of climate change spurring new interest and research at several leading schools of naval engineering – an interest shared by ship operators, oil companies, and cruise lines, and by national navies and coast guards. All are affected by a new Polar Code that is scheduled to take effect at the beginning of 2017. The international agreement covers everything from crew training to ship design to protecting the environment in the frigid waters surrounding the Poles. And those seas could become more navigable: The latest Arctic Report Card released by the National Oceanic and Atmospheric Administration last month found sea and air temperatures rising faster there than in the rest of the globe, potentially affecting global security and commerce along with the environment.
"I think our students are having conversations that are long overdue in our national policymaking circles," says Michael S. Bruno, dean of the Schaefer School of Engineering and Science at the Stevens Institute of Technology, the lead institution in the U.S. Department of Homeland Security's Center for Maritime, Island, and Remote and Extreme Environment Security. "Do we need at least ice-hardened vessels, containerships? Do we in the United States need more U.S.-built and U.S.-manned icebreakers?" He foresees "significant potential changes coming in the next 10 years" as vessel owners and operators make decisions about routes and ship design.
Right now, however, there are crucial gaps in our knowledge about the Arctic. "We're not where we want to be in terms of forecasting ice formation, ice breakup, ice floe movement – that's a challenge," says Bruno. And it's hard to overestimate the difficulties of operating in a hostile environment. "People know there's ice there, but a lot of people forget that it's dark there for six months," cautions Bruno, noting how difficult it was to find and clean up oil in the warm, sunny Gulf of Mexico after the Deepwater Horizon blowout. "Imagine doing those operations in water that is at least partially covered in ice and in the dark! Those are the kind of things that keep people awake at night."
Eye of the Storm
As it happens, the Stevens Institute has firsthand knowledge of extreme conditions that climate change could exacerbate. Located in Hoboken, New Jersey, the school held a key card in efforts to minimize damage as Hurricane Sandy swept into New York Harbor in 2012: a robust history of graduate research in ocean observations and forecasting, and in coastal dynamics. "We played a major role in assisting NOAA in their forecast of the surge" and helped Hoboken with "evacuation and preparations," Bruno says.
Alan F. Blumberg, director of Stevens' Center for Marine Systems, made headlines recently with suggestions for fending off the next big storm, ranging from dropping wave- or wind-powered pumps in its path to cool the water ("The TV stations love it!" he says) to building long, slender islands off the coast to break the onslaught. "I'm all about predicting how much water's going to come in front of your house and then trying to figure out how to reroute it," explains Blumberg.
Another New York-area school, Webb Institute, on Long Island, has seen significant student interest in designing vessels for the Arctic. (The school offers just one program, a double major in naval architecture and marine engineering.) Rick Neilson, Webb's dean, says he and another professor recently felt the need to talk a group of students out of picking an Arctic oil production platform as their third-year design project. "A production platform itself is a complex animal; combining it with being in the Arctic makes it even more complex," explains Neilson. Instead, he says, the faculty suggested building an "Arctic floatel" – a vessel that could house crews coming to work on drilling platforms, serve as a resupply base, or provide a series of functions. One plus: The students had to deal with ice loads, which are not part of the regular naval architecture curriculum. "I've already talked to the juniors about next semester, and they're starting to zero in on their projects," recounts Neilson. "One of them will be an icebreaker."
In close competition with the Arctic for Webb students' attention is another development affecting seaborne commerce, and one that could undercut the allure of polar transits: the widening of the Panama Canal to accommodate supersize vessels. That huge engineering project itself sits at the intersection of shipping and climate change: By eliminating the need for Asian products to traverse North America by truck or rail, the canal could contribute to a net reduction in greenhouse gas emissions. However, the droughts and storms anticipated as a result of a warming climate may affect water levels along the passage, stalling ship traffic.
For years, Webb's senior design project has been a "Panamax" containership, its dimensions tailored to fit the old canal. This year's designs will fit the widened Panama Canal – "an acknowledgment that the world has changed a little bit," says Neilson. There's a downside, of course. The old size, says Neilson, came with "the extra thrill of stability issues." The new dimension "makes the stability problem less, which is not what we want. But I don't want the students to hear me say that."
Capstone Designs
The shipping challenges presented by polar ice occupy a special place for seniors at the U.S. Coast Guard Academy in New London, Connecticut. Cmdr. Thomas DeNucci, who teaches ship design, cut his teeth on icebreakers. His first assignment after graduating from the academy in 1998 was in New Orleans, where the icebreaker USCGC Healy was under construction. He sailed aboard Healy for three and a half years, and then worked in Seattle in support of the Coast Guard's aging fleet of polar icebreakers.
Because the Coast Guard's mandate extends to both national security and commercial missions, the academy typically asks half its cadets to work on projects involving Coast Guard vessels for their senior design course. The other half focuses on commercial vessels. This academic year, "we have the commercial team designing what we call an Arctic multipurpose support vessel," DeNucci says. "That's a mouthful, but it describes what we're really getting at," he adds, ticking off possible functions from vessel escort to personnel transport, cruise-ship support, pollution response, towing, and ice management.
The concept mirrors developments in the shipbuilding industry. In 2012, Louisiana-based Edison Chouest Offshore built a 110-meter ice-class vessel, Aiviq, to support Shell's $4.5 billion bid to drill for oil in the Beaufort and Chukchi seas. Designed for multiple missions, including handling anchors, towing, firefighting, light ice management, and personnel support, it even has a small hospital unit. The project went astray that New Year's Eve, however, when the drill rig Kulluk ran aground as the support fleet was retreating to its winter home in Alaska.
Alaska is also the home of Sikuliaq, an 80-meter ice-strengthened vessel that at the end of 2014 was heading to its homeport of Seward, where the School of Fisheries and Ocean Sciences at the University of Alaska Fairbanks will operate it as an oceanographic research ship for the National Science Foundation.
Watching Arctic research closely is James Bond, director of shared technology at the American Bureau of Shipping (ABS), one of several classification societies around the world that set standards for vessels and equipment and check that shipyards and operators are following the rules – an oversight role on which all marine insurance depends. In 2009, ABS set up a Harsh Environment Technology Center at Memorial University in Newfoundland to support applied research on vessels and structures operating in ice-covered waters, low-temperature environments, and severe winds and waves.
Burning Questions
Driving the surge in harsh-climate marine engineering is the abundance of untapped natural resources that lie under the icy polar seas. Though just 6 percent of the Earth's surface, the Arctic could hold some 13 percent of the entire planet's undiscovered oil reserves and 30 percent of its undiscovered natural gas — 84 percent of which is offshore, according to a 2008 estimate by the U.S. Geological Survey. As oil and gas exploration ventures into deeper water and more extreme environments, notes ABS, the industry must develop new ice forecasting and management solutions to ensure safe operations of its floating structures. Already, technologies are under development to model the performance of ice breakers under different conditions and maneuvers.
Bond, who is based in Houston, sits on one of the panels at the International Maritime Organization (IMO) that developed the Polar Code. In recent industry magazine articles, he has scoped out the need for research in a number of critical areas. They include the physics of ice-vessel interaction, such as how a moored drill ship can stay on station amid drifting ice; ice-load predictions and breaking, clearing, or towing ice near installations; mooring technologies for disconnecting and reconnecting units in ice-infested waters; winterization; corrosion; and designing vessels for remote Arctic locations that have greater capacity for stores, fuel, and spare parts.
Take just one practical problem: how to set a safe design service temperature for operating a crane at 30 degrees below zero.
"Temperature is not as straightforward as you might think," Bond explained in an interview. "A lot of the design service rules out there right now statistically use the mean daily average temperature. We're pushing a change to use the mean daily low temperature. Practically nobody ever thinks about the average temperature during the day; they either think of the high or the low."
Things then get "even more tricky. If we say it's going to be minus 35, the question is, how long is it going to be minus 35? Because if it's only going to be minus 35 for three hours, then maybe there's just some things you don't do during those three hours. If your certification point for a crane is minus 30, maybe you just don't use the crane if it gets lower than that."
Bond contends more research is needed into polar ice, which extends from the shoreline out, and then comes up against the permanent pack. "It's rotating and they're grinding against each other, and they're making all kinds of nasty features for transits," he says. Moreover, ice loss isn't linear: The year 2012 marked an extreme low for the amount of ice in the Arctic, generating headlines. "There is definitely a trend – but 2012 looks like it may have been an anomaly," cautions Bond.
ABS has a double interest in supporting university research. One is outreach: In 2014, it brought aboard 40 recent graduates in naval architecture. It's also interested in filling in gaps in data. At the University of Michigan, for example, ABS is supporting work in such areas as computational fluid dynamics and robotic vehicles for underwater hull inspection.
Interest in Arctic shipping is leading to new research collaborations. At Newfoundland's Memorial University, for example, engineering Ph.D. students like Doug Smith are researching how to make seas safer at the top of the world through a recently launched four-school consortium sponsored by Lloyd's Register Foundation. The Joint Center of Excellence for Arctic Shipping and Operations includes Finland's Aalto University, the University of Helsinki, and the Norwegian University of Science and Technology. Beyond being able to conduct important research, students can spend time at a partner school and establish their professional network.
While the melting Northwest Passage is a powerful example of both the effects of climate change and the engineering opportunities opening up as a result, it's just one element of a broader environmental outlook at naval engineering schools. A Michigan freshman design-build course features not only an underwater robot but guest lectures on life-cycle assessment. Matthew Collette, an assistant professor of naval engineering, says the lesson is "basically environmental impact assessment, and carbon is a big part of that."
The struggle to reduce emissions is having a huge impact on the marine industry – the port of Long Beach has led the way in the United States on mitigating pollution from vessels' smokestacks. Collette, who is also founding director of Michigan's Marine Structures Design Lab, says students are looking for alternatives to diesel, such as liquefied natural gas. Like the Coast Guard Academy's DeNucci, Collette also finds increased interest in the Arctic among students working on capstone projects. Two or three have looked at intervention, maintenance, and repair vessels for oil wells, he says, "and I've had one LNG tanker designed to exploit the passage over Siberia from the Russian Arctic to Japan."
Arctic shipping promises to keep students, researchers, and designers occupied for years to come, if the Nunavik's progress is any indication. The powerful icebreaker will ply the Canadian Arctic year round, hauling nickel concentrate from a Deception Bay mine to Europe and returning with equipment and fuel.
By Peter Meredith
Freelance writer and editor Peter Meredith has more than 30 years' experience writing about shipbuilding and maritime affairs.
Design by Nicola Nittoli