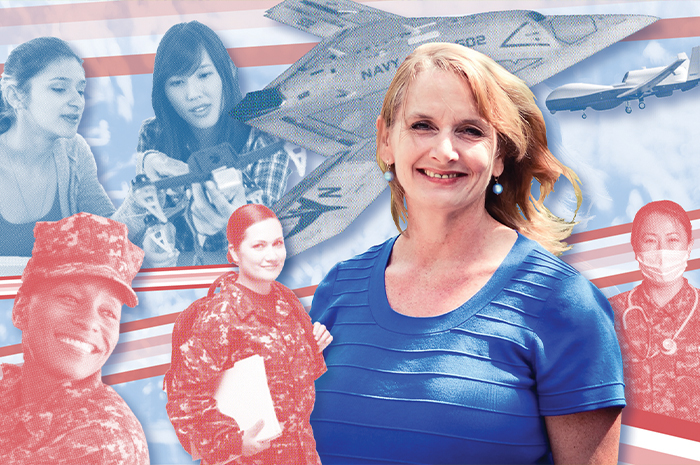 Fight and Flight
A Navy fighter pilot turned educator has spent her career standing up to sexism, helping to create a world in which her students might not have to.
By Jennifer Pocock
Missy Cummings is a warrior. She's long had to be one. From her professional start as a Navy fighter pilot—one of the first in the service—to her Ph.D. and professorship in engineering, to the cutthroat environment of Silicon Valley, she has battled for acceptance in hyper-male-dominated spaces.
When she entered the U.S. Naval Academy in the mid-1980s, Cummings didn't know what she wanted to be; she just knew that she liked solving problems. She earned her B.S. in mathematics in 1988 and her M.S. in space systems engineering from the Naval Postgraduate School in 1994. After graduation, the timing seemed perfect to pursue her love for flying: Women had finally been cleared for aviation combat positions in 1993.
Fighter pilots face years of grueling training and testing to reach their elite positions, preparing to withstand crushing gravitational forces while making split-second life-or-death decisions. So after surviving the rigors of flight school, the F/A-18 pilot expected to be accepted as an equal among her peers. Instead, Cummings received a shock on the first day she joined her squadron. Excited to participate in a military golf tournament and build camaraderie, she and a younger female officer were instead told to drive the beer cart—wearing Hooters Girl costumes.
"I flat out refused," Cummings wrote in her 1999 memoir, The Hornet's Nest. "I was a senior lieutenant here to fly fighter aircraft, not thrust my breasts into the faces of my peers." In the end, a junior male officer was directed to wear the costume and serve the drinks. Still, "I was shocked at how poorly my peers treated me," she wrote, "even knowing I was a pilot just like them."
Cummings left the Navy in 1999. "There was too much turmoil over the role of women in combat, and the guys that I flew with did not want me there," she says. "I wanted to do something more positive that gives back to society." She earned her Ph.D. in systems engineering from the University of Virginia in 2004. As a professor and the director of Duke University's Humans and Autonomy Lab, Cummings now studies autonomous vehicles, from drones to self-driving cars.
Her current focus: investigating the line between a novice and an expert. Can math and artificial intelligence help pinpoint when someone becomes the latter? Is the switch due to a discrete trigger or continuous improvement? The answers could help engineers decide when driverless cars are road-worthy, as well as train a new cadre of people to direct fleets of the vehicles—much like air traffic controllers.
Cummings's research was inspired by her years as a pilot, observing the "man-machine interface." She knows firsthand the computer's importance—such as when an airplane's systems correct for equipment failures—but also the part human creativity plays in emergencies, as when Chesley "Sully" Sullenberger III landed a plane full of passengers in the Hudson River.
The engineer is currently at the forefront of the self-driving car debate, arguing, in defiance of corporations' assertions, that the technology is not yet ready for launch. In 2019, the Advocates for Highway and Auto Safety named her a "Highway Safety Hero."
But Cummings's need to fight sexism didn't end with her military career. She understands why so many pilots are aggressive, she says, "because you can't go into battle with anything other than ridiculous overconfidence." But you shouldn't need to go into Silicon Valley "with a knife between your teeth."
Nonetheless, she prepares her students—especially the women. "I teach them the most important thing is to be outstanding. Because even if you're outstanding as a woman, you'll only be seen as average by everyone else."
The professor describes herself as a "bull in a china shop" in pushing back against discrimination. She was well prepared by her combat training.
Jennifer Pocock is associate editor of Prism.
© Duke University/U.S. Navy/Francis Igot