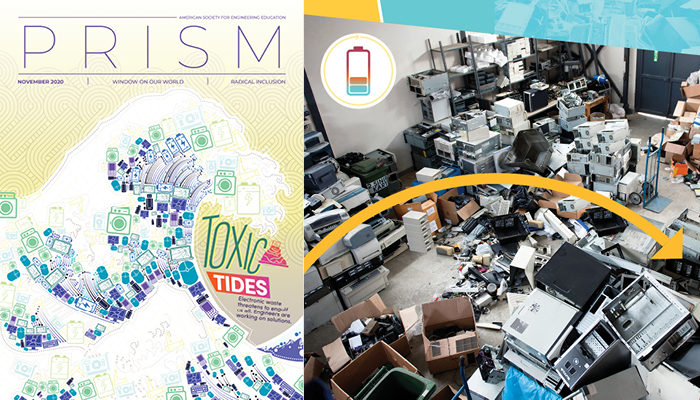 Engineers are exploring novel recycling methods to keep communities from drowning in a toxic tsunami of cast-off electronics.
By Thomas K. Grose
As director of the University of Maryland's Center for Advanced Life Cycle Engineering, mechanical engineer Michael Pecht devotes a portion of his time to investigating an emerging global epidemic: electronic waste, or e-waste. Last year, his group placed GPS tracking tags on old computers about to be picked up for recycling. None ever made it to the facility. Some were shipped to Spain, others to Florida. The little lie detectors even revealed one load that got dumped on the roadside near a truck stop. "They were paid to recycle but they didn't," laments Pecht, who says that making money on e-waste recycling is so difficult that many operators just ship the junk somewhere else and hope the problem gets resolved. "They just try to not get it into local landfills" to avoid detection, he concludes.
Behold the dark side of the digital age. In what is often hailed as the Third Industrial Revolution, the world's electronically turbocharged economies have opened up entire new fields, expanded opportunities, and enabled everyone from CEOs to schoolkids to safely work remotely and engage with each other and their governments. But as demand for faster, more capable, and sleeker devices has ballooned, so has the toxic mountain of obsolete desktops, cellphones, household appliances, and other e-waste. Although these discards contain valuable metals, including gold, silver, and copper—one global estimate puts the value of those materials at $62.5 billion a year, if recovered—just 20 percent of e-waste is recycled. And that official estimate may be vastly overstated, given Pecht's findings.
A variety of factors have exacerbated the e-waste problem. Chief among them: the paucity of profits in recycling products that essentially encase traces of precious materials in reams of worthless plastic. Other hurdles include recycling technologies that are energy-intensive as well as costly; designs that make it hard to disassemble scrapped electronic goods; few viable systems in place for the collection and shipment of e-junk; a lack of clear, robust regulations that either require or encourage recycling; and a dearth of research funding. In short, this burgeoning worldwide challenge begs for engineered solutions.
A small but growing cadre of researchers is taking aim at the e-waste beast. For example, Ah-Hyung (Alissa) Park, an associate professor of chemical engineering at Columbia University, is in the middle of a National Science Foundation–funded study to develop an environmentally sustainable technology that uses safer solvents to recover valuable metals and chemicals from electronic waste, including cellphones and PCs. Meanwhile, this past August, engineers at the State University of New York–Buffalo and the University of Florida received NSF grants totaling $3 million to investigate the use of robots to help humans disassemble discarded electronic goods for easier remanufacturing or recycling. Many computer manufacturers, including Dell, Apple, and Lenovo, encourage consumers to return their used computers and have instituted refurbishing, donation, and recycling programs. And engineers at Britain's University of Birmingham have developed and commercialized a process that uses hydrogen to pulverize the magnets in computer hard drives and other appliances. The powder allows for easier harvesting of a key rare-earth metal needed to produce the magnets: neodymium. China dominates the supply chain of this scarce element, so recovered material can be used domestically to make magnets for products ranging from electric vehicles (EVs) to headphones and wind turbines.
Tough Sell
Despite the magnitude of the e-trash problem, investments in solutions remain surprisingly meager. Since 2012, for instance, NSF has funded just seven engineering research projects focused on reducing e-waste, totaling $7.9 million. That averages out to less than $1 million a year—pocket change for an agency that devotes nearly $1 billion annually to engineering research.
"Everything comes down to money," underscores Maryland's Pecht, noting that NSF "has too many other priorities" and therefore isn't "thinking about this." Industrial engineer Nabil Nasr, director of the Golisano Institute for Sustainability at Rochester Institute of Technology, also laments the lack of research funding. "We invest in a lot of new materials and technologies, but far less in these issues," he says. For e-waste recycling to work, he adds, there must be "ways to do it effectively, economically—so technology is a major factor." Another reason for the lack of urgency, contends Nirupam Aich, an assistant professor of civil, structural, and environmental engineering at SUNY Buffalo, is that e-junk is piling up mainly in developing countries, not here, so domestic funders "tend to lose interest."
Company-sponsored research efforts also are rare, says Pecht. Though the recycling industry sometimes shows interest in funding initiatives, he adds, most corporate investors want returns of $10 for every $1 they put in. "When we say, 'we can't guarantee that,' they lose interest," explains Pecht. "I'm a good marketer, but it's really tough. My team works on this part-time on the side because we think it's a moral issue."
Fueling his team's sense of urgency is the sheer volume of e-waste—defined as any product with an electric plug, cord, or battery pack. Almost 55 million tons of tossed desktops, cellphones, TVs, and household appliances littered the world in 2018, according to a recent United Nations study. That total could hit 132 million tons by 2050 unless more is done to stanch the flow. The outlook is grim: Since 2014, the amount of e-rubbish has increased by 10 million tons annually, compared with a yearly jump of just 2 million tons for recycled components. Because a lot of e-waste is toxic, there is a human and environmental imperative as well. The UN report notes that discarded electronics make up just 2 percent of the world's solid-waste stream but account for around 70 percent of the hazardous scraps in landfills.
The burden falls heaviest on developing countries like India, Vietnam, Mexico, Nigeria, and Egypt, where most of the world's unprocessed e-trash ends up. Research involving Buffalo's Aich determined that 60 percent to 90 percent of the world's e-waste flows illegally from high-income countries to low- and medium-income nations. Some gets recycled locally in an ad hoc fashion—often by women and children who burn off the plastics to extract the prized metals, risking exposure to carcinogenic smoke and metals released by the fire.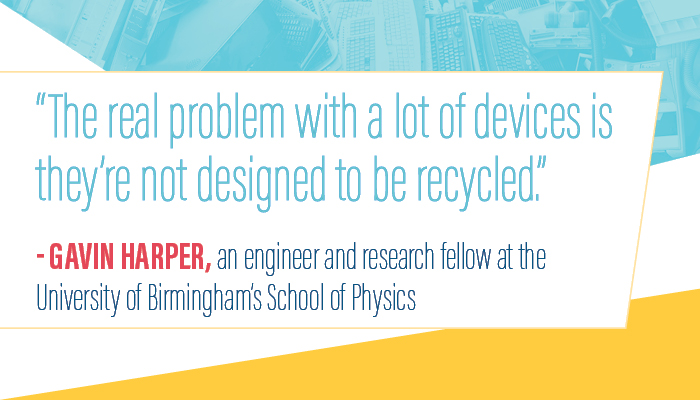 Sifting Through the Dross
For engineers, designing efficient recycling systems is particularly challenging because electronic products contain mere kernels of gold or other desirable material packed in a sea of dross. Pecht discovered as much on a visit this past January to the world's largest e-waste recycling facility: the recently opened $5.9 million Recycling Hub in Dubai. The 280,000-square-foot plant, operated by EnviroServ of South Africa, has the capacity to recycle 40,000 tons of junked electronics a year. Of the products sent there, Pecht estimates, most were 90 percent plastic, 9.99 percent glass, and only .01 percent valuable metals. The glass is an unwanted headache, he adds: "It kind of eats up their machinery." The facility relies on a two-step process. First, a low-tech method is used to crush items to the greatest extent possible. Next, high-tech systems separate out the useful metals. It's an expensive undertaking, and Pecht doubts that the hub turns a profit from recycling but rather from remanufacturing products and selling them to consumers in developing countries.
Another way that engineers hope to get a handle on e-waste is by considering a product's entire life cycle from the outset. "The real problem with a lot of devices is they're not designed to be recycled," says Gavin Harper, an engineer and research fellow at the University of Birmingham's School of Physics and a key investigator on a government-backed EV battery recycling project. He points out, for example, that it was easy to remove the batteries from early iterations of cellphones. But today's versions are slimmer, tougher, and waterproof, with batteries housed in thin plastic sacks that are glued to the base. That makes smartphones more consumer-friendly, Harper says, "but from an environmental perspective, we've taken a step backwards."
RIT's Nasr agrees that there are "a lot of competing objectives" in designing electrical products. But he cautions that many engineers don't know what's needed to optimize designs for either recycling or remanufacturing. "The challenge is, do they have the right information to design to meet those needs?" he asks. "Designers need more and clear guidance."
So do industry and the public. A 2016 paper coauthored by Ozlem Ergun, a professor of mechanical and industrial engineering at Northeastern University, found that many state regulations requiring manufacturers to pay for and organize e-waste recycling are full of loopholes. A New York law, for instance, allows manufacturers to set up free mail-back programs that tend to work for smaller gadgets but often stick local municipalities with disposing of larger items like TVs and monitors, which are particularly hard to recycle. An Argonne National Laboratory study found that half the cost of recycling comes from collecting, pretreating, and sending e-waste to recyclers.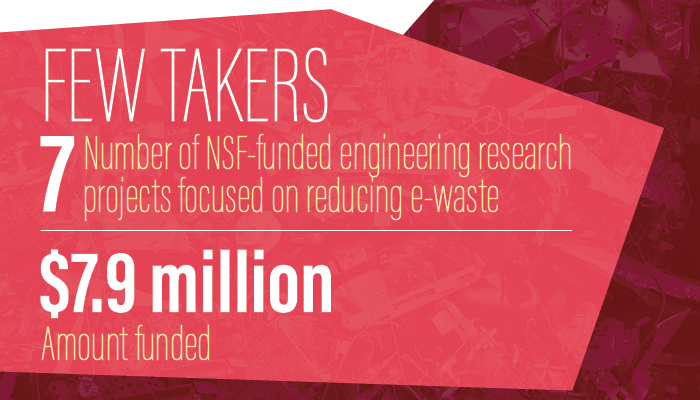 Bright Spots
One area attracting a fair amount of attention—and funding—involves repurposing spent lithium-ion batteries used in EVs, including hybrids. Though still a niche market, electric cars have seen their popularity surge in recent years with climate concerns on the rise and the introduction of the Tesla and other high-performance models. One forecast estimates half of all cars sold globally by 2050 will be EVs. That time frame gives researchers a chance to get ahead of the curve and figure out what to do with old batteries before they clog landfills.
Investigators are zeroing in on two areas: finding ways to profitably recycle used EV power packs or giving them second lives as alternative-energy storage. Last year, the U.S. Department of Energy took a major first step with the launch of the ReCell Center, a $15 million lithium-ion battery recycling and R&D facility housed at the Argonne National Laboratory. The project involves some 50 researchers from six national labs, the battery and automotive industries, and several universities—including Worcester Polytechnic Institute, the University of California–San Diego, and Michigan Technological University. Their quest: design and recycle lithium-ion batteries and seed a competitive, profitable industry that can recover valuable materials from spent power packs. While the ReCell Center's primary focus is EVs, lithium-ion batteries also fuel many of the latest laptops and other gadgets, so the project could help curb other future e-waste streams.
The British government also is funding research to make EV battery recycling easier and more cost-effective through the Reuse and Recycling of Lithium Ion Batteries (ReLiB) project. Based at the University of Birmingham, the effort includes 50 engineers and scientists at eight universities and 14 industrial partners. Meanwhile, last August, NSF awarded $3.25 million to University of Illinois researchers to come up with ways to design and manufacture lithium-ion batteries so that they're easier and cheaper to recycle.
Because they're big and expensive, EV batteries offer more of an incentive for manufacturers to collect and recycle or repurpose them. By contrast, consumers tend to "toss into drawers" their outmoded or broken electronic gadgets, says Jeff Spangenberger, director of DOE's ReCell project. Because the tiny power packs are "hard to get back," he notes, "there's not much money" in trying to recycle them. "That's going to change with vehicle batteries—you can't just hide them in your office drawer and forget about them."
Sales of EVs began around a decade ago, with the first wave of EV batteries now hitting retirement age. Spangenberger anticipates those power packs eventually will be collected and recycled, particularly in the United States, where used EV batteries are the responsibility of carmakers while the vehicle is under warranty. After that, it becomes the owner's responsibility. "If there is value in that battery, then everybody is going to want to recycle it," predicts Spangenberger. "If it's a liability, it's going to be a hot potato. ReCell is trying to make sure it's a profitable venture." The center estimates that reusing critical materials from spent power packs could cut battery-production costs 10 to 30 percent.
Tapping leftover energy is another potentially profitable pursuit. EV lithium-ion batteries still pack a punch after they're no longer fit for motoring—typically after losing 20 percent of their capacity, which diminishes a car's range and acceleration. The remaining 80 percent could be put to a variety of uses, from providing storage at solar energy plants to powering fast-charging stations for EVs. A secondhand market may appeal to automakers since it solves their disposal problem while generating an additional revenue stream. Researchers led by Ian Mathews, an electrical engineering postdoctoral fellow at MIT's Photovoltaics Research Laboratory, explained in a paper published last May that old EV batteries could provide a decade of profitable backup storage at grid-scale solar installations. Consulting firm McKinsey & Company recently reported that repurposed batteries could meet as much as half the demand for backup storage as renewable energy facilities grow.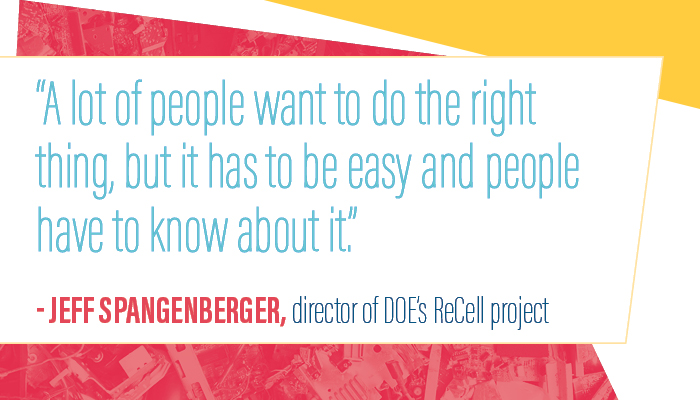 Hurdles Ahead
Before that happens, however, engineers must resolve several crucial technical issues. Among them: how to combine EV batteries from various manufacturers so they perform well together in power grids. What's more, all those energy-storage batteries eventually will run out of juice and require recycling.
Researchers are already on the case. Current EV battery recycling technologies consume a lot of energy and are inefficient. Consider pyrometallurgical recovery—or smelting components in a furnace. Not only are energy costs high but the process releases toxic gases that must be captured. While some valuable metals are recovered, the technique ruins the structure of the cathode and turns some materials into an impenetrable slag. "It destroys a lot of the value of the batteries," contends Birmingham's Harper. The other go-to method, hydrometallurgical reclamation, involves soaking batteries in aqueous solutions that leach the metals from cathodes via precipitation reaction. The slow, costly process requires huge volumes of solution and likewise destroys the cathode structure, further eroding value. "If you use technologies which break down cathodes to raw materials, you have to make it back into cathodes," explains Spangenberger. That means the recoverable value is half what could be realized with an intact cathode.
Such drawbacks are one reason ReCell has focused on a method called direct recycling, which recovers the cathode largely unscathed. Those recovered batteries then need a fresh injection of lithium before they can function again. ReCell has five research projects underway to explore ways to replenish cathodes, including an electrochemical method and an ional-thermal technology.
No matter the recycling technique, batteries first must be taken apart—and that's a key element of the ReLiB project. "Half of our research is on how best to disassemble batteries, which is now very labor-intensive and hands-on, so we're looking at robotics, artificial intelligence, and automated disassembly," Harper says. Automating the disassembly process would not only eliminate risk to human workers but also do a better job of separating components. Since robots mostly do fixed, repetitive tasks, researchers have concentrated on programming them for more complex, unstructured tasks.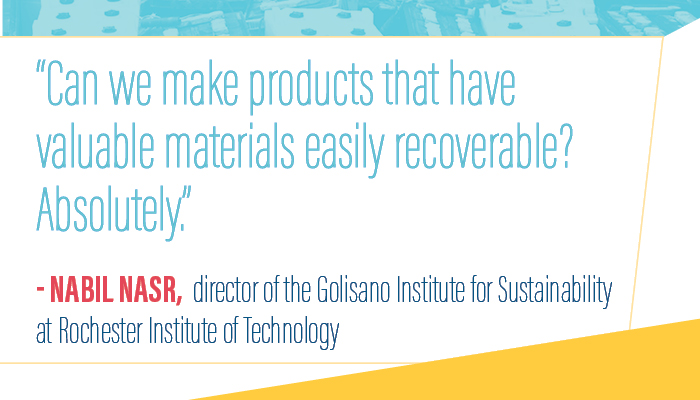 Design for Life Span
Rather than attacking the problem at the back end, why not fix it at the blueprint stage? Both ReCell and ReLiB are investigating ways to design batteries from the outset for trouble-free recycling when they run out of juice. Researchers are looking, for instance, to introduce more standardization into battery designs, which could drive down manufacturing costs while also making disassembly easier. "As time goes by there will be some commonalities," predicts ReCell's Spangenberger, "just like a lot of vehicles on the road today share a lot of common parts."
Despite their research focus on EV batteries, both Harper and Spangenberger see profitable applications of technologies now under development to recycling consumer-electronics batteries, too. "There's a lot of cobalt there," Spangenberger notes. A public education program could help, he adds. "A lot of people want to do the right thing, but it has to be easy and people have to know about it." Manufacturers and consumers alike have another reason to embrace recycling: Most of the metals and minerals in batteries come from overseas, and that has implications for supply, cost, and national security. North America has only one lithium mine, for example, while Chile has the world's largest reserves. "Once these materials are here, we need to keep them here," argues Spangenberger. "We need to recycle them here and manufacture them back into batteries here."
Toward that goal, last year the DOE announced a $5.5 million Lithium-Ion Battery Recycling Prize that challenges competitors to devise novel solutions for the collection, sorting, storing, and transporting of all types of discarded lithium-ion batteries. Dozens of entries made it to Phase II judging, which was slated to wrap up in November. Ideas ranged from the extremely technical—such as Oregon State University and OnTo Technology's proposed use of artificial intelligence to automate a reliable sorting system and improve safety and costs—to the "hyper-local." That's what a community partnership from Newburyport, Mass., called its nonprofit model for sorting lithium-ion batteries dropped off at municipal recycling centers and rebuilding them into battery storage for use in town buildings, streetlights, and traffic signals. The team, which includes the local high school ecology club, proposed sharing its experience through "social media, YouTube videos, wikis, etc. so that this may be done on a much larger scale."
And in September, the DOE's Reducing EMbodied-Energy and Decreasing Emissions (REMADE) Manufacturing Institute announced it was putting $35 million toward research and development that will assist manufacturers to improve the "recovery, recycling, reuse, and remanufacturing of plastics, metals, electronic waste, and fibers."
Such efforts may divert future e-waste streams, but can anything be done to eliminate that trash heap altogether? RIT's Nasr is optimistic. "Can we make products that have valuable materials easily recoverable? Absolutely," he says. "It's a systems issue." Success may hinge on how rapidly government and industries can rev up R&D investment and public awareness. As Pecht's GPS sleuthing revealed, electronic junk is getting shipped everywhere—except the recycling depot.
Thomas K. Grose, Prism's chief correspondent, is based in Great Britain.
Design by Francis Igot