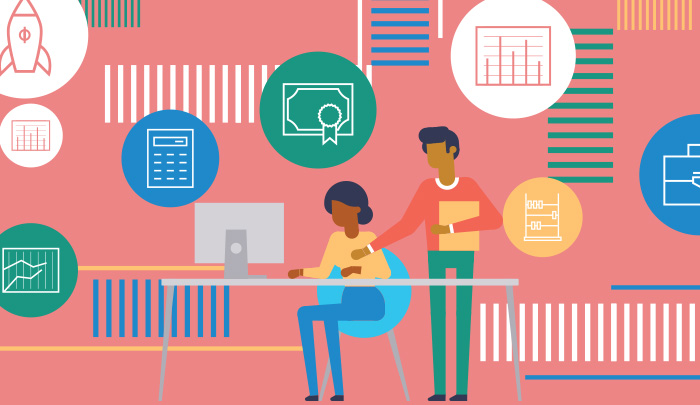 Switching Identities
A new theoretical framework aims to shift the educational perspective from engineers thinking entrepreneurially to identifying as entrepreneurs.
By Russell Korte

"When engineering is charged with identifying unmet needs in the marketplace and leveraging disruptive or high-technology-based designs to fill those unmet needs, then engineering becomes the crux of new market creation, and developing benefit-providing, customer-driven products and processes moves into the fore of the new tools students need to add to their toolboxes" (Timothy J. Kriewall and Kristen Mekemson, 2010, Kern Family Foundation).
One of the new tools needed by engineering students for meeting the charge described above is an entrepreneurial mind-set, which requires that engineers also identify as entrepreneurs. Fostering an entrepreneurial mind-set in engineering education means helping students and faculty develop the attributes of entrepreneurial thinking and behaviors in their work.
Peter B. Robinson, writing in 2010, claimed that across the various definitions of an entrepreneurial mind-set, there was little theoretical grounding. To address this shortcoming, this essay describes social identity theory, which has gained significant traction in psychology and sociology, as a theoretical foundation for understanding and developing an entrepreneurial mind-set. The social identity perspective explains a way of being that goes beyond knowing and doing what entrepreneurs know and do. It is becoming who we are. One's social identity is based on one's affiliation to a group and answers the question, "Who are we?" People bring to the foreground different social identities depending on the group they identify with at a particular time. At different times one might identify as an engineer, faculty member, or entrepreneur; a spouse, parent, veteran, and so on—each encompassing a particular mind-set.
The argument here is that a crucial aspect of developing an entrepreneurial mind-set in engineering students and faculty involves the motivation to identify oneself as an entrepreneur. This assumes that if one will not identify as an entrepreneur, one will not acquire an entrepreneurial mind-set. The formation of an entrepreneurial mind-set is similar to the construction of a social identity and the categorization of oneself with similar others as entrepreneurs.
One of the difficulties in the process of fostering an entrepreneurial mind-set in engineering faculty and students comes from existential differences between the traditional engineering mind-set and an entrepreneurial mind-set. In the case of fostering entrepreneurship in engineering education, there is this natural tendency to resist those aspects of what is perceived as a business-oriented way of doing things when it conflicts with what is perceived to be the engineering way of doing things.
There are several advantages to developing an entrepreneurial mind-set in the 21st century, most of which address the need to develop agility, adaptiveness, creativity, and social impact. Entrepreneurship is inherently a social endeavor, dependent on the beliefs and interactions of a diverse ecosystem of innovators, financial backers, customers, suppliers, policy makers, and so on. Thus, fostering an entrepreneurial mind-set is not simply a matter of helping faculty and students become more innovative, ambitious, or risk-tolerant. It is a more complex task of altering and expanding who we think we are—personally, socially, and professionally. Fortunately, the complex ecosystem that is entrepreneurship has multiple emerging categories that expand the realm of entrepreneurship beyond commercialism and allow for a more diverse range of people to identify as entrepreneurs. Different goals drive different forms of entrepreneurship, such as entrepreneur, intrapreneur, social entrepreneur, and "edupreneur" (educational entrepreneur).
The entrepreneurial spirit can be an effective and necessary means of enhancing individual and societal well-being. It can encompass the best in what it means to be human. In the words of the late Jeff Timmons of Babson College: Entrepreneurship is "not just about new company, capital and job formation, nor innovation, nor creativity, nor breakthroughs. It is also about fostering an ingenious human spirit and improving human kind."
Russell Korte is associate professor of human and organizational learning at George Washington University. This article was adapted from "Identifying as an Entrepreneur: A Social Identity Perspective of the Entrepreneurial Mindset," published in the Fall 2018 Advances in Engineering Education.