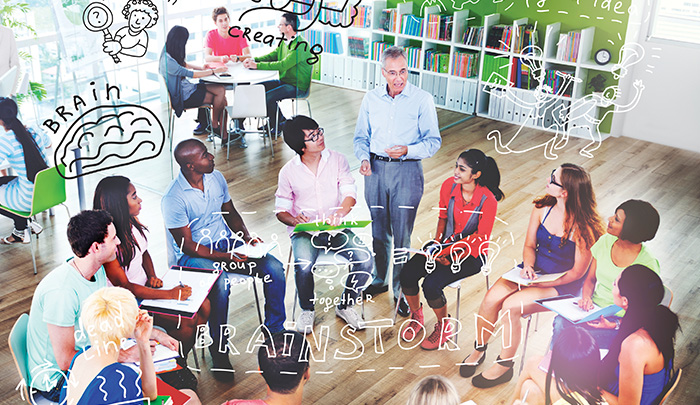 Poetic License
Sonnets, comics, and videos show that teaching creatively can foster students' creativity along with conceptual knowledge—even in core courses like thermodynamics.
By Diana Bairaktarova and Michele Eodice
Over the past 50 years or more, creativity has moved from the narrow definition of "self-expression" to become a prominent concept in learning and teaching. Although many instructors avoid the risks associated with creative assignments and continue to evaluate students using traditional exams, essays, or lab reports, many others are attracted to contemporary views of creative ways of knowing and doing. Engineers have always approached problem solving with a creative energy, sometimes whether they know that or not. So in thinking about how best to develop future engineers, we advocate teaching creatively and teaching to foster creativity.
Thermodynamics is a foundational course in nearly every engineering program. In a traditional classroom, instructors focus on the analysis of thermodynamic energy systems and their application to real-world contexts. Because these complex systems can be difficult to understand, some instructors encourage students to tap into their creative side and translate thermodynamics into a language they can clearly understand. In this study, we assessed the effectiveness of developing a creative project to demonstrate the learning of a thermodynamics concept.
The project was introduced to more than 150 engineering students enrolled in a sophomore level, semester-long, introductory thermodynamics course. Each student submitted an entry, which was an original poem, short story, comic, short movie or video, or other format, that they believed epitomized an important course concept of their choosing. Then in a tournament-style contest, the creative products were presented and winners were chosen. The presentations were high-energy events in rhythms and rhymes, encompassing odes to thermodynamics, comics featuring Batman throwing a punch to demonstrate conservation of mass, and even a board game. The creative entries can be found at http://ouopentextbooks.org/thermodynamics.
Our study focused on the impact of developing a creative product (for example, a poem about the 2nd Law of Thermodynamics) on students' performance on a final exam question related to the creative presentation topic. The results of the study show that the creative assignment made the learning process more visible and measured the learning of thermodynamics in a different way. Students indicated that participation in the contest helped clarify course concepts and increased their appreciation of the Laws of Thermodynamics and the engineering profession. The students also claimed the contest encouraged them to think about the concepts in novel ways and stimulated their creativity.
The study results provide evidence of the benefits of our creative project, suggesting that if students chose a creative medium to present thermodynamics concepts, they attained significantly better scores on the final exam. The full analysis of the data is included in our AEE article. Primarily, we are suggesting that designing assignments that encourage student creativity in learning engineering concepts can potentially strengthen their understanding of fundamental concepts. We recommend that instructors randomly assign students to specific concepts to ensure more diversity in terms of material coverage. We implemented the creative assignment in a traditional classroom, but instructors can assign it in both online and blended courses by utilizing the class website. The flexibility of this type of creative project, coupled with its ease of implementation, makes it an exciting assessment for educators and students in multiple topic areas, across disciplines or class formats.
We advocate for more instructors to value creativity as a way of knowing. Both of us try to teach creatively and also teach to foster creativity. What does that mean for preparing engineers? Solving the well-understood and ill-structured problems that make up the core of engineering thinking would be enhanced by showing an openness to creative approaches. Our time with students is limited, but we all share the goal of teaching them to become adept with diverse peoples and ideas, to collaborate, and to contribute more and better ideas through creative ways of knowing in engineering.
Diana Bairaktarova is an assistant professor in the department of engineering education at Virginia Tech and director of the Abilities, Creativity, and Ethics in Design Lab. Michele Eodice is the associate provost for academic engagement and director of the OU Writing Center at the University of Oklahoma. This article is excerpted from "Thermodynamics in High Rhythms and Rhymes: Creative Ways of Knowing in Engineering," published in the fall 2017 Advances in Engineering Education. Bairaktarova and Eodice are also the editors of the book Creative Ways of Knowing in Engineering (Springer).
Image Courtesy of Thinkstock