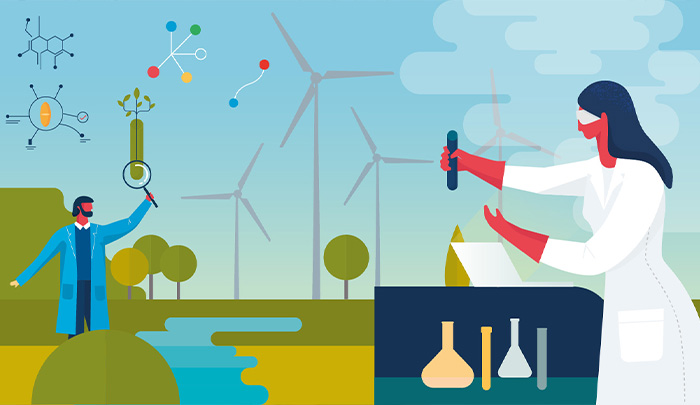 Homegrown Problem Solvers
An innovative service-learning course uses sustainable development goals to engage students in community-based design challenges.
By Jenna L. Mueller

In 2015, the United Nations General Assembly's 193 member states unanimously adopted a blueprint for action aimed at addressing many of the contributors to inequality. Known as the Sustainable Development Goals (SDGs), the 17 interconnected initiatives tackle a broad array of challenges, from eradicating poverty to improving health, increasing access to quality education, promoting gender equality, ensuring affordable and clean energy, and revitalizing global partnerships. This vision for transformative change can guide our response to the deepening inequality seen around the world due to the COVID-19 pandemic.
While there is no one formula or approach to achieve the SDGs, meeting them will require interdisciplinary problem solvers who have the confidence and skills to work within and outside their communities. Engineering design is widely recognized as a field that can generate breakthrough innovations for complex problems, such as those described in the SDGs. Integrating them into curricula thus affords a model for transforming STEM education and broadening participation beyond a few select students. We need to reach learners whose communities cannot offer this type of problem-based instruction—and which are facing the many challenges enumerated in the SDGs.
We created a program called Ignite to teach engineering design to a global community of students. The initial module specifically targeted issues associated with energy poverty in low-income communities. Approximately 2.8 billion people worldwide live without electricity. Energy poverty also disproportionately affects women and girls, primarily due to their larger share of family and household responsibilities. Ignite started in 2014 with the development of a course at Duke University to teach students how to build a flashlight that could be used to perform a variety of tasks, including enabling someone to study at night. The success of the program led to a framework of combining community problems, design thinking, and basic engineering solutions to democratize STEM education to students who live and learn in environments with many constraints. This framework, which we have applied in three countries, also leverages near-peer mentoring in which college students create and teach the curricula in these settings as a service-learning contribution.
To assess the impact of the Ignite program, we recorded the number of students who enrolled in our service-learning course at Duke, the number of student leaders who implemented the educational curriculum in the international community partner sites, and some basic demographic information, including the proportions of male and female students and of engineering and non-engineering majors. We also conducted a series of interviews or focus groups with both our undergraduate and the international students to further evaluate impact.
Since 2014, 110 Duke students have taken our course and 22 of them traveled internationally, collectively teaching 275 students in Kenya, India, and Guatemala. Female students comprised 78 percent of the Duke students who enrolled in our course and 95 percent of the student leaders. Interestingly, 35 percent of the students who took the course and 64 percent of the student leaders were non-engineering majors. The international students who participated in the Ignite program have been predominantly female students between the ages of 14 to 24. Students in Kenya formed an engineering club and taught the curriculum to an additional 52 peers, enabling the curriculum to be sustainable through peer-to-peer instruction. In India, mothers of middle- and elementary-school students participated in Ignite, demonstrating that this program can also be used in adult education. The Guatemalan program, which was geared toward middle- and high-school students, included a component related to student career goals. Ignite is now being scaled up across Guatemala by a foundation in Guatemala City called FUNDEGUA.
The Ignite program continues to grow, change, and expand as engineering design becomes tangible to different communities. The growth of the program and its positive outcomes shed light on the merits of engineering design education for all, particularly those directly impacted by challenges that the SDGs seek to address.
Jenna L. Mueller is an assistant professor of bioengineering at the University of Maryland–College Park. This article was excerpted from "Using Human-Centered Design to Connect Engineering Concepts to Sustainable Development Goals," which appeared in the Summer 2020 issue of Advances in Engineering Education.
© Alexander Da Silva/Getty Images