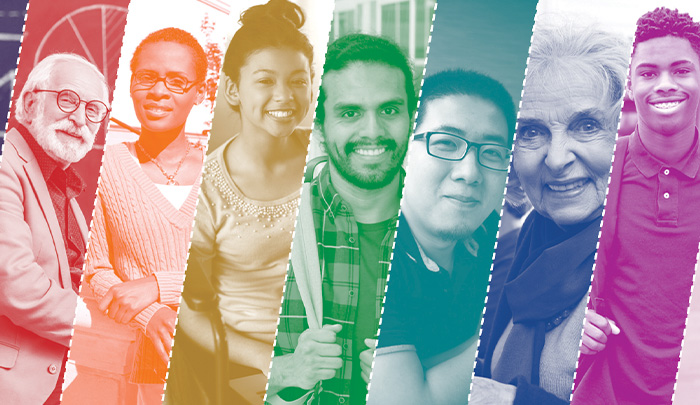 Call It by Its Name
Addressing racism and sexism directly is a necessary first step toward equitable participation in engineering by women and people of color.
By Denise R. Simmons and Susan M. Lord

Supporting diverse students is a critical unsolved issue facing engineering education. As a profession, engineering has not necessarily embraced the value of inclusion. Many challenges for students arise from systemic problems in engineering education that are difficult to identify and even more difficult to address since they require changing the system. Students also continue to experience structural barriers—specifically racism and sexism—which helps explain the persistently low representation of white women and people of color in engineering.
To prepare 21st century engineers, universities must creatively design programs with depth in engineering disciplines while broadening the curriculum to address other professional skills and values such as diversity and inclusion, communication across cultures, management, inventiveness, ethical decision-making, and teamwork. Addressing this challenge requires examining the experiences of our students and considering who has access and successfully navigates engineering pathways.
Among the most important influences on engineering students' persistence  are university policies; the sequencing and scheduling of classes; credit hours; pedagogy; faculty diversity; the classroom climate; and a sense of belonging. Within each of these, we have found examples of racism and sexism that prevent equitable participation by women and people of color. In our experience, engineering educators are reluctant to deal with these issues directly, fearful of even accessing the literature and discussing them to improve their own understanding. Yet by not naming the problem, the engineering community allows these prejudices to persist.
Besides a direct approach, data-driven research is crucial to elucidate pathway impediments in engineering, inform the community, and move forward. We need to rethink our mindsets, our metrics, and the data we collect. We need to expand the categories of data collected, including generation-in-college status, veteran status, disability, neurodiversity, and LGBTQA (lesbian, gay, bisexual, transgender, queer or questioning, and ally or asexual). We support increasing the use of intersectional and asset-based approaches. As we expand, we should remain mindful that we still have work to do in removing structural barriers encountered by African Americans and Latinx.
One hopeful sign is that "creating a collaborative and inclusive environment" is one of the 2019-2020 ABET student outcomes. Faculty play an important role in shaping the culture of engineering education including whether students feel they belong and can be successful. We encourage all engineering instructors to use more effective pedagogies to enhance student learning and sense of belonging, including becoming informed about and mitigating stereotype threat. Promoting equity is not just the work of women or people of color. White men can explore and reflect on their own privilege within engineering education and become allies.
Since engineering is entwined with innovation, diverse perspectives are critical for success in teaching, research, and engineering practice. We encourage all involved in faculty hiring to adopt best practices and examine their own mindsets and implicit biases avoiding the false dichotomy of excellence versus equity. Moving beyond guilt to strategies that result in empowering allies is critical to removing structural barriers to hiring faculty of color. More engineering educators should also serve as allies in the retention of underrepresented groups in faculty positions.
Writing as an African-American woman and a white woman who have been in industry and academia for several decades, we urge everyone in engineering education to explore the role of power and privilege in their own experience and how they can dismantle these structures. How can you be an ally for all students in teaching, research, and policy? As an instructor, are you implementing inclusive teaching strategies? As a researcher, are you adopting a mindset that allows for inclusivity? As a policy maker, are you considering the experiences of a diverse group of students in developing policies? Thoughtful consideration of these questions can help make an inclusive environment a reality for future students in engineering education.
Denise R. Simmons is an associate professor of civil and coastal engineering at the University of Florida. Susan M. Lord is professor and chair of integrated engineering at the University of San Diego. This article is adapted from "Removing Invisible Barriers and Changing Mindsets to Improve and Diversify Pathways in Engineering," in the Spring 2019 issue of Advances in Engineering Education.
Image Courtesy of Getty Images/Francis Igot