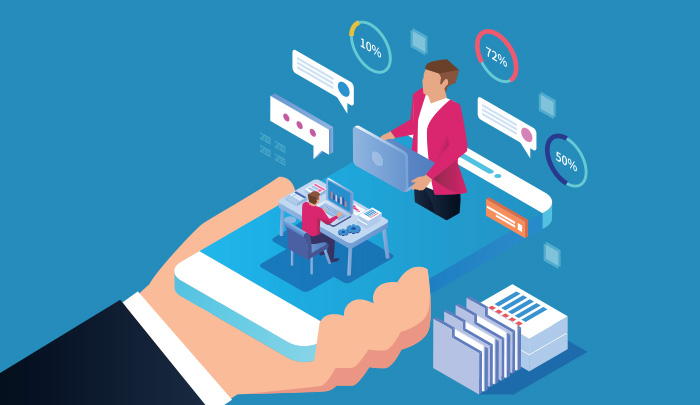 Online Learning with a Bonus
Screencasts bring added flexibility to a virtual civil engineering course, benefiting both hearing and deaf students.
By Amanda Bao

Due to the COVID-19 pandemic, universities have taken drastic actions to close campuses and switch traditional class-style lectures to online teaching. Faculty have had to prepare their courses using alternative online approaches within a very short time window. This is challenging for many educators who lack experience in online teaching, and lots of questions and uncertainties have been raised over how to make distance teaching work well. Fortunately, the fast growth of technology and the Internet in the past decade have prepared us for this moment. Educators have taken advantage of these technologies and reinvented their traditional classrooms using web-based innovations. Numerous studies suggest that supplementing the traditional lecture-type instruction with interactive technological tools can enhance students' learning.
One such tool we have found to work particularly well is screencast technology. A five-year research project at the Rochester Institute of Technology (RIT) found that online teaching using this technology can not only be as impactful as traditional in-class lectures but also improve learning proficiency for students with hearing disabilities.
Screencasts capture learning materials broken into detailed steps on a computer screen, accompanied by the instructor's narration and synchronous captioning. Typically displayed on a tablet computer, screencasts have been used for many years in general college courses such as mathematics, physics, and chemistry, and have demonstrably improved learning. In these fundamental courses, screencasts are usually combined with clicker use or are applied in a flipped-classroom approach. With screencasts, students can follow the instructor's step-by-step elaboration of the problems and better understand the underlying principles.
Our 2011-16 study involved a screencast approach aimed at upper-level technical courses in civil/structural engineering, uniquely focused on the inclusive civil engineering classroom with deaf students. A bank of screencasts was created and posted on the instructor's teaching website for one of the core courses: Structural Analysis. Another comparable civil engineering course without a screencast was selected as a benchmark to assess the effects of screencasts on students' learning.
Students learn at a range of paces in a traditional class due to different academic backgrounds, but with screencasts, they can control the pace of the videos according to their own academic needs. Students from RIT's National Technical Institute for the Deaf take technical courses together with hearing students in engineering and engineering technology programs. Deaf and hard of hearing students face significant barriers to access and inclusion in a traditional classroom and need the lectures to be augmented by visual aids, lecture notes, and Web-based instructional materials. In addition, their learning relies heavily on the accuracy of sign-language interpreters' real-time understanding and communication of course materials. The time lag between the instructor and the interpreter further contributes to deaf students' learning difficulties. The synchronously captioned online screencasts provide deaf students with more flexible access to the learning materials, based on their needs.
We collected and analyzed quantitative data of students' academic performance, along with the surveys of students' feedback about their experience in using screencasts. We compared the grades of the hearing and deaf students before and after the screencasts were introduced. Surveys about the screencasts provided additional insights into students' experiences in using the online learning materials. The results show that Web-based screencasts enhance the learning effectiveness for both hearing students and deaf students. More inspiring still are statistical analyses showing that, with the help of the synchronously captioned screencasts, deaf students' grades are comparable to those of their hearing peers in the same class. Other benefits for students using the screencasts posted on the instructor's website include time saved on homework and a significant reduction in office-hour visits. The positive outcomes of using online screencasts shed light on the merits of distance learning, not only during the current pandemic but also for the years ahead.
Amanda Bao is an associate professor of civil engineering technology at Rochester Institute of Technology. This article is adapted from "Enhancing Learning Effectiveness by Implementing Screencasts into Civil Engineering Classroom with Deaf Students," in the fall 2019 issue of Advances in Engineering Education.
© Getty Images