Letter from the President
In Gratitude
We have a lot to mourn, but also to appreciate.
By Sheryl Sorby
My entire life has been dominated by the academic calendar. My father was a teacher and my mother a school nurse. For me, May has always been the end of the year and September the beginning. (This has occasionally caused problems in my ability to communicate with others—especially with colleagues in Australia where fall is spring and up is down.)
As the end of this long year approaches, I am reflecting on what my presidency of ASEE has meant for me personally. The past year has certainly not been the one I envisioned three years ago when I agreed to run for President-Elect. At the first meeting of the Board of Directors that I presided over, at our Annual Conference last year, I joked that I hoped I would be able to chair at least one in-person meeting as President. Sadly, this was not meant to be. With the recent announcement of our conference once again moving to virtual format, this also meant that our Board meeting would be conducted virtually. Sigh. Just when we thought things were "getting back to normal," circumstances conspired to throw a wrench into them once again.
Although I was disappointed to learn that the convention center was not going to be available to us, I'll get over it. At my age, I have lived through multiple disappointments, and I'm sure there will be more in my future. My heart goes out to these children whose lives were turned upside-down by loving parents who most certainly must have been desperate to keep their children safe. My disappointment is a small speck on the scale of human suffering compared to what these families have been going through. I'm sure the community of Long Beach is reeling from this major disruption in their plans as well. I think, though, that we need to remain focused on putting the needs of these children first and foremost. I doubt that anyone thinks a convention center is a desirable location for housing them; however, as a temporary solution, it is certainly an order of magnitude better than other facilities we have been hearing about on the news. One suggestion that has been raised is that divisions and individual members consider donating to local charities in Long Beach in lieu of attending the in-person conference. I think this is an excellent idea, and I encourage all of you to consider doing this—lighting a candle instead of cursing the darkness.
It has been my honor and privilege to serve you all as President of ASEE over the past year. Despite many hardships, I think we have continued to move the Society forward. We have greatly expanded our professional development opportunities. We have renewed outreach to potential industrial partners. We have received several thoughtful reports from various task forces and will continue to develop action items that stem from those reports. Use of the ASEE Hub is growing, meaning that we are able to connect our members in more meaningful ways than ever before. Monolith will be dying of natural causes after our Annual Conference, and I don't think there will be many who are in mourning over that.
Our lives, including the life of our Society, will continue—maybe not exactly as they were before COVID came to be a dominant force, but we will ultimately persevere. I hope to see you all at our next annual in-person conference in beautiful Minneapolis, Minnesota. And this time, I really think we have a shot. Take care of yourselves and your loved ones. And if you have children, give them an extra hug tonight and be thankful that you can.
Sheryl Sorby is President of ASEE.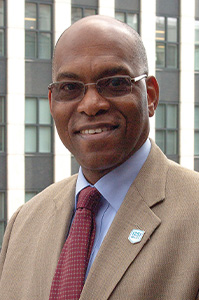 Norman's Notes
Taking a Stand Against Racism and for Racial Equity
By Norman Fortenberry
ASEE members, friends, and partners,
ASEE recently joined numerous organizations in decrying racist violence against Asians, Asian Americans, and Pacific Islanders, following the Atlanta murders and the numerous other attacks around the nation. The statement from our Board reads, in part, "We support our Asian, Asian American, and Pacific Islander colleagues dealing with the physical, emotional, and economic impacts of this harassment. Asian Americans and Asian immigrants have made and will continue to make important contributions to engineering education and practice, STEM, the U.S. economy, and our culture and communities. ASEE reaffirms our commitment to confront racism and sexism while supporting DEI efforts in our community." We greatly look forward to the day when we no longer have to make statements like this.
In reaction to the previous round of race-based killings, but before the latest round, the ASEE Board voted to designate our 2021–2022 Society year as the Year of Impact on Racial Equity. Replicating our previous "Year of …" designations, these 12 months will highlight existing and new diversity, equity, and inclusion activities and programs, focusing on how the engineering education community will work against all forms of racism and provide a welcoming environment to all people.
As I write this, it is spring—a time of rebirth. Let's work together to help foster a rebirth of kindness, consideration, and respect for all of our fellow humans.
The 2021 ASEE Annual Conference and Exposition will be an all-virtual format. All sorts of details remain to be worked out, but we are committed to keeping the dates July 26–29, and paper deadlines will not change.
As we look ahead to the remainder of this year and beyond, we are cautiously optimistic. We recognize that the budget struggles many of your institutions are facing may trickle down to ASEE. We believe we are in a solid financial position to weather these challenges, thanks to careful financial management over the past several years. At the same time, we have new offerings and services to provide to you, our members, such as our new DELTA institutes for new and future faculty, new chairs, and those aspiring to deanships, which will continue this summer; the ASEE Hub for connecting and engaging; and our expanding professional services offerings.
Many thanks for your continued engagement with ASEE. I look forward to seeing you in person—if not in 2021, then certainly in 2022!
Norman Fortenberry is the executive director of ASEE.
Society Speaks Out on Violence Against Asians, Asian Americans, and Pacific Islanders
ASEE's members, board, and staff seek to create an inclusive, welcoming environment, and the Society's leadership reflects these values with our public support of those in society subject to hate, violence, and discrimination. In March, following the horrible killings in several Atlanta spas, the ASEE Board of Directors issued the below statement:
ASEE members and staff are horrified and saddened by the rising tide of violence against Asians, Asian Americans, and Pacific Islanders—including the recent string of hate crimes committed against elders and the targeted murder of eight people, six of whom were of AAPI descent. The Atlanta spa murders brought to light the misogyny and racism that targets women of AAPI descent. Please know and honor the names of those lost in this violence.
The latest national report, Stop AAPI Hate, documented about 3,800 hate incidents against Asians, Asian Americans, and Pacific Islanders, with AAPI women representing 68 percent of reported cases. Among these incidents are verbal harassment, physical assault, and civil rights violations.
We unconditionally condemn acts of anti-Asian violence and harassment; we acknowledge that such acts have many historical precedents and have increased recently in connection with a rise in geopolitical tensions and racist characterizations of the coronavirus pandemic. We support our Asian, Asian American, and Pacific Islander colleagues dealing with the physical, emotional, and economic impacts of this harassment. Asian Americans and Asian immigrants have made and will continue to make important contributions to engineering education and practice, STEM, the U.S. economy, and our culture and communities. ASEE reaffirms our commitment to confront racism and sexism while supporting DEI efforts in our community.
ASEE's Year of Impact on Racial Equity, beginning this July, will offer numerous activities through which our members can explore issues around diversity, equity, and inclusion. (See below.)
Join Us for the Year of Impact on Racial Equity
By the ASEE Commission on Diversity, Equity, and Inclusion leadership team
ASEE President Sheryl Sorby's speech at the 2020 Annual Conference outlined a vision for both the organization and engineering education that reflects more diversity and equity. In light of this vision, as well as the societal momentum toward dismantling White supremacy and racism, ASEE has launched a Year of Impact on Racial Equity.
Many aspects of engineering culture have origins and practices that center Whiteness and exclusivity. However, we are all caretakers of this culture and can either protect exclusionary traditions or strategically design models that better meet the diverse challenges and needs of our society.
In order to improve the field's diversity, adaptability, and competitiveness, the Year of Impact on Racial Equity is focused on creating organizational change to address the culture, policies, and racial and ethnic representation within engineering student organizations, colleges of engineering, and pre-college outreach efforts. These 12 months will move us beyond action to focus on the impact of the actions we take.
We expect that actions in these domains will result in three concrete forms of impact: (1) empowered engineering student organizations, which will make engineering education more inclusive at the level of peer-to-peer interactions; (2) actionable organizational policies and effective practices implemented in colleges of engineering that disrupt the status quo regarding who gets to participate in engineering education as students and faculty members; and (3) increased participation and comfort among Black and Brown K–12 students in pre-college engineering activities that signal to parents and young learners that an engineering career is an option for anyone. These outcomes map to three strategic pillars of the Year of Impact on Racial Equity.
Three Strategic Pillars
Engineering student organizations will be invited to participate in a design competition that challenges them to reimagine a more inclusive engineering field, then use the engineering design process to implement an initiative to foster inclusivity within their organization. Monetary awards will be provided to 10 student organizations with exemplary projects, and we will spotlight their work in Prism.
Colleges of engineering will be invited, in partnership with the ASEE Engineering Dean's Council, to focus on policy changes that promote equity in student admissions, develop infrastructure to address educational gaps among students who have been marginalized, and advance equitable promotion and tenure policies. Exemplary efforts by five colleges will be celebrated at the 2022 Annual Conference and in Prism.
Leaders of K–12 engineering outreach efforts will be challenged to increase the participation and comfort levels of Black and Brown children in their programs by at least 10 percent over the previous three years. We will also encourage outreach leaders to engage in more cocreation of activities with participants and parents, to provide them with a degree of ownership over the activities and make them more culturally relevant. Monetary awards will be provided to three outreach organizations, and we will spotlight this work in Prism.
The Year of Impact on Racial Equity will empower those who are not usually invited to this discussion (e.g., engineering students, parents of K–12 learners) to help improve racial equity in engineering. ASEE members will also be invited to participate in the initiative throughout the year and at the Annual Conference. ASEE Section and Zone meetings will offer SAFE Zone Ally Training, and Divisions and Councils will be invited to join. Committees of ASEE's Commission on Diversity, Equity, and Inclusion will provide high-visibility conference activities; blog posts; and professional development activities, such as webinars and virtual workshops, focused on organizational change. ASEE members will be supported by a variety of practical resources as they engage with this effort.
Get Involved
The Year of Impact on Racial Equity officially starts at the end of the 2021 Annual Conference (July 26–29) and will continue through the 2022 Annual Conference. However, the task force dedicated to this effort will be formed at the beginning of summer 2021. We need your help to make this a success, so please sign up ASAP: tinyurl.com/52su2y9k. Learn more at
https://diversity.asee.org/deicommittee/resources/yire.
The Commission on Diversity, Equity, and Inclusion leadership team is Elizabeth Litzler, 2020–2021 chair, University of Washington; Jeremi London, 2020–2021 incoming chair, Virginia Tech; Homero Murzi, 2021–2022 incoming chair, Virginia Tech; and Susan Walden, 2020–2021 past chair, University of Oklahoma. Contact them at cdeichairs@asee.org.
Engineering Education Post-pandemic: Join the Conversation
With a near universal shift to remote learning, the last academic year forced a monumental change in engineering education. Members of the community (faculty, administrators, advisors, staff, and students) responded with a dedicated commitment to make the best of a difficult situation. Learning, advising, research, and administration continued under these challenging circumstances. Looking back, it seems that some aspects were worse (faculty members working from home while caring for their children) while others were about the same (lecture classes), and still others were better (emphasis on holistic well-being).
Currently we are at a transition point and in the process of returning to a "new normal." This conversation creates a space for reflection and dialogue, beyond teaching and learning, about framing and designing the new academic normal.
ASEE members can now join a collective multiformat conversation to examine and discuss the opportunities and challenges ahead, via the ASEE Hub group Engineering Education in the Post-Pandemic Era (go to https://aseehub.asee.org). Group conversations will be facilitated by Karl Smith (Purdue University), Russell Korte (George Washington University), and Rocío Chavela Guerra (ASEE), with engagement from a variety of thought leaders. In addition to threaded conversations in the ASEE Hub, the facilitators will host live conversations in early June, July, and August. Dates and times will be announced on the Hub in late May.
We are at a pivotal moment and have an opportunity to improve learning and teaching. We hope you will join us to help shape the future of engineering education.
Call for Board Candidates
The ASEE Nominating Committee, chaired by Immediate Past President Stephanie Adams, requests member participation in nominating candidates for the 2022 ASEE Board election. Board positions to be nominated are: President-Elect; Vice President, Member Affairs; and Chairs of Professional Interest Councils I, IV, and V.
All nominees must be individual members or institutional member representatives of ASEE at the time of nomination and must maintain ASEE membership during their term of office. Nominating Committee members are not eligible for nomination.
Candidates for President-Elect and for Vice President of Member Affairs must be active members who have served or are serving on the Board of Directors. Because ASEE is a Department of Defense contractor, candidates for President-Elect must currently be U.S. citizens and undergo a security clearance.
Each proposed candidate for a Society-wide office should submit a first-person biographical sketch of fewer than 400 words that documents career contributions, ASEE offices held, awards and recognitions received, and educational background. Include comments on leadership qualities, ability to collaborate with others to achieve objectives, and willingness to serve if elected. Self-nominations are accepted. For nominations for the office of President-Elect, please include a statement summarizing why you think your nominee is a good candidate for the position. A listing of members who meet constitutional eligibility requirements for the offices of President-Elect and Vice President, Member Affairs, is available from the executive director's office at ASEE headquarters.
Nominations will be accepted electronically at s.nguyen-fawley@asee.org. Please include a subject line that begins with the words "2022 Nomination" so that it can be forwarded to the Nominating Committee. Please be assured that your nominations are confidential and will be seen only by the assistant Board secretary and members of the Nominating Committee. The deadline to submit nominations is June 1, 2021.
Nominations postmarked by June 1, 2021, will also be accepted by mail. Please mark the envelope CONFIDENTIAL and address it to Stephanie Adams, Chair, ASEE Nominating Committee, ASEE, 1818 N Street, NW, Suite 600, Washington, DC 20036.