Year to Commit to P-12: When Engineering Begins
Mind the Gap
To boost diversity and success rates, engineering educators must help high school graduates make the big leap to first-year engineering coursework.
By Kathleen A. Harper and Patrick J. Herak
As students progress through the educational system, each encounter with a new teacher or subject presents a transition of some kind. From the instructor's perspective, helping learners from diverse backgrounds successfully navigate those passages and master the required material is a primary challenge. But there is one transition that both students and educators often find particularly rough: the leap from high school to first-year engineering courses.
There already are precollege programs and teachers providing excellent engineering experiences. We can expect even more due to the major shift brought about by the Next Generation Science Standards, which for the first time include engineering as a key topic for K-12 science education. A majority of states have either adopted the NGSS or standards that are very similar. Others are in the process of revising their science standards.
NGSS focuses on three areas: Core Ideas, Cross-Cutting Concepts, and Practices. Engineering design is considered a core idea, while many ABET-like skills are included in the practices. This raises several questions, notably: What can happen at the precollege level, particularly in high school science courses, to better equip students for success in first-year engineering? And how can college instructors, particularly those who teach first-year engineering, build upon that foundation?
The answers will require instructors in both arenas to learn about the requirements and expectations for each other's students.
Perceived Gap
For starters, that will mean addressing the perceived gap about what high school educators know about introductory engineering and how it is taught, and what college instructors know about P-12 STEM education. Recently, high school science teachers and first-year engineering instructors had the opportunity to engage in a conversation about just that.
The 2016 First-Year Engineering Experience Conference, held this past summer at Ohio State, brought both groups together to address the "gap" between secondary schools and universities. Initially, in separate groups, each population was asked to identify important learning outcomes in preparing high school students for an engineering major. The groups then came together for discussion.
Perhaps surprisingly, they found no gap in expectations between the high school and college educators. Both groups valued science and engineering skills, such as technical communication, teamwork, problem solving, and explaining concepts with evidence. It should be noted that these skills are consistent with both ABET and NGSS. Furthermore, as the discussion ensued, both sides voiced the importance of study skills, time management, having a growth mind-set, and self-advocacy in navigating the transition to college. One surprise was that despite the 3-D modeling stressed by NGSS, outcomes related to Core Ideas and Cross-Cutting Relationships were not considered as important as the Practices.
Real Gap
While secondary teachers and first-year instructors in this sample valued the same learning outcomes, they realized that these highly valued outcomes are often goals that are not explicitly taught and often poorly assessed. In high school, most (if not all) assessments focus on content rather than skills, and many teachers are evaluated based on their students' performance on some of these tests. The result is that teachers focus on content. It takes a great leap of faith to focus on skills, knowing that when students become good learners, understanding of the content will follow. Furthermore, at both levels, assessing skills is much more difficult, time consuming, and not well researched. The real gap exists between our primary learning objectives and our methods of instruction and assessment.
Engineering educators at all levels need to work together to close this gap. Through systematic research, we must find better ways to explicitly teach and assess these highly valued skills. Engineering education researchers have the expertise to develop the assessment tools. The expertise of teachers from preschool through college also is crucial to making sure valid evaluations are developed for a variety of levels. Continued cooperation through professional development workshops, meetings, and conferences will feed the results of this work back into the system and continue the conversations needed to reduce these gaps, improving engineering education for all.
Kathleen A. Harper, a member of ASEE's P-12 Engineering Education Committee, and Patrick J. Herak are senior lecturers in the department of engineering education at Ohio State University.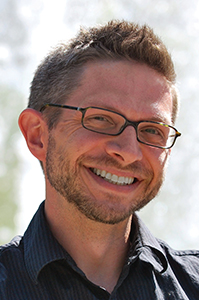 Board Profile
Sean St. Clair
Real-World Perspective
Sean St. Clair draws his inspiration as a teacher from a professor at Ricks College, a church-owned two-year school in rural Idaho where he earned an associate's degree. "He just had an infectious enthusiasm for the topics he was teaching," recalls St. Clair, who went on to earn a Ph.D. in civil engineering from Georgia Tech. "I became a professor so I could do that for other people." Evidently, he has." My students often tell me that they become excited about a course as a result of my enthusiasm," he says.
Before landing a job in 2004 at the teaching-focused Oregon Institute of Technology, where he is now a professor, St. Clair spent two years as a structural designer on high-end residential properties in Georgia. Fulfilling what were often "very intricate requests" from clients has proved useful in a civil engineering department with a mission of preparing professional engineers. During St. Clair's tenure as chair, the department has seen enrollment grow, pass rates rise for the Fundamentals of Engineering exam, and awards won by students and professors. It has also stayed ahead of the qualifications curve. While no state has yet adopted the American Society of Civil Engineers' Raise the Bar recommendation to require a master's degree as a prerequisite for licensure, a third of the department's students now opt to pursue a five-year, dual bachelor's and master's in civil engineering.
St. Clair's greatest challenge—and enjoyment—as a teacher come from reaching beyond curricular requirements and broadening his students' perspectives. Many are first-generation college goers from conservative small towns. "I try to crack that mind-set," he says. The idea is "not to sound too much like a liberal in an ivory tower, but get them to see much more of the world" and opposing points of view. As students work to solve a particular engineering problem, for instance, he will urge them to ponder whether they are creating new problems for the people affected or for the environment. Reactions, he says, can range from stubborn resistance to surprising receptivity to new ideas.
An award-winning ASEE campus representative, St. Clair is now Zone IV chair, giving him a seat on the Board of Directors. He also serves as the Civil Engineering Division program chair for the 2017 Annual Conference in Columbus, Ohio, and spent part of October reviewing abstracts for various sessions, including one on curricula surrounding the United Nations' sustainability goals and an exploration of separate degrees for structural engineering.
While he values the national conference, St. Clair sees a worrisome drift away from Section meetings. "In two of our sections, it's getting harder and harder" to attract attendees, he says. "Networking opportunities are being lost." He himself has found Section meetings to be a place where he can "get more positive, productive feedback."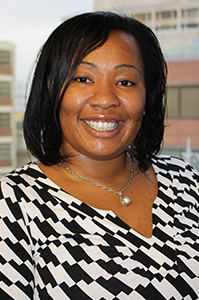 Meet Your Staff
Altruistic Accountant
By Nathan Kahl
Erica Gustus, ASEE's Senior Accountant, is the rare D.C.-area resident who was born and raised in the region. So what is it that has kept her around the District for so long? "Well, I'm an only child, and I'm really close to my family. Also, it's fascinating to be in the nation's capital. I'm driving to work and passing these famous monuments, and I get to be in this place where people come from all over the world to visit."
Erica did leave for a bit, for her undergraduate degree in accounting from Drexel. She went to Philadelphia so she could experience a different city and absorb the culture there. "I just visited recently and I really miss it. It has such an eclectic mix of people."
At ASEE, she works on the society's grants and contracts, which is no small task given ASEE's numerous, large government agreements. Not only does it keep the work interesting, but she also appreciates the professional development it offers.
Outside of work Erica is extremely generous with her time, volunteering with a number of organizations. She aids a sexual abuse organization as an online counselor, where she chats with victims through the organization's website, offering support and directing clients to resources and assistance. She also volunteers at a men's shelter and delivers food to the elderly through her church.
She says she enjoys the work environment at ASEE and the people she gets to work with. And when she needs to relax and indulge in some guilty pleasures, she tunes out with some reality TV (the Real Housewives franchise, for example), the musical drama Empire, and a stream of Lifetime movies. Given her full plate, it's couch potato time that is well earned.
Fortenberry Co-Chairs Academies' K-12 Workshop
Norman L. Fortenberry, executive director of the American Society for Engineering Education, co-chaired a workshop this fall on "Enhancing Teachers' Voices in Policy Making Related to K-12 Engineering Education." The two-day national event, held September 30 and October 1, was a project of the National Academies of Science, Engineering, and Medicine's Teacher Advisory Council (TAC) and the National Academy of Engineering (NAE).
Fortenberry co-led a committee that planned the workshop, which explored how to empower classroom teachers as leaders in policy decisions, identifying and strengthening pathways for teachers to be involved in policy without removing them from the classroom. Desired areas of teacher leadership in K-12 engineering education include: pre-service and in-service teacher education, curriculum development, and materials development.
"With an increasingly technological society, the U.S needs all K-12 students to have an understanding of engineering processes and ways of thought. Some of these students will go on to contribute to our engineering workforce, but even those who do not will be better prepared to intelligently address the challenges of the 21st century," said Fortenberry. "But in doing so we need to get the thoughtful leadership of the talented and creative people who work directly with the students every day."
Engineering instruction in K-12 is an area of growing focus, most particularly in light of the recent Next Generation Science Standards, which increase expectations on K-12 science teachers to connect engineering ideas and practices to those in science. There are also initiatives that treat engineering as a stand-alone discipline and those that treat engineering as a component of blended integrated science. Unfortunately, most new initiatives in these areas have not been informed by experienced teachers.
Workshop participants sought ways to facilitate teacher engagement on this issue, with breakout group brainstorming sessions and facilitated discussions. A report on meeting outcomes and next steps is forthcoming, in addition to follow-on outreach and communication with local, regional, and national stakeholders through direct conversations and social media.
The event was supported by a grant from the group 100Kin10 and additional funds from the Samueli Foundation supporting attendance by classroom teachers. The event was co-chaired by Donna Migdol, an elementary teacher from the Oceanside Union Free School District in New York. The staff leads were TAC's Jay Labov and NAE's Greg Pearson.