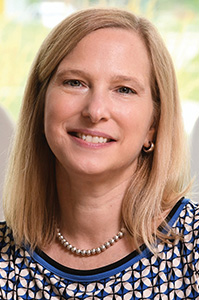 Letter from the President
Championing Our Goals at Home and Abroad
While advocating for engineering and education research on Capitol Hill, ASEE maintains active ties overseas.
By Stephanie Farrell
ASEE members,
I've heard my predecessors say it often, but I'm learning just how true it really is—a year as ASEE President goes by very fast. I'm grateful for groundwork that's been laid by my predecessors and for a very strong and active Board of Directors in allowing me to work in a constructive and forward-looking framework.
This issue of Prism contains our annual report, which reviews activities around our 125th anniversary celebration and successes and achievements from the past year. I want to take this time to update you on activities currently underway in support of engineering and engineering technology education.
ASEE is being very proactive in representing your interests in the policy world. As I write this, our federal government is shut down. It is perhaps more important than ever that the interests of those in higher education, engineering research, and engineering and engineering technology education research have a voice on Capitol Hill. Through its relationship with a respected government relations firm and activities with various STEM-focused coalitions, ASEE seeks to make your voice heard.
The Public Policy Colloquium of engineering deans will be held in early February in Washington, D.C., with attendees visiting their representatives in Congress after a full day of meetings and preparation. At the Engineering Technology Leaders Institute in the fall, ET deans and representatives also paid a visit to Capitol Hill to meet with members, a first for attendees at this particular event.
Regarding international activities, in January I represented ASEE at the Sixth International Conference on Transformations in Engineering Education in India, where there is great momentum in engineering education reform. Did you know that ASEE has a branch in India? It's one of three international branches that we have, the other two being in Lebanon and Iraq.
I also gave a keynote, "Revolutionizing Engineering Diversity," at the European Society for Engineering Education (SEFI) conference in Copenhagen in the fall. We are collaborating with SEFI on two position statements, one on diversity and inclusion and another related to credit transfer for students who study abroad. These are in the very early stages, but we're encouraged about progress so far. Immediately after the SEFI conference, I gave another keynote, "Evidence-based Strategies for Building Inclusive Classrooms in Engineering," at the International Society for Engineering Pedagogy/Interactive Collaborative Learning conference in Kos, Greece. I'll use this as a reminder that ASEE is putting together a delegation to Chile, scheduled for May 26 to June 1. Some of the things that visitors will learn about are Chile`s Engineering 2030 Project, admission standards for engineering programs, curriculum, engineering laboratories, and integration between universities and industries. Find more information on the top scroll bar of the ASEE homepage.
Many of you know that diversity and inclusion are significant areas of focus for me personally, professionally, and as ASEE President. I'd like to report on a couple things in this arena. Greg Washington, Engineering Deans Council Chair, is spearheading an effort to create a recognition initiative, where engineering programs would earn a gold, silver, or bronze categorization based on their efforts around this topic. The discussion among deans continues as they iron out details.
This spring, the CoNECD (Collaborative Network for Engineering and Computing Diversity) conference will be held for the second time—April 14 to 17 in the Washington, D.C., area. This meeting provides a forum for exploring current research and practices to enhance diversity and inclusion of all underrepresented populations in the engineering and computing professions. Sessions encompass minority gender identity and expression, underrepresented races and ethnicities, people with disabilities, veterans, the LGBTQ+ community, first-generation students, and students from low socioeconomic backgrounds. I hope you will consider attending. We also will hold numerous safe-zone workshops at several section and zone meetings this spring, thanks to sponsorship by Chevron.
ASEE members, please remember to vote in the 2019 Board election. The official ballot, which arrived with your January Prism, must be returned by March 31, 2019.
I've enjoyed getting to see many of you this year and look forward to talking with you at events over the next several months leading up to the ASEE Annual Conference in Tampa, Fla., in mid-June.
Stephanie Farrell is President of ASEE.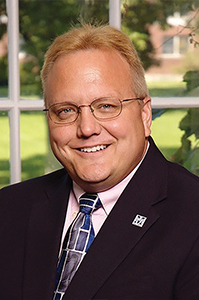 Board Profile
Yankee Ingenuity
Scott Dunning can trace his engineering technology roots back to the 1865 founding of R. B. Dunning, a Bangor, Maine, general store that became the state's largest industrial wholesaler before closing in 1993. "We're kind of a family of engineers," says Dunning, director of the University of Maine's School of Engineering Technology and chair of ASEE's Engineering Technology Council. His dad ran the firm's electrical division, his older brother works as an electronics technician, his daughter is an electrical engineer, and both his sister and a Vietnamese "brother" who grew up with them earned four-year EET degrees.
Instead of joining the family business, "my goal was to be a pilot in the Air Force," Dunning relates. But his left eye, at 20/25, was just shy of the perfect vision required of pilots. A flight physician told him that college graduates could get a waiver, so he attended the University of Maine on an ROTC scholarship and graduated with a B.S. in electrical engineering in 1988. By then his left eye was 20/40, but he learned that the Air National Guard waiver for pilots was 20/60 vision. Dunning signed on, only to leave with 20/70. Resigned to the fact that "God does not want me to fly a plane," he happily plunged into his first engineering job, traveling and troubleshooting as a field engineer for General Electric. "I thought I'd be Jack Welch," Dunning says with a chuckle.
His shift to education came after he returned to the University of Maine to earn a master's in electrical engineering in 1991. He began teaching courses there in electric machines and power-systems analysis—and never looked back. Earning a Ph.D. in electrical engineering, he conducted research on applying energy-efficient technologies to industry and eventually became a full professor. In 2007, Dunning was asked to lead the School of Engineering Technology, a position he holds today. "I still like to teach a course a semester," he confides. "That's my true joy."
Dunning's contributions to engineering technology have won him numerous accolades, including ASEE's 2018 James H. McGraw Award. A signature accomplishment was the launch of a $6 million Advanced Manufacturing Center, in which a team of engineers and students assists inventors and university researchers in developing production-ready prototypes. He has held all the leadership positions of ASEE's Energy Conversion and Conservation Division and Engineering Technology Division, including as the ETD program chair at the Annual Conference. He also recently served as national president of the Association of Energy Engineers. "Industry appreciates the value of engineering technology," says Dunning, noting his program's 99 percent placement rate for the past seven years. Yet he says inequities in how ET graduates are treated in comparison with engineering graduates call for continued Board advocacy.