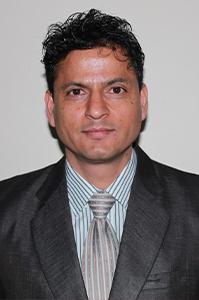 Board Profile
At Home with Many Cultures
Ananda Paudel is a truly intercontinental professor. Born in Bharatpur, Nepal, he became fascinated with engineering—especially figuring out how large machines worked—when he first set foot in a textile factory on a school field trip and saw the giant mechanical loom. "I asked my teacher how they could make such a thing," he says. "At the time I didn't know the word 'design.' " He earned his undergraduate degree at Tribhuvan University in Nepal in mechanical engineering and then trekked to Gwangju Institute of Science and Technology in South Korea for a master's in mechatronics. Arriving in the United States to pursue a Ph.D. in industrial engineering at Western Michigan University, he says, "once I came here, I stayed. I liked the education here and started teaching."
Paudel is currently a professor of mechanical engineering technology at Metropolitan State University of Denver. He loves the region because the Colorado Rockies' snow-capped peaks remind him of Nepal. He's passionate about learning different languages and cultures, and "values diversity very much." Paudel doesn't just talk the diversity talk, however. "As an educator, my main goals are to attract more students, specifically from underrepresented groups and veterans," he says. He promotes this in the classroom by making his classes easily accessible to nontraditional students and mixing up groups so that students get a variety of experiences and perspectives. He gives veterans a chance to show off their real-world skills as group leaders. One challenge he is still trying to figure out, however, is how to best advise nontraditional students and keep them on track.
He has been involved with ASEE since 2010 and is now the Zone IV chair. He credits ASEE with helping him collaborate with colleagues and introducing him to high-impact practices that could be implemented in the classroom, such as just-in-time teaching, service learning, and industry collaborations. "Last year we had projects from Lockheed Martin for designing and prototyping ground tooling for aircraft manufacturing," he says. Paudel emphasizes advanced manufacturing, ensuring that his students are well versed in commercial 3-D printing. Over the course of his tenure as chair, Paudel hopes to recruit more members, especially in economically challenged areas with fewer resources, so that they can better help their students.
Call for Board Candidates
The ASEE Nominating Committee, chaired by past President Bevlee Watford, requests member participation in nominating candidates for the 2020 ASEE Board election. Board positions to be nominated are: President-Elect; Vice President, Member Affairs; Chairs of Professional Interest Councils II and III; and Chairs of the Council of Sections for Zones I and III.
All nominees must be individual members or institutional member representatives of ASEE at the time of nomination and must maintain ASEE membership during their term of office. Nominating Committee members are not eligible for nomination.
Candidates for President-Elect must be active members who have served or are serving on the Board of Directors. Because ASEE is a Department of Defense contractor, candidates for President-Elect must currently be U.S. citizens and undergo a security clearance. The nominees for Vice President, Member Affairs shall be chosen from those who have served as Zone Chairs.
Candidates for Chair-Elect for Zone I and Zone III will be selected by their members of their respective Sections, as the ASEE Constitution stipulates.
Each proposed candidate for a Society-wide office should submit a first-person biographical sketch of fewer than 400 words that documents career contributions, ASEE offices held, awards and recognitions received, and educational background. Include comments on leadership qualities, ability to collaborate with others to achieve objectives, and willingness to serve if elected. Self-nominations are accepted. For nominations for the office of President-Elect, please include a statement summarizing why you think your nominee is a good candidate for the position. A listing of members who meet constitutional eligibility requirements for the offices of President-Elect and Vice President, Member Affairs is available from the executive director's office at ASEE headquarters.
Nominations will be accepted electronically at s.nguyen-fawley@asee.org. Please include a subject line that begins with the words "2020 Nomination" so that it can be forwarded to the Nominating Committee. Please be assured that your nominations are confidential and will be seen only by the assistant secretary of the Board and members of the Nominating Committee. The deadline to submit nominations is June 1, 2019.
Nominations postmarked by June 1, 2019, will also be accepted by mail. Please mark the envelope CONFIDENTIAL and address it to Bevlee Watford, Chair, ASEE Nominating Committee, ASEE, 1818 N Street, N.W., Suite 600, Washington, DC 20036.