Norman's Notes
Reflections on the Government Shutdown
(This is one of a series of quarterly letters to ASEE members from the executive director.)
By Norman Fortenberry
Engineers are problem-definers and problem-solvers, and we have a major problem to solve. The engineers' code of ethics demands that, in the performance of their duties, engineers "hold paramount the safety, health, and welfare of the public." It seems that our political class would do well to adhere to that admonition.
The recent government shutdown endangered public safety with the expectation that various public safety personnel (FBI, border patrol, and air traffic controllers, to name a few categories) would diligently work for an extended period of time without pay, or that we could do without the services of the National Transportation Safety Board, National Highway Traffic Safety Administration, or the Consumer Product Safety Commission.
The shutdown endangered public health with the expectation that we could go for weeks without the full suite of Food and Drug Administration and U.S. Department of Agriculture inspections and reviews.
The shutdown endangered the public welfare, putting food stamp payments and housing subsidies at risk. The impact on families, local businesses, and entire industries was significant.
Engineers no longer have the luxury of declaring a pox on all houses of the political class.I think about the effect on our member institutions: The National Science Foundation (the largest funder of academic research) made no grants from December 22 until January 25—35 days. What opportunities were lost because of the inability to access federal parks for various research projects, for example? Consider student tuition payments that were imperiled. At ASEE headquarters, the cash-flow impact of NSF's inability to reimburse grant expenses have been significant.
And the effects will not immediately end: NSF, NASA, USDA, FDA, the National Oceans and Atmospheric Agency, and the National Institute of Standards and Technology were closed for long stretches. Ramping up the Air Traffic Control Academy will take many months. A staggering amount of work awaits returning employees. At NSF, according to reports, it means "rescheduling more than 100 review panels—involving 2,000 proposals—that were scrubbed during the shutdown."
Engineers must become directly engaged. We live in an increasingly technological society, and those with technological talents and rigorous mind-sets are being called to lead!
ASEE members are intelligent, thoughtful, well-read contributors to society. I encourage us all to join together and communicate to our leaders that circumstances like this must never be allowed to happen again.
Editor's note: This is adapted from his remarks February 5 during the 2019 ASEE Public Policy Colloquium.
Norman Fortenberry is executive director of ASEE.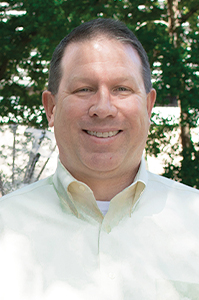 Board Profile
Grounded in Reality
Peter Schmidt had already turned 40 when he switched careers to become a teacher. In 2001, he was a sound and vibration engineer for United Technologies, redesigning products to correct flaws, when the company opted to downsize and close his facility. Schmidt grabbed the opportunity to pursue a Ph.D. in mechanical engineering and a Future Faculty Preparation Certificate from Vanderbilt University. He believed he would be a good fit in the classroom. "When I was in school, I felt I always learned better from people who had experience as practitioners," says Schmidt, who worked his way through undergrad at the University of Louisville—playing varsity soccer on the side—and later earned a master's from Rose-Hulman Institute of Technology while a practicing engineer. He also knew whom he didn't want to emulate: the kind of instructor who drones on and doesn't engage with students. "When I do lecturing, I'm very Socratic . . . I want to be viewed by the students as a facilitator, coach, and subject matter expert."
In his first appointment at the University of North Carolina–Charlotte, and since 2015 at Indiana's University of Evansville, Schmidt has specialized in supervising senior capstone projects, drawing on his own background to help students plan and document their work. One year, Charlotte teams designed a game-based interactive bottle recycling device. Another group developed a display for Areva, the French nuclear firm, explaining a modular reactor. The latter project required delving into trade studies and published research, the kind of preparation he stresses is important. Fascinated from his boyhood in Louisville, Ky., by "machines that make everything happen," Schmidt takes pride in his skill at explaining their workings and feels particular satisfaction when students show they've internalized the knowledge.
Holding an appointment at a school that places a premium on undergraduate instruction rather than research, Schmidt supports ASEE's advocacy on behalf of teaching-focused professional-track (formerly non-tenure-track) faculty "who are out there with no protection." Schmidt, who chairs the Society's Professional Interest Council II and is also active in the Illinois-Indiana Section, says such a stance is especially needed at a time when public discourse seems to devalue education. "I see talking heads with no credentials given a platform to speak on a technical issue," he says. "One of our missions is to make sure ASEE is a voice for data, science, and engineering reality rather than 'alternative facts.' "
Call for Board Candidates
The ASEE Nominating Committee, chaired by Immediate Past President Bevlee Watford, requests member participation in nominating candidates for the 2020 ASEE Board election. Board positions to be nominated are: President-Elect; Vice President, Member Affairs; Chairs of Professional Interest Councils II and III; and Chairs of the Council of Sections for Zones I and III.
All nominees must be individual members or institutional member representatives of ASEE at the time of nomination and must maintain ASEE membership during their term of office. Nominating Committee members are not eligible for nomination.
Candidates for President-Elect must be active members who have served or are serving on the Board of Directors. Because ASEE is a Department of Defense contractor, candidates for President-Elect must currently be U.S. citizens and undergo a security clearance. The nominees for Vice President, Member Affairs shall be chosen from those who have served as Zone Chairs.
Candidates for Chair-Elect for Zone I and Zone III will be selected by their members of their respective Sections, as the ASEE Constitution stipulates.
Each proposed candidate for a Society-wide office should submit a first-person biographical sketch of fewer than 400 words that documents career contributions, ASEE offices held, awards and recognitions received, and educational background. Include comments on leadership qualities, ability to collaborate with others to achieve objectives, and willingness to serve if elected. Self-nominations are accepted. For nominations for the office of President-Elect, please include a statement summarizing why you think your nominee is a good candidate for the position. A listing of members who meet constitutional eligibility requirements for the offices of President-Elect and Vice President, Member Affairs is available from the executive director's office at ASEE headquarters.
Nominations will be accepted electronically at s.nguyen-fawley@asee.org. Please include a subject line that begins with the words "2020 Nomination" so that it can be forwarded to the Nominating Committee. Please be assured that your nominations are confidential and will be seen only by the assistant secretary of the Board and members of the Nominating Committee. The deadline to submit nominations is June 1, 2019.
Nominations postmarked by June 1, 2019, will also be accepted by mail. Please mark the envelope CONFIDENTIAL and address it to Bevlee Watford, Chair, ASEE Nominating Committee, ASEE, 1818 N Street, N.W., Suite 600, Washington, DC 20036.