Letter from the President
The Mirror Image
To create the future of engineering education, we must start with a look at ourselves.
By Sheryl Sorby
This letter is excerpted from the incoming President's speech at ASEE's Virtual Conference in June.
Let me start by saying: Black Lives Matter. Black Engineers Matter. We need to say these things out loud. Many of us are trying to understand your experiences, really see you, and take anti-racist actions in our engineering education work. As has been pointed out recently, racism is a White people's problem and it is White people who must solve it. ASEE has been working towards this goal. We are not there yet, but we will persist.
Too often, Americans who were in the majority have been able to control the narrative and in so doing have whitewashed our history. Leaders of today would like you to believe that slavery was not so bad and that not all owners treated their slaves poorly. The story of our expansion to the West scarcely acknowledges the genocide of our Indigenous peoples—men, women, and children. Much of our film, our TV, our literature, and our culture constantly reinforces the idea that ours is a noble history. We need to look in a mirror and face the reality of our history, recognizing that it can't be changed, but committing ourselves to a better and more just future.
Engineering Implications
I'm sure you are asking, "What does this have to do with engineering education in America?" To which I respond, "Everything." As engineers, we like to think our objectivity shields us from history, our culture, and current events, but this is not the case. Most of us grew up in this society that propagated the myths of our history.
We have seen the footage of NASA engineers, all White and all male, congratulating themselves on the successful first moon walk. Only recently did we learn that there were three African American women who were instrumental to the success of the team. How many hidden figures have had their innovations or their inventions ignored or credited to someone else? Do we, as educators, ensure that our students understand the contributions of female, Black, Native American, and Hispanic engineers (including those who were not allowed to call themselves engineers)? Or do we continue to propagate our own engineering myths?
For at least 50 years, we have endeavored to diversify engineering with marginal success. Deficit-based efforts attempted to "fix" marginalized groups so that they could fit into the White male culture of engineering. What was wrong with women and students of color that they didn't all want to be engineers? Then we blamed the K–12 school system. Teachers weren't doing enough, never mind that our school systems are still mostly segregated with many of our minority students attending significantly underfunded schools. Then we blamed advertising and messaging. We needed to change the image of what an engineer should look like. It's everyone's fault but our own. Yet still women, African Americans, Native Americans, and Hispanic Americans are significantly underrepresented in engineering.
If diversifying engineering was a design project that we assigned to our students and they performed as dismally as we have, they would not graduate. But many just shrug their shoulders and seem willing to accept the fact that engineering has been and always will be a non-inclusive profession. I think it's time we looked in a mirror and faced the facts—since we are not part of the solution, we are a large part of the problem.
As engineering educators, we have designed a curriculum that is meant to keep people out. We force all of our students to take three semesters of calculus—even though the vast majority don't really need that. We have a rigid curricular structure, with long prerequisite chains and few free electives. We subject students to one to two years of academic hazing before they are allowed into "the club." We promote competition at all levels, even though social scientists tell us that it doesn't motivate everyone. We design projects and exams that are so hard that many students fail, and we call it "character-building"—arguing that everyone should experience failure of some sort as university students. And we justify all of this by claiming "rigor," and "rigor" allows us to continue to use our curriculum as a cudgel and keep people out. We say that we don't have a weed-out mentality, but we certainly perpetuate a weed-out system.
I believe that the pipeline analogy has also harmed our ability to diversify engineering. A pipeline has only one entry point and one exit point. If you enrolled in the wrong math class in seventh grade, or if your high school doesn't offer advanced math courses, you can't become an engineer. For most seventh graders, engineering is not on their radar; yet if they choose "wrong," they are shut out of engineering unless they are willing to go back and enroll in remedial math courses to make up for their lack of foresight as 12-year-olds. This is not an attractive proposition for most. What if we recognized and rewarded the tenacity of students who arrive in our engineering programs without the benefit of such foresight?
How many creative problem solvers, who would have become excellent engineers, have we driven from our programs over the years? How many inventors and entrepreneurs have we failed to inspire to join our ranks? How many out-of-the-box thinkers have we lost from engineering due to the rigidity of our curriculum? The true loss of human talent from engineering may never be known.
Reimagined Curricula
In an NSF-funded project on curriculum reform, Ilene Busch-Vishniac and Jeffrey Jarosz asserted that "…for women and minorities the engineering curriculum is downright unattractive, uninformative, and uninviting."
I have said for many years that once engineers become faculty, that in terms of curricula, we forget that we are engineers. We think there is only one solution to the problem. We cling to our traditions because that is how we have always done things. We design a system that is inflexible, uninspiring, and unattractive to the vast majority of our population. In reality, this is our "all-hands-on-deck" moment and we can't afford to continue along this path. With the rapidly exploding cost of a university education; expanding opportunities, including online, for education at all levels; and the changing demographics of our nation, if we do not transform our programs, we will become outmoded and may cease to exist.
The Grinter Report, issued nearly 70 years ago in response to Sputnik, brought about a sea change in engineering education. Theory replaced practical hands-on work. I began my engineering studies more than 40 years ago. If you were to compare the curriculum that I went through with the curriculum of today, you would not find substantial differences. Sure, we have done some tinkering around the edges, added in a capstone design project, but the basic structure remains unchanged. We have added a few topics as they became relevant and replaced Fortran with various other languages along the way, but we were mostly adding and hardly ever subtracting. Our students can instantaneously look things up on their phones that might have taken us hours to track down in the library. Yet our curriculum has not really changed all that much. We are stuck in 1955.
Personally, I think it is time we take a long, critical look at our curricula to ensure that we are preparing our students for their unknown and perhaps unseeable future careers in the current century. To ensure that we are attracting and retaining a diverse pool of learners to our programs, we need to examine what we are teaching and how we are teaching it. We need to examine the types of problems we expect our students to solve so they are inspired to continue in engineering and to change the world for the better. We need to look at what we include in our courses and be willing to omit topics that are no longer necessary. Or, as it is phrased in the National Academy of Engineering's The Engineer of 2020, engineering education must avoid the cliché of teaching more and more about less and less until it teaches everything about nothing.
At the June ASEE Board of Directors' meeting, I proposed a task force on Re-envisioning the Curriculum for the 21st Century: Pathways to Engineering. I asked Dr. Gary Bertoline from Purdue Polytechnic to chair the task force. If you have suggestions, feel free to reach out to me. My goal is that the task force represent the diversity we desire in engineering going forward.
Sheryl Sorby is President of ASEE.
ASEE's 2020 Virtual Conference Highlights
In a time of uncertainty and change, ASEE and its members and attendees did what they do best: adapt and innovate. Though everyone missed Montréal's cobbled streets and exquisite cuisine, we came together while keeping apart in response to the COVID-19 pandemic. That doesn't mean, however, that there weren't unforgettable moments. 1) Framed by a glowing sky, ASEE President-Elect Adrienne Minerick attends the President's Farewell Reception and Passing of the Gavel. A world apart, Sharan Asundi (2) from Old Dominion University demonstrates a classroom satellite kit, and Aldert Kamp (3) from the Delft University of Technology in the Netherlands presents at Monday's Keynote Live Q&A. With cheerful distanced greetings, violinist Kai Kight (4) performs during the Welcome Session, and Remi Duquette (5) from Maya Heat Transfer Technologies says "Hello!" via drone during Tuesday's Keynote Live Q&A. Immediate Past President Stephanie Adams (6) passes the gavel to current President Sheryl Sorby (8) who begins her tenure. In between, Anurag Purwar from Stony Brook University performs a live demo of a robot kit and app (7). Joshua Honorat (9), winner of the ASEE/Engineering CAS student video contest, presents during Tuesday's Keynote Live Q&A. Last but not least, colorful characters mingle (10) during live virtual reality demonstrations. ASEE thanks everyone for a lively virtual conference and looks forward to joining together in person in sunny Long Beach, Calif., next year!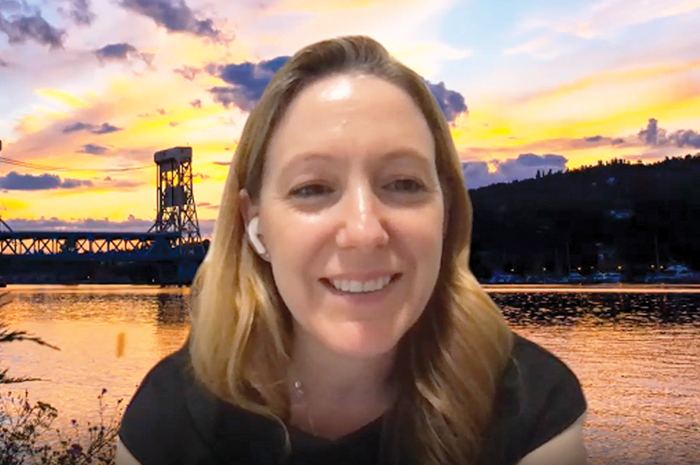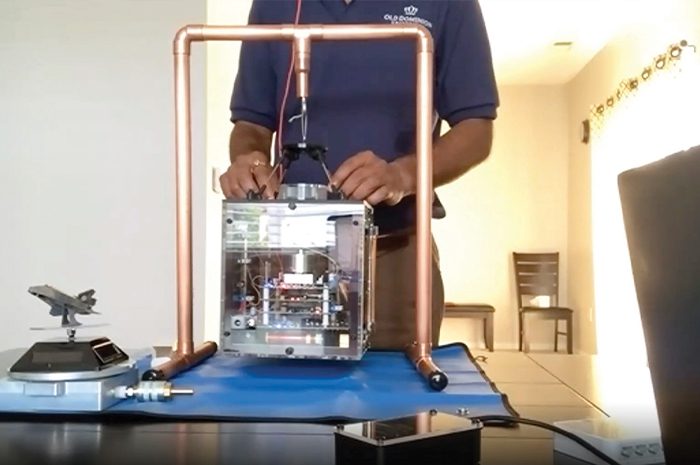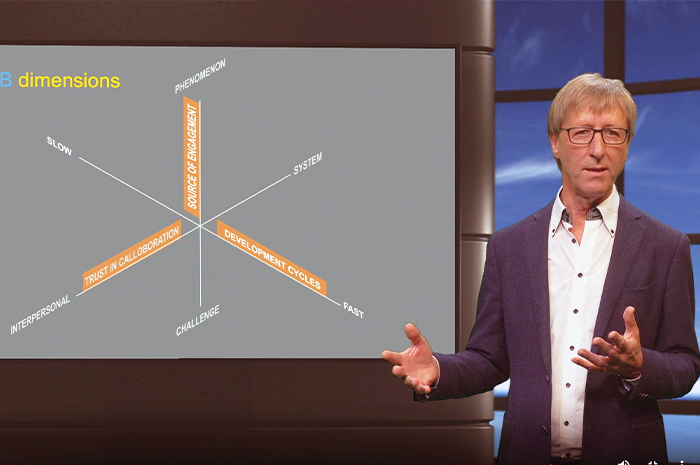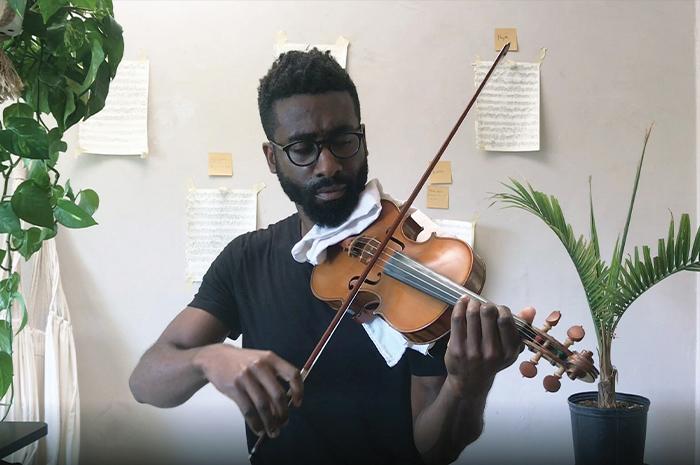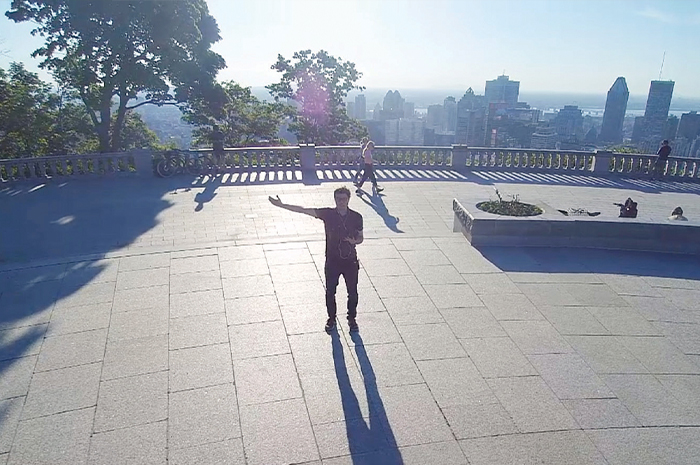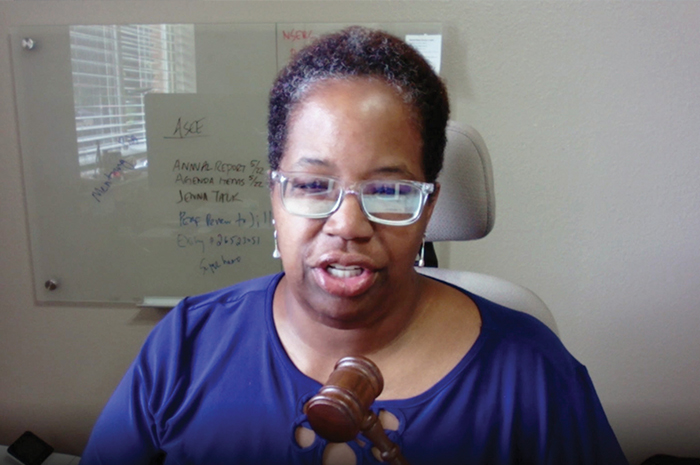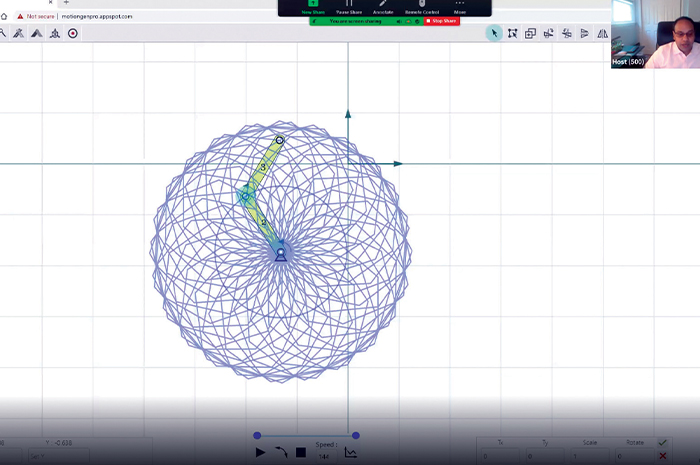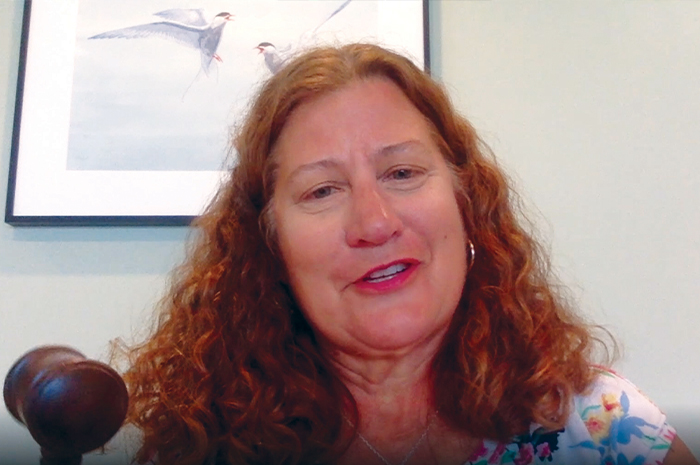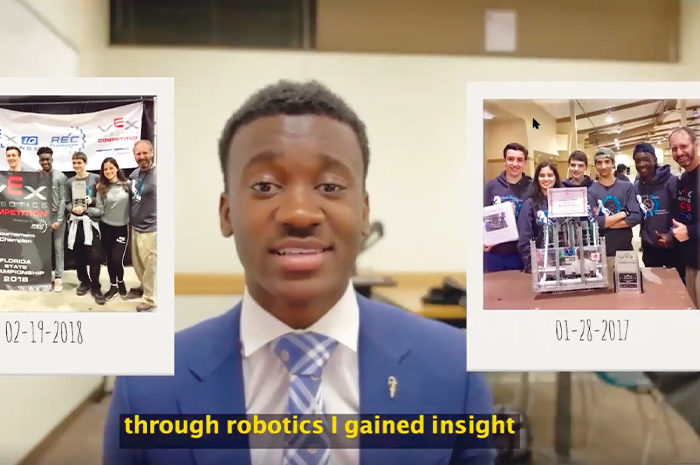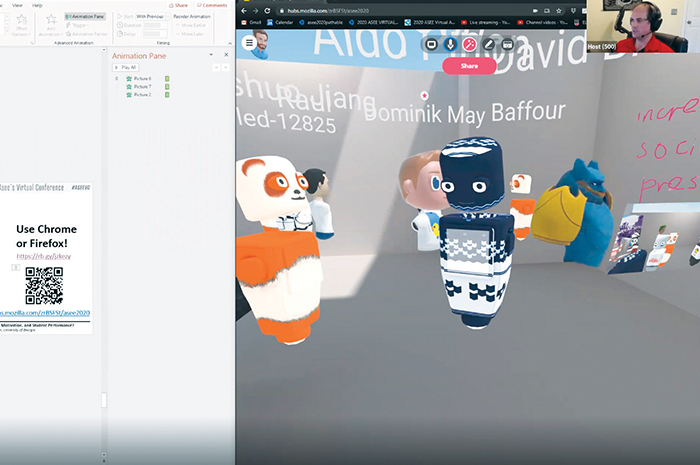 Dismantling Racism in Engineering Education
By Rocío C. Chavela Guerra
The vicious death of George Floyd and subsequent widespread protests spotlighted the breadth, depth, and sometimes fatal consequences of institutional and individual anti-Black racism in the U.S. In educational settings, racial discrimination affects Black educators, staff, and students, resulting in negative impacts such as struggles for equal recognition and opportunities, decreased funding, lower graduation rates, and mental health problems.
To begin a much-needed conversation, on June 16th ASEE convened a group of panelists from K–12 and higher education to discuss and share resources that can help engineering educators tackle racism in their classrooms and institutions. Attracting 1,000 attendees, the virtual panel was moderated by ASEE Past President Bevlee Watford, associate dean for equity and engagement and executive director of the Center for the Enhancement of Engineering Diversity (CEED) at Virginia Tech. On the panel were Christopher Carr, chief diversity officer at the School of Engineering at George Mason University; James Moore III, provost for diversity and inclusion at Ohio State University; Yvette Pearson, associate dean for accreditation, assessment, and strategic initiatives in the George R. Brown School of Engineering at Rice University; and Margaret Schultz, administrator for social emotional learning and educational equity at Bloomfield Hills Schools in the Greater Detroit area.
Panelists agreed that dismantling racism is a complex problem that will require much more than a "one-time hit," such as issuing a statement. Pearson, host of the "Engineering Change" podcast, emphasized that fixing systems built with historical biases requires us to "approach equity in engineering education the way that we do any other engineering problem…[as a] user-centered, iterative, design process [that involves all] the diverse stakeholders that are part of the engineering education ecosystem."
To become anti-racist individuals and institutions, panelists said, we need to look inside and identify the beliefs that we need to break, be courageous in having myriad uncomfortable conversations with one another, and move away from the idea that engineering or math are neutral. We also must understand that our business is to teach people, not content. We have to engrain equity and justice in our individual and institutional DNAs, allowing them to guide our actions and behaviors.
We can do this—together. In the words of Moore, "Thank you in advance for what you will be doing."
Rocío C. Chavela Guerra is the headquarters liaison for ASEE's Commission on Diversity, Equity, and Inclusion and the Society's director of education and career development.
Dismantling Racism in Engineering Education
Not sure where to start? Find a wealth of information at the links below.
ASEE Leads Society Effort Against Immigration Ruling
On July 6, 2020, the Student and Exchange Visitor Program of U.S. Immigration and Customs Enforcement announced rules with an immeasurable negative impact on students and academic institutions, most notably those with STEM programs. The rules would have prevented non-immigrant students from being in the United States if their collegiate classes were entirely online.
ASEE wrote a strong response, to which more than 40 other societies joined as signatories. After numerous other organizations voiced opposition to the plan, the Trump administration backed off the ruling.
An excerpt of our letter is below:
In the face of the COVID-19 pandemic, universities across the U.S. are struggling with whether to open for classes this fall. The announced change prohibits those non-immigrants pursuing academic and vocational coursework from taking a fully online course load and remaining in the U.S. The net effect of this change would appear to be to force large numbers of non-immigrant students to disrupt their studies, leave the U.S., and be unable to return for the foreseeable future.
A substantial proportion of STEM graduate and undergraduate students are foreign born. A talented STEM workforce will tackle the grand challenges of tomorrow. U.S. institutions are greatly enriched by the talent, intelligence, work ethic, and diversity of thought that international faculty and students bring to their campuses. Many of these students stay in the U.S. after graduation and contribute to the economy, sometimes starting tech-based businesses or impacting entire industries. Exclusion of non-immigrant graduate students can be expected to have a significantly negative impact on U.S. academic STEM research. In sum, the effect of this change will be to inflict serious long-term damage to the advancement of science and engineering and the global competitiveness of the U.S. This is not an action we would have expected from a U.S. government, nor is it one that we can support.
While we support efforts to ensure security within our borders, we hope that these efforts will be carried out in such a way as to minimize disruption to those who teach, practice, and study STEM disciplines in the U.S.
Call for Papers
All divisions are 'Publish to Present'
All papers must be submitted for peer review in order to be presented at the Conference and subsequently published in the proceedings.
The submission process is as follows:
All authors must submit an abstract of their papers to be reviewed and evaluated.
Authors of accepted abstracts will be invited to submit a full paper draft to be reviewed by three engineering educators.
A draft may be accepted as submitted, accepted with minor changes or major changes, or rejected.
Successful review and acceptance of the full paper draft will allow a final paper to be presented at the Annual Conference.
Exceptions to the "Publish to Present" requirement include invited speakers and panels.
Here are important dates for authors:
Sept. 8, 2020: System opens for submission of abstracts.
Oct. 12, 2020: All abstracts must be submitted.
Feb. 8, 2021: All draft papers must be submitted.
March 22, 2021: Requested revisions to blind drafts must be uploaded.
April 12, 2021: Deadline for authors to register and accept copyright.
April 26, 2021: Deadline for authors to upload final papers with all blind indicators removed; submit all bio and author information; and select who will present. No paper changes will be accepted after this date.
Be Advised:
Questions?
Please contact the ASEE Conferences staff at conferences@asee.org.
Awards for Prism
ASEE'S art and editorial team has won a number of awards this year:
APEX Awards of Excellence
Beryl Benderly and Mark Matthews, Prism Feature Writing. "A Frayed Welcome Mat." March 2019
Lucy Birmingham and Mark Matthews, Prism Feature Writing. "In Search of the Next Meal." May 2019
Nicola Nittoli, Prism Design & Layout. "In Search of the Next Meal." Cover story, May 2019
The 26th Annual Communicator Awards
Award of Excellence:
Lucy Birmingham and Mark Matthews, Prism Writing—Feature Writing. "In Search of the Next Meal." May 2019
Beryl Benderly and Mark Matthews, Prism Writing—Feature Writing. "A Frayed Welcome Mat." March 2019
Awards of Distinction:
Charles Q. Choi, Prism Writing—Feature Writing. "Polar Prospects." February 2019
Miguel Ventura, Prism Design Features—Overall Design. "The Mind's Eye." October 2018
Francis Igot, Prism Design Features—Cover Design. "Production Values." October 2019 Cover
Employee Publication-Magazine, Overall Publication. January 2019 Prism.
Norman's Notes
Joining Together, Acting Together
(This is one of a series of quarterly letters to ASEE members from the executive director.)
By Norman Fortenberry
ASEE members,
Happy fall semester. It is a different kind of semester for us, yes, but not without reason for optimism.
At Home With Engineering Education
Our first Virtual Annual Conference was, by all accounts, a great experience for our attendees. Participants—from ASEE staff to volunteer leadership to presenters, speakers, and authors—adroitly adapted to a new kind of conference. One member noted that it was remarkable how well we were able to re-create the in-person experience with such a short amount of time to do so. Given our members' expertise as educators, it did not surprise me that presenters effectively communicated across Zoom, but I was delighted at how rich the question-and-answer sessions and other discussions were, giving the event a genuine feel of "being in the room." As a reminder, conference attendees can access conference content for one year, through June 2021. If you missed the conference, for a rate of just $100 for members ($150 for non-members), you can access all of the paper presentations, panel discussions, Q&A sessions, and the active comments through next June. We have pulled a number of select sessions to be viewed on a YouTube playlist (https://bit.ly/3a1rw9Q).
More Ways to Connect and Learn
On the topic of collaboration and remote connections, I'm pleased to announce that the ASEE Hub successfully launched this summer. The ASEE Hub is the online tool you have long asked us for, giving you a place to convene, share ideas, and work together. As of this writing, the Hub has dozens of members and it's growing quickly every day. Please visit and engage at aseehub.asee.org. After many lessons learned during quarantine, and with the launch of the ASEE Hub, ASEE is better positioned to connect to our members—and connect you to each other—than ever before.
We also launched our Developing Engineering Leaders of Tomorrow in the Academy (DELTA) Institutes this summer. The DELTA Institutes are focused on equipping faculty to manage their professional growth. The first Institute was online, of course, and focused on helping new faculty to hit the ground running. Next year we anticipate adding Institutes for junior faculty, new department chairs/heads, and aspiring deans. We look forward to continued expansion of this program.
Committees Now Commissions
Two ASEE Board of Directors' Committees became Commissions in recognition of their trans-Society importance, the need to engage constituencies outside the Society in furtherance of their important work, and the benefit to our members of providing these commissions with opportunities to present sessions and papers at our conferences as well as lead studies. The P–12 Committee became the P–12 Commission and the Committee on Diversity, Equity, and Inclusion became the Commission on Diversity, Equity, and Inclusion.
Responses to Systemic Racism and COVID-19
In June, after the murder of George Floyd, ASEE headquarters and our Commission on DEI issued statements in response to this tragedy and in support of the Black Lives Matter movement, along with noting the ways ASEE supports underrepresented racial minorities in our community. Incoming President Sheryl Sorby gave a very pointed speech at our Virtual Annual Conference's conclusion, challenging educators to consider every element of the engineering education pipeline (a metaphor she takes to task in her speech) to examine how we can eliminate systemic racism. Her talk is notable for pulling absolutely no punches. The full speech, and select others, can be found at the YouTube link I noted above. An excerpt appears on page 44.
We are in the process of compiling feedback from you about how your campuses are responding to the two pandemics (COVID-19 and systemic racism). Several hundred of you completed a survey this summer providing feedback on actions your campuses are taking on both fronts. I've been encouraged by the many creative and novel ideas being put forward. We look forward to offering official reporting soon.
Voices Raised Together
Finally, let me end with another positive development that reinforces my optimism. In July, Immigration and Customs Enforcement issued a revised ruling that international students would not be able to stay in the U.S. if their universities were offering online-only classes. The very diverse higher education community rose up as one in protest. ASEE issued its own strong statement and led 44 other societies in a slightly milder statement, condemning this shortsightedness and encouraging the administration to reconsider. Eight days after the ruling was issued, the administration backed away from it. This shows the power of organizations like ASEE banding together to make our members' voices heard (and the lawsuits by MIT–Harvard and others didn't hurt).
Best wishes to you for a successful AND SAFE fall.
Norman Fortenberry is executive director of ASEE.
Obituary
In Memoriam
ASEE is sad to note the passing of esteemed member John Weese. His life as an engineer began in 1951, when he entered Kansas State College as a mechanical engineering major. He joined academe professionally with a position at the University of Denver in 1963, where he rose through the ranks to be named dean in 1970. He would later also hold the position at Old Dominion University. In 1999, Weese was elected ASEE President. This was a challenging professional time, he notes in his thorough, first-person history at the Engineering and Technology History Wiki (https://ethw.org). "In November 1999, the Aggie Bonfire, a long-standing tradition, fell with the loss of 12 lives and serious injuries. An independent Bonfire Commission was formed to determine the cause of the failure. Texas A&M's President, Dr. Ray M. Bowen, an ASEE Fellow member, asked me to be a liaison between Texas A&M and the Bonfire Commission," recalled Weese. "The next six months were intense, most unusual, and threatened to interfere with my responsibilities as ASEE President. Fortunately, Dr. Wally Fowler of the University of Texas was the ASEE President-elect and a close friend. He readily stepped in to help, for which I was most grateful."
In addition to being an ASEE Life Member and Fellow, Weese won the W. Leighton Collins and Frederick J. Berger Awards, and was a recipient of the ASEE Centennial Medallion. He is survived by his wife of 65 years, Betty, daughters Carol (Walter Armstrong) and Kathy Falk (Kirk), and other family members. His official obituary notes he will be remembered as a kind, methodical man, and a lifelong learner. He loved fishing, reading, and solving puzzles, and especially cherished spending time with friends and family.
Call for Nominations
The ASEE Nominating Committee, chaired by Immediate Past President Stephanie Adams, requests member participation in nominating candidates for the 2022 ASEE Board election. Board positions to be nominated are: President-Elect; Vice President, Member Affairs; Chairs of Professional Interest Councils I, IV, and V; and Chairs of the Council of Sections for Zones I and III.
All nominees must be individual members or institutional member representatives of ASEE at the time of nomination and must maintain ASEE membership during their term of office. Nominating Committee members are not eligible for nomination.
Candidates for President-Elect and for Vice President of Member Affairs must be active members who have served or are serving on the Board of Directors. Because ASEE is a Department of Defense contractor, candidates for President-Elect must currently be U.S. citizens and undergo a security clearance.
Candidates for Chair-Elect for Zone II and Zone IV will be selected by their members of their respective sections, as the ASEE Constitution stipulates. Each proposed candidate for a Society-wide office should submit a first-person biographical sketch of fewer than 400 words that documents career contributions, ASEE offices held, awards and recognitions received, and educational background. Include comments on leadership qualities, ability to collaborate with others to achieve objectives, and willingness to serve if elected. Self-nominations are accepted. For nominations for the office of President-Elect, please include a statement summarizing why you think your nominee is a good candidate for the position. A listing of members who meet constitutional eligibility requirements for the offices of President-Elect and Vice President, Member Affairs, is available from the executive director's office at ASEE headquarters.
Nominations will be accepted electronically at s.nguyen-fawley@asee.org. Please include a subject line that begins with the words "2022 Nomination" so that it can be forwarded to the Nominating Committee. Please be assured that your nominations are confidential and will be seen only by the assistant Board secretary and members of the Nominating Committee. The deadline to submit nominations is June 1, 2021.
Nominations postmarked by June 1, 2021, will also be accepted by mail. Please mark the envelope CONFIDENTIAL and address it to Stephanie Adams, Chair, ASEE Nominating Committee, ASEE, 1818 N Street, NW, Suite 600, Washington, DC 20036.
Evangelist of Active Learning
ASEE's Teacher of the Year inspires by example—in and beyond his classroom.
By Mary Lord
Students in Brock E. Barry's geotechnical engineering course, known affectionately as "Soils," must sometimes wonder if they've wandered into the Dead Poets Society instead of a lab at the U.S. Military Academy. A lesson on applying Mohr's Circle, for example, requires them to stand on their desks and scream "compression is positive!" along with the instructor. "Those young men and women…made a conscious decision to serve their country," explains Barry, West Point's inaugural professor of engineering education and ASEE's 2020 National Outstanding Teaching Award winner. "They deserve nothing other than my best every day."
How a beard-sporting civilian engineer became an acclaimed instructor, civil and mechanical engineering department leader, and expert on effective engineering practices at America's first engineering school may reflect growing up in New York's rural Finger Lakes region with two teachers for parents. "You had to drag me out of the sandbox in the backyard as a kid," he recalls with a laugh, describing his fascination with the differing properties of soil.
His interest in civil engineering propelled Barry to the Rochester Institute of Technology for a B.S., followed by an M.S. from the University of Colorado, Boulder. Back in Rochester, Barry found work as a geotechnical engineer. "I enjoyed it," says Barry, but "it was all bill, bill, bill." By contrast, his off-duty adjunct teaching gigs grew increasingly fulfilling. "Is this a wake-up call?" his wife gently asked, "something you should do?"
About that time, his wife learned of a new doctoral program in engineering education at Purdue University, where she had earned her B.S. in mechanical engineering. Though there were no graduates or data on employment prospects, "I wanted to be a part of it," recounts Barry, who was admitted on a full fellowship and resigned from work that same day to enroll.
Barry, an active ASEE member since introduced by his faculty mentors in 2006, learned that West Point aimed to hire someone with an engineering education background while he was networking at the 2007 Annual Conference. He joined the faculty as an assistant professor in 2009 and rose to become an associate professor and head of the civil engineering division's mechanics group three years later.
As a civilian, Barry understood he would hit an institutional glass ceiling upon advancing to full professor. West Point's "respect for quality teaching" proved a powerful motivator, however. "I fit very well in a military culture," adds Barry, an Eagle Scout and volunteer leader in his two sons' troops. "I love the routines, I love the structure, and I love the rules."
Barry's multifaceted contributions and empathy garner praise from colleagues and cadets alike. "A teacher of teachers" who "sets the standard at West Point and beyond for the engineering education profession," proclaimed Brigadier General Cindy R. Jebb, dean of West Point's academic board, in her letter of recommendation. Barry "makes every lesson come alive," enthused Col. Karl Meyer, a professor and deputy head of civil and mechanical engineering. Impressive, too, is his scholarship, including 12 peer-reviewed journal articles and 19 conference papers.
Fourth-year cadet Nicholas Perovich appreciated the way Barry drew from his "extensive professional experience" to teach core concepts, such as describing a collapsed cliff project he worked on to reinforce a lesson on slope stability. "His real-life examples helped me place course topics into a broader context and realize the profound impact that engineering can have on people's lives," wrote Perovich in his letter of support.
That impact is important, acknowledges Barry, who strives to build rapport with students by asking about their hobbies or addressing mental health issues. "Students will be motivated to work harder if they don't want to let you down," he reasons. His measure of success, however, isn't stellar evaluations or GPAs but graduates like the one who called via satellite phone from Afghanistan to share an "amazing" example of soil-mechanics lessons applied to real-world road building.
Mary Lord is deputy editor of Prism.
Virtual Award Winners' Gallery
Every year, ASEE recognizes outstanding individuals whose accomplishments, commitment to the profession, civic participation, and efforts to advance the Society's mission exemplify the best in engineering and engineering technology education. Meet our 2020 award winners and newly inducted Fellow members—who were celebrated during ASEE's Virtual Conference in June—at
https://2020honors.asee.org. A complete list of national, division, and section honorees will be published in the awards program later this fall.
Announcing ASEE's Engineering Teacher Professional Development Endorsement (ETPDE) Program
The American Society for Engineering Education announces our system for recognizing professional development opportunities for P-12 educators that align strongly with ASEE's 2014 Standards for the Preparation and Professional Development of Teachers of Engineering. We believe programs meeting these standards prepare P-12 students for either the collegiate study of engineering or for being informed citizens in an increasingly technological world.
Providing "a way to describe engineering teaching professional development objectively is a real boon to educators and administrators everywhere," says Stacy Klein-Gardner, adjunct professor of biomedical engineering at Vanderbilt University, chair of the ASEE Commission on P-12 Engineering Education, and lead reviewer for the Engineering Teacher Professional Development Endorsement. "Individual educators, schools, and districts can now find the exact type of professional development that they need. Finding the seal of ASEE endorsement assures them they are getting the PD just as the provider advertises. PD providers will also have a way to improve their own offerings in targeted and meaningful ways."
TeachEngineering is ASEE's first endorsed program. Endorsed programs will receive a badge that may be displayed on marketing materials and websites; endorsements are valid for three years.
The growth of professional development opportunities for P-12 engineering educators raises a number of important questions for providers and consumers of such programs. The Standards for Preparation and Professional Development of Teachers of Engineering offers a comprehensive set of objectives while acknowledging that no PD program can cover all of them. Each PD provider will prioritize some subset of engineering content, engineering pedagogy, engineering as a context for teaching and learning, or engineering curriculum and assessment, while all endorsed programs will place a moderate-to-high emphasis on aligning their work with research, standards, and educational practices.
To learn more, please visit https://etpde.asee.org or contact the program manager at etpde@asee.org.
Engineering Literacy for All
New framework, created in partnership with ASEE, aims to guide program development as well as P-12 education policies.
By Tanner Huffman
Engineering touches every aspect of human life, from providing access to clean drinking water to 5G telecommunications and vaccine development. Yet few young people ever encounter the subject in school or graduate with the foundational skills and knowledge to pursue engineering studies and careers. Now more than ever, we must inspire and prepare our students to grow into the informed designers and innovators the world needs to solve the tough challenges facing us today and in the future. In short, engineering learning is essential for every child in every school, town, city, and county in the country.
Many of us within the P-12 education community recognize that there is something special about engineering learning. When given the opportunity to engineer, students of a variety of ages and backgrounds are motivated and eager to tackle difficult problems. They work together. They communicate. They are critical and creative and resourceful. We've seen it with our own eyes, experienced it as teachers and professional development coordinators, and advocated for it at parent/teacher nights, school board meetings, and legislative briefings. We know that engineering should be taught in parallel with science and math to ensure an equitable, authentic, relevant, and exciting STEM education experience. However, there have been minimal efforts at the state and local level toward adopting engineering as a distinct component of every child's schooling.
The Framework for P-12 Engineering Learning is a step toward changing that status quo and democratizing engineering learning across all grade levels, preschool through high school. The framework was developed with teachers, school administrators, and researchers working in concert with leaders of the Advancing Excellence in P-12 Engineering Education (AE3) research collaborative and the American Society of Engineering Education. It provides practical guidance by identifying common P-12 engineering learning goals that all students should reach to become engineering literate. The document will add structure and coherence to the P-12 engineering community by serving as a foundation for the development of any and all engineering programs in schools, informing state and national standards-setting efforts, and providing researchers with a common starting point to better investigate and understand P-12 engineering learning.
The framework is envisioned as both a practical guide and critical first step in a national movement to make engineering a part of every child's educational experience. Whether you are a state education policy leader, district administrator, teacher, researcher, industry partner, or educational company, we invite you to join us in our mission.
Tanner Huffman is the executive director of the Advancing Excellence in P-12 Engineering Education research collaborative and an assistant professor in the Department of Integrative STEM Education at The College of New Jersey's School of Engineering.
Two Constitutional Amendments on 2021 Ballot
The 2021 Election Ballot will contain two changes to the Society's Constitution, in addition to nominations to fill seats on the Board of Directors and candidates' statements and biographies. All the amendments have the full support of the Board of Directors, which urges members to consider them carefully. Members will vote online from mid-January to mid-February. Members who would prefer a paper ballot may send a request to Sylvie Nguyen-Fawley, ASEE Assistant Board Secretary, at s.nguyen-fawley@asee.org.
In summary, the amendments will be made in Article IV, Section 2:
The terms for Council of Section Zone Chairs has been changed from two years to three years and the position of chair-elect will be eliminated.
Suggestions of eligible candidates for consideration by the Nominating Committee shall be submitted to the Executive Director not less than sixty (60) days prior to the Annual Conference.
The full text of the revised Constitution, with changes and additions highlighted, can be found at:
https://www.asee.org/documents/publications/prism/NEW-EDITS-to-APPROVED-Art-IV-Section-2-ASEE-Constitution-July-2019-rv082720.pdf