Letter from the President
You Spoke Up. We Listened.
Activities at the Annual Conference and at headquarters respond to issues that arose during discussions with members.
By Stephanie Farrell
This is my final column in Prism as ASEE President, and it comes just ahead of our Annual Conference and Exposition in Tampa.
Any vital community has a convening event like our Annual Conference. By an almost literal stroke of luck, I stumbled upon the ASEE Annual in 1997 in Washington, D.C. I was a young faculty member looking for a professional home, and what I found at this Conference—enthused, welcoming people who were doing the same work I was doing—made me realize that this is where I belong.
If you haven't been to our Conference, I encourage you to go. Over time, it has grown and evolved to the point where not only is there something for everybody, but taking in all the content can be like drinking from the proverbial firehose! Our members have absolutely no problem filling their time, be it with technical sessions or social events.
Specifically, let me address the Monday keynote with Emily Boyd. Last year, in a series of roundtable discussions at the Annual Conference, we focused in part on what is typically referred to as "non-tenure-track" faculty. We came to agreement that this term is not constructive, and we agreed to take the lead in changing our community's language so that these instructors, lecturers, and professors of practice will be referred to as "professional track" faculty. Boyd's talk will address the advantages and challenges these faculty face in academia, summarizing a study she chaired at Washington University in St. Louis. She'll share her experience leading university-level policy and cultural changes as copresident of the university's Association of Teaching, Research, and Practice Faculty, and offer observations and suggestions on how universities and engineering departments can create more welcoming and supportive environments for this increasingly prevalent and important part of the professoriate. I think this is going to be a fascinating session.
On that note, we're having a workshop on professional track faculty immediately following the Monday plenary. This will be a deep dive into what universities and departments can do to provide more welcoming and supportive work environments for these individuals. It will address trends, policies, and cultural norms that professional track faculty should expect and strive for. Lastly, the workshop will suggest best practices that professional track faculty can use to galvanize change at their own institutions.
On the theme of inclusivity, the Conference website features an ADA Accommodations tab, with information regarding closed captions, interpreters, and mobility. In addition, we continue with our mother's room, quiet room, gender-neutral restrooms, and presenter guidelines. Many of these ideas came out of the roundtable discussions last year that I referenced earlier. I am so encouraged to see ASEE become more and more inclusive every year.
I am further excited to see the first meeting of the Council of Institutional Councils on the topic of Pathways to Engineering, an interactive session that convenes members of the Corporate Member Council, Engineering Deans Council, Engineering Technology Council, and Engineering Research Council to develop synergistic interactions, which have the potential to advance the engineering profession at all levels.
In my first Prism column as President, I talked about our leadership's continued effort to listen to our members and constantly consider how we can serve you better. I am pleased to announce that one way our member engagement will improve is with a new website and digital platform in the shape of a revamped association management system. While this is not the sexiest of topics, many of you interact with the ASEE website, whether to find information, do your research, submit a paper, or locate a colleague. The ASEE Board of Directors has authorized significant funds over the next several years to upgrade our systems, which will improve digital member engagement and make headquarters staff more efficient and our products more robust. A newly hired CIO is overseeing this project, starting this summer.
Again this year, members of ASEE's Board and some senior headquarters staffers traveled to section and zone meetings in an ongoing effort to keep us connected to our members in the field. We brought information with us, but, more important, gave you a chance to talk and share important feedback.
I close knowing that I will leave the Society in good hands with my successor, President-Elect Stephanie Adams. And our elections earlier this year, you have now heard, resulted in another woman as President, Sheryl Sorby. After having only four women as Presidents in our first 123 years, we now have four in a row, which is a sign of changing attitudes on gender roles and diversity that we should all encourage and embrace.
It's been an honor leading you this year, and I hope I have a chance to see you in Tampa.
Stephanie Farrell is President of ASEE.
ASEE Board of Directors 2018 Election Results
ASEE members elected Sheryl Sorby to serve as ASEE President-Elect for 2019–2020. Sorby, a Fellow of ASEE, is a professor of engineering education at the University of Cincinnati. She will assume the position of ASEE President-Elect at the 2019 Annual Conference in Tampa, Fla., and become President the following year.
Full election results for all ASEE offices are as follows:
President-Elect
Sheryl Sorby (578 Votes)
Professor of Engineering Education
University of Cincinnati
Gregory Washington (458 votes)
Dean, Henry Samueli School of Engineering
University of California–Irvine
Vice President, Finance
Doug Tougaw (950Votes)
Department Chair of Electrical and Computer Engineering Richardson Professor of Engineering
Valparaiso University

Vice President, External Affairs
Agnieszka Miguel (513 votes)
Associate Professor and Chair, Electrical and Computer Engineering
Seattle University

Marjan Eggermont (440 votes)
Teaching Professor, Mechanical and Manufacturing Engineering
University of Calgary
PIC I Chair-Elect
Christi Patton Luks (370 votes)
Associate Teaching Professor of Chemical and Biochemical Engineering
Missouri University of Science and Technology
William J. Schell (303 votes)
Associate Professor of Mechanical and Industrial Engineering
Montana State University
Deepak Keshwani (205 votes)
Associate Professor of Biological Systems Engineering
University of Nebraska–Lincoln
PIC IV Chair-Elect
Beth M. Holloway (694 votes)
Assistant Dean for Diversity and Engagement, College of Engineering
Purdue University
James Lewis (232 votes)
Assistant Professor of Engineering Fundamentals
J.B. Speed School of Engineering
University of Louisville
PIC V Chair-Elect
Maureen A. Barcic (864 votes)
Director of Cooperative Education, Swanson School of Engineering
University of Pittsburgh
Chair-Elect, Zone II
John Brocato (229 votes)
Technical Communication Program Coordinator and Instructor, James Worth Bagley College of Engineering
Mississippi State University
Thomas Trusty (171 votes)
Associate Dean and Associate Professor and Department Chair for Design Engineering Technology
Allen School of Engineering and Technology
Trine University
Chair-Elect, Zone IV
Lily Gossage (104 votes)
Director of Maximizing Engineering Potential
California State Polytechnic University-Pomona
David B. Lanning (70 votes)
Professor and Associate Chair of Aerospace Engineering
Embry-Riddle Aeronautical University
Another Angle
The Value of Volunteer Leadership
ASEE depends on its members and offers abundant ways to serve.
By Patricia Fox
There are literally hundreds of opportunities within ASEE to volunteer to be a leader. I would like to challenge you to get involved. My own journey through ASEE over the years has been extremely rewarding for both me and my school.
ASEE is a complex organization with more than enough areas for members to find the right fit for their particular interests and location. Our 50-plus divisions represent the full range of engineering disciplines as well as focus areas, such as pre-K-12 education, public policy, and experiential education. Each has its own set of officers and belongs to one of five professional interest councils, all of which have chairs who serve on the Board of Directors. Important ASEE constitutencies are represented by four institutional councils: the Corporate Member Council, Engineering Deans Council, Engineering Research Council, and Engineering Technology Council. You can also become a regional leader; ASEE geographic councils include 12 sections and four zones, all with an officer or a set of officers. Each zone has a representative on the ASEE Board. In addition, there are over 300 campus representatives, whose job it is to recruit new ASEE members and keep current and potential members informed of ASEE activities. There are even more opportunities to serve on a number of committees within ASEE; currently, there are approximately 14 advisory committees and roughly 16 award committees. Altogether, there are over 900 volunteer leadership positions in ASEE.
These volunteer leaders within ASEE are indispensable to the organization and its future. It is safe to say that ASEE would not exist without the vast number of volunteers who support it and who enable ASEE headquarters to run effectively and smoothly. This enormous number of volunteer leaders does not even account for other volunteer positions that the various divisions or other groups within ASEE need in addition to officers, such as program chairs for various conferences organized by ASEE divisions. For example, the ASEE Conference for Industry and Education Collaboration (CIEC) is run by four ASEE divisions. CIEC has a leadership team of its own and four program chairs that run its annual conference.
You might be thinking, "I would like to get involved in ASEE, but where do I start?" The easiest place to begin is in the division or even your geographic section. From my experience, divisions and sections are always looking for new volunteers to run for an office or help with a committee assignment. Get to know your fellow division or section members. This is the grass roots of the ASEE organization. Many divisions as well as some sections are small, and so the opportunities to serve as an officer are even greater.
Volunteering in any position can lead to a lifetime of rewarding work in a great organization.
One of the least liked jobs in any division usually is the program chair position, but even that role allows you to learn a lot about ASEE's organization. I served as a program chair four times—call me crazy, but it's true!
My journey in ASEE began in the Engineering Technology Division (ETD). I started serving the group by doing a number of salary and program surveys for the engineering technology community from the 1980s through the 1990s. I eventually became more involved as a program chair for several conferences. I later became active in the Engineering Technology Council (ETC) and served several times as a director and eventually twice as the chair-elect, chair, and past chair, which put me on the ASEE Board. I also ran for the position of Vice President for External Relations (an independently elected position on the Board) and served in that position for two terms. All told, I served on the ASEE Board four times and have held a volunteer leadership role in a council or division since 1999. These various roles gave me the opportunity to meet many wonderful people outside my field of study, division, council, and section.
While my journey through ASEE, from my perspective, seems rather short, I recently received lifetime membership status (age plus years of membership must equal 100), which I am just as proud of as the Fellow status that I was awarded in 2007 and the two ASEE national awards I received over the years. However, the best legacy from my work at ASEE is the friendships I have made during my journey and that of my husband, whom I met while serving on the ASEE Board. Thank you, ASEE, for the opportunities. I hope others make the decision to become leaders in ASEE and find it as rewarding as I still do.
You can learn more about ASEE volunteer opportunities at this website: https://volunteer.asee.org/.
Patricia Fox, a clinical assistant professor at Indiana University Purdue University-Indianapolis, is immediate past chair of the Engineering Technology Council.
Call for Board Candidates
The ASEE Nominating Committee, chaired by Immediate Past President Bevlee Watford, requests member participation in nominating candidates for the 2020 ASEE Board election. Board positions to be nominated are: President-Elect; Vice President, Member Affairs; Chairs of Professional Interest Councils II and III; and Chairs of the Council of Sections for Zones I and III.
All nominees must be individual members or institutional member representatives of ASEE at the time of nomination and must maintain ASEE membership during their term of office. Nominating Committee members are not eligible for nomination.
Candidates for President-Elect must be active members who have served or are serving on the Board of Directors. Because ASEE is a Department of Defense contractor, candidates for President-Elect must currently be U.S. citizens and undergo a security clearance. The nominees for Vice President, Member Affairs shall be chosen from those who have served as Zone Chairs.
Candidates for Chair-Elect for Zone I and Zone III will be selected by their members of their respective sections, as the ASEE Constitution stipulates.
Each proposed candidate for a Society-wide office should submit a first-person biographical sketch of fewer than 400 words that documents career contributions, ASEE offices held, awards and recognitions received, and educational background. Include comments on leadership qualities, ability to collaborate with others to achieve objectives, and willingness to serve if elected. Self-nominations are accepted. For nominations for the office of President-Elect, please include a statement summarizing why you think your nominee is a good candidate for the position. A listing of members who meet constitutional eligibility requirements for the offices of President-Elect and Vice President, Member Affairs is available from the executive director's office at ASEE headquarters.
Nominations will be accepted electronically at s.nguyen-fawley@asee.org. Please include a subject line that begins with the words "2020 Nomination" so that it can be forwarded to the Nominating Committee. Please be assured that your nominations are confidential and will be seen only by the assistant secretary of the Board and members of the Nominating Committee. The deadline to submit nominations is June 1, 2019.
Nominations postmarked by June 1, 2019, will also be accepted by mail. Please mark the envelope CONFIDENTIAL and address it to Bevlee Watford, Chair, ASEE Nominating Committee, ASEE, 1818 N Street, N.W., Suite 600, Washington, DC 20036.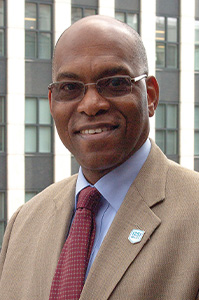 Norman's Notes
How Our Fears Block Needed Change
On Nov. 2, 2018, I was one of more than nearly 250 educators, employers, nonprofit professionals, policy makers, and others passionate about the future of education at "Remaking Education," held in Boston's historic Cutler Majestic Theater. An additional 100 volunteer faculty, students, and staff from Olin College of Engineering and Emerson College joined us as we explored innovation in education.
One particularly compelling session was titled "Dissent," wherein participants, in groups of four to six, envisioned the year 2050, in which campuses were more diverse, students pursued their educations with passion and with authentic assessments of their actual learning, and all relevant expertise was brought to bear on technical and social problems. However, achieving this educational utopia, in the view of participants, will require some hard steps that will likely be vigorously fought over—the end of selective admissions, the elimination of disciplinary majors, and the elimination of grades. What amazed me was how little disagreement there was on the outcomes to be achieved or the steps necessary to achieve them. Where things bogged down was on the process by which to bypass entrenched interests and surmount concerns about damage to institutional reputation. Put another way, our professional egos, or fear of risking ridicule, are what participants believed kept them and their institutions from doing what they believed would provide greatly enhanced learning environments.
Whether or not you agree with the particular actions suggested to achieve the stated goals, you should consider whether fear keeps you from taking the bold steps you believe are necessary and, if so, how we can collectively mitigate the barriers those fears present to our greatly enhancing the quality of education. A March 2012 report by the United Kingdom's Royal Academy of Engineering and Massachusetts Institute of Technology (https://www.raeng.org.uk/publications/reports/achieving-excellence-in-engineering-education) makes five key points about driving and sustaining educational innovation within universities:
Change is driven by acknowledged need;
Assessment is necessary, but not sufficient;
Innovation must be embedded within a core curriculum;
Department-wide approaches are more effective than isolated approaches; and
Sustained change depends on engaging a cross section of faculty and administrators.
Of these, the two most critical and most subject to fear are the first and last. We must be willing to acknowledge that needs exist, and not just for someone else's institution. Given the innumerable reports produced over the past 20 to 30 years, we seem to have made progress on this point. The fear that exists is in acknowledging the degree of change required and the resulting changes to our own behavior and processes that are required.
We must also be willing to engage in both bottom-up and top-down sustained engagement. The main fear impediment here appears to be the fear of missing out, of missing the next new thing. But much of this is driven by the perceived desire for novelty (you don't get nearly as many brownie points, or grant dollars, for adapting someone else's innovation).
ASEE is the venue where some of these discussions are being held. Add your voice to the conversation. Help us all to find ways to overcome our fears in order to do that which we know must be done.
Norman L. Fortenberry, ASEE Executive Director
Postscript: After the note above was sent to ASEE members via e-mail, we received several responses:
This was an interesting read. I don't know if I necessarily agree with all of it (e.g., elimination of disciplinary majors would seem to be a showstopper), but that doesn't mean progress can't be made in the other areas. However, I truly believe that ABET has to have an important role in whatever plans are made from a "process" standpoint, as Norman identifies. The influence that ABET has in how departments make decisions is very large and should not be underestimated.
Was information technology's role discussed? (The answer is yes.)
[If] we do not acknowledge the "needs" of low socioeconomic groups and the first-in-college generation, our efforts are hollow. We continue to "almost" ignore these two groups. Just look at any official government report on diversity in STEM education. These groups are mostly missing. How can we identify them? Just ask, or at the least, see if they are a Pell grant recipient.
Although I am still a member, this e-mail is why I am tempted to quit. . . . You should revisit what happened at Stanford when they did away with grades. Just because a group of you think you have a better way doesn't mean it is. It has taken mankind thousands of years to figure out how to pass on all the present knowledge down to the next generation, but it takes only a short amount of time to destroy it.
Partner Profile: Cynthia Murphy-Ortega

Inspiration by Example
When she joined Chevron in 1991 after earning a bachelor's degree in chemical engineering, Cynthia Murphy-Ortega had in mind working for five years, returning to school for a Ph.D., and entering academe. Five years passed, she recounts, "and I was having such a great time" it was too soon to quit. At the firm's Richmond refinery, outside San Francisco, she held a series of jobs ranging from maintenance to process safety management and business planning. Then she moved to Chevron's Energy Technology subsidiary, where she ran technical competency programs for new hires. Before she knew it, two decades had flown by, seemingly "in the blink of an eye."
Although she never became a professor, Murphy-Ortega is now deeply engaged in education as a manager of university partnerships and association relations at Chevron. The company invests in some 130 education partnerships around the world, including ASEE, spending $400 million since 2013. And it has definite ideas about how tomorrow's engineers should be trained. "We advocate hands-on excitement throughout the entire curriculum" and also stress internships, Murphy-Ortega says. Graduates need "great technical skills" but also communication, teamwork, and leadership abilities, cultural awareness, and financial acumen. She calls these "power skills," believing "they're just so critical" to engineers' performance, and urges schools to integrate them with technical courses. Two female chemical engineers who served as early role models for her were "well-spoken and engaging. People want to work with them. I wanted to be the same."
Chevron's education priorities can be seen in its sponsorship of an annual student design competition at the University of Southern California during Engineers Week every February. Teams are given a problem to solve within their particular discipline. In one contest, for instance, chemical engineers were assigned to explain the causes of instability of pressure within a distillation column. Judges—Murphy-Ortega has been one of them—rate the teams on their grasp of the problem, creativity, research on applicable technologies, presentation and Q&A, and how well members work together.
The company has particularly close ties to Murphy-Ortega's alma mater, the University of California–Davis, which last year named her a Distinguished Engineering Alumna. A decade ago, Chevron endowed the position of director of the Energy and Efficiency Institute within the College of Engineering, and it has funded 22 scholar awards for engineering students. Murphy-Ortega serves on several advisory committees at the school, including two that capture her commitment to diversity and inclusion: the Leadership in Engineering Advancement, Diversity, and Retention (LEADR) program, which provides a number of services to first-generation students and those from underserved populations, and Avenue E, a community college transfer program.
At UC–Davis, other colleges, and K-12 schools, Murphy-Ortega extols the opportunities offered by engineering—and what the field requires. "I tell my personal story as a female Hispanic student who enjoyed math and chemistry" and someone with strong motivation, she says. "Nothing in life that is worth doing is easy." She thinks "students tend to have a larger global perspective" than they did in the past. "What may have changed is the robustness of their questions and their curiosity." Robust questions about energy access, climate change, and the environment give her the chance to say that Chevron is about more than oil and in fact "has folks dedicated to alternative energy and sustainability."
Within ASEE, Murphy-Ortega has been active in the Corporate Member Council and hopes to draw in more large companies. Chevron has sponsored a number of Society activities, including a series of workshops at the Collaborative Network for Engineering and Computing Diversity (CoNECD) conference, cohosted by ASEE, expanded Safe Zone training at section meetings, and the new Mind-set Studio train-the-trainer program at the 2019 Annual Conference. The company also supports an NBC Learn video series cosponsored by ASEE.
Image Courtesy of  AIchE