Letter from the President
A Wake-Up Call
Staying at home prompts a critical look at how a fast-paced life causes us to neglect personal health.
By Stephanie Adams 
So much has changed since I wrote my last column and, in the midst of it all, I almost forgot that this column was due. As I sat and thought about this for over a week, so many ideas swirled around in my head. Do I write about COVID-19 and the impact it is having on higher education, or more specifically engineering education? Do I write about the impact it is having on our our ongoing research projects? Or leadership in times of crisis? Or why the virtual conference is the way to go? Or some George Orwell, Nineteen Eighty Four-like look at our future?
Many others are writing about these subjects, so I decided not to join them. Instead, I want to focus on the all-important topic of work-life balance and report that, for the first time in a really long while, I am actually starting to find balance.
Some time ago, maybe within the past five years, I found myself engaged in an exercise of trying to list the many roles and titles I held: university administrator, tenured faculty member, active researcher, frequent invitee to national discussions on the future of engineering education or broadening participation in STEM, board member, mentor, graduate adviser, daughter, partner, and friend. When I finished, I was tired, but it made me ask myself: "How on earth are you juggling all of this, and are you excelling in each role?"
I convinced myself that I was excelling—at least with regard to my obligations. Still, I would tell myself I needed to lose a little weight and build my stamina for the road ahead. As a form of exercise, I bought a bike and made strides to ride at least three or four times a week as long as I was home. Ah-hah—as long as I was home! Well, how often did that occur? According to my Delta and Marriott account summaries, not very often. Over the past five years, I have maintained Platinum status with Delta (75,000 miles or 100 segments flown) and Platinum/Titanium status (50 or 75 nights) with Marriott. I ended 2019 having Diamond status with Delta and Ambassador (the level above Titanium) with Marriott; levels I considered to be badges of honor.
Today, I have a different thought about these travel-based achievements. I began 2020 very optimistic about the start of a new decade; feeling peaceful about where I was in life; excited to enter my second semester in a new role and home; and energized by a new sense of unity in ASEE. However, these positive feelings were short-lived. Late in the day on January 1, I experienced an acute headache like none before. Over the next two weeks, I had a series of health challenges that quite frankly scared the bejeebers out of me. Though I had to cancel a month of travel, I don't think these challenges fully got my attention. However, COVID-19 most certainly has.
Popcorn Challenge
During the past weeks of sheltering in place, I have come to realize that I was not doing well at balancing everything. While the more externally focused aspects might have been okay, I had been neglecting the most important thing: ME! I was unhealthy in so many ways: mentally, spiritually, and most important, physically. At the conclusion of week one of sheltering in place, I found myself on the couch watching hours of television, wanting popcorn. I made a deal with myself: I could only have it if I rode my bike to the store to get it. So, I did. The 3.5-mile round-trip ride gave me time to think. When I got back home, I concluded that two types of people would emerge from this pandemic, however long it lasted: those better than when it began and those worse off. I am not talking about the effects of the illness itself, but about the mindset and the effects of sheltering in place.
At that moment, I resolved to come out of this better than I began. To strengthen my mind, I set a goal of reading at least one book every two weeks. I decided to strengthen my spirit by joining online services at my church in Virginia. To strengthen my body, I would exercise more and eat less. Four weeks into this, I am making great strides and feel more balanced and in control. Gone are the aches and pains I previously felt and the hurried pace that I had been maintaining for years. For the first time that I can recall, a peace and calmness have come over me.
None of us has any idea how long this will last. My prediction is that it will be mid-June, at the earliest, before we are back on campus. That gives me another eight weeks, or 56 days from when I wrote this column. I have always heard it takes 21 days to form a new habit. So I have time to continue writing a new narrative for myself and my life. I have always subscribed to the adage "Work Hard, Play Harder." Now I repeat the mantra, "Work Hard, Practice Self-Care."
How will you emerge from this period and our COVID-19 stay-at-home orders? How are you using this time? At the end of the day, we are not our jobs or our titles; we are daughters, mothers, sons, husbands, dads, spouses, friends. Those who love us hope to have us around for many years to come. I hope this reflection inspires you to make strides to be better, to get stronger, and to enjoy the little things.
I thank you for the honor of serving as your President. I am sorry we won't get to take Montreal by storm; greet each other in hallways, business meetings, workshops, or the division mixer; or hear the advances you've made via your research and curricular innovations. I look forward to greeting you in virtual hallways, hearing your presentations, and congratulating new Fellows and other award winners during our virtual conference. As I close my column on April 16th, I am thinking of my former institution, Virginia Tech, and my friends and colleagues who suffered an unspeakable loss 13 years ago from the day I write this. I find strength in these (modified) words of poet Nikki Giovanni:
"We are ASEE. We will prevail!"
Stephanie Adams is President of ASEE.

Deans Ascendant
On July 1, three engineering deans will assume the top jobs at two state universities and a private college: Darryll Pines at the University of Maryland, Gregory Washington at George Mason University, and Gilda Barabino at Olin College. Their appointments, leaping over the typical applicant pool of provosts, vice presidents, and vice chancellors, signal a recognition of engineering schools as training grounds for today's higher education leaders.
All three new presidents have been active and influential in ASEE, particularly on the Engineering Deans Council (EDC), which both Washington and Barabino have chaired, and currently serve together on the National Science Foundation's Engineering Advisory Committee. Barabino and Pines are members of the National Academy of Engineering.
Pines's transition will be the shortest in distance: some 2,300 feet between dean's and president's offices. An aerospace and mechanical engineer with degrees from Berkeley and MIT, he joined Maryland's College Park campus as an assistant professor in 1995, after three years in industry and at the Lawrence Livermore National Laboratory. He became aerospace chair in 2006 and dean three years later. He credits his three years as a program director at the Defense Advanced Research Projects Agency with helping him grasp the federal research-grant process.
A regular speaker and participant at ASEE-run workshops, Pines also has worked to improve K-12 preparation for engineering. He won support from more than 100 fellow deans and the National Science Foundation to spearhead Engineering For US All (E4USA), an advanced high school engineering curriculum currently being introduced at numerous schools around the country. He helped Maryland secure the university's largest ever gift—$219.5 million—part of which will be used to support community college transfers into Maryland's engineering school. Pines will be the second African American to lead Maryland's flagship school. John Brooks Slaughter, an electrical engineer, served as chancellor in the 1980s.
Washington, dean at the University of California–Irvine since 2011, has overseen growth in enrollment, by 1,300 students, with a significant increase in women and underrepresented minorities among both students and faculty. He also developed interdisciplinary graduate and undergraduate programs with schools of business and humanities as well as an institute for mobility and connectivity, helped build a new science and engineering building, and established OC STEM, a collaborative STEM "ecosystem" involving K-12 teachers and students in Orange County. A former ASEE Board member, he has been a leader on the EDC in encouraging other deans to set measurable faculty diversity goals.
A mechanical and aerospace engineer trained entirely at North Carolina State University, Washington is both a "strategic thinker" and a "mobilizer" in the words of Tom Davis, GMU rector (head of its governing body). He takes over leadership of Virginia's largest public university at a point when it is helping to reshape Northern Virginia as a high-tech growth engine, spurred by the arrival of Amazon's East Coast headquarters.
Barabino, longtime champion of and mentor to women and minorities in engineering and science, will run a small college that in two decades has become a widely emulated model of project-based, interdisciplinary engineering education. "We need approaches that speak to real-world conditions" and give students the opportunity to solve them, she says in one of a series of videos introducing her to the Olin community. If the college's educational values match hers, its setting in a wooded, comfortable Boston suburb is far removed from the Harlem campus of the City College of New York, known for propelling generations of immigrants and low-income strivers into the middle class. A career-long researcher since graduate school at Rice University (she is past president of both the American Institute for Medical and Biological Engineering and the Biomedical Engineering Society) who ran a lab even as a dean, Barabino will head an undergraduates-only college—albeit one where the majority of faculty conduct research.
ASEE Board of Directors 2020 Election Results
ASEE members elected Adrienne Minerick to serve as ASEE President-Elect for 2020–2021. Minerick, a Fellow of ASEE, is dean of the College of Computing and a professor of chemical engineering at Michigan Technological University. She will assume the position of ASEE President-Elect during the 2020 Annual Conference and become President the following year.
Full election results for all ASEE offices are as follows:
President-Elect
Adrienne Minerick (737 votes)
Dean, College of Computing
Professor of Chemical Engineering
Michigan Technological University
Teri Reed (630 votes)
Assistant Vice President for Faculty Research Development, Office of Research
Professor, Department of Chemical and Environmental Engineering
University of Cincinnati
Vice President, Member Affairs
Brian P. Self (780 votes) 
Professor, Mechanical Engineering
California Polytechnic State University
Shane Rogers (526 votes)
Associate Professor, Civil and Environmental Engineering
Clarkson University
Chair, Professional Interest Council II 
Chell A. Roberts (709 votes)
Dean, Shiley-Marcos School of Engineering
University of San Diego

William H. Guilford (519 votes)
Assistant Dean for Undergraduate Education, School of Engineering
Undergraduate Program Director, Biomedical Engineering
Associate Professor of Biomedical Engineering
University of Virginia
Chair, Professional Interest Council III
John Estell (444 votes)
Professor of Computer Engineering and Computer Science
Ohio Northern University
Chris Swan (417 votes)
Dean of Undergraduate Education, School of Engineering
Associate Professor, Civil and Environmental Engineering
Tufts University
Atsushi Akera (416 votes)
Associate Professor and Graduate Program Director in the Department of Science and Technology Studies
Rensselaer Polytechnic Institute
Chair-Elect, Zone I
Ilya Grinberg (133 votes)
Professor and Coordinator of Electrical Engineering Technology, Department of Engineering Technology
Buffalo State College, State University of New York (SUNY Buffalo State)
Saeid Moslehpour (114 votes)
Professor of Electrical and Computer Engineering,
College of Engineering, Technology, and Architecture
University of Hartford
Chair-Elect, Zone III
Tariq Khraishi (159 votes)
Professor, Mechanical Engineering
University of New Mexico
Kevin Drees (93 votes)
Associate Professor, Engineering Librarian
Oklahoma State University
ASEE Constitutional Amendments Vote
Yes, I approve the Constitutional revisions (1,305 votes)
No, I do not approve the Constitutional revisions (35 votes)
Board Profile

Avatar of Student Success
Despite over two decades in engineering education, Zone IV Chair Lily Gossage still marvels at the "happenstance" that led to her becoming a diversity leader. She also considers herself an outlier—much like the mostly low-income, first-generation, immigrant, and minority undergraduates she guides at Cal Poly Pomona's Maximizing Engineering Potential program. Why wouldn't she, having fled Vietnam in 1975 with her parents, two siblings, and pair of suitcases? Their harrowing escape down Saigon's chaotic, corpse-filled streets and subsequent rescue by the U.S.S. Midway after a week without food on a crowded barge makes Gossage uniquely attuned to her often-traumatized students, who "have the same needs, anxieties, and fears that my family had."
Settling in Long Beach, Calif., Gossage took city buses because a car was unaffordable, and wore clothes from Goodwill. Her mother worked three jobs, ultimately finding full-time employment at the California State University–Long Beach (CSULB) library. There, Gossage spent many childhood hours learning English from audiotapes and books while falling in love with Emily Dickinson's poetry.
Graduating from CSULB, Gossage worked as a medical technologist, but found the lab too isolating. She joined the Peace Corps, living in a mud hut for 20 months in a tiny Eritrean village. There she had a fortuitous encounter with a civil engineer whose construction company provided low-cost housing in the region. After returning home, Gossage learned about an opening at CSULB for a founding director of engineering recruitment and retention. To her astonishment, the engineer was among her interviewers. She got the job—and he became an associate dean and her direct supervisor.
Overcoming apprehensions about "fitting in," Gossage embraced her new role. She developed outreach programs, rewrote the first-year engineering curriculum to better engage underrepresented groups, and taught first-year engineering courses. Named director of the Engineering Honors Program, she simultaneously served as research associate for the Office of Engineering Educational Research and Assessment, harnessing data to track student performance and studying practices that hinder academic success. K-12 engineering education was a particular passion. Gossage wrote grant proposals that enabled such initiatives as taking dozens of fifth-grade girls to NASA's Kennedy Space Center and establishing a summer residential program on campus for girls and mothers from a local homeless shelter.
Prior to joining Cal Poly Pomona in 2014, Gossage pursued a Ph.D. in education from Walden University, writing her dissertation on the work-life balance of female engineering faculty. With her students, including those who are undocumented or grappling with housing and food insecurity, she strives to "meet them where they are," stocking snacks in her office, sharing her personal story, and assuring that "there's always a way out." With campus closed during the COVID-19 pandemic, she reaches them by coupling academics with the videogame Minecraft—and even has her own avatar.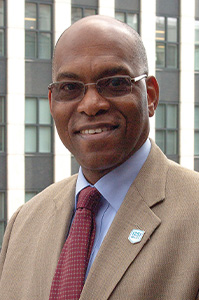 Norman's Notes
ASEE Members,
I hope you are managing our new (temporary) normal as best as you can. Higher education, along with the rest of the world, has undergone significant disruption these past months; I am confident that ASEE and its members and member institutions will face these challenges in a resilient manner, perhaps even with new ideas, improved systems, and a revised business model appropriate for the coming decades.
ASEE Virtual Annual Conference – At Home with Engineering Education
As you know, we are moving the Annual Conference to a virtual experience. Though we regret having to postpone our Society's visit to beautiful Montreal (which we will get back to in a few years), we are excited for the opportunity (and challenge) to present our conference in a new way.
We have an opportunity to leverage what we are learning at ASEE HQ—and what is being learned on campuses—through the rapid transition to online operations. We see the possibility of greatly expanded webinars and other online offerings for ASEE members; we will be more able to provide robust parallel online experiences for those unable to attend future in-person events; and we will consider more broadly ASEE's general content delivery.
Reduced Registration
We have reduced registration rates 30 percent for the online conference. We recognize that for some this reduced amount is still a hardship, but our Board of Directors set this rate to protect the Society's finances, given that a significant portion of our revenue comes from the Annual Conference. See our e-mail communication on April 16 more thoroughly explaining this decision.
ASEE's Resource Central
I'm happy to announce that ASEE's Resource Central is now live at https://resources.asee.org/.
This site aids educators with resources such as promising teaching practices, remote-work advice, student support strategies, and insights on virtual labs and capstone projects, among others. Topics are easily searchable and organized by category (remote work, K-12, etc.). The site is continually updated to add new resources, leveraging the knowledge and expertise of ASEE members, the broader engineering education community, and visitors contributing their own ideas.
April 2020 Journal of Engineering Education
I am happy to announce that the April 2020 Journal of Engineering Education (JEE) is now online. You can access it at the Wiley site (you must be signed in as an ASEE member). Titles this month include:
To cross the picket line or join it: Facing engineering education's role in the socioeconomic exploitation of marginalized peoples to further a discipline;
Learning through making: The development of engineering discourse in an out-of-school maker club; and
Understanding ethical decision-making in design, among others.
Thanks again for your commitment to ASEE. As always, please contact me at n.fortenberry@asee.org with any questions or comments.
Norman L. Fortenberry, ASEE Executive Director
ASEE Names New Journal Editor
Holly Matusovich will be the new editor of the journal Advances in Engineering Education (AEE), succeeding Larry Shuman.
Matusovich is an associate professor in the Department of Engineering Education at Virginia Tech and assistant department head for undergraduate programs. She has been recognized for her research and practice related to graduate student mentoring, winning the Hokie Supervisor Spotlight Award in 2014 and the 2018 Graduate Student Mentor Award for the College of Engineering. She has graduated 11 doctoral students since starting her research program in Spring 2009.
"ASEE is extremely fortunate to have Dr. Matusovich step into this role," said ASEE Executive Director Norman Fortenberry. "We appreciate her enthusiasm for this opportunity and gratefully acknowledge the support of Virginia Tech to make this possible. We are confident AEE will continue its trajectory as an important contributor to the body of research that informs engineering educators."
AEE was founded in 2007 by Shuman, senior associate dean in the Swanson School of Engineering at the University of Pittsburgh, who has been its only editor. It is a peer-reviewed, online journal that disseminates significant, proven innovations in engineering education practice, including those that are enhanced through the creative use of multimedia. By focusing on educational developments and practice, AEE complements other engineering education journals that focus primarily on research.
Matusovich cohosts the Dissertation Institute, a one-week workshop each summer, funded by the National Science Foundation, that helps underrepresented students develop the skills and writing habits to complete doctorate degrees in engineering. She has been a PI/Co-PI on 12 funded research projects, including the NSF CAREER Award, with her share of funding reaching nearly $2.3 million. She has also coauthored 2 book chapters, 21 journal publications, and more than 70 conference papers. Besides her mentoring awards, she has received a Virginia Tech Dean's Award for Outstanding New Faculty, an Outstanding Teacher Award, and a Faculty Fellow Award. Matusovich holds a B.S. in Chemical Engineering from Cornell University, an M.S. in Materials Science from the University of Connecticut and a Ph.D. in engineering education from Purdue University.