"Look deep into nature, and then you will understand everything better," Albert Einstein famously urged. For an expanding group of engineers, that has meant probing the insect world and other unfamiliar fields in search of design solutions. A number of universities, including Caltech, Georgia Tech, and Duke, have established centers for bio-inspired engineering.
Biomimicry doesn't just copy nature's shapes. It mimics how plants and animals support weight, move, harness energy, or sense their surroundings. NASA engineers have studied honeybees, for example, to develop collision-avoidance and soft-landing systems. Sharper telescopes (lobster eyes), clearer hearing aids (fly ears), and more efficient windmill blades (ridged whale fins) are among other recent bio-inspired innovations to emerge from universities and industry. Enjoy this photo safari!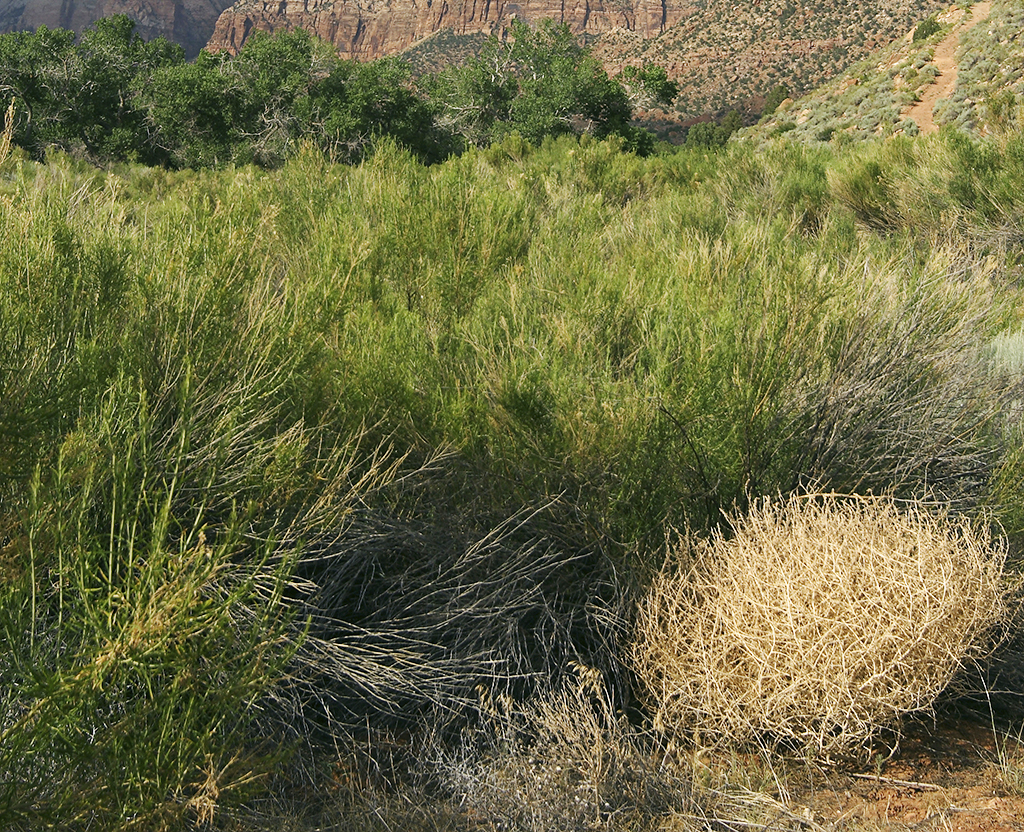 High-Range Drifter
Like its namesake, the Tumbleweed Robot developed by Israeli industrial designer Shlomi Mir can roll and skim into hard-to-reach places, collecting climate-change data to help researchers find solutions to desertification. Able to cover great distances autonomously, it can monitor CO2, track marine life, or pollinate crops. A kinetic generator in the robot's center powers the motor and computers. Mir, who creates interactive exhibits for Israel's National Museum of Science, Technology, and Space, envisions fleets tumbling across the desert, generating 3-D maps of sand dunes to learn about their movement.
© Thinkstock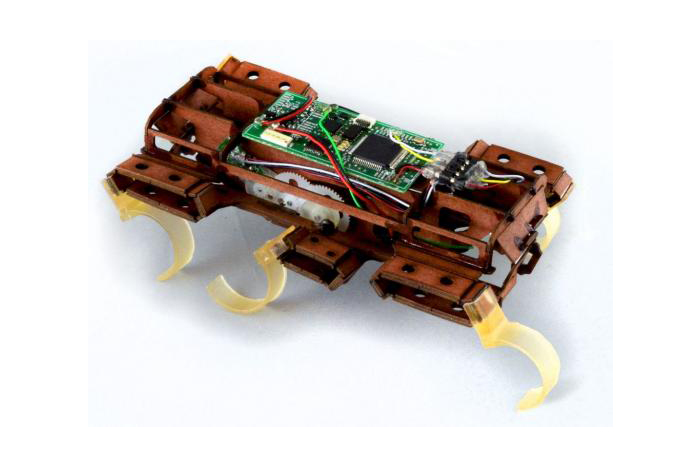 Fleet Feet
Though loathsome, cockroaches scuttle along at a stunning pace. That's why Duncan Haldane and his colleagues at the University of California, Berkeley's Biomimetic Millisystems Lab have been studying the six-legged scourge. Able to run at 2.7 meters per second, their tiny cardboard VelociRoACH is among the world's fastest robots. Its secret: six C-shaped, springy legs that hit the ground as many as 15 times a second to pull it forward at nearly twice a real roach's clip. The mechanical roach also overcomes obstacles as the living creature does, rearing up on its back legs when its head slams against something. Alas, the robot squishes like a real bug, too, provided someone's foot is fast enough to nail one.
© University of California, Berkeley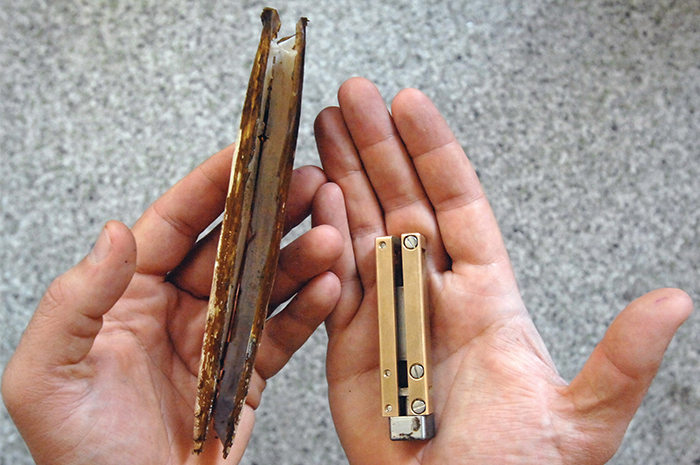 Open and Shut
Relying on its own strength, the Atlantic razor clam couldn't dig more than two centimeters into wet sand. Yet somehow it can burrow down 70 centimeters. How? By opening and closing its shell, thus agitating the sand and enabling the clam to slide downward with less resistance. Researchers from the Massachusetts Institute of Technology have reproduced the clam's valve mechanism in a hyperefficient digging machine dubbed, appropriately, RoboClam.
© Donna Covey/MIT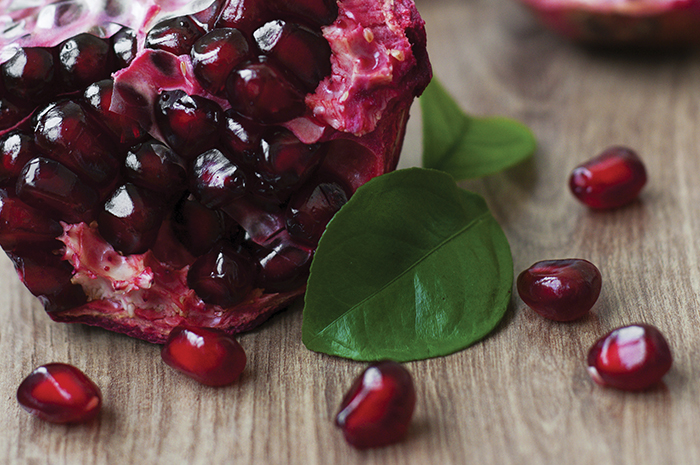 Better Juice
Celebrated as a symbol of fertility and prosperity since Babylonian times, the pomegranate now has sparked a breakthrough in batteries. Researchers have long sought to increase the capacity of the standard lithium-ion battery by using silicon instead of graphite anodes. But silicon, though lighter, has drawbacks. By encasing clusters of carbon-coated silicon nanoparticles in a thicker carbon rind, much like pomegranate seeds, Yi Cui, an associate professor of materials science and engineering at Stanford, and his colleagues found they could alleviate the problems. Amprius, the start-up Cui founded, reportedly has begun shipping cellphone batteries that last 25 percent longer between charges.
© Thinkstock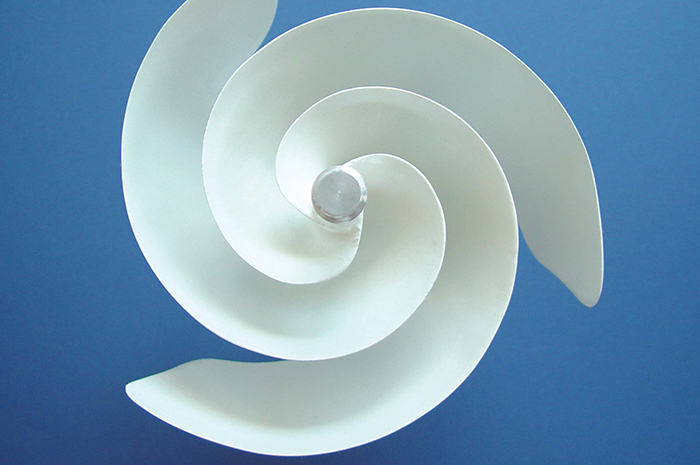 Go With the Flow
The mathematically elegant spiral movement of fluid toward a drain is an ongoing source of inspiration to Australian naturalist Jayden David Harman, who has obtained a series of patents incorporating the principle in designs of rotors, fans, and, most recently, nozzles. Harman contends these devices are less costly to produce than ones based on a centrifugal design, and also quieter and more efficient. And why wouldn't they be, when the spirals align with the progression documented by Fibonacci in the 13th century?
© PAX Scientific
By Mary Lord & Mark Matthews