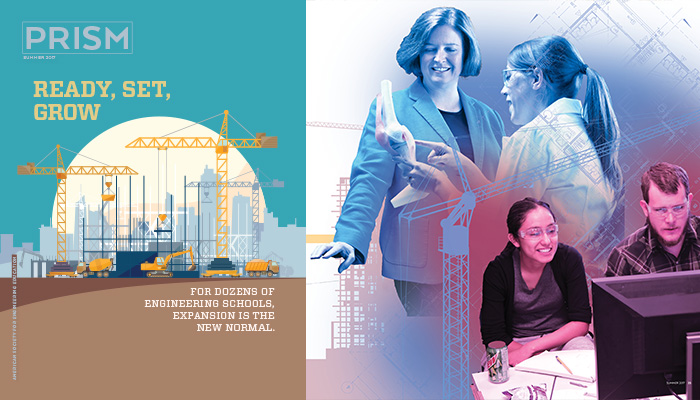 Fueled by major gifts, employer demand, and enrollment growth, dozens of engineering schools across the country are undergoing or planning major expansions. Others are starting from scratch.
"Make no little plans." So urged Daniel Hudson Burnham, the visionary architect who oversaw construction of the 1893 Chicago World's Fair. Dozens of engineering schools have lately captured his spirit, but probably none more so than Texas A&M University's Dwight Look College of Engineering. Already home to about one in four of the university's 66,000 students, the college aims to add some 7,000 more—25,000 by 2025—through improved retention, online graduate courses, and feeder programs. The school will add more than 250 faculty members and enlarge the physical plant by 1.1 million square feet. Under construction: the biggest building on campus, a garden-topped 525,000 square feet of glass, concrete, and irregular angles that could fit two Boeing 747s placed end to end. The Zachry Engineering Education Complex, dedicated completely to undergraduate engineering education, will house a state-of-the-art design center and "revolutionize the way we deliver education," the school boasts. Aggies have reacted with "a perfect storm of energy and passion," says M. Katherine Banks, engineering dean and vice chancellor. Her first million-dollar check came from students. In a Texas-size sign of support, they turned over the proceeds from their job fair. By late April, the "25-by-25" initiative had raised $250 million.
A decade after the Great Recession forced colleges across the country to do more with reduced state revenue and shrunken endowments, many engineering programs have rebounded and are growing at a rate reminiscent of the Sputnik era. Of 111 schools that responded to a Prism survey of 362 ASEE member institutions, 74 replied "yes" to the question: Is your school currently undergoing or seriously planning a major expansion? Seventy-five respondents said they plan to increase enrollment, 72 will expand facilities, 69 are adding faculty, and 57 aim to add new programs and departments. Of the engineering and engineering technology colleges that responded separately to ASEE's Profiles survey, 19 more than doubled in enrollment between 2011 and 2015 and another 49 grew by 50 percent or more. "The national data show that the number of students has been skyrocketing," says Dartmouth engineering dean Joseph Helble, whose school plans to double in space.
The growth curve coincides with a national push for STEM education by policymakers at all levels. It also reflects a recession-chastened generation of students seeking a degree that translates to a stable, well-paying job, and widening opportunities for engineers in advanced manufacturing, computer science, and the biomedical and biotechnology fields.
"The engineering degree has continued to grow, especially in the advent of Industry 4.0," where manufacturing, engineering, and the Internet of Things come together, says University of Missouri engineering dean Elizabeth Loboa. "We're in everything right now. When you think about where society and all businesses are right now, there's nothing that can really be done without thinking about engineers." The expansion of faculty and facilities holds the promise of accelerating innovation and greater collaboration with other fields.
New Kids in the Club
Universities recognize the potential of engineering to draw talent and inspire wealthy donors, forge better ties with industry, and engage in groundbreaking interdisciplinary research. Harvard, which opened a School of Engineering and Applied Sciences (SEAS) in 2008, is due to expand it with $400 million from hedge-fund billionaire John A. Paulson, a business school alumnus. In 2014, New York University completed a merger with Brooklyn Polytechnic Institute, forming what is now the NYU Tandon School of Engineering. The next year, Loyola University Chicago became one of only 10 Jesuit colleges in the United States to offer engineering. Campbell University opened a College of Engineering in August 2016 with an inaugural class of 101—double the number anticipated by the school's consultants. And Southern California's Chapman University will cap a decade of science-focused development by launching an engineering school, thanks to a recent $100 million commitment from alumnus Dale Fowler. Other colleges are connecting with or deepening ties to business, law, and medical schools.
When she joined Texas A&M in 2012, Banks says, "it was obvious to me that we had an opportunity to grow" based on the number and quality of applicants, the growth in the number of Texas high school students, and interest from industry. "We were the bottleneck." The college's 55 percent success rate from first year to graduation with an engineering degree was behind that of many peer institutions, and its online master's programs were underperforming. She sounded out the college's advisory board and "mentioned that they had to help." They agreed, as did university leaders.
Fellow deans might envy Banks's evident success at and enthusiasm for fundraising—"one of my favorite parts of the job," she says. Her secret? "Have a big idea, make sure you have buy-in for the big idea, and link that idea to everything you do." Less enviable is the challenge of meeting half the enrollment goal through increasing the graduation rate to 75 percent by 2025. Part of the strategy is to admit better-prepared students. The school now screens applicants through a "holistic review process," taking into account class rank, test scores, required coursework, personal achievements, and essays. It also has bridge programs for students needing more math and science preparation, a revamped first-year program, and a living-learning community for 3,100 aspiring engineers.
Banks has received some unexpected help in the form of a student transition program. Oil giant Chevron is supporting Texas A&M faculty who teach at five engineering academies in community colleges across the state, helpful particularly for low-income and underrepresented minority students. The academies allow students to enroll simultaneously in a community college and Texas A&M Engineering, completing their degrees at College Station. The university also launched specialty engineering programs at its Galveston and McAllen branch campuses.
Edifice Complex
Texas A&M is far from the only school in the midst of an engineering construction boom. This summer, Cornell plans to open Cornell Tech, its new campus on New York City's Roosevelt Island, developed together with the Technion Israel Institute of Technology. The project was spurred by former Mayor Michael Bloomberg's Applied Science NYC Competition, which also helped NYU's Tandon School of Engineering renovate a massive Brooklyn office building once occupied by the Metropolitan Transportation Authority as part of a 10-year, $500 million expansion. On the West Coast, the University of California, Los Angeles plans to expand enrollment by 1,000, up from 5,500, and add 50 faculty members for a total of 230. "We've been drowning in applications for the last few years: Last year, we were at 24,000 applications for 800 undergrad spots," says Jayathi Murthy, dean of the Henry Samueli School of Engineering and Applied Science. "California is a hotbed of interest [in STEM fields]. The expansion is a no-brainer here—it has to happen."
Purdue's College of Engineering, a forerunner of the current wave, began internal discussions of future growth in 2010, as the Great Recession was ending. Seeing an increase in student demand, "we were brainstorming internally, 'What do we do about this?'" recalls Dean Leah Jamieson. Answer: "Let's grow everything else." Since its plan won approval in 2012, the college has blown past its enrollment target of adding 691 undergraduates, is close to its goal of 107 more faculty members, raised $544.4 million, and has built or totally renovated several buildings, the latest of which—a 107,000-square-foot multidisciplinary research center called Flex Lab—will open at the end of this year.
At Purdue and elsewhere, new buildings are designed around teaching techniques found to excite and retain students in engineering, such as maker spaces and room for collaborative team projects, and build flexibility into lab space to support changing enrollments. The University of Missouri's recently completed renovation of the 1935 and 1944 wings at the engineering school, for example, provides student-centric classrooms with space for competition teams and student conference rooms with study spaces on the main floor, all of which are equipped with flat-panel TVs set up for video conferencing. "We've put in a state-of-the-art A/V package—not just the flat-screen panels but also other equipment," Loboa says. "In one of our classrooms, we have a raised floor so that the electronic equipment can be quickly changed out without the clutter of cords." At Campbell University, "rather than a separate lecture and lab space, we have a room that has lecture space in the middle and a lab on the outside. If I bring up a concept in class, we can say 'Let's do it right now,'" says founding engineering dean Jenna Carpenter.
'Continuum of Training'

Expansion plans also allow for more cross-disciplinary collaboration. George Washington University's $275 million, 500,000 square-foot science and engineering building contains a nanofabrication lab, where biomedical and electrical and computer engineers, working with the Children's National Medical Center, are developing ambulatory sensor arrays to monitor children with asthma.
At Dartmouth's engineering school, which anticipates doubling its footprint at a cost of $150 million or more, Dean Joseph Helble wants to take advantage of "a moment of convergence and digital integration," where "engineering and science are elements of a continuum of training." As faculty size doubles, offices will be arranged to foster interdisciplinary exchanges, versus being clustered by expertise. The new building will allow continued close ties to Dartmouth's business school, which already partners with engineering in a master's in engineering management and a Ph.D. geared to entrepreneurs. Computer science, while formally in a separate school, will nonetheless be "fully integrated" with engineering, Helble says.
UCLA's Samueli School picked six areas to focus on. "Every one of these is interdisciplinary and has a footprint in all of our departments," says Murthy. The areas are engineering in medicine and biology; "all things computer science"; the future of the Internet, cybersecurity, and cryptology; robotics and cyber-physical systems; sustainable and resilient urban systems—including "putting a bunch of money" into "infrastructure of all kinds, particularly earthquake and water"; and advanced materials and manufacturing.
Harvard's expanded SEAS, to be completed in 2020 on the Allston campus across the Charles River from Harvard Yard, provides an array of opportunities for collaboration with other schools and departments. Dean Francis J. Doyle III hopes proximity to Harvard Business School will spur more interest in start-ups. Harvard has already launched three innovation labs—the i-lab, Launch Lab, and Life Lab—to facilitate such ventures. The medical school is also nearby, but Doyle says the possibilities for synergistic cooperation extend far and wide. "Really, there is not a school at Harvard that I don't have some notion of a collaborative arrangement." The school is currently partnering with the Graduate School of Design on a Master of Design Engineering program that marries architectural aesthetics with a rigorous systems approach. A joint venture with the law school focuses on cybersecurity and data privacy, while engineering and Kennedy School of Government scholars are examining such topics as climate and energy from both a policy and technical standpoint.
In March 2017 Harvard launched a new data science institute co-led by a computer scientist from SEAS and a biostatistician from the School of Public Health—"the yin and the yang of having both the tools and the technology as well as the applications," says Doyle. As part of that initiative, Harvard will offer a new Master of Data Science degree starting in the fall of 2018.
Some schools link expansion with gaining stature in well-chosen niche areas. NYU engineering dean Katepalli Sreenivasan sees world-class potential for the Tandon School in urban technology (transportation engineering and urban infrastructure); information and communication (cybersecurity, wireless 5G, and games and emerging media); and bioengineering (medical diagnostics, tissue engineering and biomechanics). "If you do the same thing that everyone else does, it's hard to catch up," he says. "You need to identify something that students find really interesting and intellectually exciting and can later find jobs in."
His plans build on existing strengths at NYU and Brooklyn Polytechnic, which merged into the Tandon School. "Recognizing that cybersecurity is only partly an issue of technology, we established a Center for Cybersecurity, an interdisciplinary research institute that is a collaboration with the law school." Tying in Tandon's biomedical engineering department with NYU's well-regarded medical school was a no-brainer. A more unlikely joint venture is with NYU's Tisch School of the Arts. Tandon plans to offer a common program in media, technology, and the arts (MTA). "Digital technology is all about engineering. The art school provides the content—the art and music—but the technology comes from us."
Missouri aspires to be "globally renowned for educating engineering leaders for biomedical innovations, big data analytics, and sustainability inFEWSed [food, energy, water, smart cities] careers," says Loboa. Plans call for hiring 50 new faculty members toward that goal, as well as shrinking the student-faculty ratio and doubling the number of graduate students. Loboa wants to partner with other programs—medicine and nursing, for instance—to expand student research and experiential learning.
Fresh Fields and Service Learning

Nature provided a niche at West Texas A&M University, which has seen its engineering school grow in a decade from a couple of dozen students to nearly 700 and is now doubling its physical space. Located in the flat, semi-arid Texas panhandle, it is "the only university in the United States with Class 4 winds," says Dean Emily Hunt, making it an ideal site for experimental wind turbines and wind-power research. The university's Alternative Energy Institute drew plaudits from the U.S. Department of Energy in 2013 for "extraordinary efforts to advance wind energy education." Area industries, which include the nation's only nuclear weapons assembly plant, also drive much of the curriculum. "They say, 'We need power engineering.' It's been a lot of work, but it's also been very exciting because we have the opportunity to develop these programs from the ground up," says Hunt.
The fledgling engineering program at Loyola University Chicago (LUC) has carved out a social-justice niche. Gail Baura, who arrived in 2014 to build what will become the Institute for Engineering Sciences, embraced the Jesuit tradition of serving society as an undergraduate at Loyola Marymount University, but also brings biomedical engineering expertise and experience at Bell Labs and in the medical technology industry. She crafted a curriculum strong in math-heavy systems engineering and active learning, with three concentrations that can address big societal problems. One, environmental engineering, focuses on wastewater treatment (Chicago has one of the world's biggest plants). A second, biomedical engineering, aims to train students in the ethical design of medical devices that adhere to Food and Drug Administration constraints. "Throughout the courses they're thinking about engineering standards and regulation," says Baura. The third concentration, computer engineering, may focus on the smart grid. New construction? Not yet. She says the institute's future home is "a lovely, grassy plot" on the Lake Michigan campus.
Campbell, which has a Baptist heritage, requires first-year engineering students to log service hours, but many opt to continue service as upper-classmen. "You end up with far more students taking advantage of that even when they don't have to," says Carpenter. A pioneer of Grand Challenge Scholars while at Louisiana Tech, Carpenter is a believer both in hands-on learning and a solid grounding in the basics: "Everyone is taking materials, thermo, statics," she says. "It serves you better down the road."
Speed Bumps

Expansion schemes are not without delays and management challenges. While the University of Arizona's engineering school has been growing in quantity, quality, and diversity, Dean Jeffrey Goldberg says, groundbreaking for its expansive $120 million-plus Engineering Innovation Building—once slated for 2014—has yet to occur and now will likely await the arrival of a new president, Robert Robbins, this summer.
At Purdue, Jamieson had to find sources of money to supplement increasingly expensive start-up packages for new faculty, which typically include lab space and equipment and money to hire graduate students. Although her team modeled practically every contingency, "we didn't have financial models for how we lease space. Undergraduate growth happens more quickly than faculty hiring, and both outpace building projects," so leasing became necessary. West Texas A&M's Hunt says her biggest challenge is "keeping up with our growth," managing the teaching load while also allowing faculty members to pursue research. In addition, "we had to work really hard to get a graduate program in engineering. Our local engineers—they need it, they want it."
Any dean must be prepared to spend time fundraising—both for facilities and endowed chairs. Goldberg, for instance, says it's 50 percent of the job. UCLA's engineering school has raised $180 million of its $250 million goal.
At the same time, growth presents new and sometimes unforeseen opportunities. Purdue's surge in faculty and students "created a huge eye-opener for a lot of us," Jamieson says, providing a chance to think through "How do we do things? Why do we do them?" One upshot is a refinement in promotion and tenure policies to better account for cross-disciplinary collaboration. Another was a challenge to faculty: What would it take to catapult your research area to international preeminence? The teams with the best pitches received allocations of faculty slots to complete their team. Among the 10 winners so far is a team led by Pedro Irazoqui, professor of electrical, computer, and biomedical engineering, which is working to develop implantable networks of wireless nanoelectronic devices that can monitor and help treat conditions ranging from epilepsy to depression.
The stepped-up hiring at a number of schools offers a chance to correct faculty imbalances. At UCLA, Murthy says faculty diversity is lower than that among students. "Generally, my goal is to get our female numbers to a third in the next five to 10 years and double underrepresented numbers."
All this investment in bricks, mortar, labs, and people—reaching billions of dollars nationwide—is not without risk. Mixed signals from Washington create uncertainty about international student enrollment and future sources of research-grant funding, as well as how long the nation's economic growth will last. Engineering disciplines can expand or decline depending on which sectors of the economy are performing well. Looking at research funding, "every university in the country is going to have to diversify its portfolio somewhat," contends Goldberg. As nondiscretionary federal spending on Social Security, Medicare, and interest on the national debt swells inexorably, universities are going to have to develop sources in industry and philanthropy, and pursue "international strategies" to sustain the research enterprise, he says.
Banks looks to research funded by the Defense Department, in which Texas A&M is strong, to make up for cutbacks at other federal agencies. Jamieson's faculty is on notice that it needs to build ties with industry. Entries in Purdue's "preeminent teams" competition got a lower score if they listed only federal funding sources.
Another cloud on the horizon is projected slower national growth—and zero gains in the Northeast and Midwest—in the public high school population, and a decline in private-school enrollment. This means engineering schools will be in competition for students not just with one another but with other university programs.
Despite these uncertainties, Jamieson still would pursue expansion if she had to start now. "The economic drivers are still there—innovation, jobs—and engineering is central to that," she notes. In addition, she says, there are worldwide challenges in sustainability, energy, health care, and the need for new tools for discovery—all of which demand engineering responses. Her optimism is echoed in the roar of earthmovers and pounding of hammers at engineering schools around the country.
By Mark Matthews, Jennifer Pocock, Margaret Loftus and Pierre Home-Douglas
Mark Matthews is editor and Jennifer Pocock is associate editor of Prism. Freelance writers Margaret Loftus and Pierre Home-Douglas are frequent contributors to the magazine.
Design by Nicola Nittoli