Click above for complete view.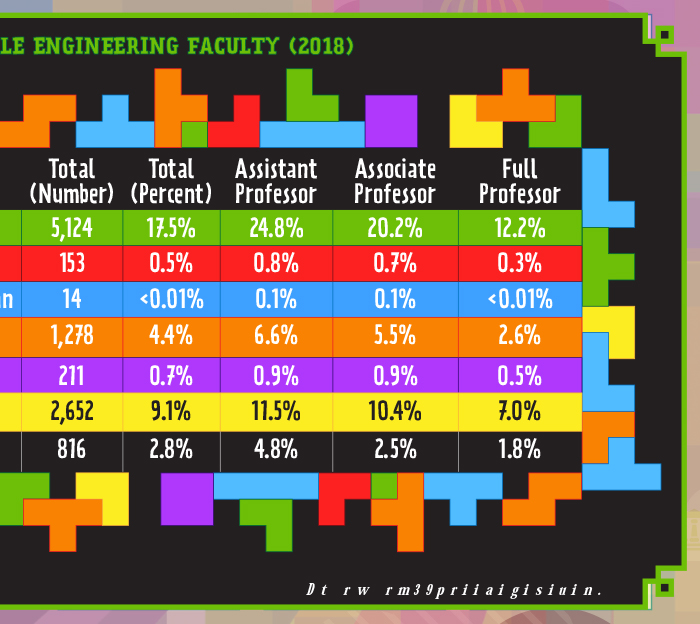 Faculty Gender, Race, and Ethnicity: The Student Connection
Compiled by Joyce B. Main, Li Tan, Monica F. Cox, Ebony O. McGee, and Andrew Katz
Faculty diversity plays a critical role in enhancing the academic experiences and retention of students as well as in engineering innovation. However, student diversity may also contribute to greater inclusiveness at the faculty level. Despite progress, female faculty of color remain underrepresented in engineering programs across the United States. Overall, women comprise only 17.5 percent of engineering professors, according to 2018 ASEE data. The representation of women of color is even starker: Just 0.5 percent of engineering faculty across the 319 ASEE member institutions are African American/Black women, while Hispanic/Latina and Asian/Asian American women make up 0.7 percent and 4.4 percent, respectively.
Examining faculty underrepresentation reveals persistent challenges to diversifying engineering. For instance, more than 1 in 5 engineering programs did not have one woman on the faculty from 2005 to 2016. Over half lacked even one woman of color until 2015. Additionally, less than 10 percent of engineering programs counted at least one African American/Black or Hispanic/Latina woman on the tenure track as late as 2014. Importantly, as the bottom right graph suggests, there appears to be a positive association between growth in student diversity and representation at the professorial level. For example, an increase of 100 African American/Black women who complete undergraduate engineering degrees is associated with a 3.2 person rise in the number of African American/Black women among tenure-track faculty.
Sources: 1) "The Correlation Between Undergraduate Student Diversity and the Representation of Women of Color Faculty in Engineering," by Joyce B. Main, Purdue University; Li Tan, Purdue University; Monica F. Cox, Ohio State University; Ebony O. McGee, Vanderbilt University; and Andrew Katz, Virginia Tech (Journal of Engineering Education, 2020).
2) ASEE Profiles of Engineering and Engineering Technology, 2005–2018.
Design by Toni Rigolosi