Click above for complete view.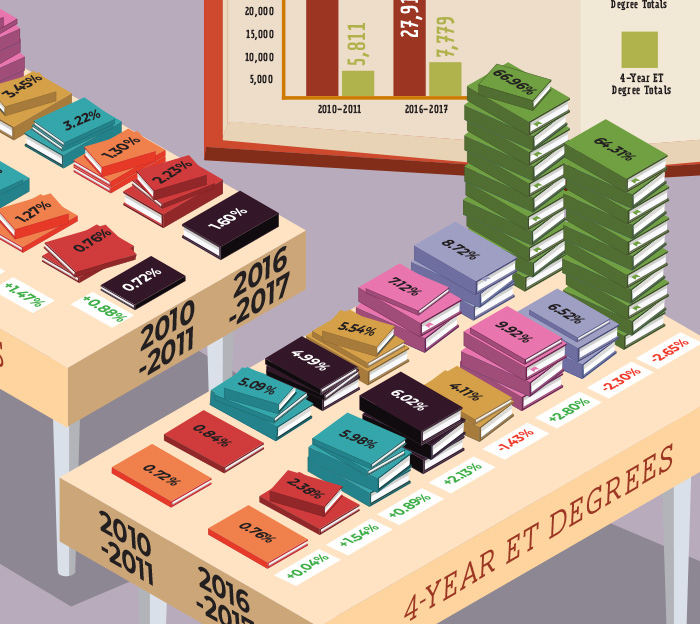 Diversity in Engineering Technology Graduates
Compiled by Carolyn Wilson
While two-year colleges continue to award the majority of engineering technology degrees, the number of students earning ET associate's degrees has declined from 38,483 in 2011 to 27,918 in 2017. By contrast, over the same time period the number of engineering technology bachelor's degrees increased from 5,811 to 7,779.
Despite their decreasing numbers, graduates of ET associate's programs are more racially and ethnically diverse than those who completed a bachelor's degree. Underrepresented minorities received 25 percent of the ET associate's degrees awarded in 2017, compared with 17 percent of bachelor's degrees awarded to underrepresented minority populations. Two-year colleges tend to have more diverse student populations than four-year universities and thus should be considered a prime recruiting ground for institutions and industries seeking to broaden the ranks of skilled engineering technology graduates and workers.
Sources: U.S. Department of Education's Integrated Postsecondary Education Data System (IPEDS); ASEE's Profiles of Engineering and Engineering Technology Colleges
Latrice Bonner is a Ph.D. candidate in higher education and student affairs in the joint doctoral program at Claremont Graduate University and San Diego State University.
Design by Toni Rigolosi