Click above for complete view.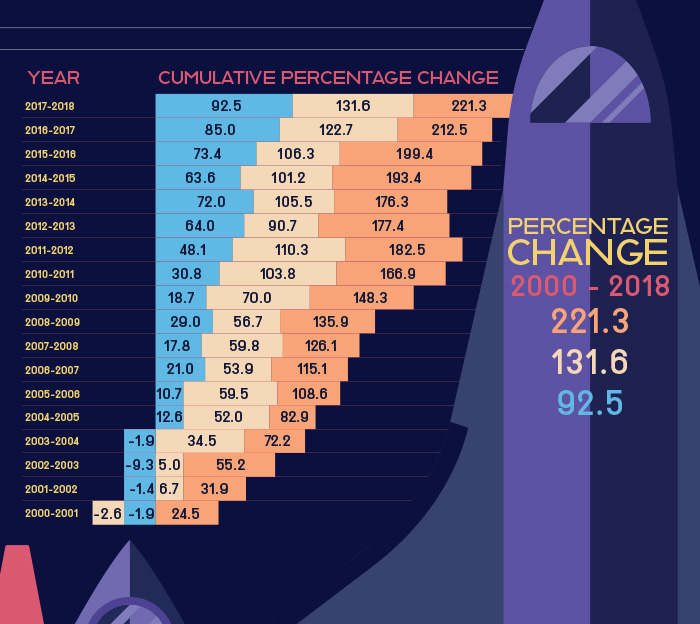 Aerospace Soars
Compiled by Angela Erdiaw-Kwasie, Charles Stuppard, and Rossen Tsanov
The past two decades have witnessed tremendous growth in the number of aerospace engineering degrees awarded at both undergraduate and graduate levels. In 2018, over three times as many bachelor's degrees were awarded as in 2000. Master's degrees in the field were up 132 percent in 2018 over 2000, and doctoral degrees saw a 93 percent jump. This growth is comparable to the decade 1960 to 1970, when NASA, racing to send astronauts to the moon, expanded its science and engineering workforce by 294 percent. The U.S. government currently counts astronautics (spacecraft) and aeronautics (aircraft) degrees together, so it's unclear which of the two disciplines within aerospace engineering has grown the fastest. But the number of programs in astronautical engineering has grown sufficiently that the U.S. Department of Education plans to create a separate Classification of Instructional Program (CIP) code for stand-alone astronautical engineering programs starting in 2020. The Bureau of Labor Statistics projects a 6.5 percent increase in U.S. aerospace engineering jobs (currently about 140,000) by 2026, driven by increases both in jet travel and the growth of the private space industry. With baby boomers retiring, aerospace engineering graduates will likely have little trouble finding jobs.
Design by Miguel Ventura