Click above for complete view.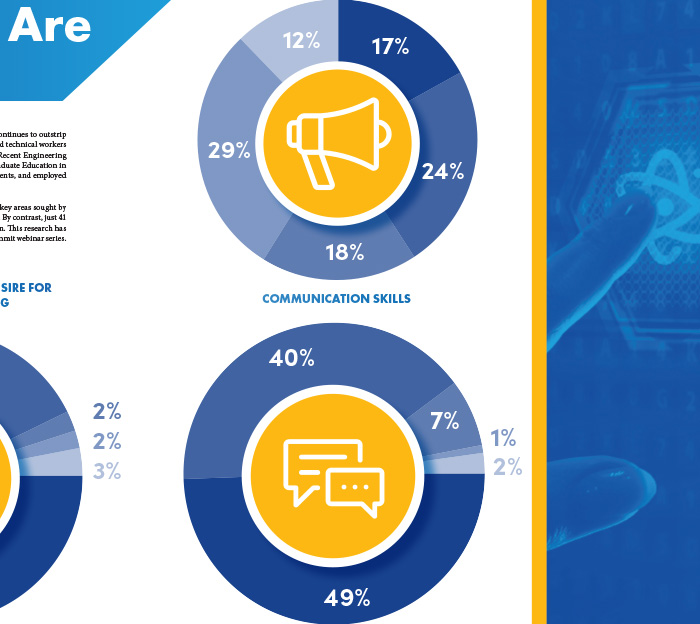 How Job-Ready Are Our Graduates?
Compiled by Lara Hilliard
Engineers and technologists are vital to U.S. enterprise and national security. Yet industry's demand continues to outstrip supply. A 2017 National Academies consensus study, for example, estimated that the shortfall in skilled technical workers would total 3.4 million by 2022. The ASEE Corporate Member Council Survey for Skills Gaps in Recent Engineering Graduates sought to measure workforce preparation. Built on ASEE's NSF-funded Transforming Undergraduate Education in Engineering (TUEE) project, the study was open to all current engineering undergraduates, graduate students, and employed alumni who graduated within the last five years.
Several trends stand out. An overwhelming majority of respondents felt very or somewhat prepared in two key areas sought by employers: a zest for continuous learning (93 percent) and the ability to communicate effectively (89 percent). By contrast, just 41 percent felt very or somewhat prepared for project management—and nearly half had little or no preparation. This research has been published as an e-book and will be shared with registrants of the ASEE/CMC Industry 4.0 Workforce Summit webinar series.
Please visit https://workforcesummit.asee.org to register.
Design by Toni Rigolosi