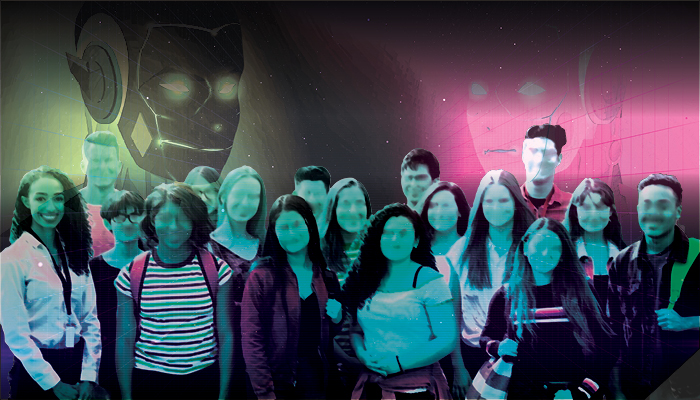 These innovators are teaching the critical subject in ways designed to capture student attention.
By Pierre Home-Douglas
Lecturing in the original groves of academe in Athens, Plato didn't aim his fourth-century BCE ethics lessons at engineering students. Still, he probably had to consider some of the same questions about ethics that confront professors more than two millennia later in engineering departments around the world—such as, what do I teach? And, how do I teach it?
Ethical decision-making is a critical part of engineering practice, due to the work's potential to "register a substantial cost to society writ large," wrote Virginia Tech's Andrew Katz, assistant professor in the Department of Engineering Education, and Umair Shakir, Ph.D. student in engineering education, in a paper presented at ASEE's 2020 Virtual Conference. However, as Katz and Shakir explain in "An Investigation of When and Where Ethics Appears in Undergraduate Engineering Curricula," the specifics of how ethics is taught to engineering students "can be nebulous…. There are myriad ways in which ethics can be taught, places where it can be taught, and ideas to teach under the rubric of engineering ethics."
ABET first added ethics to its accreditation criteria with Engineering Criteria 2000, which was adopted in 1997 and went into effect with the 2000–2001 accreditation cycle. As the Criteria for Accrediting Engineering Programs currently reads, Criterion 3: Student Outcomes requires "an ability to recognize ethical and professional responsibilities in engineering situations and make informed judgments, which must consider the impact of engineering solutions in global, economic, environmental, and societal contexts." By design, ABET criteria are not prescriptive.
Long before ethics instruction became part of ABET accreditation, engineering programs confronted a myriad of possible ethics teaching techniques, including the old stand-and-deliver method that Plato undoubtedly relied on, readings, case studies, definitions, and class discussion. Institutions also have to make decisions that Plato didn't have to worry about, such as when to teach the subject. Freshman year? Senior year? Modules sprinkled throughout the four years? And who should teach it? Engineering faculty or professors of philosophy or religious studies who have more formal knowledge of the subject?
No matter what approach professors take, one of the main challenges they face is making sure their students are engaged. Some professors have developed out-of-the-box solutions to make ethics concepts more relevant to students and to stimulate their interest.
No More Blank Faces
At the University of Mount Union in Alliance, Ohio, assistant professor of mechanical engineering Joshua Gargac also serves as director of the program's senior capstone projects. They include a module on ethics. Gargac's original design focused on definitions, case studies, and group projects. "Basically, it was how I was taught," he admits. "But I got tired [of] looking at blank faces. Students are generally pretty excited for capstone, but they get into their final semester, when I teach my module on ethics, and they're thinking about graduation and future jobs. They're not putting as much effort into class as they normally do. When they did their homework, it was obvious they didn't really learn the material or really care."
Gargac decided to redesign the module. He is a big fan of The Office, a sitcom that ran for nine seasons and depicted the lives of office workers at a fictional paper company. "I've seen all the episodes several times," Gargac says. "I was watching it one day and realized that it brings up a lot of interesting ethical ideas" suitable for the classroom.
He chose one episode called, fittingly enough, "Business Ethics," which follows an attempt by a company HR person to hold a seminar on the subject, only to have it torpedoed by various confessions of misconduct among the staff. "Using pop culture media is probably more typical in humanities courses," Gargac says. "Engineering students are so used to coming to class to take notes and solve problems. They attended the first class of my ethics module and I said we're going to watch an episode of The Office today. Their mood changed completely. A couple of students who were absent the first class heard from other students, 'You're going to love this class. It's awesome.'"
Gargac credits ASEE membership for the reminder that "our job is to figure out how to reach students [and] how to teach things differently so they learn and, most important, want to learn."
One of the advantages of incorporating The Office, Gargac explains, is that it takes less than a half hour to play the episode. Afterwards, students fill out a worksheet with questions such as, "Are you familiar with real-life examples of misconduct? What are they?" Then they discuss their answers with other students before a general class discussion about both the show and ethics overall. This leads into a discussion the following class on ethical frameworks, such as utilitarianism, common good, and personal duty. In the episode, the hapless, self-centered boss (Michael Scott, played by Steve Carell) opines that what is right or wrong is ultimately unknowable. That may be a widespread view today, but Gargac believes it's a dangerous conceit.
"The fact is, our code of ethics is not relative. There are certain moral principles that are not under debate for our profession," Gargac emphasizes. "I try to get across to the students that in their professional lives they can't have the idea that right or wrong actions cannot be determined." He adds, "Tolerance is a wonderful thing, but I have to make sure the students understand that in their careers they cannot tolerate people acting unethically—and that if they do operate unethically, the profession won't tolerate it."
Mount Union offers its ethics education for engineering students in the senior year, although Gargac says he and his colleagues are moving toward incorporating ethics into courses in every semester. The exact design is still to be determined, but the success of this unusual solution may prove a model moving forward.
Sci-Fi and AI
Rebecca Bates, Minnesota State University Mankato professor and chair of the Department of Integrated Engineering program, wants to make learning about ethics a more seamless, continual process. (The program's project-based learning approach "blends technical, professional, and design learning in the context of industry-sponsored projects.")
Bates, along with Valerie Summet, assistant professor of computer science at Florida's Rollins College, has designed a module that approaches ethics through the prism of science fiction short stories. "They're brief enough you could drop them into a class of, say, fluid dynamics," Bates explains. "It just takes up one class so it's not a big time investment, but it still allows students to deal with important ethical issues."
Why try to teach ethics through science fiction stories? Bates explains that she has always enjoyed reading. "I took a theology class in graduate school called The Power of Story, and it made me realize that there are so many reasons why humans have told stories since they sat around the campfire in prehistoric times."
Stories with ethical dilemmas allow us to examine the decisions made and consider other choices, she says. "We are using the imagination of the author to let us look at human experience and imagine different things happening without having to wait for, say, a bridge to collapse or someone to get hurt in other ways. That enables us to work out in a fictional space processes and values that we can agree on—something that may be harder to do in real life."
Bates has used several science fiction short stories in her classes, including "Cat Pictures Please" by Naomi Kritzer. The Hugo Award-winning short story is about a benevolent AI narrator created from a search engine, which struggles to create its own moral code by examining everything from the Ten Commandments to the Buddhist Eightfold Path. It finally decides to make the lives of its search engine users better by controlling what ads and search results they receive online. All it wants in exchange is cat pictures from the people it helps.
"The AI narrator is grappling with some of the same issues humans struggle with, such as what does it mean to be good," Bates explains. "And how do we make choices. We already have inventions like self-driving cars that make decisions that model [humans']. So how does human decision-making happen and what guides those decisions?" "Cat Pictures Please" also raises the issues of the unintended consequences of technology. "Facebook was never intended to be used for political gamesmanship, Thalidomide was never intended to cause birth defects, and cars were never intended to be a major contributor to pollution," Bates points out. "What responsibility do the creators of technology bear for unintended, harmful consequences?"
The seemingly lighthearted story is a favorite of students, she says, while at the same time containing "surprisingly thorny questions." It's also relatable, with students easily imagining themselves as the humans. "The story presents an ideal platform to discuss the differences in how ethical frameworks lead us to analyze intentions in reaching ethical conclusions," Bates says. Students come to class with their own ethical frameworks. Reading a story like "Cat Pictures Please" exposes them to how intentions—like the narrator's "I don't want to be evil"—can have unexpected consequences that may be at odds with those beliefs. Students are able to imagine themselves as different characters in the story and wonder how they would behave in the same situation with their own ethical framework of what is right and wrong, and what the consequences of their decisions might be. Rather than understanding ethics as a world of black and white, Bates says, "students can grapple with the gray before they get into a situation where it's really happening to them."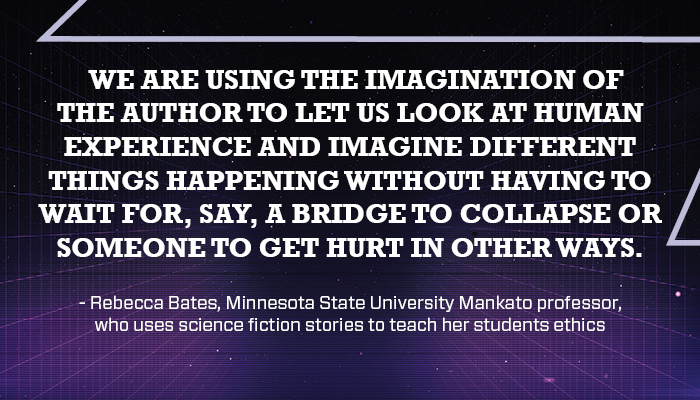 Simulating Power Dynamics
Case studies have long been a staple of ethics instruction for engineering. Gargac, for example, segues from his discussion about The Office to an examination of the Volkswagen "Dieselgate" emissions scandal. One professor is going a step further by inventing a role-playing simulation based on a real situation but with some careful tinkering to render it as realistic and relevant as possible for today's students. Mechanical engineering professor Allen White, at the Rose-Hulman Institute of Technology, uses the case of the 1960s Chevrolet Corvair as a starting point for his ethical simulation. He then relies on his own experience as an engineer for Honda to create an in-class experience that puts budding engineers in a power imbalance that makes ethical decisions extra challenging.
"Case studies are often pretty obvious ethical conflicts like, should we dump toxic waste into a river," White says. "Students see right through that. So I wanted to create a realistic ethical problem based on more subtle situations that result from conflicting demands with no simple resolution." As someone who once worked in the auto industry, White knows there are often competing demands from design, manufacturing, purchasing, and marketing. "Sometimes that tension creates a better product for the customer; sometimes it creates a worse product, especially when one side gets its way completely."
The Chevrolet Corvair was a popular 1960s compact car with a rear-mounted air-cooled engine. Popular, that was, until consumer crusader—and later, presidential candidate—Ralph Nader wrote a scathing attack on the car in his book Unsafe at Any Speed, which chronicled the decision by top management at Chevrolet to propose an ineffective, cost-saving fix to a suspension problem, despite protests from the suspension engineer involved in the project. Within three years of the book's publishing, production dropped from 220,000 to less than 15,000 cars.
In White's simulation, the students are part of a final product design meeting with a fictional company facing the same challenges as with the Corvair: a suspension problem with no simple, cheap fix. Using principles of game mechanics that define how each student will operate in the simulation, participants are assigned specific roles, such as plant manager, VP of sales, and suspension team engineer. Those roles come with different sets of skills, such as understanding technology, business acumen, and persuasiveness. Personality and strength of reputation within the company are also factored in. Participants try to argue their positions as effectively as possible using their skills to resolve the conflict over fixing the car's suspension problem. Particularly daunting for the students playing the engineers are the power dynamics at play. "You have an engineer trying to convince a senior vice president of marketing," White notes. "This is an imbalance of power."
Following the exercise is a post-simulation reflection. White reviews the meeting with the class and tells them, "You are talented engineers. I put you into a situation that was a setup (a power imbalance). What would you have done differently?" Students discuss options such as conducting more research and gathering more data on the Corvair's suspension, or even arranging brief pre-meetings with some of the key players to understand where they were coming from. White offers suggestions and encourages students to come up with their own ideas of how to improve their performance. Then they repeat the meeting to put what they learned into practice.
One student said he would quit if he were forced to acquiesce to the demands of the business side. White explained that other options could include "going to your chief engineer before the meeting and moving it up the chain of command, and bringing this to a more power-parity level."
For White, the inclusion of the role-playing simulation in a senior design course is ideal timing. "I want students to think about all this before they go into the engineering workplace. They are confronted with something that is challenging and difficult, but in the safety of academia where the stakes are lower. No one is going to die. Millions of dollars won't get lost. And you won't have to relocate your family because you've lost your job or you quit."
In their research on ethics education, Katz and Shakir concluded that not only can the topic be found in a number of different places across engineering programs (most commonly in introductory courses, seminars, or design capstone courses), but "there is a vast amount of heterogeneity both across disciplines [and] also within disciplines."
These examples show the benefits of some of that heterogeneity—demonstrating that a serious subject can be taught in a way that allows students to both have fun and improve their learning. We can hope that Plato would approve.
Pierre Home-Douglas is a freelance writer and frequent Prism contributor based in Montréal.