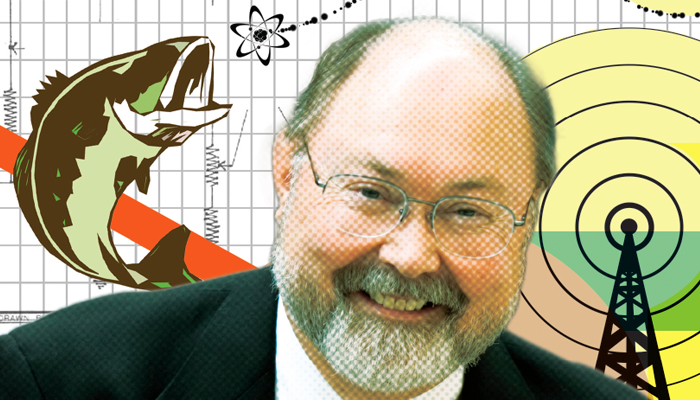 ASEE's president brings a strong administrative record and a passion for research, advocacy – and fly-fishing.
Some careers seem to come full circle. Kenneth Galloway started out in electrical engineering at Georgia Tech but soon lost his enthusiasm. "At that time, it was, 'Here's the formula, put in the numbers, and crunch.' I wanted to understand more of what was going on." He pretty much gave up the notion of becoming an engineer when he transferred to Vanderbilt and enrolled in physics, graduating in 1962. Going on to earn a Ph.D. at the University of South Carolina – "I discovered I really liked research" – he took up a postdoc at Indiana University.
Yet two decades later, when the University of Arizona asked Galloway to chair its electrical and computer engineering department, he accepted. He became dean of engineering at Vanderbilt in 1996 and is now, at 72, president of ASEE.
How a physicist found his way back to engineering is the story of rapid change in electronics and space science in the 1970s and, 80s. Galloway's expertise in semiconductors and radiation effects put him at the heart of that change, which saw a blurring of the line between physics and engineering. Leaving Indiana in 1972, Galloway consulted on microelectronics and semiconductor design for two years at the Naval Weapons Support Center (part of the Naval Sea Systems Command). He then moved to the National Bureau of Standards in Gaithersburg, Md., rising to become chief of the semiconductor electronics division in 1985.
This wasn't formula, numbers, and crunch. NBS (now the National Institute of Standards and Technology) occupies a prime spot at the intersection of government-funded, cutting-edge research and industrial applications. Its location is one reason the I-270 corridor running northwest from Washington, D.C., became a high-tech hub. Galloway played an important early role in that growth. In 1979, "two old physicists who were good friends" — John Toll, president of the University of Maryland, and Ernest Ambler, director of NBS — asked him to join an executive exchange at the university.
"We were working on how the university could better engage and help local companies and labs," George Dieter, Maryland's engineering dean at the time (and ASEE president in 1993-94), remembers. "The high-tech area was just beginning to boom at the time. Previously, it was mostly government labs and government contracts. But we were understaffed and underequipped to play any major role." Dieter organized a committee of prominent executives from local companies, and working with their input, he wrote a report. "Ken took what I had written and with an outsider's viewpoint was able to give it more punch and real-world perspective." Eventually the report was passed along to the governor and brought an infusion of state money to advance the university's goal. "We obtained what was then a stupendous amount of money – $3 million — which gave us a very nice boost at the time," Dieter says.
Drawn to Teaching
That venture also provided Galloway, who had left Indiana as an associate professor, a path back into academe. Dieter asked if Galloway would become an adjunct professor, teaching a course in semiconductor devices on live television broadcast by microwave to a 50-mile-or-so radius – pretty avant-garde stuff at the time. "I had students at various national laboratories around the Beltway," as well as at Westinghouse in Baltimore and IBM in Manassas, Va., Galloway remembers. "They could even talk back and interact with me. It was an interesting experience."
Teaching that course rekindled Galloway's interest in working with students. "I said to my wife, 'You know, I really like working with my students a lot better than dealing with uncivil civil servants. I think I'm going to look for an academic job.' "
When the offer came from the University of Arizona, "my guess is that most of my colleagues had no idea what I got my degree in," Galloway chuckles. "By that point I was an electrical engineer. I had been working in semiconductor devices and microelectronics since 1972. By then I had been elected a fellow of IEEE and had also chaired a couple of IEEE conferences."
Becoming dean at Vanderbilt in 1996 took Galloway home. He had grown up 35 miles away in Columbia, Tenn., where his parents worked in small businesses, and had transferred from Georgia Tech to be closer to his mother after the death of his father. Galloway developed his early love of science courtesy of ham radio and an inspiring high school physics teacher, Paul Cauchon, who made his subject not only educational but fun.
Returning to his alma mater, "I understood the culture, I identified with the alumni, some of my old professors were still on the faculty," Galloway recalls. "It was wonderful coming back." During his 16 years as dean, undergraduate applications grew by five times, research expenditures went from $10 million to $66 million, the engineering endowment rose by $85.4 million, and 10 endowed chairs and 55 endowed scholarships were added.
Eye for what Matters
"His passionate advocacy of research and innovation played a vital role in attracting top students and world-class faculty to Vanderbilt," says university Chancellor Nicholas Zeppos. "He also helped Vanderbilt successfully leverage its expertise in traditional fields of study to establish interdisciplinary centers and programs designed to bring talented faculty and students from a variety of fields together to achieve meaningful results, such as connecting robotics with neuroscience." The Institute for Software Integrated Systems, the Institute for Space and Defense Electronics, and the Initiative in Surgery and Engineering were all founded during his tenure. Galloway, who stepped down as dean last year, is now a distinguished professor of electrical engineering.
Ernest Smerdon, former dean of engineering at the University of Arizona, remembers his old colleague as "strongly committed to quality and a person of action." A past president of ASEE himself, Smerdon says, "Ken will be an ideal person. He will make changes, and those changes will be for the better of ASEE and its members."
Galloway has a "good eye" for what matters in engineering education, says Nicholas Altiero, dean of science and engineering at Tulane, who will become ASEE president next year. "He knows what's important and what's just passing fancy." The two men worked together on ASEE's Engineering Deans Council, a key forum for discussion of, and advocacy for, national policies that serve engineering students and researchers.
Galloway, who now teaches a course entitled Introduction to Engineering, Science, and Public Policy, would like to see ASEE exert more influence not only with Congress but also with major professional organizations dealing with engineering and science. "We need more visibility with these people across the board. I'd like to see more ASEE involvement and recognition at the national level. That's where the policies are being created." And some of those policies, he believes, could do with a major overhaul. "We need a reasonable national energy policy, for example, and some agreement on what we should do with our decaying infrastructure."
As an educator, Galloway stresses the importance of lifelong learning to cope with changes in the engineering job market. "When I was younger, the goal of engineers was to get a good degree, get a good job at General Electric, and work there for 40 years. Now I've got a son with a degree in computer science and he's already been with eight or nine companies." Teachers, likewise, need to recognize that the Internet and social media have altered how students interact with each other. "I don't think we've done as good a job as we could have in taking advantage of technology," Galloway believes. The flipped classroom (article, page 41), he notes, gives classroom teachers the opportunity to help students understand the material they found difficult to grasp. "It's all about amplifying their understanding and not just standing at the board, lecturing and writing."
After a summer that indulged his passion for golf and fly-fishing, Galloway is ready to grip the gavel. One of his goals at ASEE is to expand and improve services to the Society's members and thereby increase membership. "Fewer than one-third of the people who teach engineers are members of ASEE," he points out. "There are large numbers we aren't reaching, and we need to change that."
Story by Pierre Home-Douglas
Photocollage by Nicola Nittoli
Pierre Home-Douglas is a freelance writer based in Montreal.