Breakthroughs and trends in the world of technology.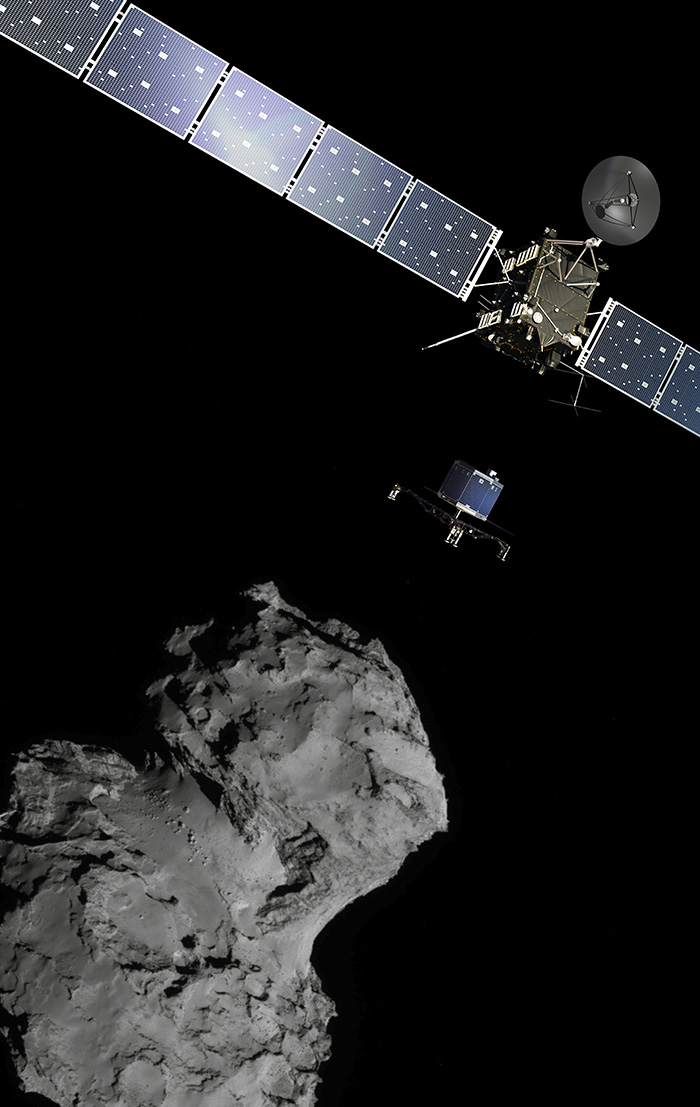 Space Exploration
Rock of Ages
"Touchdown! My new address: 67P!" That triumphant tweet, sent by the European Space Agency's Philae probe from the surface of comet 67P/Churyumov-Gerasimenko after a decade-long, 4-billion-mile journey, signaled more than a historic leap for mankind. The first-ever successful rendezvous and landing marked a milestone in the quest to understand the Solar System's origins and comets' role in creating life on Earth. Celebration soon gave way to nail-biting, however, as engineers and scientists wrestled with power supply and other technical challenges following the lander's post-touchdown bounces into a shaded gully where its solar panels got 30 to 80 minutes of sun. "Really unlucky — in a corner surrounded by rocks," was how Valentina Lommatsch from the lander control center in Germany described the marooned probe. The batteries lasted long enough to complete measurements and relay data before plunging into sleep mode. Even if communications cease, the Rosetta mission's flood of information, including breathtaking photos and an analysis of the 2.5-mile-wide comet's plasma, already has given researchers a treasure trove to explore. Meanwhile, two American space ventures stumbled, in one case tragically. NASA engineers are combing through wreckage to discover what caused an unmanned Antares rocket bound with supplies for the International Space Station to explode just seconds after liftoff October 28. The National Transportation Safety Board is investigating what caused Virgin Galactic's SpaceShipTwo to disintegrate at 50,000 feet, killing co-pilot Michael Alsbury and ejecting his partner, Peter Siebold, who miraculously survived. Initial investigation points to the premature unlocking of a key braking system aboard the commercial spacecraft, intended to pioneer space tourism. – Mary Lord
©ESA/Rosetta/Navcam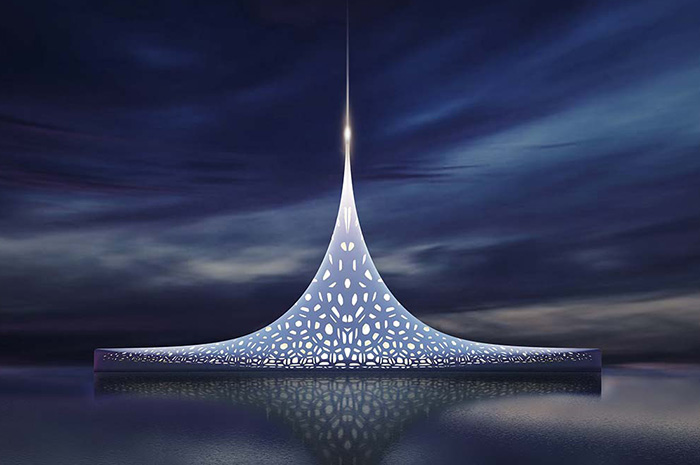 Ship Design
Yachts to Like
You've seen one yacht, you've seen them all. They may come with multimillion-dollar price tags, but who cares? They all look pretty much the same. So yacht designer Igor Lobanov has decided to break the mold with a radical rethink of the luxury yacht. Inspired by a friend's sketch on a cocktail napkin, he came up with a design for a futuristic superyacht that looks like a half-submerged star. The Star yacht, as it's called, would measure 433 feet in length and rise 196 feet into the air. It could carry 36 overnight guests and would boast eight decks and four elevators, as well as a helipad and a submarine viewing area. How much would it cost? Lobanov hasn't put a price tag on it yet. Then again, why should he? So far, no one has ordered one. – Thomas K. Grose
©Lobanov Design and BMT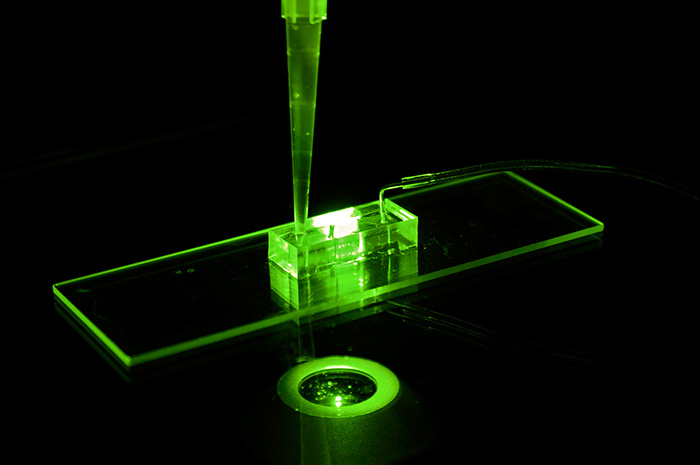 Bioengineering
Gut Reaction
Organoids are small pieces of human organ tissue grown in a lab from stem cells. They're attracting funding and interest because of their potential to make new drug development faster, less expensive, and possibly more accurate than clinical trials on animals and humans – which can cost years and billions to bring a therapy to market. Testing pharmaceuticals first on organoids also could allow researchers to determine if a medicine is potentially toxic early in the process and abandon it. According to Bloomberg Businessweek, 30 percent of drugs that work well on animals end up flunking human trials. Earlier this year, Johns Hopkins University researchers created a small section of human intestine that mimicked a gut suffering from diarrhea, the world's second largest killer of children under 5. It's hoped the lab-made gut can be used to test treatments. Researchers ultimately want to create biochips – organoids of hearts, livers, kidneys, and other organs built on chips the size of a quarter. DARPA recently gave Harvard's Wyss Institute for Biologically Inspired Engineering $37 million to develop chips with tiny grooves filled with pumps that re-create how organs work at the cellular level, Businessweek reports. And bioengineers at the University of California, Berkeley have received $1.2 million in federal funding to develop biochips. One Berkeley researcher tells Wired magazine that the ultimate goal would be tissue-imbued chips that could be used to test how a medicine would affect a single individual. Personalized treatment, in other words. – TG
©Anurag Mathur and Peter Loskill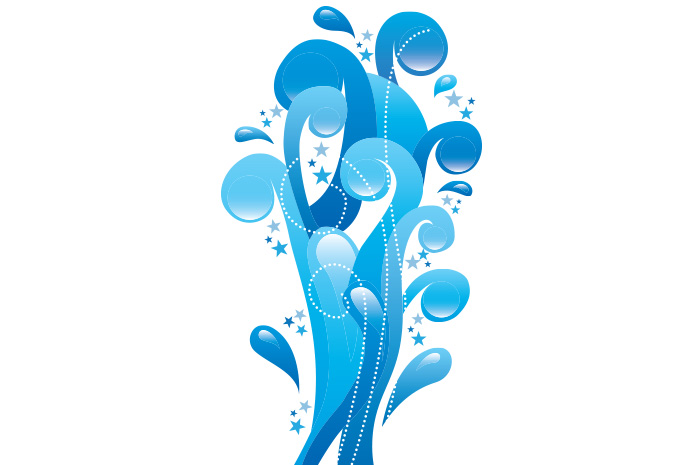 Water Purification
The Kitchen Zinc
Arsenic is a toxin that can lead to a range of nasty diseases, including cancer, heart and lung ailments, and neurological disorders. It's also a naturally occurring compound in groundwater, so it's possible more than 200 million people worldwide may be ingesting dangerous amounts. Long-term exposure to even low levels of arsenic may cause health problems, recent studies suggest. Currently, arsenic is removed from groundwater using adsorption filters with surfaces that attract atoms, ions, and even whole molecules. But the filters attract and catch a wide range of chemicals, not just arsenic, so they eventually clog and become ineffective. Now, researchers at Imperial College, London have come up with a new zinc-based material that's more efficient than current filters because it mainly attracts arsenic and little else. It can take concentration levels down to two parts per billion, well below the limit in World Health Organization guidelines. In tests on groundwater, it removed twice as much arsenic as the best filter available. "We hope that it could one day be easily added to water filters to make sure that when you pour a glass of water it is the cleanest it can possibly be," says lead researcher Chris Moffat, an Earth science and engineering doctoral student. – TG
©Thinkstock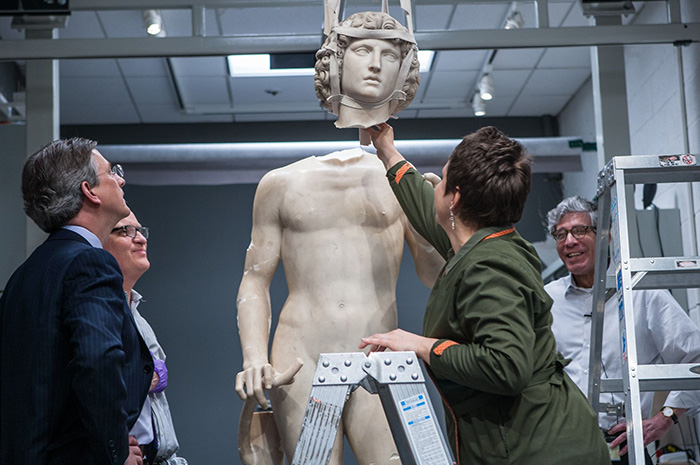 Mechanical Engineering
Re-Creation of Adam
When a plywood pedestal buckled beneath Tullio Lombardo's "Adam" one October night in 2002, it sent the six-foot, three-inch Renaissance masterpiece crashing to the floor of the Metropolitan Museum of Art. The statue's 770 pounds of Carrara marble broke into 28 recognizable pieces while hundreds of fragments scattered on the Met's Vélez Blanco Patio. Thus began a painstaking 12-year collaboration among art experts, craftsmen, and engineers – including Princeton University specialists in fracture mechanics who work mainly in aerospace and micro-electronics – that broke new ground in restoration. "The fact that fracture mechanics was relevant astounded me," says Wole Soboyejo, an expert in the field who is also professor of mechanical and aerospace engineering at Princeton. Using a servo-hydraulic testing machine and a crack-measuring instrument, along with computer modeling, he and his colleagues investigated what kinds of adhesives to apply in reassembling the sculpture so cracks wouldn't grow in the white marble. They tested both a thermoplastic resin, which becomes pliable when heated, and a thermosetting plastic, which hardens irreversibly, and concluded a mixture of the two would work best. The museum took their advice. Princeton engineers and a Columbia University grad student also tested various pin materials for strength and to see whether they damaged the marble. Fiberglass and carbon fiber outperformed both stainless steel and titanium. "Adam" returned to public view in early November looking none the worse for its traumatic ordeal. Soboyejo is confident that it will survive another 500 years if kept in the right indoor environment. A sturdy pedestal would help. – Mark Matthews
©Metropolitan Museum of Art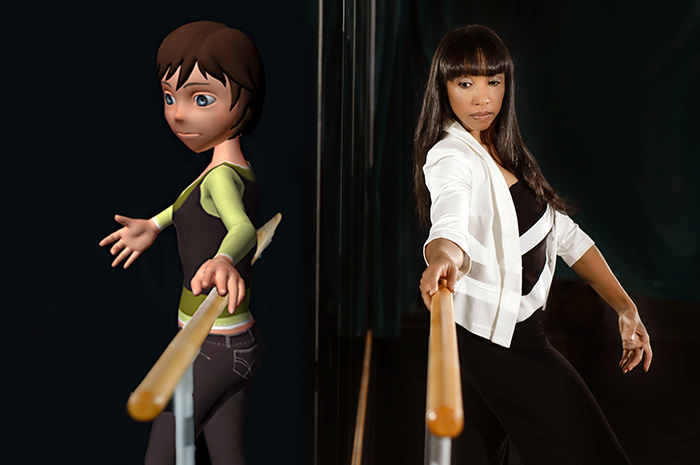 STEM Education
Shall We Dance?
Many young girls love to dance. Not too many love to code. But Shaundra Daily, an assistant professor of computing at Clemson University, thinks that's partly because at an early age too many girls are not encouraged to pursue math and science courses. So she's leading an ongoing study intended to improve the computing skills of fifth- and sixth-grade girls by engaging them with something they find fun and interesting: dance. She has created choreography software that lets the girls program a virtual 3-D dancer's movements based on movements they themselves make. The girls then have to develop new computing strategies to improve their choreography. Daily notes that only 27 percent of computer science jobs are filled by women and that women receive only 20 percent of computing degrees. She's hoping that by introducing coding through dance, she'll persuade more young women to pirouette into computer science. – TG
©Clemson University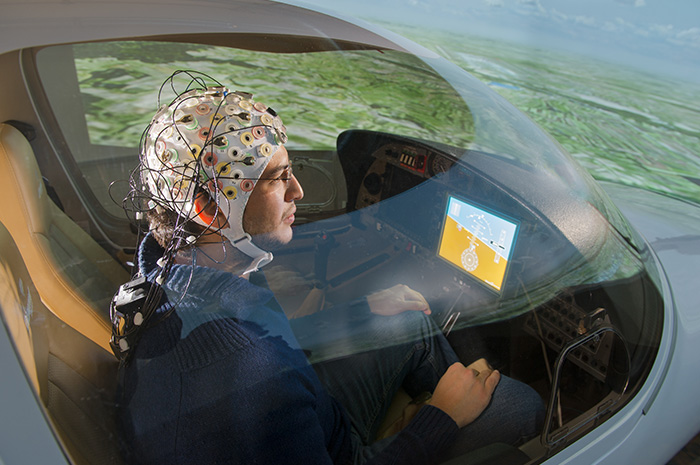 Bioengineering
Positive Thinking
Forget about autopilot. In the not-too-distant future, we may be flying on planes using thought control. A $750,000 European Union-funded program nicknamed Brainflight has shown that pilots using brain-computer interfaces could successfully control a flight simulator: Just by using their thoughts they could make a plane take off, fly, and land. Scientists at Technische Universität München and TU Berlin showed that seven subjects, with varying degrees of cockpit experience, could each use their brain to control a flight on a simulator with a high degree of precision. Project head Tim Fricke, an aerospace engineer, says brain control could make flying easier and give pilots "more freedom of movement to manage other manual tasks in the cockpit." The pilots' brain waves are collected using electroencephalography electrodes stitched into a cap. Researchers wrote an algorithm to pick up those pulses and convert them into control commands. This is not mind reading, Fricke insists. "This is pure signal processing." But it's also very sci-fi. – TG
©A. Heddergott/TU München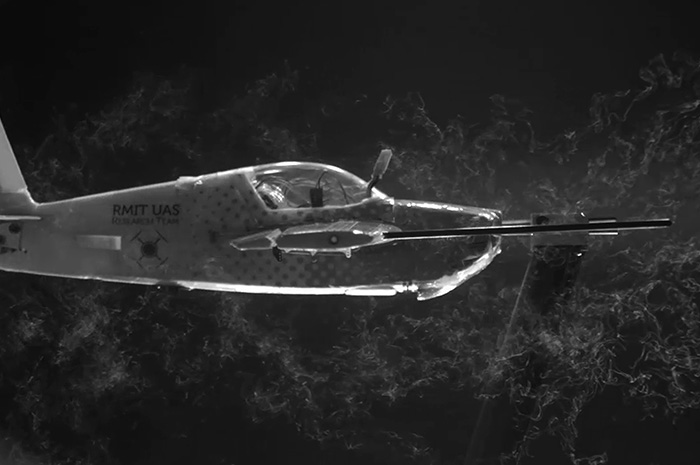 Aerospace Engineering
Greatest of Ease
Ever notice that when birds fly through turbulent air they do so without being buffeted to and fro? Simon Watkins did. The professor of aerospace engineering at Australia's RMIT University (Royal Melbourne Institute of Technology) has developed a system inspired by bird feathers that enables planes to sense turbulence before they hit it and adjust their wings to account for it. Within the feather follicles on the leading edge of bird wings are receptors called Herbst corpuscles, which can detect incoming turbulence by sensing vibrations and pressure changes. They transmit the data to a bird's nervous system, which moves its controlling wing or tail feathers to accommodate the bumpy air, allowing the bird to fly through it with ease. Watkins designed air-pressure sensors that affix to the leading edge of a plane's wings, and like the Herbst corpuscles, the sensors can detect rough air before the plane flies through it. He tested a prototype on a micro-plane in a wind tunnel, and sure enough, it allowed the small craft to glide more easily through turbulent air. Now he's going to figure out how best to arrange the sensors so they'll work on larger passenger planes. Just think: no more bumpy flights. – TG
©RMIT University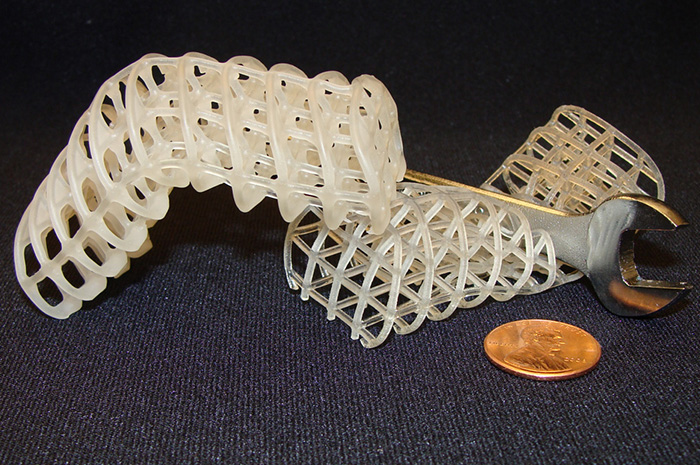 Materials
Robot, Heal Thyself
Imagine a soft surgical robot so squishy it could easily navigate through blood vessels without harming them. But once it reached an organ it needed to repair, it could harden itself and do its work. Or how about a search-and-rescue robot so soft it could easily squeeze through crevices and cracks to reach survivors, then harden itself to move around an open area? Those are just two of the potential uses for a shape-shifting robot that Anette Hosoi, a professor of mechanical engineering and applied mathematics at MIT, has in mind. Her team recently created a new material from polyurethane foam coated and infused with wax. Wires were added to the coated foam struts. When the wax hardened, the foam was rigid. But when a current was added to the wires, the heated wax became pliable and the foam squishy again. Once the power was turned off and the wax cooled, the foam again became rigid. Moreover, Hosoi notes, each time the wax coating is heated and cooled, it repairs any damage it may have sustained. "This material is self-healing," she says. And that's a potentially useful feature for robots that could end up in war zones and disaster areas. – TG
©MIT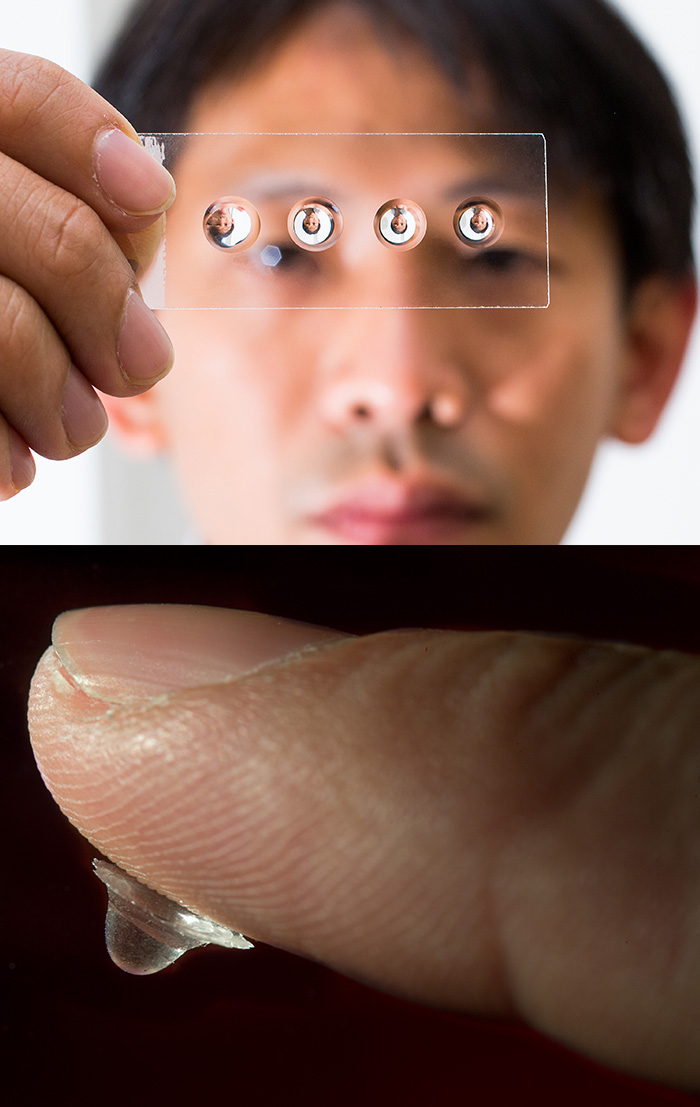 Biomedical Optics
Surprise from the Oven
When Steve Lee, a research scientist at Australian National University's College of Engineering and Computer Science, accidentally left droplets of silicone gel in a laboratory oven overnight, an astonishing discovery awaited him next morning: The droplets naturally formed lenslike shapes. After more experimentation with the polymer used for contact lenses, he trained the lens on yeast cells and knew he had a functioning microscope. "It's a simple process to create high-powered lenses," he explains. "Gravity pulls gel into nice parabolic shapes." As he worked with a colleague, the lens became a useful innovation: The pair attached gel droplets to a smartphone camera lens, turning the device into a handheld microscope. The attachments cost only a few cents to produce, yielding a potentially useful diagnostic tool in poor or remote regions. "There are possibilities for farmers," Lee continues. "They can photograph fungus or insects on crops, uploading magnified pictures so specialists can identify whether they have a problem or not." – Chris Pritchard
©Australian National University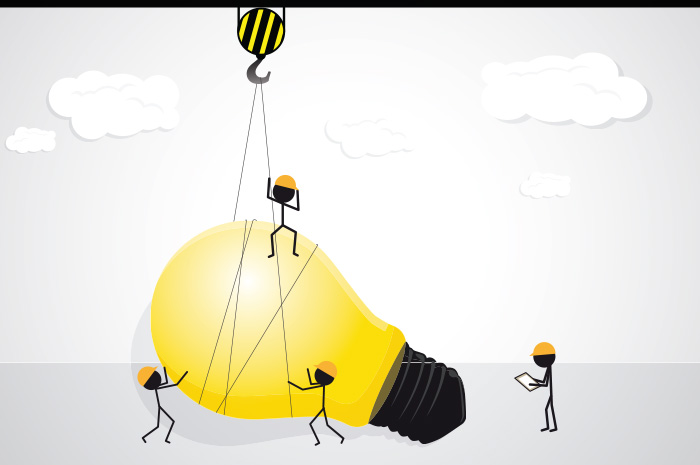 Engineering Education
Total Makeover
Technology has dramatically altered the way people work, live, and interact. Yet the institutions that prepare future engineers and innovators mostly remain impervious to change. Two notable exceptions are the interdisciplinary Franklin W. Olin College of Engineering in Needham, Mass., and the iFoundry incubator at the University of Illinois – the subjects of a new book by artificial intelligence researcher David E. Goldberg and Mark Somerville, a professor of electrical engineering and physics at Olin. Written with Catherine Whitney, A Whole New Engineer: The Coming Revolution in Engineering Education chronicles the individual sagas that led to the launch of radically redesigned undergraduate programs. Drawing lessons from history, including ASEE's contributions to engineering education, the authors conclude that technological and economic forces shaping the workplace "cannot be addressed effectively with small tweaks to the existing curriculum, content, and pedagogical methods." Their insights and how-to advice provide what engineering educator Linda Katehi, the chancellor of the University of California, Davis, calls "a detailed roadmap" on how to reform higher education in general. – ML
©Thinkstock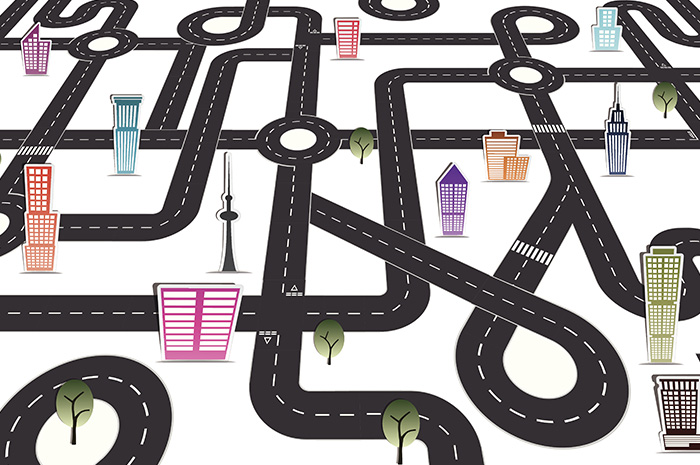 Electric Vehicles
Juice Squeezers
California Gov. Jerry Brown recently signed an executive order designed to ensure that 1.5 million fully electric vehicles will be on state roads by 2025. But here's the thing: As EVs become more popular, they could strain electricity grids. If thousands of cars plugged in at peak demand time, grids could crash or cause brownouts. Another issue: superfast direct-current chargers that allow EVs to power up in less than half an hour. The average home uses less than 1 kilowatt an hour. But many superchargers eat up 20 to 50 kilowatts per charge, and Tesla's suck up 120 kilowatts. So much juice going out so quickly could add to pressure on the grid. How then do we keep efforts to put more green EVs on the road from turning out the lights? One possible solution is being hatched at the University of California, Berkeley's Smart Cities Research Center. Its Smart Bay model collects roadway data from highway detectors and driver data from cellphone signals, and it can predict EV traffic flows. Researchers hope to manage those flows by giving drivers incentives – perhaps free parking – to use charging stations at less busy times. And Tesla this month is scheduled to roll out battery swaps at its California stations. It's engineered a robotic system that can swap a nearly depleted battery with a fully charged one in 90 seconds. It can then recharge the drained batteries when grid demand is low. Meanwhile Honda, IBM, and PG&E, the power company, are testing a vehicle-to-grid communications system that would allow battery charging to be auto-timed to relieve the grid. – TG
©Thinkstock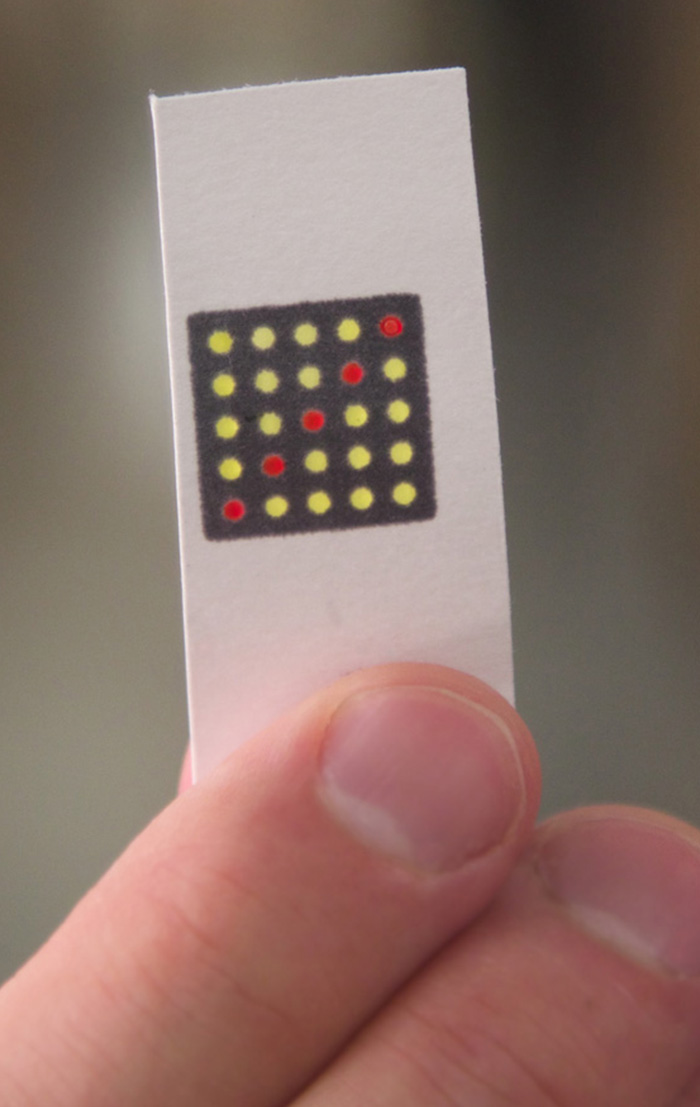 Ebola Diagnosis
Faster and Cheaper
Being able to diagnose the Ebola virus quickly is key to containing outbreaks of the often fatal disease. The best test now is the RT-PCR, or reverse transcription polymerase chain reaction. It's very accurate and produces no false positives, but it's rather slow – four hours for results – and expensive: $60 to $200 per test. James Collins, a biomedical engineer at Harvard's Wyss Institute for Biologically Inspired Engineering and a pioneer of synthetic biology, has invented a method that can detect Ebola within 30 minutes using paper strips that cost only 4 to 65 cents to make. He uses a so-called cell free system that mimics a cell's processes. Collins's team mixed together the cell-free ingredients, which include designer genes that produce proteins only when triggered by certain strands of DNA or RNA, such as the RNA of the virus. The mixture was then placed on paper and freeze dried. When the Ebola RNA – from a saliva or blood sample – was added to the test paper, the genes produced proteins that turned the paper from yellow to purple. The paper detector is not yet ready for field tests. Collins wants to make it more sensitive so that smaller samples can be tested, and he wants to make sure it has a low false-positive rate. But he's working fast. His team needed just 12 hours to create the first version of the test. – TG
©Wyss Institute