Breakthroughs and trends in the world of technology.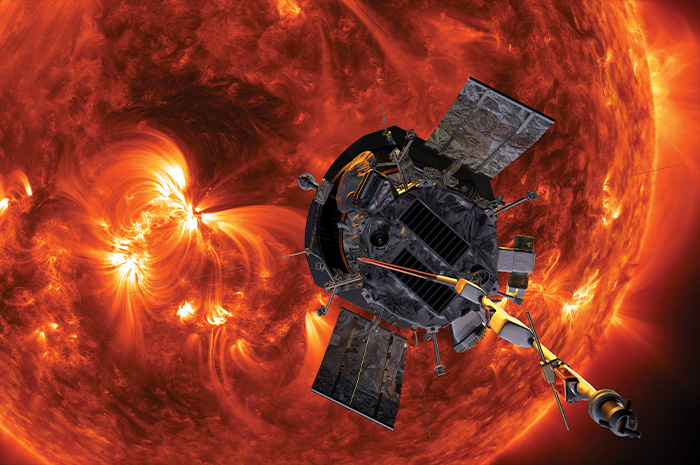 Solar Exploration
Hot Numbers
Launched Aug. 12, 2018, NASA's $1.5 billion Parker Solar Probe is already the fastest spacecraft ever, clocking in at 213,200 mph on November 5. More records will fall before its elliptical orbit moves to a point 3.83 million miles from the sun's surface in 2024. That's close enough—far closer than any previous spacecraft—that NASA calls it "touching." Along the way, the probe will encounter million-mile-an-hour solar wind blasts and pass through material in the sun's atmosphere, the corona, with temperatures of several million degrees Fahrenheit. Because these particles are very diffuse, the spacecraft's 4.5-inch-thick carbon fiber heat shield needs only to withstand a mere 2,500 degrees. Named for Eugene Parker, the University of Chicago physicist who came up with the theory of solar wind in the 1950s, the probe will help answer burning questions about the sun, including why the corona is 300 times hotter than the surface and how solar wind accelerates so quickly. This knowledge has a practical application, since the wind could, in an extreme event, play havoc with Earth's electric grid. The Parker probe's power source? You guessed it: solar. – Mark Matthews
 ©NASA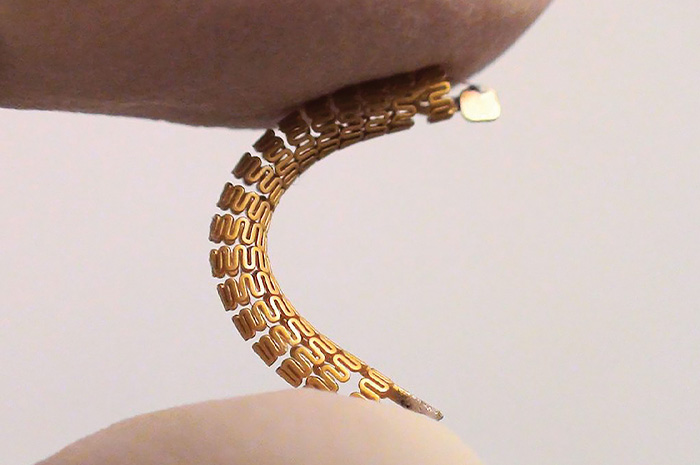 Biomedical Engineering
Telltale Heart
Clogged-up arteries are a major cause of heart attacks and one of the main reasons more than 17 million people a year worldwide die from cardiovascular disease, humanity's No. 1 killer. In the United States alone, 2,300 people a day succumb to its effects. A major breakthrough in the 1970s and '80s was the development of meshlike wire stents that can be inserted into an artery to keep it open. Millions now are implanted annually, but there's a problem: In 1 out of 3 cases, the stent ends up narrowing the artery due to plaque buildup or scarring, a process known as restenosis. Kenichi Takahata, an associate professor of electrical and computer engineering at the University of British Columbia, has come up with a "smart stent" that keeps continual tabs on changes in the rate of blood flow. His modified traditional stent works as a miniature antenna and includes a special microsensor that tracks and transmits any anomalies wirelessly to an external reader, making early diagnosis and treatment possible. The device, made from medical-grade stainless steel and angioplasty-ready, enables continuous checkups, unlike regular CT scans or diagnostic angiograms, which can be impractical or inconvenient for the patient. – Pierre Home-Douglas
 ©University of British Columbia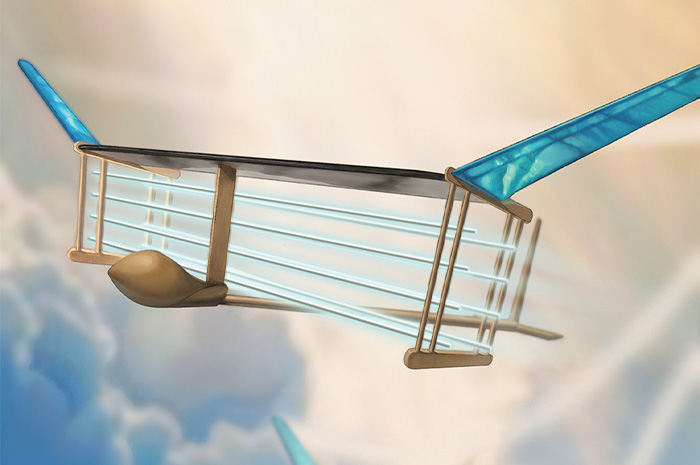 Aeronautics
Thrust but Verify
It flew indoors, and for only around 200 feet, but a drone designed and built by MIT engineers recently achieved a world record by becoming the first aircraft to soar without a single moving part in its propulsion system. The "ionic wind" plane took off nine years after Steven Barrett, an associate professor of aeronautics and astronautics, first got the idea for it. The aircraft's ion thrusters need no fossil fuels and are also silent. Its electroaerodynamic propulsion is produced by a strong stream of ions generated when a current is passed between a thin and a thick electrode. Apply enough voltage, and voila! The air between the electrodes produces ample thrust for a small aircraft. Rocket scientist Robert Gordon demonstrated the first ion drive 102 years ago, and the propulsion system now is routinely used to reposition satellites. The ionic wind that propels Barrett's 5-pound, proof-of-concept drone—which has a wingspan of nearly 16.5 feet and a 500-watt lithium-ion battery—is generated from 40,000 volts of current. Don't expect ion-powered delivery drones or passenger planes anytime soon. Barrett tells IEEE Spectrum that such applications are unlikely to appear for many decades. – Thomas K. Grose
 ©Christine Y. He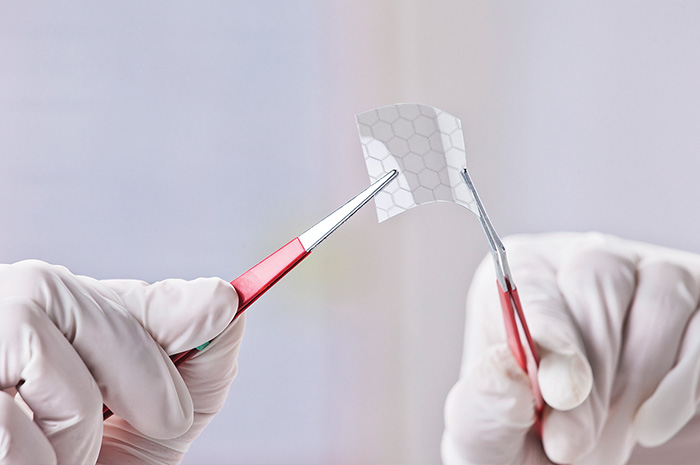 Textiles
Fashion Displays
Researchers keep finding new ways to use graphene, the revolutionary carbon semimetal isolated just 14 years ago. Only one atom thick, the material is extremely flexible and excels at conducting electricity. Now a multiuniversity team led by the Center for Graphene Science at Britain's University of Exeter has figured out how to harness those properties to create fully electronic fibers that can be woven into clothes. Today's wearable electronics typically are glued onto fabric, so they tend to be rigid and susceptible to malfunctions. The Exeter team—which includes researchers from universities in Portugal and Belgium—has invented a way to coat electronic fibers with lightweight, durable materials that, when embedded, allow images to appear directly on the fabric. The team worked with polypropylene fibers that are widely used in textiles, then affixed graphene-based electronic fibers to create touch-sensor and light-emitting devices. "The textile fibers are flexible, comfortable, and light, while being durable enough to cope with the demands of modern life," explains Ana Neves, a lecturer in materials engineering at Exeter. The technique could pave the way for incorporating health monitors, diagnostic devices, and other electronic gadgets into functional fashion. – T. G.
 ©Getty Images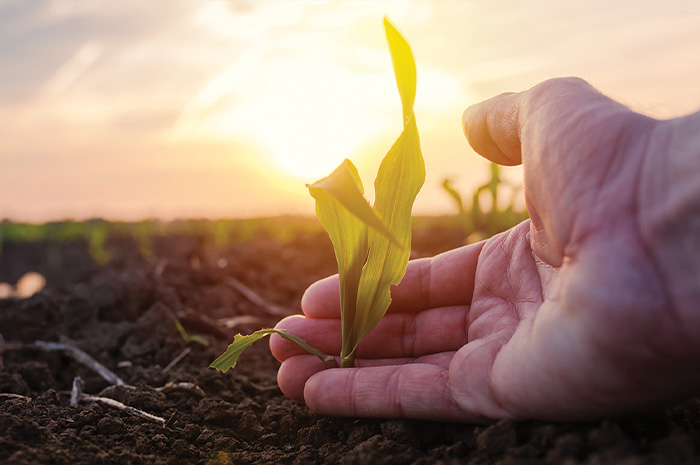 Agriculture
Menu for a Hungry Planet
By 2050, Earth's population could swell from today's 7 billion to nearly 10 billion. Meanwhile, the developing world's increased wealth will boost demand for food overall by more than 50 percent and for animal-based foods by almost 70 percent. While "there is no silver bullet," a new report from the World Resources Institute sees a way forward if nations agree to a 22-item "menu for a sustainable food future" that could ensure everyone has enough to eat without increasing greenhouse gas emissions or exacerbating deforestation and poverty. For instance, the study calls for using technology to increase crop yields beyond historical rates. Promising practices include the addition of crop traits that lower methane emissions in rice and cattle, improved fertilizers that reduce nitrogen runoff, organic sprays that preserve fresh foods for longer periods of time, plant-based beef substitutes, and big advances in molecular biology that greatly improve crop breeding. Moreover, the study recommends managing demand for food by reducing food loss and waste, stopping the expansion of biofuel production, and shifting diets from meat to plant-based foods. Raising ruminant livestock—cattle, sheep, goats—uses two thirds of the world's agricultural land and contributes to roughly half of the greenhouse gas emissions from farming. – T. G.
 ©Getty Images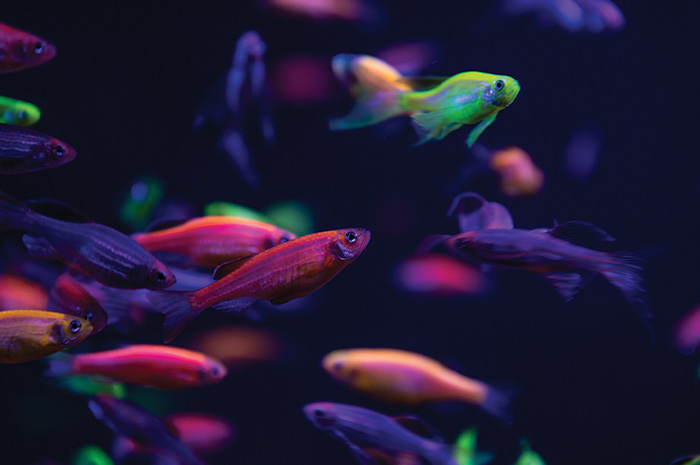 Biomimicry
Catch of the Day
Fish swim in ways that look pretty random. But all that wriggling and darting gives them the sensory feedback required to navigate their environment. That biological insight, which emerged from an augmented-reality experiment run by Johns Hopkins University engineers on fish that emit a weak electric field around their bodies for communication and navigation, could help make robots smarter. The fish were placed in a tube inside a tank. When the tube was kept still, the fish continuously wiggled back and forth, picking up cues from their environment. But when the tube was moved in sync with the fish's movements, it made it harder to sense the environment and they swam farther. If the tube moved in opposition, the fish swam less because they were able to receive more input with greater ease. "You have to actively move to perceive your world," says Noah Cowan, the mechanical engineering professor and roboticist who led the study. "But what we found, that wasn't known before, is that animals constantly regulate these movements to optimize sensory input." One takeaway: Cowan thinks smart sensors should play a bigger role in future robot design than typically is the case now. – T. G.
 ©Getty Images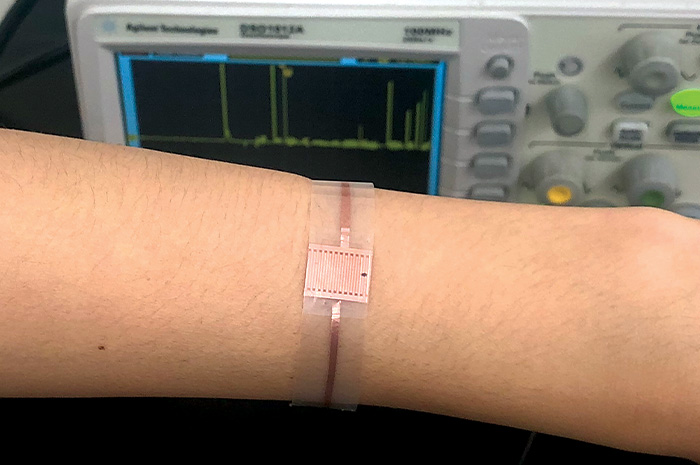 Wound Care
Heal Thyself
Researchers have known for decades that applying an electric current to skin wounds can help promote healing. But putting theory into practice has proved difficult. Electrotherapy units are large pieces of equipment that use complex wiring to deliver strong jolts that can also damage healthy tissue, so they're rarely used. Now engineers at the University of Wisconsin–Madison have invented an electrified wound dressing that uses a patient's body motions to generate gentle electric pulses that can rapidly speed up healing. In rodent tests, the device reduced healing times from two weeks to three days—a recovery rate so fast it even surprised the researchers. The Madison team's dressing places small electrodes on the wound that are linked to a band covered in nanogenerators that harvest energy from movement. The band is placed around a patient's torso, where the mere movement of a ribcage from breathing is enough to deliver harmless, low-intensity electric pulses to the injury site. The tiny jolts give a boost to skin cells called fibroblasts, causing them to align—a key step in healing—and produce biochemical substances that abet tissue growth. The researchers say the device is simple and easy to manufacture, so it shouldn't cost much more than a regular bandage. – T. G.
 ©Xudong Wang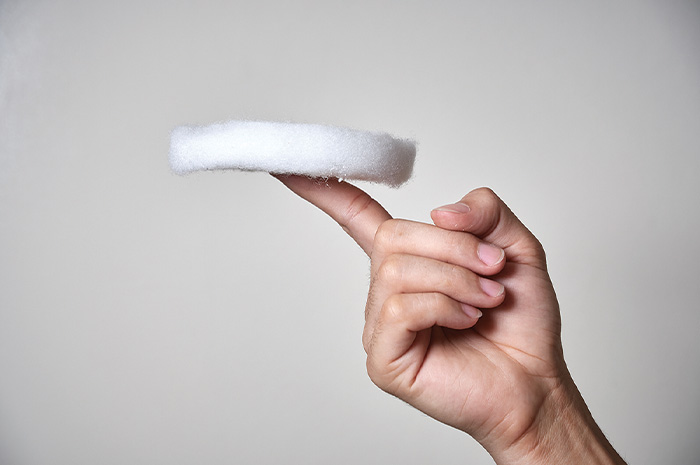 Recycling
Aerogels to the Rescue
Annual production of plastic bottles is steadily increasing, on track to surpass 500 million tons by 2021, according to one study. Although most bottles are made with polyethylene terephthalate (PET), the world's most recycled plastic, many tons still end up in landfills or polluting waterways and oceans. But researchers at the National University of Singapore have developed a way to convert PET bottles into aerogels that could have several useful applications, thus opening up new markets for recycled bottles. The resulting aerogels are soft, flexible, light, and durable, with impressive thermal insulation and absorption characteristics. The researchers say there is a wide range of applications for the aerogels, including heat and sound insulation in buildings, cleaning up oil spills, lightweight linings for firefighters' coats, and carbon dioxide absorption masks. The NUS team says their method is simple, inexpensive, and easily scalable for mass production. – T. G.
 ©National University of Singapore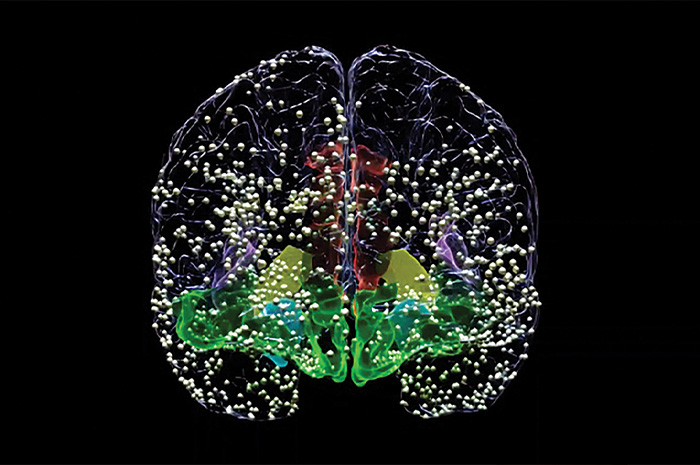 Mental Health
Clues to the Blues
Millions of American veterans suffer from mood disorders, including depression and anxiety, that often don't respond to drug and counseling treatments. So four years ago, the Defense Advanced Research Projects Agency funded research led by the University of California–San Francisco to help doctors better understand the neural mechanics of these disorders and develop new and better treatments. Three recently published papers suggest the team has come up with technologies that go a long way toward meeting DARPA's goal. In the first, researchers report on their decoding technology that can predict mood changes from patterns found in recorded neural signals. In the second, they described locating a specific subnetwork in the hippocampus and amygdala regions of the brain that seems to contribute to depression, particularly in people with existing anxiety. Finally, a third paper explains how they alleviated the symptoms of moderate to severe depression by delivering open-loop neural stimulation to the orbitofrontal cortex (OFC) region of the brain. By stimulating the OFC, the team says, it modulated the large-scale brain networks involved in emotional processing. The studies are now winding down, but DARPA hopes the results will generate investment into further research. Meanwhile, it's working with the U.S. Food and Drug Administration to begin a regulatory review of the three technologies. – T. G.
 ©DARPA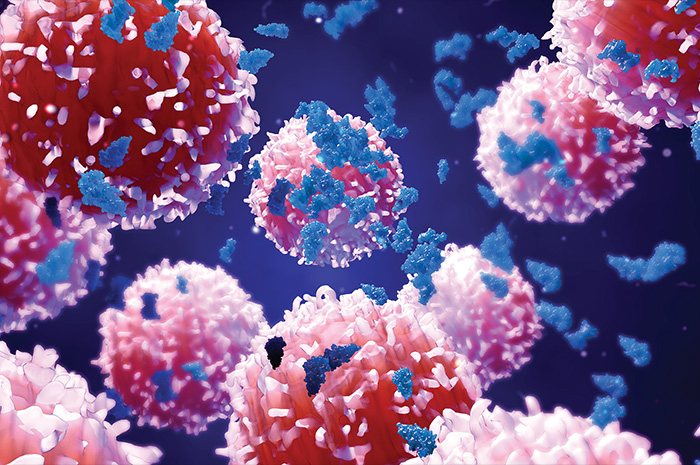 Cancer Detection
Quick Check
Chemists at Australia's University of Queensland may have hit upon the holy grail of cancer diagnostics: a noninvasive, inexpensive, universal test. According to the Guardian, their test can, within 10 minutes, detect even minute traces of cancer DNA in a patient's bloodstream. If further studies bear out early results, the technique could revolutionize treatment by giving physicians a fast and simple procedure for routine screenings. In initial studies, the test was 90 percent accurate, the newspaper says. The researchers' breakthrough discovery was that all forms of cancer share a DNA nanostructure that cause fragments to stick to metal differently than those of healthy DNA. Here's how it works. Gold nanoparticles are mixed into water, which turns the liquid pink. Suspect DNA is then added to the water. If the DNA is cancerous, it binds to the nanoparticles in a way that leaves the water pink, while normal DNA turns the water blue. A patient who tests positive would have to undergo other, more focused investigations to identify the cancer type and stage. So far, 200 samples of cancerous and healthy DNA have been tested, so far more investigation is needed. But that holy grail looks within reach. – T. G.
 ©Getty Images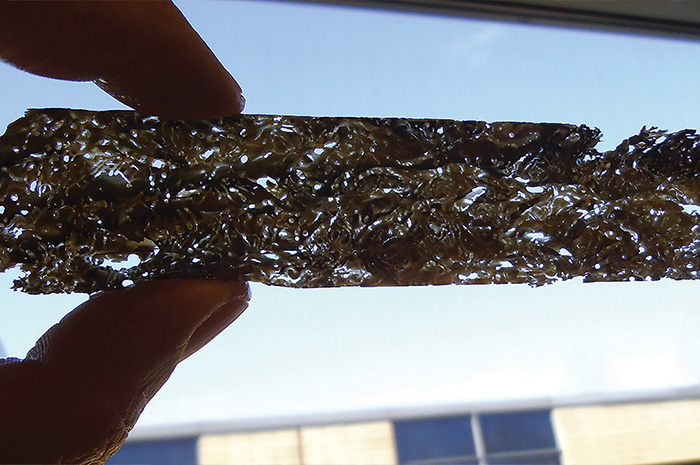 Clean Energy
Power Lunch
Substituting biomass for fossil fuels to power electric plants can reduce greenhouse gas emissions, but growing plants for fuel uses up cropland. Wood is a good alternative, but before burning it must undergo a costly and energy-intensive pre-treatment using thermochemicals to break down lignin, the tough coating that encases the sugar polymers in wood. A cheaper, more sustainable treatment may soon be available, thanks to a discovery found in the innards of the lowly gribble, a tiny crustacean that feeds on ship hulls, piers, and wood swept into the ocean from river estuaries. A multiuniversity team of researchers led by the University of York found how this ocean termite breaks down lignin. Within its gut are hemocyanins, proteins that transport oxygen within invertebrates by binding to copper atoms. Oxygen is a highly reactive chemical, and the gribble harnesses the oxidative capabilities of hemocyanins to destroy lignin bonds. Treating wood with hemocyanins, the researchers found, can release double the amount of energy-producing sugars when wood is burned, which matches the amount released from thermochemical treatments. – T. G.
 ©Katrin Besser, University of York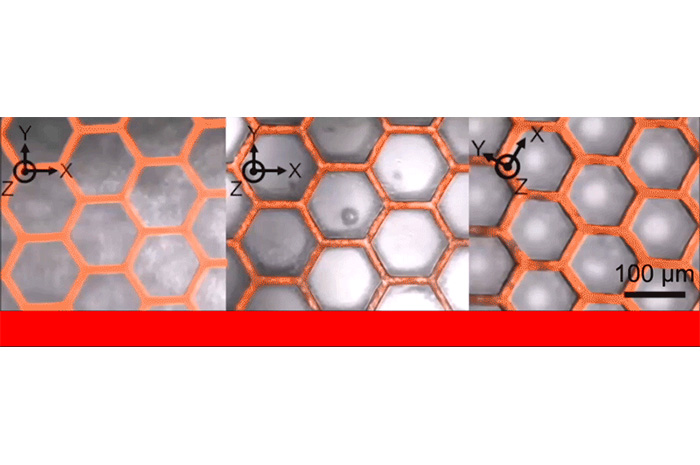 Solar Power
Heliotropic Bouquet
It follows the sun across the sky from east to west. Now researchers led by Harvard's Wyss Institute for Biologically Inspired Engineering have come up with microstructures that mimic the sunflower's light-seeking movements—a technology that could make solar panels more efficient. The team uses a rubbery polymer that contains liquid crystal elastomers (LCEs). Until now, this material has been able to deform in only one or two dimensions. But the Wyss team used magnetic fields to control the molecular structure and fashion the LCEs into microscopic, three-dimensional shapes that can be programmed to move toward a source of heat or light. While the LCEs were being synthesized, the researchers exposed them to a magnetic field and found that the liquid crystalline compounds would align themselves to the field and retain that shape after the polymer solidified. By varying the direction of the magnetic field, they were able to program how the shapes would deform when heated to a temperature that disrupted the crystalline structures' orientation. Once the heat source was removed, the deformed structures snapped back to their original shape. The researchers then added light-sensitive, cross-linking molecules to the mixture during polymerization, so when the microstructures were illuminated from a certain direction, the side facing the light contracted, forcing the entire structure to bend toward it. The team says one obvious application of the technology would be solar panels covered with microstructures that follow the sun—just like a field of extremely tiny sunflowers. – T. G.
 ©Harvard University, Wyss Institute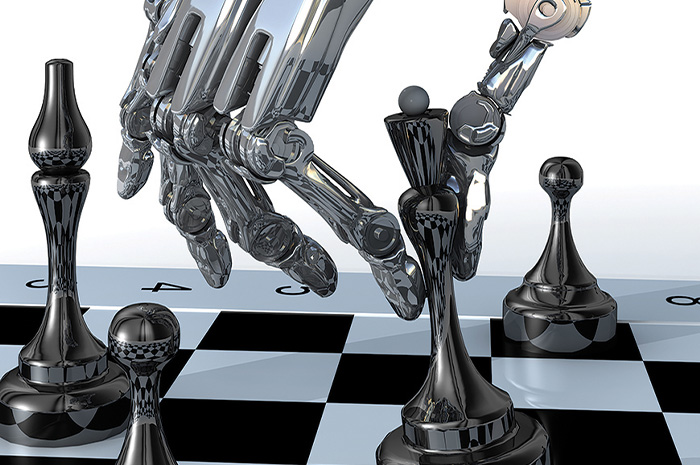 Artificial Intelligence
Checkmate?
On your mark, gamers! In 2017, AlphaGo, a program designed by DeepMind, a subsidiary of Google parent company Alphabet, beat the world's Go champion. But that system needed humans to train it over many months. A new version, AlphaZero, beat AlphaGo after just three days of self-training. Now the Go pro has proved a master at chess and Shogi (a Japanese version of chess), again without any human help. All three are strategic games in which information for decision-making isn't hidden. AlphaZero trained itself to play chess, Go, and Shogi by playing millions of games against itself, learning by trial and error. Murray Campbell, the artificial intelligence researcher at IBM who helped design DeepBlue, the program that beat world chess champion Garry Kasparov in 1997, says AlphaZero's achievement closed a chapter in AI research. Next, he tells IEEE Spectrum, it should tackle more challenging games that offer "imperfect" information, such as multiplayer, online games like Minecraft. However, DeepBlue CEO Demis Hassabis tells the Guardian that he thinks it's time to move beyond gaming and use AlphaZero's formidable power to solve medical problems. He wants to unleash the AI on protein folding, which is implicated in Alzheimer's, Parkinson's, cystic fibrosis, and other debilitating diseases. Sounds like a smart strategy. – T. G.
 ©Getty Imaages