Breakthroughs and trends in the world of technology.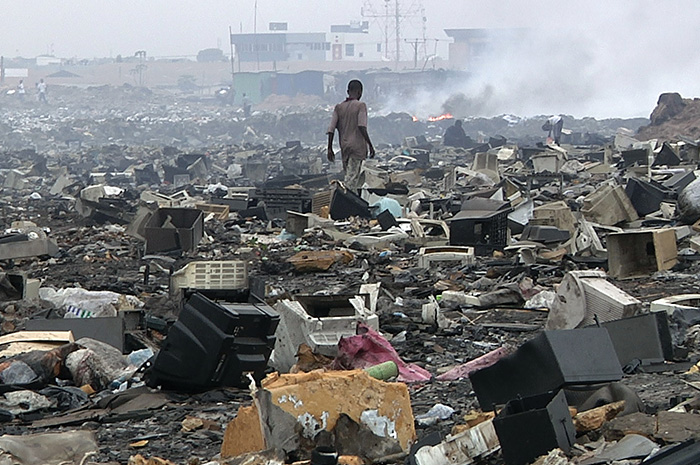 Sustainability
Such a Waste!
Upgrade your phone? Join the crowd. The United Nations estimates that by 2021, the world will have disposed of 57.5 million tons' worth of cellphones, laptops, refrigerators, sensors, TVs, and other electronic devices. That's about 15 pounds for every man, woman, and child on the planet. The United States average: 44 pounds per person. As far as can be determined based on incomplete data, only a fifth of this mountain of e-waste worldwide is now collected and recycled. Globally, discarded devices contain tens of billions of dollars in gold, silver, copper, platinum, and palladium. This has given rise in a number of developing countries to an informal extraction industry, sometimes employing children. It's a dangerous job, since it exposes workers to mercury, polyvinyl chloride, flame retardants, and other toxins. Materials that aren't extracted can end up in landfills or incinerators, polluting the environment. The U.N. advocates a "circular economy" that includes better design of components plus collection, recycling, and reuse of electronic devices. Such a model "offers huge economic and employment opportunities for e-waste management," the world body contends. – Mark Matthews
 ©Marlenenapoli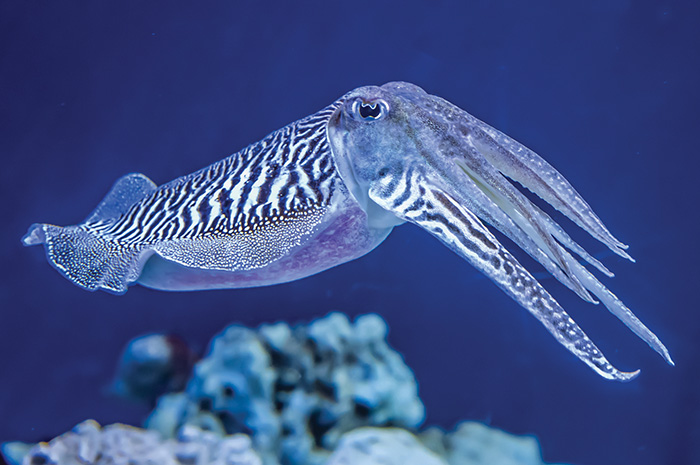 Biomimicry
Cuttle Camo
Cuttlefish are masters of disguise. Within seconds, they can blend in nearly seamlessly with their surroundings: rocks, sand, coral, and seaweed. It's a neat trick that allows them to surprise prey and hide from predators. They're covered in minuscule, muscle-like organs called chromatophores that change color, as well as a second set called papillae that can lie flat or rise into bumps when activated. Learning how cuttlefish papillae can switch within seconds from flat to textured 3-D structures could help scientists develop new classes of soft materials with potential medical and industrial uses. Now a team of researchers led by biologists at the University of Cambridge has figured out how the nervous systems of cuttlefish manipulate their skin. Similar to octopuses, their neural circuits route from the brain through a peripheral nerve center that also houses the motor neurons controlling the papillae. Researchers also found out how the papillae retain the shapes they assume without any further brain signals—a "catch-like" mechanism similar to those used by oysters, mussels, and scallops to keep their shells closed without expending much energy. – Thomas K. Grose
 ©Thinkstock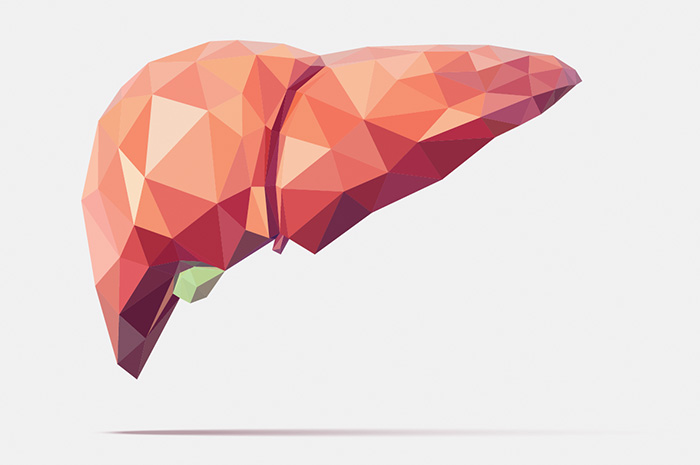 Biomedical Engineering
Liver Die Situations
Livers for transplants have to be put into cold storage until they're used, but they can remain on ice for only 12 hours. Five years ago, Constantin Coussios, a biomedical engineer at the University of Oxford, unveiled the "metra" (Greek for womb), an invention that can keep a liver warm and fresh for 24 hours. Since then, according to the Economist, his company OrganOx has placed 25 metras in hospitals worldwide. Now he plans to ramp up commercialization efforts and possibly extend the product line to include metras for other organs like kidneys and pancreases. The amount of blood a liver needs varies, so the metra continuously monitors pressure in the organ's blood vessels and adjusts the amount it pumps. The "blood" it uses is a special concoction, stripped of white cells and platelets, so there is no risk that it will transfer diseases, cause inflammation, or clot. It also contains nutrients and special chemicals to allow the liver to keep producing bile and insulin to regulate its metabolism. A Massachusetts rival, TransMedics, is developing a similar storage device for livers, hearts, and lungs. Apparently, competition in the biotech industry grows organically. – T. G. 
 ©Thinkstock
Materials Science
Powerful Limbs
As a building material, wood is cheap, plentiful, and renewable—and now on the fast track for growth thanks to a new superstrength technology. A materials scientist at the University of Maryland has developed an easy, inexpensive way to turn any type of wood into a material stronger than steel. Liangbing Hu's invention is a two-step process that densifies wood, reports Scientific American. First, Hu boils the wood in a solution of sodium hydroxide and sodium sulfite. That removes some of its lignin and hemicellulose, weakening cell walls but leaving its cellulose intact. Next, the wood is compressed and gently heated, which helps it form chemical bonds that add strength. The superwood is three times as dense as natural wood and so strong that a five-layer plywood-like panel of it stopped (simulated) bullets. Hu thinks it could be used to fabricate low-cost armor as well as building materials. Superwood could also replace steel in cars, since it's much cheaper than carbon-fiber composites and more easily recyclable. Meanwhile, Hu is devising methods to make wood transparent for use in windows. – T. G. 
 ©University of Maryland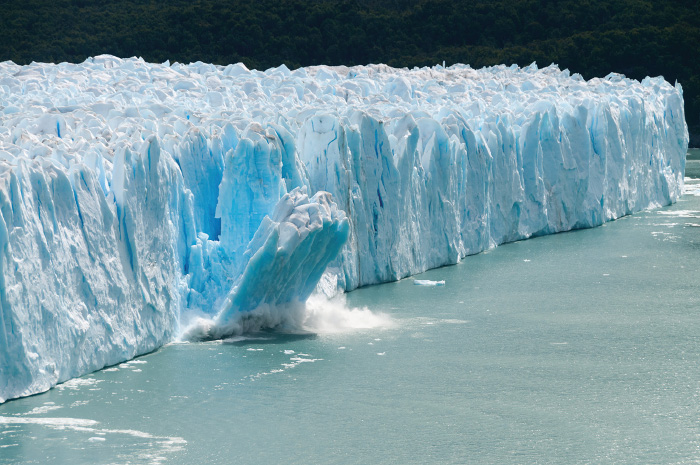 Climate Science
New Melting Model
For years, atmospheric scientist Ivana Cvijanovic tried to solve a quandary: Why did ancient periods of rapid warming in the Northern Hemisphere coincide with big shifts in tropical precipitation? The answer was elusive, in part, because the previously available models simulating Arctic sea ice melt underestimated how much ice disappeared, according to Technology Review. Donald Lucas, a researcher at Lawrence Berkeley National Laboratory, used improved modeling processes to better predict sea ice losses in 2012. His model gave Cvijanovic, now a postdoc, a better tool for her research. She reports a disturbing finding: As Arctic ice continues to melt away, it creates huge high-pressure systems off the West Coast that block rain storms from hitting California, instead pushing them north to Alaska and Canada. With less ice to reflect solar heat back into space, not only does the polar region warm, but some of that extra heat also migrates south to the tropics, creating massive high- and low-pressure areas—including ridges of high pressure off California. If Cvijanovic's finding holds up, the Golden State may turn much browner as droughts become more common, thanks to rapidly disappearing Arctic ice. – T. G. 
 ©Thinkstock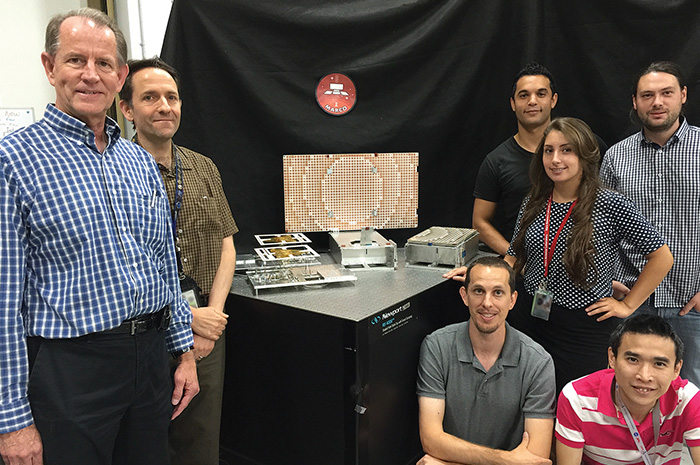 Aerospace Engineering
Surprises Unfold
The popularity of CubeSats—tiny satellites—is soaring. Much cheaper than conventional satellites, they can be ready for launch in months instead of years—perfect for low-orbit monitoring and imaging. One drawback: They're difficult to outfit with high-powered antennas. When NASA decided it wanted to deploy a CubeSat to Mars and a fleet of them to help improve weather forecasting, researchers knew they would need better antennas. In an issue of IEEE Spectrum, Nacer E. Chahat, a senior engineer at NASA/Caltech's Jet Propulsion Lab, describes how his team got the job done. The size of a cereal box, RainCube weather satellite antennas fit inside a cylinder measuring 4 by 6 inches and open to nearly 20 inches wide once deployed. The solution resembles an upside-down umbrella. As the device emerges from its canister, its 33 ribs slowly open and stretch the antenna's "fabric" taut. For the Mars Cube One (MarCo), Chahat's team created a flat antenna called a reflectarray—a three-section panel that opens via spring-loaded hinges. The MarCo will launch with NASA's InSight lander in May, arriving at Mars in November and then becoming the first CubeSat to venture into deep space. – T. G. 
 ©NASA/JPL-Caltech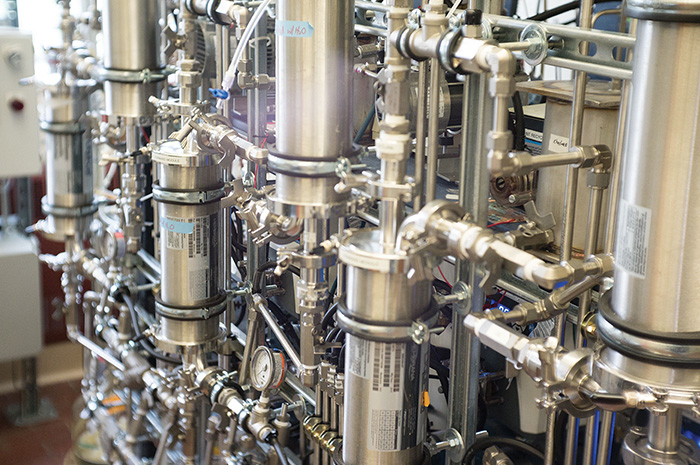 Biofuels
Make Whey for Jets
Greek yogurt's extra creamy texture is a hit with consumers. American producers churn out 770,000 metric tons of it annually. But the process that makes it creamy also creates whey, the liquid left behind when milk proteins are strained. So why not turn it into biofuel? That's the question that Lars Angenent, a professor of environmental and biological engineering at the University of Tübingen in Germany, asked himself. He's also an adjunct professor at Cornell University in upstate New York, where he noticed that fleets of trucks were needed to haul whey because dairy companies considered an unusable byproduct. But whey is a good source of lactic acid, which Angenent's lab has already turned into biofuel. His team reports that it can be used for vehicles, including jets. Whey also works as an animal feed with natural antimicrobial capabilities—meaning farmers could stop using antibiotics on their animals. Angenent envisions a plan to treat whey on-site at yogurt plants and do away with those fleets of waste-hauling trucks. He is creating a company for his conversion method, which could give manufacturers the ability to generate new revenues from waste. – T. G. 
 ©Largus (Lars) Angenent, Ph.D.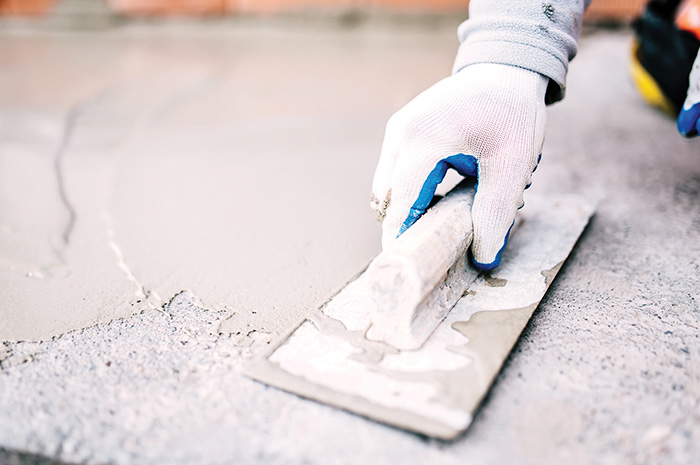 Building Materials
A Fungus Fix
Much of the built world—roads and bridges, dams and tunnels—is constructed with concrete. Over time, however, it deteriorates. Cracks can arise for many reasons: shrinkage, movement, freeze/thaw cycles, and too much weight. Those no wider than a human hair can became a problem if they allow water and air to seep inside, corroding steel reinforcement. Continuous maintenance and repair requires a lot of labor and money, so researchers are devising self-healing concrete. In a recent issue of the Conversation, Congrui Jin, an assistant professor of mechanical engineering at Binghamton University, provides one possible solution: fungus. By adding dormant fungal spores and nutrients to the concrete mixing process, any water that enters when a crack occurs should spur the spores to germinate. That would prompt the calcium-rich concrete to generate crystals that eventually caulk the crack. Jin writes that while promising, the concept needs testing. It's possible, she admits, that lack of moisture, high summer temperatures, and exposure to sunlight could kill the spores. "But," she concludes, "the scope of American infrastructure's challenges makes exploring creative solutions like this one worthwhile." – T. G. 
 ©Thinkstock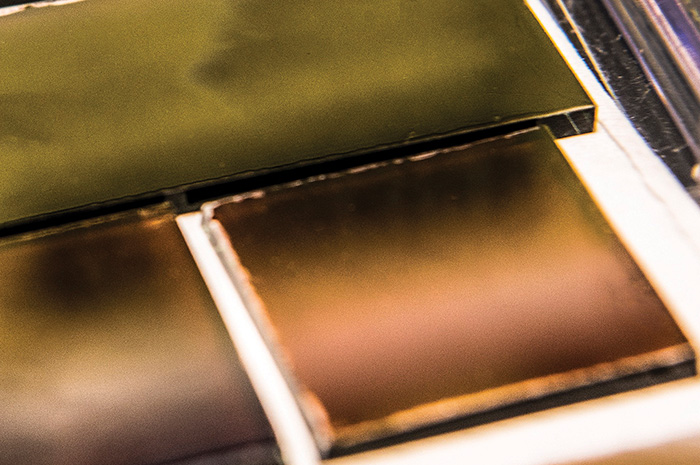 Solar Power
Pumping Up Perovskites
Today's commercial solar panels convert only around 15 percent of solar energy into electricity. There's been growing interest in solar cells made from cheap perovskite materials, which can hit a rate of about 23 percent. The issues with perovskite cells are life span and durability—but a new version developed at the U.S. Department of Energy's National Renewable Energy Laboratory (NREL) may solve those problems. During rigorous stress testing, the lab's perovskite cells retained 94 percent of their efficiency after 1,000 hours of continuous use. Most solar cells today can last 20 years, so more testing is needed to see if these can meet that mark. Perovskite cells are topped with a thin film of organic molecules called spiro-OMeTAD and sit on an electron-transport layer of titanium dioxide. That configuration causes an immediate 20 percent drop in efficiency—a decline that steadily continues through use. NREL's version uses a top layer of a new molecule called EH44 that's water-resistant, and a bottom layer of tin oxide. In that configuration, the solar cell's efficiency remains steady. – T. G. 
 ©NREL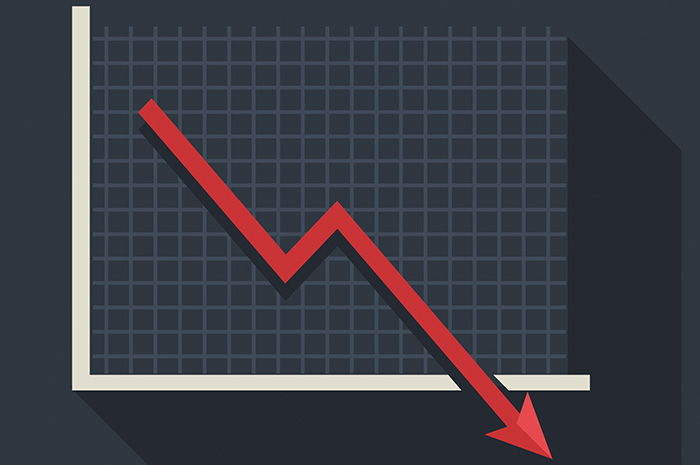 International Students
Fewer Want to Come
President Trump's executive orders barring entry of residents—and reentry of U.S. visa holders—from several predominantly Muslim countries coincides with a chill on foreign applications and enrollments at America's graduate schools. The Council of Graduate Students (CGS) surveyed 377 of its members and found that, for the first time since 2003, applications and first-time enrollment rates of international students are declining. Applications from prospective foreign students dropped by 3 percent in 2017 compared with the previous year, while first-time enrollments dipped 1 percent. Engineering was the most popular degree for foreign students, making up 26 percent of all first-time enrollments, but overall applications and engineering enrollments were down by 10 percent. The council's findings were in line with those in a National Science Foundation report released a few weeks earlier that found that international student enrollments at U.S. universities—undergraduate and graduate—fell by 5.5 percent between 2016 and 2017. Science and engineering programs dropped by 6 percent. CGS said that while only a small fraction of foreign grad students were affected by the travel ban, the administration's anti-immigration rhetoric could be tarnishing America's image as a welcoming destination. – T. G. 
 ©Thinkstock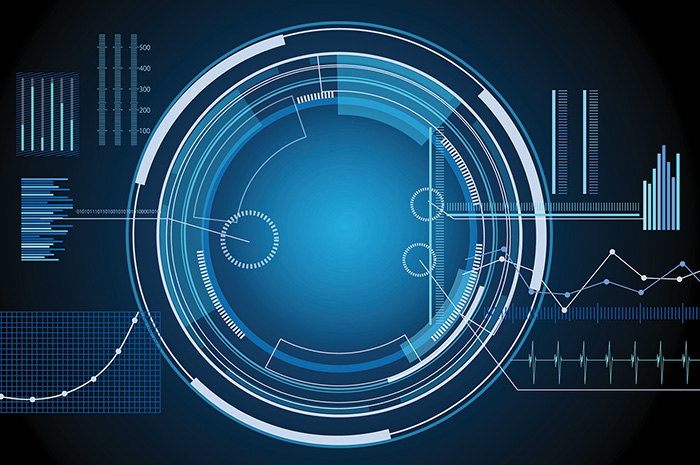 Artificial Intelligence
Cognitive Dissonance
Artificial intelligence systems are routinely starting to surpass human cognitive abilities. But even programs that seemingly work well still have glitches. For instance, three commercially available facial-analysis programs work as advertised only if they're assessing light-skinned men. When it comes to dark-skinned women? Not so much. A new study led by Joy Buolamwini, a computer scientist at MIT Media Lab's Civic Media group, found that when analyzing white males, the programs' error rate was only 0.8 percent. But when they scanned dark-skinned women, the error rate of one program was over 20 percent and the other two more than 34 percent. The problem, Buolamwini says, is data used to train the AI systems are often biased. In one company's case, the data set was more than 77 percent male and 83 percent white. One of the scarier aspects of AI, particularly machine learning, is that computer scientists don't know how systems teach themselves. To get a better idea of how machines think, Google DeepMind has created Psychlab, a virtual laboratory where machines will take a series of controlled cognitive tests—the same tests psychologists use to isolate human cognition. The tests assess everything from memory to the ability to locate objects in a cluttered field. Watson meets Sigmund Freud. – T. G. 
 ©Thinkstock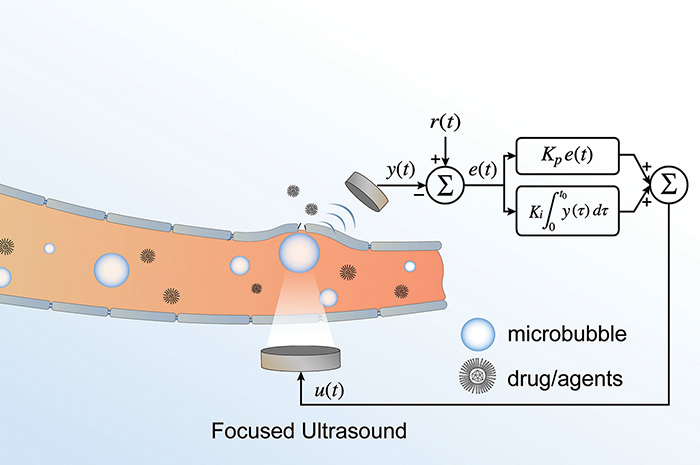 Imaging Technology
On the Bubble
Ultrasound, the technology that uses high-frequency sound waves to look inside our bodies, is probably the scanning technique most people know: Many parents get their first peek at their unborn baby when they see an ultrasound image of the fetus. Now, researchers are starting to use ultrasound to treat diseases, Wired says. Nearly 20 years ago, researchers found that positioning microbubbles near the blood-brain barrier and then blasting them with a beam of ultrasound caused them to gyrate and grow. When they reach a size of 8 microns, the usually impenetrable barrier opens for a few hours, making it easier to treat neurological ailments with medicines. It can be risky, however. If the microbubbles grow too much, they can burst, permanently damaging the barrier. A new device developed by Tao Sun, a Tufts University electrical engineering Ph.D. student working at Harvard Medical School, can monitor the bubbles and find the "sweet spot" where the barrier opens while the bubbles remain stable. Sun is also chemically designing microbubbles to turn them into tissue-seeking markers or drug-delivery agents, and hopes that they can be used to deliver gene-editing therapies. – T. G. 
 ©Tao Sun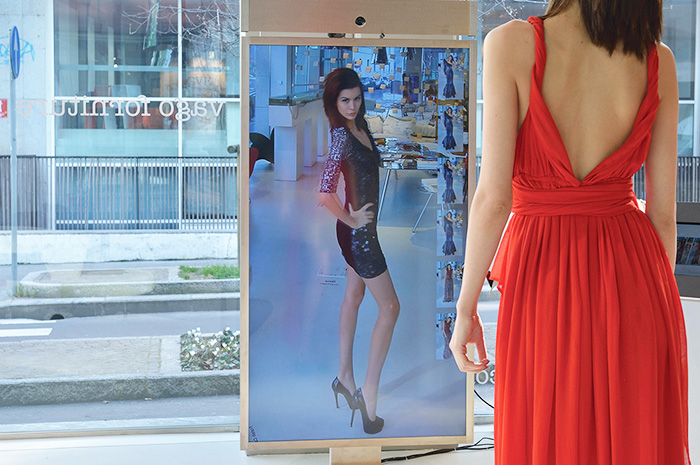 Merchandising
Retail Robots
Amazon's automated, checkout-free grocery store made a splash when it opened in January. But many other high-tech companies are revolutionizing in-store shopping. A Washington Post article focused on five futuristic retail trends. Supermarket giant Kroger is introducing digital price screens with plans to install them in stores by year-end. They'll update prices—up or down, depending on supply and demand—in minutes. MemoMi's digital mirrors give shoppers a chance to virtually try on products and check out a 360-degree video view of them. Five Elements Robotics is introducing a cart that imports your shopping list, then leads you to those items. Another start-up, Xenia, dispenses with carts altogether: Use your phone to add goods virtually as you walk around the aisles. Shoppers then either have the items waiting for them or delivered. Fellow Robots is selling a 'bot to help retailers with stock. It scurries around a store and alerts employees when items are misplaced or running low. Finally, FindMine's app, which works via Facebook Messenger, helps customers assemble outfits. What slacks would look good with that shirt you bought last week? Message a picture to the store, and the app sends you recommendations. Stunning! – T. G. 
 ©Memomi Labs