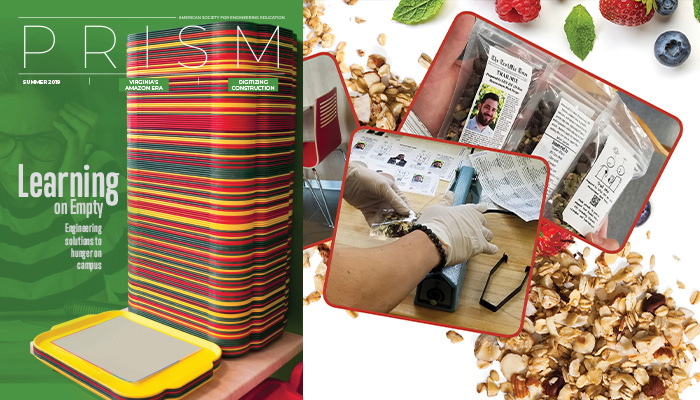 Engineers get creative to combat a widespread problem of hunger on campus.
By Lucy Birmingham
With their lofty career prospects, engineering students often seem on a glide path to success. Yet a headwind buffeting campuses nationwide—hunger—can send even high fliers off course. Just ask Daniel Suitor, an engineering management major at Worcester Polytechnic Institute who ran out of money sophomore year. Unable to afford the dining halls yet too embarrassed to ask for help, he survived on old matzo crackers and scavenged canned goods before dropping out. Now a senior, this past fall he joined two other undergraduates to tackle food insecurity as their required general-education project. They found that, among WPI students surveyed, 1 in 4 must skip meals or scrimp at some point. And they proposed remedies. Among them: Help eligible students apply for food stamps and create a donation bank where unneeded or excess meal-plan points can be deposited with a simple card swipe. Suitor hopes other colleges will pursue similar studies. "In fact, I hope they take our ideas and do them better."
As institutions come to recognize hunger as a campuswide problem, engineering educators and students often are at the forefront of finding ways to respond. They have taken a bite out of dining-hall waste—diverting kitchen leftovers from trash to trays—developed an app that alerts students to the availability of free food, manufactured and distributed nutritious snacks, and helped remove any stigma attached to food pantries with stylish new shelves in rainbow colors.
It doesn't take much digging to discover just how pervasive food insecurity—defined as having limited or uncertain ability to acquire sufficient nourishment—has become on even the leafiest U.S. campus. In April, for example, a study published by researchers at Temple University's Hope Center for College, Community, and Justice revealed that 45 percent of nearly 86,000 student respondents from 123 two- and four-year colleges nationwide said they worried about having enough money for food, with roughly 1 in 4 having skipped three or more meals the prior month. Half had experienced housing insecurity during the previous year, and 17 percent reported being homeless. On California State University's 23 campuses, food insecurity affects 41.6 percent of students, according to a 2018 survey. Even top-tier private institutions like MIT, where as many as 13 percent of undergraduates and between 2 percent and 8 percent of graduate students don't have enough to eat, have formed working groups to determine the prevalence of food insecurity and propose responses.
Feasts and Food Pantries
In January, the U.S. Government Accountability Office weighed in. Examining federal food-stamp data, investigators concluded that of some 3.3 million college students potentially eligible for aid, more than half—some 1.8 million individuals—didn't apply for the benefit in 2016 (the most recent figures available). Recommendations for expanding access included improving information about food-stamp eligibility on the U.S. Department of Agriculture's Food and Nutrition Service website and sharing that information with state agencies. Better information for students, such as the ramped-up outreach and enrollment that schools in the California state system have undertaken, also was deemed critical. One indication of the problem's national scope is that 650 institutions now have on-campus food pantries.
Many factors contribute to hunger on campus, from an increase in the number of low-income students and the high cost of tuition to poor money management and limited dining-hall hours. According to a recent Congressional Research Service report, low-income undergraduate enrollment has increased at a faster clip than the nation's low-income population and the majority of students in postsecondary education have incomes below 200 percent of federal poverty guidelines. The report also notes that nonwhite students, who now account for nearly half of all undergraduates, tend to come from lower-income households than white students. Food on campus often is expensive. Some commentators believe catering to increasingly exacting palates has driven up costs. WPI's seven on-campus cafeterias, for example, offer a smorgasbord of gluten-free paella, cage-free eggs, and vegan entrées. Others say schools use dining halls as cash cows to make up for cuts in state aid. Hungry students can then spiral into trouble, as one respondent in Suitor's survey described: "I had to quit my job because I couldn't keep up with my studies, so I had to take out a loan to pay for a meal plan."
Hunger has well-documented academic consequences. "Food insecurity is a college-completion issue," Sara Goldrick-Rab, a professor of higher-education policy at Temple University and coauthor of the Hope Center report, told the Atlantic earlier this year. Hunger—and worry about having enough to eat—make it hard to concentrate and learn. A 2017 University of Virginia study published in Child Development, for example, found that the deleterious effects could start in kindergarten.
Trail Mix Engineering
It's a problem that has galvanized engineering educators and their students. "Early on, I knew that I wanted to do something around food," recalls Dan Nathan-Roberts, an assistant professor of industrial and systems engineering who joined the San José State University faculty in 2014. The following year, he volunteered with the campus's Student Hunger Committee "to try to understand the needs of our students." And that helped spark a novel teaching tool. Today, students in his Work Measurement and Work Design class learn how to design, produce, test, and improve assembly methods for trail mix—"a nutritious food that can be stored," says Nathan-Roberts. In addition to manufacturing a real product, more than 1,000 pounds and 3,000 bags of which have been donated to the campus food banks over the past four years, they also develop a feel for such constraints as ease of assembly versus the cost of ingredients and peanut allergies. Health and safety are paramount. "I think it's important that we're allowing our students to get hands-on experience which also makes a positive impact on society. It reinforces what they're learning," says Nathan-Roberts, an ergonomics and human-factors researcher. "It's important for us to help our students see the positive impact that engineering can have, and our trail mix has become one of the most requested items in the pantries." In addition to his own substantial investment, support has come from the SJSU Division of Student Affairs; SealerSales.com, which donated equipment and packaging supplies; DSI Consulting, a local human-factors consulting group; and Chartwells, the campus food provider.
Waste Watcher
Growing up in India, Egypt, and other developing countries, Disha Samaiyar saw families everywhere affected by hunger. So when she arrived at the University of California–Los Angeles, "I made it a point to prioritize service learning while also getting my degree in engineering," she relates. Joining UCLA's undergraduate-run Hunger Project, which works with local nonprofits to combat food insecurity and homelessness, her sophomore year, Samaiyar was distributing meals on L.A.'s skid row for the Monday Night Mission when she began wondering about food inefficiencies at the university. One night, she decided to shadow a friend who worked at a campus dining hall. "To my horror, I saw hundreds, if not thousands of pounds of unconsumed food that was dumped into the trash at around 10 or 11 p.m.," she recalls. "That to me was a wake-up call." Meanwhile, 4 in 10 students lacked a consistent source of high-quality, nutritious food, according to a 2016 University of California study.
Samaiyar became the driving force behind a Hunger Project partnership with other student organizations to redirect perfectly good food bound for the garbage after the campus cafeterias close. Launched in February 2018, Bruin Dine serves free, hot leftovers from several dining halls twice a week, from 9:30 p.m. to 10:50 p.m. The aim is to reach food-insecure students while also reducing food waste—an estimated 50 tons a day at UCLA. "You're basically striving for a seamless experience, where students are really getting what they need out of it and you're engaging with the dining hall facilities to make sure their needs are met as well," says Samaiyar, who began with surveys, followed by months of negotiations, coordination, and lots of red tape—such as meeting fire regulations. The program, which was temporarily suspended over concerns that the salad bar and other cafeteria staples violated the state's health code prohibition on redistributing "served" food, currently draws between 25 and 50 students per event, most of them undergraduates who live off campus. "It took about 21 weeks before we could have our first event on campus," says Samaiyar, who graduated that spring with a degree in mechanical engineering. "But it was just an amazing exercise—almost like a design process you would find in engineering, where you determine a need, find inefficiency, and from there you keep iterating on the events."
Data-Driven Solutions
Before tackling hunger on WPI's campus, Suitor and teammates Maggie Gaffney, a sophomore majoring in chemical engineering, and Christopher Renfro, an aerospace engineering junior, sought to understand the extent of the problem. After reviewing whatever material existed, they designed and administered surveys to WPI's 6,000 undergraduate and graduate students about their access to food, receiving responses from 551. They also videotaped in-person interviews with those who volunteered to discuss the subject further. Their investigation, which was guided by advisers Gregory Snoddy, assistant vice president and dean of students, and Kristin Boudreau, humanities and arts department head, resulted in an 81-page report outlining disparities in food consumption, race, and ethnicity. While food insecurity affected a smaller proportion of WPI survey respondents (24 percent) than the national average for collegegoers, the rates for minorities were far higher. Some 53 percent of WPI's African-American respondents reported experiencing food insecurity—above the average for their peers across Massachusetts—as did 36 percent of Hispanic and 22 percent of Asian students. By contrast, 21 percent of white respondents were food insecure. "With that hard data, people really started listening," Suitor tells Prism. Among students classified as food insecure, most reported being unable to afford balanced meals, and 84 percent skipped or cut the size of meals regularly. Roughly 4 in 5 thought they were eating less than they should or feared that food would run out. Suitor and his teammates also spotlighted several common causes, including "difficulty balancing the demands of a WPI course load with the time needed to eat healthy, balanced meals" and "lack of money for food after paying other bills or rent." Perhaps surprisingly, students cited the lack of access to dining facilities during the times when they needed to eat.
The team proposed financial and logistical solutions. To help needy students, they suggested, among other things, a meal-card-swipe donation bank, helping eligible students apply for food-stamp benefits, and prepackaging frozen meals for students remaining on campus during vacations, when cafeterias are closed. To improve access, the team recommended opening 24-7 takeaway kiosks in every residence hall. Finally, the team urged the establishment of a food-insecurity task force to study the problem's root causes among WPI students and the effectiveness of efforts to ameliorate hunger.
"We found there are many people working on this issue, but within their own sphere of influence," explains Suitor. "We felt that a food-insecurity task force would help everyone to row in the same direction." The initiative is now in place and headed by Snoddy.
Appetite for Apps
The topic of food—recovery, security, and sustainability—captured Kim Quach's imagination when she saw the documentary Just Eat It during her sophomore year at the University of California–Davis. The 2015 documentary, which examines how our obsession with expiration dates, perfect produce, and portion sizes exacerbates the problem of food waste, inspired Quach to join the Food Recovery Network club on campus. Over the next two years, she and her fellow volunteers helped salvage 50,000 pounds of food from the dining commons and markets—food that otherwise would have been tossed in the trash—and donated it to downtown homeless shelters. There were too few volunteers, however, to collect leftovers from catered events such as conferences, club gatherings, and symposia. "I was thinking we could have a tool that easily connects students to these opportunities," recalls Quach, now a computer science senior, "a way they could self-serve and help divert food from waste."
Thus began the idea for Freebites, an app alerting students to perfectly good food left over from campus events. The idea jelled this past fall, when Quach enrolled in associate professor Sam King's iOS fundamentals class, which assigned students to build an app using Apple's mobile operating system. While Quach and one teammate "took care of the interface," the other two "focused on the front- and back-end development." To attract users and optimize their experience, the team posted the whereabouts of pizza they had purchased and asked pizza-seekers to take a survey about the process. By the project's deadline, Quach and her classmates not only had delivered their app to the Apple App Store but also had surpassed their goal of 150 users—the only team to achieve this. They also had user data that could inform future modifications.
"Essentially, I was customizing the curriculum specifically for each student team and allowing them to solve a problem they were genuinely passionate about," King explained in a UC–Davis news story earlier this year. "By framing it as something the students are interested in, they were able to do much, much more than if I'd given them some pre-canned programming projects."
Freebites, which made its official campus debut in April after undergoing a major overhaul and adding more features, marries the visuals of Facebook posts with an eBay-style auction countdown. Anyone with a university e-mail address can create an account, with caterers and event hosts provided special access, Quach explains. A main Food Feed displays posts, each one consisting of a photo of the food with a description and where it's available. "The most important component of the post is the 30-minute time countdown," signifying how much time is left for students to come by and pick up the food," says Quach. "That specifically is due to the food safety requirement that I learned in talking with the university." The free tool, she believes, "would be very beneficial to have on all college campuses."
Recipe for Success
Jenny Jay, a UCLA civil and environmental engineering professor, has hit on a mouth-watering method to improve students' health and well-being while they learn about food and sustainability. A one-unit seminar she teaches called Foodprint: Understanding the Connections Between Food and the Environment includes lessons in preparing low-cost, high-nutrition meals from scratch. For example, "I just plug in the hot plate and show everyone how to make a tasty peanut sauce that they can dip into with rice cakes or carrots. It's a lot of fun," says Jay, a vegan and author of a popular blog, Meals for the Planet. "Equipping students with basic cooking skills shows them ways they can save money and sets them up for a much healthier lifestyle after they leave here." She adds: "People often think that in order to eat healthy, they need to spend a lot of money, but some of the healthiest and environmentally friendly foods are also affordable."
Jay's course, which explores the complex scientific, cultural, and social connections between food and the environment, also has students compare the environmental impact of common recipes using an Excel spreadsheet. The numbers quickly show how the footprint varies depending on the ingredients. An upcoming assignment will come with a meal: Jay plans to ask students to make a sandwich costing under $2 that contains sufficient protein and calories, yet with a carbon-dioxide footprint below 500 grams. "We'll be viewing the cost, the nutritional profile, and the environmental footprint all in one place. And students can actually use this kind of information to lower their own carbon footprint and eat healthier."
For sustainability and freedom from hunger to become true partners, voices like Jay's and Suitor's will need a wider audience. In 2011, when four University of Maryland–College Park undergraduates started the Food Recovery Network, dining-hall waste—including plastic and packaging—was a big concern on many campuses, and diners were urged to take only what they need. Today, the network counts 230 campus chapters, with 3.4 million pounds of recovered food translating into 2.9 million donated meals and 6.4 million kilograms of CO₂ emissions prevented. But want and waste still coexist. According to WPI's latest sustainability audit, 42 percent of students still waste food, averaging about 2.5 ounces per meal.
Lucy Birmingham is a freelance writer based in Los Angeles.
Design by Nicola Nittoli
Minorities Feel the Brunt
A number of studies indicate that hunger on campus disproportionately affects first-generation college goers and students of color.
Two systemwide University of California surveys conducted in 2015, for example, found that among 8,932 respondents—nearly three-quarters of whom were undergraduates between 18 and 24 years of age—about 60 percent of black students and 59 percent of Hispanic students experienced food insecurity. That compared with 41 percent of Asian, 44 percent of "mixed race or other," and 30 percent of white students. UC's report, which looked at "reduced quality, variety, or desirability of diet" in addition to inadequate food supply, also noted that 44 percent of the system's undergraduates are the first in their families to attend college.
A 2018 survey of students on California State University's 23 campuses uncovered similar disparities. While 41.6 percent of students overall reported experiencing food insecurity, the proportion approached 50 percent of all first-generation students, and 66 percent for African-American first-generation students. Those findings dovetail with a report by three student advocacy groups that estimated 56 percent of Hispanic and 57 percent of African-American students were food insecure, compared with 45 percent of Asian and 40 percent of white students.
Howard University researchers reported a more startling 77.7 percent prevalence of food insecurity among respondents at an unnamed large Historically Black College or University—nearly six times the rate for U.S. households. Examining the quality of students' diet, they reported that "food insecure students were significantly more likely to purchase fast foods" compared with those who were food secure.