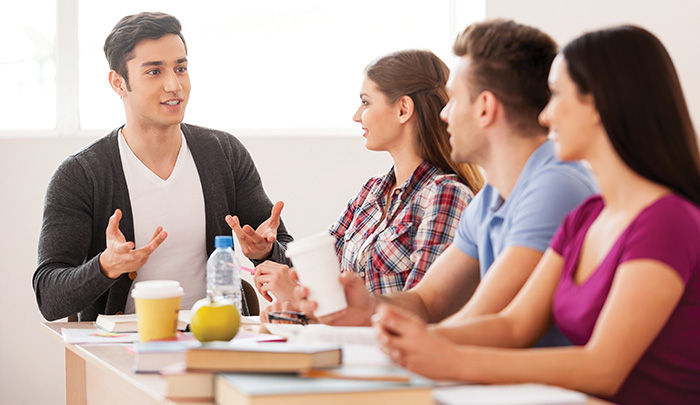 What Turns an Engineering Student into a Leader?
Courses that focus on professional skills may have the greatest effect.
By David B. Knight and Brian J. Novoselich
Leadership is important for advancing both the field of engineering and the careers of individuals. With increasingly complex problems embedded within an expanding technology-driven environment, there is a greater need for individuals who have technical expertise and who are capable of developing sustainable, workable solutions to serve in leadership positions. Despite calls to develop engineering students' leadership abilities, however, we know fairly little about the influences on this learning outcome. The purpose of our research was to better understand how undergraduate engineering experiences relate to engineering students' leadership skills.
Our study drew on a nationally representative dataset that included responses from 5,076 students in 150 undergraduate engineering programs at 31 institutions. Theoretically grounded by Terenzini's and Reason's college impacts framework, we investigated how students' self-reported leadership skills related to their precollege characteristics and academic experiences, university experiences, and undergraduate engineering program contexts. Using hierarchical linear modeling (HLM), we related a suite of independent variables to a Leadership Skills outcome scale variable that operationalized leadership as a process by which an individual seeks to influence a group to achieve a common goal. Independent variables included students' personal and precollege academic characteristics (gender, race/ethnicity, class standing, first generation status, SAT composite score), students' reports of the kinds of knowledge and skills emphasized in their engineering curricula, the instructional methods they experienced, and their engagement in co-curricular activities both related to engineering and outside of engineering. To account for program-level differences in the model, we calculated program-level averages for each variable and also accounted for engineering discipline.
Our results indicate that multiple facets of the undergraduate experience relate to engineering students' self-reported leadership skills, and that students arrive at college with relatively equal potential for leadership development when considering our suite of precollege characteristics. Curricular emphases exhibited stronger relationships with leadership skills than instructional methods and students' engagement in co-curricular activities. At the individual course level, leadership skills were higher when curricula emphasized core engineering thinking, broad and systems perspectives, and professional skills. An emphasis on core engineering thinking may promote students' technical proficiency, which thereby enables them to influence others. A broad and systems perspective, emphasizing how students should consider interdisciplinary and contextual factors when solving problems, aligns with the skills model of leadership. These curricular emphases, along with an emphasis on professional skills (including leadership explicitly), may make leadership concepts more concrete for students and also increase their self-perceptions of leadership skills.
We found no significant relationships between program-level variables and students' leadership skills. This finding may indicate a lack of formal leadership development within the undergraduate engineering curriculum at large.
We also found that students' involvement in the co-curricular activities of engineering internships, non-engineering organizations/clubs, and non-engineering community service all related to students' leadership skills. Faculty members and administrators should not assume that these co-curricular experiences should be the primary avenues for fostering the development of students' leadership skills, however, because educators cannot guarantee that all students will engage in those experiences. For programs desiring increases in leadership skills for their engineering students, especially in a resource-constrained environment that reduces the availability of co-curricular activities, our research suggests that purposeful focus on professional skills in many courses in the curriculum could have the greatest effect for most students.
Although our research advances the study of leadership within undergraduate engineering, we recommend similar future investigations that consider a variety of kinds of leadership. With organizations calling for engineers to understand the principles of leadership so that they may serve in societal leadership roles, understanding student experiences that promote the development of other forms of leadership will provide necessary additional insights to undergraduate engineering programs that seek to develop those kinds of leaders.
David B. Knight is an assistant professor and director of International Engagement in Engineering Education at Virginia Tech, and Brian J. Novoselich is an assistant professor of mechanical engineering at the United States Military Academy. This article is excerpted from "Curricular and Co-Curricular Influences on Undergraduate Engineering Student Leadership" in the January 2017 Journal of Engineering Education, based on work supported by the National Science Foundation Grant 0550608.