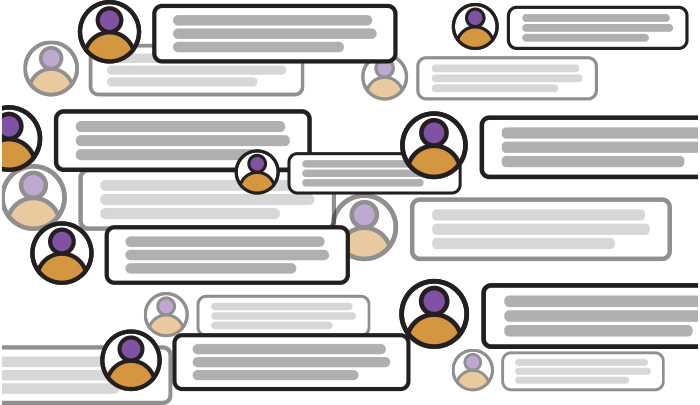 Why They Talk About Leaving
A social-media platform offers revealing insights into dilemmas faced by engineering graduate students.
By Catherine Berdanier, Carey Whitehair, Adam Kirn, and Derrick Satterfield

Graduate-student attrition in engineering is shockingly prevalent. In the United States, the most recent reports from the Council of Graduate Schools estimate attrition from engineering graduate programs to be between 24 percent and 35 percent for domestic men and women, respectively, and 57 percent for African-American doctoral students. While attrition is costly for students, advisers, departments, universities, and funding agencies, the trend remains understudied, especially in engineering. Our research investigated the decision-making processes of students who considered leaving their graduate engineering programs.
Aware of the sensitive and stigmatized nature of attrition, we mined the social media forum Reddit.com for engineering graduate students' narratives. Reddit allows users to post content or questions online and anonymously engage with others. While Reddit is typically non-academic, it is also a rich source of publicly available, anonymous posts from current students considering whether to leave their graduate programs. The anonymity leads people to be forthright about their decision-making processes. We applied narrative analysis, a qualitative method that values the personal storytelling element of data, to the posts.
Our findings culminated in development of the Graduate Attrition Decisions (GrAD) model, which connects various themes found in the study. Some of the themes align with prior work, while others highlight new aspects of attrition. The GrAD model is flexible in that it can illuminate the intertwined psychological and sociological factors that can push a student toward concluding that graduate studies are not "worth it." Psychological factors might include uncertain or changing goals or fear of the effort required to succeed. Sociological influences include relations with an adviser or particular policies. An imbalance or misfortune in one area increases the importance of success in other areas in persuading a student to remain in an academic program.
This work offers research-based counter-narratives to comments frequently heard about graduate student attrition, such as, "They might just be failing their classes," "Well, what did you expect graduate school to be like?" or worse: "It's better than when I was a grad student." Such responses are not helpful and ultimately irrelevant. As represented by their narratives, the students in our study overwhelmingly seemed prepared for graduate school. Many of them self-reported having passed qualifying exams or dissertation proposals, and several self-reported achieving prestigious awards such as the National Science Foundation Graduate Research Fellowship or the National Defense Science and Engineering Graduate Fellowship.
One theme that emerged was a change in personal goals. While some students expressed a desire to alter career paths due to external factors, several of them simply realized that their field or a research-centric career was not their passion. A second theme was fear of how others would view their decision to depart. Myths of problematic adviser relationships were both confirmed and dispelled: While some students considering departure really felt supported by their advisers, other students reported emotional abuse.
Our research has several implications. First, we must avoid always equating persistence with success and attrition with failure and, instead, focus on student development. The common language of persistence and attrition is problematic in that it supports an academic vision of success in one narrow context. When students realize they do not want to be researchers, these students have succeeded in a personal way—in finding their purpose. Alternatively, our data show that some students who seem poised to complete their Ph.D.'s consider departure due to failure of their adviser and university. We consider escaping an unhealthy situation to be a success on the part of a student. Advisers and mentors should be careful not to pressure students to apply for Ph.D. programs if they are either unsure of their goals or may not want or need a Ph.D. to accomplish them. We also posit that our GrAD model can serve as guiding language for both research advisers and graduate students in conversations about difficulties in graduate school.
Catherine Berdanier is an assistant professor of mechanical engineering at Pennsylvania State University; Carey Whitehair is a mechanical engineer at North American Lighting; Adam Kirn is an assistant professor of engineering education at the University of Nevada–Reno, and Derrick Satterfield is a graduate research assistant at the University of Nevada–Reno. This article is adapted from "Analysis of Social Media Forums to Elicit Narratives of Graduate Engineering Student Attrition" in the January 2020 issue of the Journal of Engineering Education.