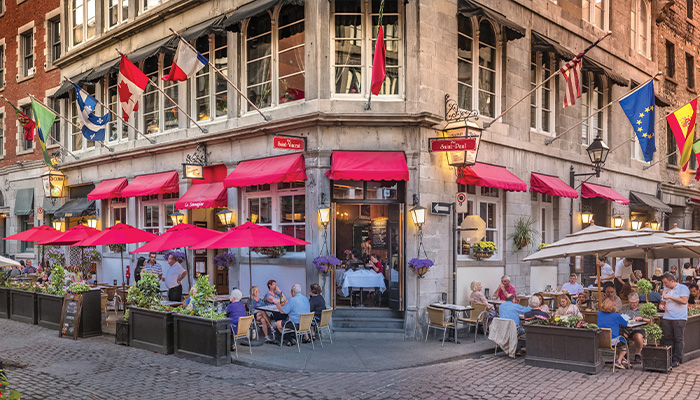 Summer in Montreal means fun, festivals, and an infinite variety of food—all in a historic, cosmopolitan setting.
By Pierre Home-Douglas
MONTRÉAL – Novelist Mordecai Richler, a Montréal native, succinctly summarized the role his beloved hometown plays in Canada. If this country were a house, he wrote, "Vancouver would be the solarium-cum-playroom, an afterthought of affluence; Toronto, the counting room, where money makes for the most glee; and Montréal, the salon." (He added, "And Edmonton, Edmonton the boiler room," a putdown that did not endear him to Albertans.)
In that bon mot, salon—evoking elegance, fine wine, and lively conversation—Richler captured the cosmopolitan flair that is the source of Montréal's enduring appeal. Although supplanted in recent decades by Toronto as Canada's business center, Montréal maintains its long-established importance in the aerospace and pharmaceutical industries. Aided by the presence of six universities within five miles of the downtown core, it ranks first in the Americas according to the 2019 QS Best Student Cities Rankings and has become a magnet for people working in artificial intelligence and video game development.
Montréal is North America's largest, and the world's fourth largest, French-speaking city. While most Montréalers are bilingual, especially those working in restaurants, shops, and bars, language represents a political divide percolating under the surface; this is part of a province that fell a scant 0.6 percent short of a majority in a vote for separation from Canada in 1995. Still, French speakers and English speakers tend to get along well in day-to-day contact. The French-speaking locals appreciate any efforts to speak their language but they often will switch to English once you get past your first bonjour. Certainly, there seems to be no lingering resentment of Americans for the fact that their forefathers invaded and occupied the city starting in 1775. The following year, Benjamin Franklin and two other members of the Continental Congress were sent north to persuade the local habitants (this word later gave rise to the nickname for the Montréal Canadiens hockey team, the Habs) to join the nascent American Revolution, all to no avail.
Explore the Past
You can start getting to know Montréal where the city began: Old Montréal—or Vieux-Montréal, as it's known in French. Here, in 1642, Paul de Chomedey, sieur de Maisonneuve, brought 50 missionaries to a spot on an island by the edge of the St. Lawrence River to convert the native population to Catholicism. Little survives from those early years, but this area, which was surrounded by a 15-foot-high defensive wall until the early 1800s, still boasts some impressive old stone buildings. The former Reford House at 221 rue du Saint-Sacrement is a good example, with its limestone façade, green copper roof, and four dormers. Walk down nearby rue Sainte-Hélène with its gas lamps and cobblestone pavement and you'll quickly see why Hollywood filmmakers have used this area to stand in for 19th-century Paris and early 20th-century New York.
Continue a few hundred yards east on rue Notre-Dame and you will come to Place d'Armes, a 17th-century square where a statue of Chomedey commemorates a hand-to-hand battle fought here against local American Indians. Notre Dame Basilica, on the south side of the square, is an imposing edifice both outside and in. This is where Canada held a state funeral for former Prime Minister Pierre Trudeau—Justin's father—which drew an eclectic list of mourners, including Jimmy Carter and Fidel Castro. It's also where Céline Dion tied the knot with her husband, René Angélil, in 1994. A few yards west of the church on rue Notre-Dame, you can see the oldest public clock in Canada, which dates to 1701. The domed building opposite the Basilica, the original headquarters of the Bank of Montreal, is where Confederate President Jefferson Davis stored his papers before he moved to Montréal shortly after the Civil War. That's not the only Civil War connection with this spot, though. John Wilkes Booth spent two weeks at the nearby St. Lawrence Hall (since demolished) in 1864, six months before he assassinated Abraham Lincoln. When he was discovered and killed in a Virginia barn, one of the pieces of paper found on his body was a receipt from a bank on the west side of Place d'Armes.
If you feel like exploring more of the area, take a stroll along rue Saint Paul from rue McGill northward. This narrow street was once the center of the fur trade as canoes laden with pelts—gathered with the help of Native Americans deep within the continent's interior (explorers from Montréal made it as far south as New Orleans and as far west as the Rocky Mountains)—were unloaded nearby. Today, it is lined with scores of boutiques, galleries, and restaurants. You can take a two-block detour along the way to check out the Pointe-à-Callière Museum, dedicated to the archaeology and history of the area. Continuing on, you'll cross Place Jacques-Cartier, a rectangular-shaped gathering spot lined with outdoor terraces reminiscent of Paris. This is where Cirque du Soleil's founder, Guy Laliberté, performed as a street artist long before his worldwide success. At the north end of this popular square, just to the right of a monument to Lord Nelson, stands Château Ramezay. Benjamin Franklin stayed here during his visit to Montréal in 1776 as a guest of the military governor at the time, Benedict Arnold. Walk a few blocks further east along St. Paul and you'll arrive at Bonsecours Market, notably crowned by a gray neoclassical dome. Inside, you'll find galleries and boutiques that sell local crafts, clothes, art, and jewelry. For Leonard Cohen fans, check out the neighboring Notre-Dame-de-Bon-Secours (Our Lady of Good Help) Chapel, also known as the Sailors' Church due to its proximity to the harbor. The building is adorned by a statue of the Virgin Mary. This is the "lady of the harbor" upon whom "the sun pours down like honey" that Cohen, a Montréal native, references in his signature song, "Suzanne". A church has stood at this location since 1678; the current chapel was built in 1771 after a fire destroyed the previous edifice in 1754.
A Towering Oasis
It's hard to imagine Montréal without its mountain. True, it's no towering peak, only 760 feet high, the remnant of a volcanic intrusion that bulged up above the surface more than 100 million years ago. But it is certainly woven into the fabric of the city. It was here, in 1535, that explorer Jacques Cartier planted a flag in honor of his French patron, King Francis I, and named the ground below him Mont Royal—Royal Mountain—from which the name Montréal was later derived. More than three centuries later, during which time the original French settlers were joined by an ever-growing number of English-speaking people after Britain defeated France in the Seven Years War (1756–1763), it was decided that Mount Royal should become a refuge away from the hurly-burly of city life. In 1874, the city of Montréal hired landscape architect and Central Park designer Frederick Law Olmsted to create a 1,400-acre oasis on top of the mountain. The park officially opened two years later and today, in the wintertime, its myriad trails and serene open spaces are home to a legion of cross-country skiers, tobogganers, and snowshoers, while man-made Beaver Lake is turned into a large outdoor ice-skating rink. In the summertime, joggers and people out for a stroll take over, along with families having picnics. The Chalet near the eastern edge of the park offers one of the best views of the city skyline.
Summertime in Montréal means festival time. The Just for Laughs festival in August draws the hottest comics from around the world and turns the city into what Variety describes as "the epicenter of the comedy world." The Festival Internationale de Jazz draws a wide range of musicians not only from the jazz world—past performers include Dave Brubeck, Tony Bennett, Chet Baker, and legendary local pianist Oscar Peterson—but also from the genres of folk, rock, soul, funk, and everything in between. There are loads of free outdoor concerts, many of which have drawn crowds of 100,000 to listen to the likes of Paul Simon, Ray Charles, and Stevie Wonder, as well as indoor events clustered in venues in the Quartier des Spectacles in the center of the city. There you'll also find a contemporary art museum, the Musée d'art contemporain, with an impressive collection of paintings, sculptures, and photographs. The 2020 Jazz Festival, the 41st edition, will kick off on June 25, the day after the ASEE conference ends, so if you can tack an extra day or two onto your trip, you can take part in a 10-day-long outdoor party that is also the world's largest jazz festival.
Bike Along the Canal
Getting around town is relatively easy in Montréal despite five years of construction that has seen various roads and thoroughfares dug up and resurfaced, causing a lot of teeth-gnashing among local commuters. Mass transit options include the Montréal Metro system, which runs underground on rubber-wheeled vehicles, as well an extensive bus network. A short ride on the Metro will take you to Ile Notre-Dame, an island built in the St. Lawrence River to provide a venue for the hugely successful 1967 International and Universal Exposition (Expo 67). Today, it serves as the Canadian stop on the Formula One circuit, while the former French Pavilion from Expo 67 has been repurposed into the city's casino.
For those with a little more energy, rent a Bixi bike. The idea of bicycle docking stations was invented in Montréal; this type of system is now used in more than 30 cities around the world, from Minneapolis to Melbourne, Australia. One ride worth considering starts in Old Montréal and follows a bike path along the 200-year-old Lachine Canal, which served as a vital waterway during the early days of Canada's Industrial Revolution. Along the way you can stop at Atwater Market for local produce, or perhaps enjoy an almond croissant and café au lait at Première Moisson. Back in 1535, Cartier had hoped to sail all the way to China, and he thought he had found the correct route until, just west of Mount Royal on the St. Lawrence River, he ran into a series of rapids that spelled the end of his westward quest. Fittingly enough, they are known as the Lachine Rapids (la Chine is French for China). Today, rafts and jet boats offer an exhilarating ride through their turbulent waters and are especially popular with the younger crowd. You could combine this trip with a visit to the Montréal Science Center, located within a two-minute walk from the bike path in Old Montréal on King Edward Pier. The Center features a 3-D IMAX theater and plenty of interactive, hands-on science and technology exhibits to entertain everyone from children to grandparents.
For a city with a pretty brutal winter—temperatures can plunge as low as -25 degrees—the idea of keeping people indoors during the coldest months of the year seems like a smart idea. That was the thinking behind a network of passageways designed to link some of the major buildings in the city center, including Place Ville Marie, the crucifix-shaped building designed by I. M. Pei; Place Montréal Trust; Place Bonaventure; the world headquarters of the International Civil Aviation Organization (ICAO); and seven Metro stations. In all, Montréal's Underground City includes 20 miles of subterranean walkways and tunnels that wend their way past thousands of shops, offices, hotels, universities, residential complexes, and restaurants. It's a popular spot even in summer, when the air temperature in Montréal typically ranges from the mid-70s to the high-80s, with rare spikes into the 90s.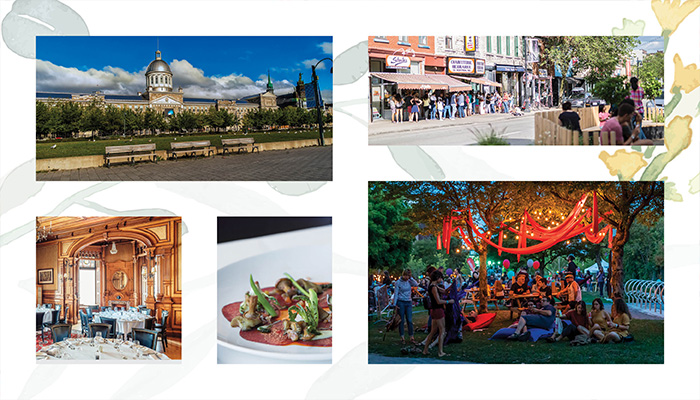 Where to eat: Montréal is arguably one of the top three or four cities in North America when it comes to the range and quality of its restaurants. With the American dollar trading around $1.30 Canadian, you can often find some good bargains. When Anthony Bourdain visited the city on his worldwide quest for unique eating experiences, he went to Joe Beef on Notre Dame for its creative cuisine and use of local produce. This is a very popular spot; if you plan to go, book several months in advance. The sister restaurant next door, Liverpool House, was where Barack Obama dined with Prime Minister Justin Trudeau when the two got together early in Obama's post-presidential life. For a Parisian-like bistro, you can't do better than L'Express on St. Denis with its specialties like steak tartare with frites and salmon with chervil. Au Petit Extra on Ontario St. East is another good choice for traditional French cuisine served amidst a warm ambiance.
One distinct Montréal food experience can be found at St. Viateur Bagel, where wood-fired ovens bake a honey-soaked bagel that is very different—and Montréalers would claim much superior—to its New York City cousin. Another popular Montréal contribution to the culinary world is its smoked meats, best sampled at Schwartz's Deli on St. Laurent. Schwartz's has been in business since 1928. The line of hungry patrons sometimes snakes a long way up St. Laurent—or The Main, as the boulevard is known to locals—so avoid supper hour. Mid to late afternoon is best. If you can't wait for a table, there is a takeout counter next door while across the street, the Main Deli Steak House serves a pretty tasty smoked meat sandwich—typically ordered by regulars as a "medium" for medium fat, along with dill and a cherry Coke.
Just up the street from Schwartz's is another venerable institution, Moishe's, for some of the best steaks in town, while just south on The Main, you can sample Restaurant Jano's Portuguese grilled chicken at a very reasonable price. For top-of-the-line seafood, the Greek-style taverna, Milos on Park Avenue, is a favorite with well-heeled foodies. Fish is flown in daily from the Mediterranean, Alaska, and Canada's Maritime Provinces. For French cuisine Quèbec-style, Toqué! consistently ranks among the top 10 restaurants in Canada. And for a time-warp experience, head to Wilensky's on Fairmount Avenue. Its staple is the Wilensky Special—grilled beef salami and bologna on a mustard-smothered kaiser roll—but a good part of the appeal is the restaurant itself. When Mordecai Richler's The Apprenticeship of Duddy Kravitz was made into a movie starring Richard Dreyfuss in 1974, part of it was filmed at Wilensky's because its pressed-tin ceiling and mint-green walls seemed frozen in time from the 1940s. Nothing has changed since—except the prices. Some of the best ice cream in Montréal is dished out just a few yards west on Fairmount at Kem CoBa, which is located next to another go-to spot for bagels, Fairmount Bagel.
These eateries are located in the heart of the Plateau, home to some of the trendiest bars and cafés, and numerous examples of Montréal's signature outdoor spiral staircases. Take a break in one of the many nearby parks. Carré St. Louis—St. Louis Square—with its iron fountain and 100-year-old trees is popular with local writers and artists, while Laval Street on the western edge of the park has a colorful array of Victorian homes. Montréal also boasts some excellent markets, including Jean-Talon, which has a distinctly European look and feel with stalls that sell everything from fresh seafood to exotic cheese. It is located on the edge of the Mile-Ex neighborhood, an area of old warehouses and factories that has been transformed into perhaps the hippest area in town, with a mixture of restaurants, art galleries, and cafés that draws a decidedly artsy, youthful crowd.
Where to drink: Montréal was in on the craft-brewing craze long before most other places in North America caught on. Today, Bar Pamplemousse on St. Laurent offers 20 local brews on tap. Brassierie Harricana in Mile-Ex is a brewpub that dispenses a dozen homemade beers and a half-dozen ciders. If you want to experiment, $20 buys you a flight of four 5-ounce glasses of whichever homebrews you want. The brewpub is bright and airy with a laid-back vibe, and patrons say the food is good, too.
The Burgundy Lion, down the street from Joe Beef, is a British-style pub with a serious nod to the Scotch-loving crowd. It claims to sell more single malt than any other location in Canada, with more than 100 brands available. Bar George on rue Drummond is a treat as much for the surroundings as the drinks. Situated in an 1880s Renaissance Revival-style house that once belonged to George Stephen, founder of the Canadian Pacific Railway, it boasts spectacular woodwork, tapestries, and stained glass that made one magazine writer feel she had "plunged into an episode of Downton Abbey." Sip an Old Fashioned or taste a Golden Square Mile Sour, a signature concoction made from gin, elderberry liqueur, cider, lemon, and egg. (The Golden Square Mile was the area above nearby Sherbrooke Street, where the city's movers-and-shakers lived in the 19th and early 20th centuries.) Entering Old Montréal's the Coldroom is like visiting a speakeasy from the 1920s. Ring the bell on the black door at the corner of Saint-Amable and Saint-Vincent. Someone will let you in and lead you to a former underground industrial cold room, which has been described by owner Kevin Demers as "industrial meets grandma's basement." The Coldroom's cocktails have earned rave reviews and a Top 3 spot in a list of Canada's best bars.
For families: Families can easily spend a good part of a day in the east end of Montréal near the Viau Metro station. Within the span of a few hundred yards you'll find a planetarium; the 185-acre Botanical Gardens, with various cultural gardens and greenhouses and more than 3,000 specimens; and the Biodome, which features four different biomes (arctic, sub-polar, Laurentian maple forest, and Gulf of St. Lawrence) with flora and fauna native to each zone. The nearby Insectarium, the largest of its kind in North America, is undergoing a two-year renovation and won't reopen until 2021.
This is also where you'll also find the Olympic Stadium, built for the 1976 Summer Games. The mayor at the time, Jean Drapeau, promised that the Montréal Olympics could "no more lose money than a man can have a baby," but the cost of the stadium left a debt that was finally paid off by taxpayers in 2006. The stadium's major tenant, the Montréal Expos baseball team, moved to Washington, D.C., in 2004. Next to the stadium, a glass-encased funicular claws its way to the top of a 540-foot-tall inclined tower. The original plan called for it to sport a retractable roof, but French architect Roger Taillibert hadn't accounted for the weight of a heavy blanket of snow every winter, so today, the roof is permanently fixed. The top of the tower offers an impressive view looking west toward downtown Montréal and south towards LaRonde, the local amusement park owned by Six Flags. Dating from Expo 67, La Ronde has enough hair-raising rides to keep the kids—and some adults, as well—happy for a day.
Don't Forget: You'll need a passport (no visa required) or a NEXUS card if you're traveling from the United States into Canada. Although Canada doesn't demand that children ages 15 and under carry a passport—only proof of citizenship, such as a government-issued birth certificate, is required—the United States does, so if you are flying into Canada, you will not be allowed to board your plane unless everyone in your family has a passport. For land travel, children ages 15 and under may use an original or copy of a birth certificate when returning to the U.S.
Pierre Home-Douglas is a freelance writer and frequent Prism contributor based in Montréal.
Image Courtesy of Stéphan Poulin/Tourisme Montréal
Design by Miguel Ventura