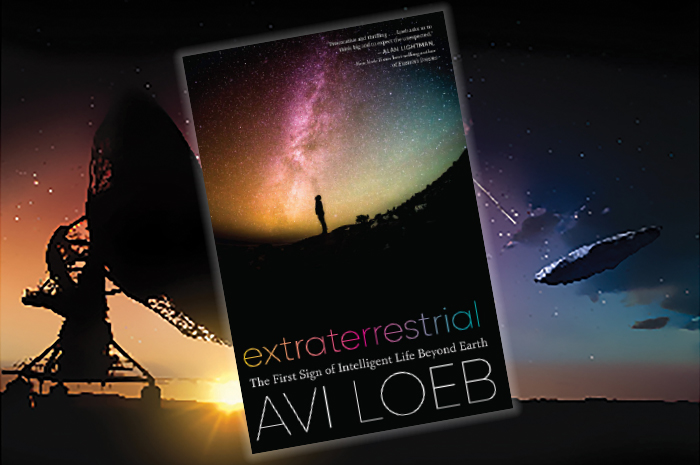 Object of Intrigue
A noted Harvard astrophysicist challenges science's entrenched orthodoxy by marshaling evidence of advanced alien technology.
Review by Robin Tatu
Extraterrestrial: The First Sign of Intelligent Life Beyond Earth
By Avi Loeb.
Houghton Mifflin Harcourt, 2021.
240 pages
From UFO sightings to NASA's planetary probes, exploring the possibility that life may exist elsewhere in the universe has long fascinated the public and researchers. Yet many scientists, laments astrophysicist Avi Loeb, hold fast to mainstream convictions. They often are quick to dismiss the search for extraterrestrial intelligence, or SETI, as a loony endeavor unworthy of funding—despite tantalizing evidence to the contrary from increasingly sophisticated telescopes.
In Extraterrestrial, Loeb takes on the establishment's entrenched paradigms with a lucid, meticulously reasoned account of a still-unidentified interstellar object whose journey through our solar system in 2017 has defied easy interpretation and left debate in its wake. Was the intruder—dubbed 'Oumuamua (a Hawaiian term meaning messenger or scout) by its discoverers at the Haleakalā Observatory in Maui—a comet or space iceberg? Or, as Loeb believes, do its odd cigar shape, erratic trajectory, and other peculiarities point to alien technology? "Extraordinary conservatism keeps us extraordinarily ignorant," he argues, laying out a compelling case for at least keeping an open mind. His point: If advanced civilizations exist beyond Earth, humans need to start preparing for contact, exchange, and even potential aggression.
'Oumuamua definitely inspires curiosity. The first confirmed object from another solar system to traverse ours, it had a highly elongated shape unlike any comet or asteroid yet observed. Its movements also veered from the norm. Loeb, a National Academies member who chaired Harvard University's astronomy department from 2011 to 2020, points to many other anomalies that led him to reject conventional interpretations. Roughly the size of a football field, 'Oumuamua was far smaller than most comets and appeared to pause and then smoothly accelerate upon departure rather than display their characteristic "herky-jerky" motion. It demonstrated no outgassing—the signature "tail" of nitrogen- or hydrogen-fueled comets—and exhibited unusual luminosity. In 2018, Loeb and colleagues presented a scientific paper proposing that 'Oumuamua was built by a technologically advanced extraterrestrial civilization and propelled by a lightsail fueled by solar radiation. Other scientists responded with competing theories, and the debate continues. In March, astronomers at Arizona State University declared that 'Oumuamua was a planetary fragment from another solar system, perhaps a chip off an exoplanet like Pluto.
Loeb, a prolific author, comes to this work with impressive credentials, including positions as founding director of Harvard's Black Hole Initiative and director of the Harvard-Smithsonian Institute for Theory and Computation. Nonetheless, he writes, he and the handful of SETI researchers worldwide struggle against unfounded resistance from the scientific community, which considers their pursuit to be "a subject worth, at best, glancing interest, and at worst, outright derision." For Loeb, such misguided resistance is a serious concern, since it limits novel perspectives and cripples research support. Rather than clinging to outdated paradigms and insisting "it's never aliens," he urges academics to examine the growing body of data without bias. Humans only now are beginning to detect interstellar interlopers because our technology and data-analysis capabilities finally have achieved the sophistication to do so. Moreover, he notes, the chance that more advanced civilizations may be monitoring our own should galvanize accelerated research against potential threats.
Loeb readily acknowledges that his theoretical model is incomplete and requires much more fine-tuning. But science is a work in progress, and progress rarely follows a straight path. As he puts it: "The world of possibilities to which we choose to open ourselves, bounded by the evidence we collect and that we allow our collective intelligence to consider, very much determines that world in which our children and grandchildren will live." As the author undoubtedly intended, by generating public excitement and scholarly debate about the existence of intelligent life beyond Earth, Extraterrestrial may prove a catalyst for unimaginable future discoveries.
Robin Tatu is Prism's book editor.
© Amazon/Getty Images/Alexander Da Silva