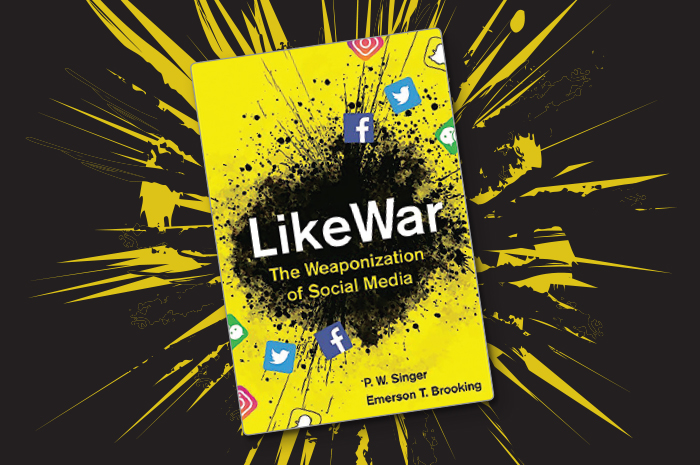 Online and Ominous
Already, cellphone towers and electronic marketing tools compete with tanks on the contemporary battlefield. But it could get worse.
Review by Robin Tatu
LikeWar: The Weaponization of Social Media
By Emerson T. Brooking and P. W. Singer
Houghton Mifflin, October 2018, 400 pages.
Open your news feed any given day and there are bound to be alarming stories about social media—whether further revelations about Cambridge Analytica, Facebook invasions of privacy, or groups dueling through Twitter and Instagram. Emerson Brooking and Peter Singer's LikeWar provides an informative and accessible overview of these developments but goes further: It details how modern warfare has been changed by and, in turn, is changing the nature of the Internet. Written by two security analysts, this is a book for those striving to understand what it means to weaponize social media, one that can help readers get up to speed on the proliferating complexities of online warfare, from ISIS militants to Russian hackers and U.S. white supremacists. Engineers and academics already grappling with these phenomena may gain further insight into engineering's role in the coming battles.
LikeWar identifies the 2007 introduction of Apple's iPhone as the start of burgeoning online engagement. While people once connected digitally "in quiet isolation, with only a computer to keep them company," a mobile Internet tucked in their pocket ensured that anyone could attend to virtual and real lives simultaneously and that any thought could be just as easily be spoken aloud or shared in a quick photo or video. In 2007, Twitter users were sending 5,000 tweets a day; by 2015, the number had surged to 500 million.
Social media allowed previously unknown freedoms. In 2011, Arab Spring activists mobilized tens of thousands in the Middle East through Facebook and held their cellphones aloft to live-stream the surging numbers of protesters, as well as regimes' brutal onslaught of tear gas and bullets. Yet, governments quickly responded: Beyond censorship, blocked signals, and imprisonment of dissidents, tech-savvy regime loyalists were employed to spread propaganda through the same channels used by their opponents. Since then, online warfare has only intensified. For Brooking and Singer, a wake-up call came with the Islamic State's invasion of Mosul in 2014. While the authors and others had predicted cyberwars conducted through malicious software, nobody anticipated a military offensive operated "like a viral marketing campaign." ISIS fighters bearing down on the northern Iraqi city were aided by jihadi fans and Twitter bots, who ensured a viral spread of black-clad militant selfies, images of Mad Max-like convoys, and gruesome torture videos. The hashtag #AllEyesOnISIS assumed "the power of an invisible artillery bombardment, its thousands of messages spiraling out in front of the advancing force." On arrival at Mosul, the invading force of 1,500 found a city deserted by the army, police, and citizens. "It wasn't a battle but a massacre, dutifully filmed and edited for the next cycle of easy online distribution," the authors write. When Mosul was liberated two years later, transported behind the tanks and armored vehicles were portable cellphone towers for the Iraqi military's updates on Facebook, YouTube, and Twitter.
Today, Russia, China, Great Britain, the North Atlantic Treaty Organization, and the United States have all had to "reorient themselves to fight global information conflicts," with the virtual campaign being as crucial as ground operations. As noted by the Chinese military, "war is accelerating its evolution to informatization." One of the more alarming trends is how these offenses increasingly invade citizens' lives and well-being. No longer conducted at distant or contained sites, this new brand of warfare is becoming ubiquitous, everpresent, and highly threatening, though still poorly understood. Engineers clearly must continue taking the lead in designing effective countermeasures. For example, they must anticipate how future neural networks may easily be turned to destructive use, overwhelming human control.
Recognizing the new realities will allow us to "hone our focus and channel our energies into measures that can accomplish the most tangible good," write Brooking and Singer. The U.S. government must stop denying threats to our political culture and assume leadership in defending its citizens. Social media companies must abandon outdated concepts of net neutrality and take responsibility for the dangerous potential of their products. And private individuals should educate and protect themselves, recognizing that every click, like, and share makes a difference.
Robin Tatu is Prism's book editor.
Image Courtesy of Amazon/Getty Images