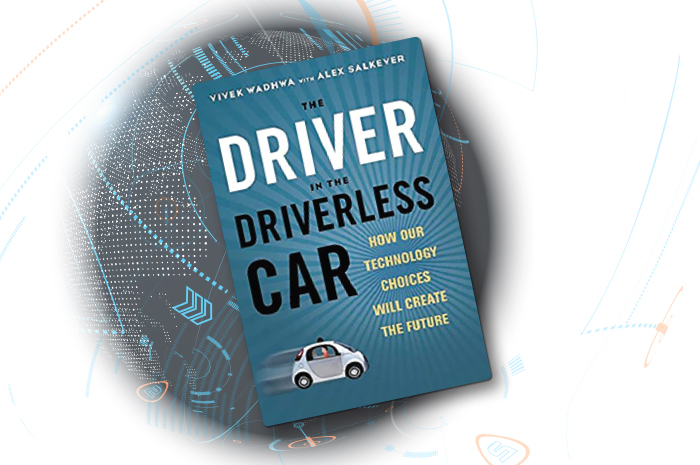 Utopia or Dystopia?
An optimist acknowledges that progress has a dark side.
The Driver in the Driverless Car: How Our Technology Choices Will Create the Future
By Vivek Wadhwa with Alex Salkever.
Berrett-Koehler Publishers, Inc. 2018. 214 pages.
As an academic researcher, writer, and frequent speaker, Vivek Wadhwa specializes in "exponentially advancing technology" and its impact on our lives. In this new book, he urges readers to help shape a technological future that ensures a utopia, not a dystopia—or as he puts it, Star Trek, not Mad Max. There is no going back to a simpler, less connected past, he writes, only certainty of continued rapid advance. And while many people may feel overwhelmed by changes in robotics, synthetic biology, 3-D printing, and security and privacy challenges, few of us would opt to forgo our smart phones or Internet connectivity. We therefore need to be aware, ready, and involved, recognizing that our choices can lead to a world "in which we focus our lives on the attainment of knowledge and betterment of humankind," or a frightening, alienating future "in which civilization destroys itself." Written with the help of Alex Salkever, The Driver in the Driverless Car explores present and future technological advances and the benefits, as well as dangers, they will bring. For Wadhwa, a distinguished fellow at Carnegie Mellon University's College of Engineering and contributor to Prism and other publications, the essential question is how we can "better shape and control the forces of [our world] in ways that give us more agency and choice."
Wadhwa, who declares his optimism from the outset, discusses a future that could support productive, happy lives. We will be freed from the burden of work and enriched with unlimited energy, personalized health care and education, driverless cars, and "all the material things we need." Chapter 6, for example, describes a typical future teen whose avatar instructor, Clifford, uses information about his pupil's learning style, as well as real-time levels of interest, fatigue, or confusion, to support individualized instruction. His student's enthusiasm for Egyptian pyramids prompts Clifford to design geometry lessons based on the structures' mathematics, and a virtual reality tour that allows the student to feel "in the middle of history and following the minds of the Egyptian builders." A human coach is on hand, not to lecture but to support, asking and answering questions, recommending reading and exercises, and guiding the physical side of Clifford's lessons. Skeptical readers may challenge such an idealized vision of future education, particularly when Wadhwa suggests that it will be available to everyone. Yet, he points out, innovative use of technology already has enabled greater access to learning. Take Sugata Mitra, known for introducing Internet-enabled computers to impoverished youth in New Delhi. For his successful Schools in the Cloud project, Mitra offers minimal curriculum, allowing the users to guide their own learning. The key, he found, is the group dynamic, which spurs engagement, creativity, and a desire to teach one another.
Other chapters explore developments in health, transportation, food, energy, security and privacy, work, and government. While his optimism dominates, Wadhwa probes dangers and issues throughout, asking about equal access (Part Two), risks and rewards (Part Three), and whether technology will foster autonomy or dependence (Part Four). In Chapter 8, he provocatively asks, "Should robots kill people?" Noting how, in 2015, Elon Musk, Stephen Hawking, and Steve Wozniak led a call to ban autonomous killing machines—an open petition that gained 20,000 signatures—the author discusses concerns of granting robots unlimited autonomy. Yet he also counters that robots programmed to not shoot women and children might prove safer than humans prone to panic and confusion. Would the My Lai massacre have transpired if robots had been in charge?
The value of this book rests in discussions that push readers to acknowledge and debate technology's incursions into key areas of our lives and societies. Not the least of our challenges will be psychological adjustments—in trusting our lives to a self-driving car, for example, and relinquishing the sense of independence and excitement we once enjoyed in controlling our dangerous, thrilling, mechanical cars. From Wadhwa's account of his first experience in a Tesla, this adjustment was easy. Five minutes into the ride, he writes, "curiosity got the better of me," and he gave autopilot a go. Within 20 minutes, he had one hand on the wheel and was checking e-mail with the other.
Review by Robin Tatu
Robin Tatu is Prism's senior editorial consultant.
Image Courtesy of Amazon/Thinkstock