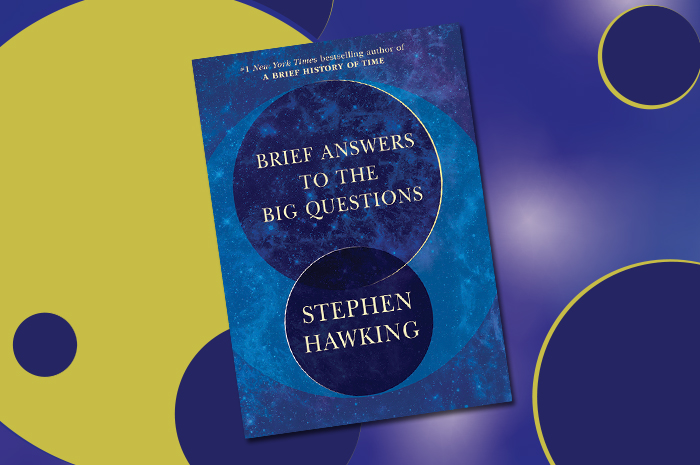 Parting Shots
A celebrated theoretical physicist distills his musings on the universe's mysteries into a final retrospective.
Review by Robin Tatu
Brief Answers to the Big Questions
By Stephen Hawking
Bantam Books, October 2018. 230 pages.
Stephen Hawking's latest—and last—book is a slender volume, with material familiar to readers of the renowned cosmologist's scholarly articles, popular science essays, and international bestseller, A Brief History of Time. His daughter, Lucy, writes in the afterword that he worked on Brief Answers to the Big Questions in the year before his March 2018 death at age 76 as a way "to bring his contemporary writings together into one volume." Readers will also sense a desire to reconcile a life's work—and a life—as well as to leave some final thoughts.
Several chapters distill issues from earlier works, including the origins of the universe, the Big Bang, time travel, and the question of God. One of the meatiest chapters, on the nature of black holes, delves into Hawking's research and views on a favorite topic as he continues to ponder the "information paradox" of these dense patches where even light can't escape their gravitational forces.
Other sections tackle more recent and pressing concerns, such as climate change, human genetic engineering, and artificial intelligence (AI) and people's relationship with it. Chapters 7 and 8 discuss whether further space travel is possible and desirable (a solid yes to both), and Chapter 10 closes with "How do we shape the future?"
Hawking declares that humans must leave Earth in order to survive as a species: "If we stay, we risk being annihilated." While the biggest threat to our planet may be an asteroid collision, "a more immediate danger is runaway climate change," he writes, citing "rising temperatures, reduction of the polar ice caps, deforestation, overpopulation, disease, war, famine, lack of water, and decimation of animal species." These are all solvable but unsolved, he cautions. "We have the technology. We just need the political will." If humans continue to behave with such "reckless indifference" toward Earth, then abandoning the planet may be our only choice.
Space is a violent, scary place, however, and exploration and colonization may require hundreds, if not thousands of years. Yet the scope of the challenge doesn't overwhelm Hawking—who beat the odds of survival by more than five decades after being diagnosed with amyotrophic lateral sclerosis (Lou Gehrig's disease) at age 21. Despite his dire predictions of ecological disaster, he remains optimistic that humans will find a way to persist and thrive, whether on or beyond Earth.
One key to that optimism may lie in AI. Although Hawking was among a group of scientists, engineers, and tech leaders to sign a 2015 resolution concerning the dangers of AI to humans, in 2016 he helped launch the Leverhulme Centre for the Future of Intelligence at Cambridge University. Its stated goal: "to ensure that we humans make the best of opportunities of artificial intelligence as it develops over coming decades." In his book, Hawking declares himself convinced by the potential of technology to enhance and extend human bodily and brain capabilities. He also believes humans can work in harmony with robots if we remain alert and responsive to developing threats.
Throughout the book, Hawking reflects on the improbability of his life and career, most of it spent at the University of Cambridge, where he received his Ph.D. and held Isaac Newton's post as Lucasian Professor of Mathematics from 1979 to 2009. Though strongly opinionated, he wasn't always right—and these chapters, completed posthumously by colleagues and friends, show he didn't mind continuing to push the envelope to test out various hypotheses, including on black holes. He ends Brief Answers with the pronouncement that "we stand at a threshold of important discoveries in all areas of science," urging readers to keep striving to learn and improve their world and explore the benefits of technology. This thoughtful, provocative work is well worth the read.
Robin Tatu is Prism's book editor.
Image Courtesy of Amazon