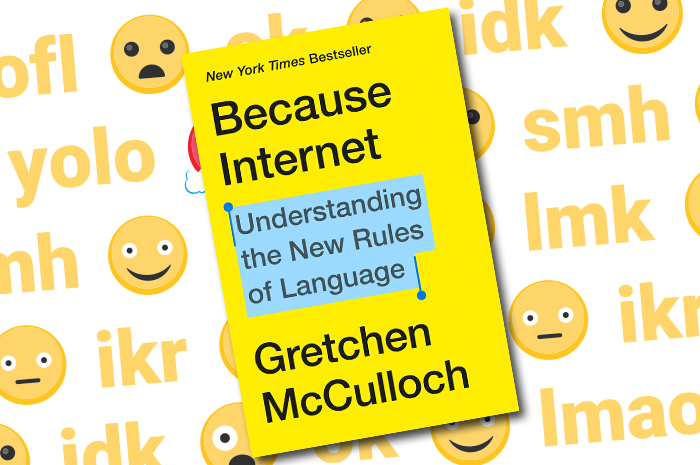 Body English
A noted art historian creates a visually stunning commemorative of da Vinci's artistic and engineering masterpieces.
Review by Robin Tatu
Because Internet: Understanding the New Rules of Language
By Gretchen McCulloch.
Random House. 2019. 336 pages.
Do you recognize or perhaps still use emoticons—those flourishes of punctuation that convey (-: smiles, 🙁 frowns, and other sentiments? Or are you more of a 😈 🚀 ☎ type? Or do you go for the most current meme? Your preference likely reveals your generational place among the world's digital denizens, writes Gretchen McCulloch, because the Internet experience "and the language therein is shaped by who you were and who else was around at the time you joined." Old Internet People, she notes, are probably more familiar with terminology such as Usenet, forums, IRC, BBS, and listservs. Post Internet People are far more familiar with Instagram, Snapchat, iMessage, and Whatsapp. What you've always suspected—or feared—is true: Online parlance dates you, whether you text "LOL," "lol," or something more present, like "actual lol," when "laughing out loud."
Parsing emojis, memes, and IM may not be the typical fare of most engineering academics and professionals, aside from our computer engineering colleagues. But Because Internet challenges readers to consider not only technology's impact on human communication but also the innovative, continuously changing use of language it spawns. A self-described "Internet linguist" who hosts the daily blog All Things Linguist and is listed as Resident Linguist for Wired magazine, McCulloch brings a hip, techy perspective to this topic. She also grounds her discussions in research and big data, pointing out, for example, how today, as never before, increasing text-mining capabilities empower researchers to witness, record, and analyze millions of exchanges on online platforms such as Twitter, Facebook, e-mail, and chat rooms. These new studies of online "informal communication" offer fresh insights for linguists—and for readers interested in Internet-language research.
The Internet is proving a powerful means for examining regional variations in language use. For example, we learn in these pages how data researchers, working with Twitter posts tagged with geographic coordinates, can "code up a country-level map" to indicate where Americans more frequently tweet the term "pop" and where "soda" is preferred. "Hella" is prominent in Northern California, "yinz" (y'all) in Pittsburgh, and "might could" in the Upper South versus "might can" in the Lower South.
McCulloch makes the argument that four decades of online communication also have spawned more sophisticated expression for informal exchanges. People have always sought ways to indicate emphasis in online text, from using ALL CAPS to multiple exclamation points or underlined text, which are also features of formal writing. Today, however, visuals can convey more fine-tuned emphasis, depending on which face or image is selected for an emoji.
Yet emojis are not replacements for language, McCulloch continues. The Gettysburg Address could never be written solely employing emojis—nor could a single fluent paragraph. Rather, emojis should be understood as a means of infusing written communication with the gestures and emotional cues of spoken language. Oral conversations involve facial expressions, hand waving, shoulder shrugging, and head nodding. Emojis translate such gestures into text through images of rolled eyes, clapping hands, or a tear drop. Notably, the majority of emoji uses center around a face or body, despite the proliferation of more specific, exotic, or obscure images—a cruise ship, Japanese torii shrine, or pineapple, for instance. The ironic, in-joke quality of emojis is another topic the book explores, including the phallic symbolism of the eggplant.
Memes, often intentionally obscure, play to a sense of in-group understanding and humor. McCulloch notes how the text of memes is typically expressed in crude fonts that are displayed awkwardly rather than blending in smoothly. It's all part of the joke, especially when the text is coupled with images of strange or adorable cats or a herd of stampeding zebras. But why? The larger linguistic and social implications of memes are not entirely clear, McCulloch admits. Rather than "rushing to conclusions," she cautions somewhat earnestly, "let's assume that communicative practices which baffle us do have genuine, important meaning for the people who use them." Whether among the Internet people who prefer LMAO or a gif of dancing puppies, anyone who texts, tweets, or posts to Facebook is contributing to our vibrant, evolving modern lexicon. Language and grammar have long reflected popular usage—"crowdsourcing," in today's parlance—and Because Internet provides an insightful guide to the tech slangs and arrows of today's creative discourse.
Robin Tatu is Prism's book editor.
© Amazon