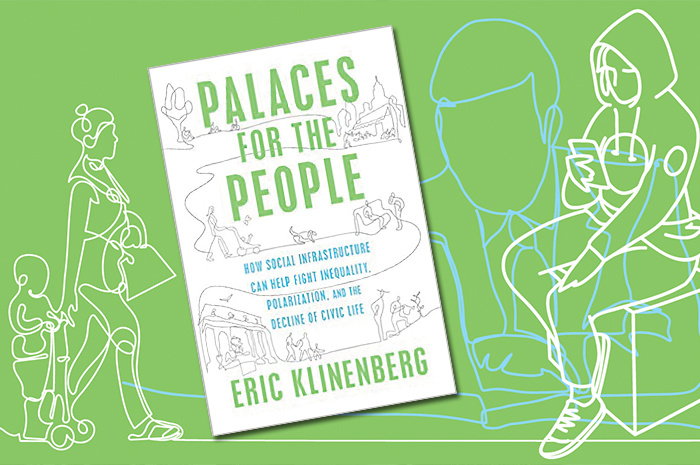 Shared Spaces
A U.S. sociologist draws a blueprint for boosting community engagement—one gathering spot at a time.
Palaces for the People
By Eric Klinenberg
Crown Publishing 2018. 277 pages.
There is no mistaking this book's deep affection for public libraries, which the author identifies as "bedrocks of civil society… the kinds of places where ordinary people with different backgrounds, passions, and interests can take part in a living democratic culture." Even its title is a paean to these "palaces for the people," as 19th-century industrialist Andrew Carnegie once described his eponymous free libraries that sprouted nationwide.
Eric Klinenberg, a New York University sociology professor and director of its Institute for Public Knowledge, makes a strong case for structures and spaces that invite people in. Destinations such as local libraries, cafés, barbershops, and active commercial corridors help keep a community thriving. By contrast, bars, strip joints, and pawnshops erode civic life, as does the absence of parks, grocery stores, and book shops. This may seem obvious, but the author pushes readers to consider community space more deeply, arguing that "social infrastructure" is as important as physical infrastructure. Strong, connected networks of individuals and families, plus engineer-designed green spaces like Philadelphia's Viaduct Rail Park and the Big Dig greenway in Boston, can help Americans participate in a healthier and more resilient civil society, the author asserts.
Palaces for the People can be read as a guide to urban planning, replete with examples of well-functioning communities. But the author is most interested in the whys and hows of social infrastructure. Smaller, for example, often proves better. Consider New York City's Seward Park High School, which in 2006 was reorganized into five separate academies—all still contained in the same vertical campus. The more intimate learning communities helped to raise graduation rates from 32 percent to above 80 percent by 2012. African-American barbershops are important, Klinenberg concludes from his fieldwork, because they provide a safe space for black men to exchange ideas and information—and to enjoy neighborhood camaraderie. Libraries that flourish in today's digital age offer extensive programs and services, from reading clubs to manga illustration classes to adult counseling.
Turning his gaze abroad, Klinenberg discusses similar support of civil society at hot baths in Iceland, street markets in Singapore, and souks throughout the Middle East and Africa. In Finland, local governments have created "three-generational play spaces" where children, parents, and seniors exercise and play together, not separately. Throughout these pages, the author seeks to learn how communities can foster more civil interchange.
The book's research suggests that even well-heeled neighborhoods grow vulnerable when residents lose a sense of connectedness, though these areas typically fare better than lower-income neighborhoods that lack active parks, playgrounds, and libraries. At a time when the number of Americans living alone has reached historic highs, public funding is essential to maintain these critical social-support systems.
High-tech companies, and particularly the tycoons who founded them, come in for a drubbing. "How much more wealth do they need to accumulate before they are ready to help?" demands the author, who considers it insincere to suggest that social media platforms bring people together when our devices clearly isolate and insulate us. Because of our Internet dependence, he argues, "we desperately need common places where people can come together, participate in civil society, and build stronger social bonds."
Klinenberg's model of action is steel magnate Carnegie, who invested his vast fortune in public works, notably building 2,800 public libraries in the United States and around the world. He believed the presence of an impressive structure, filled with free materials and open to all, would inspire residents of any town or city. To ensure commitment, however, Carnegie required communities to bear 10 percent of construction costs as well as guarantee ongoing funds to staff and maintain the library. A private citizen and corporate titan, Carnegie forged relations among industry, local governments, and individuals through his library projects. Today, Klinenberg writes, we need similar efforts, both cultivating and valuing spaces such as town halls, skateboard parks, and farmers' markets. Healthy social infrastructure, he concludes, can lead to a "better, more equitable, and sustainable solution for the challenges facing our cities and suburbs." And engineers are uniquely positioned to turn those ideas into reality.
Review by Robin Tatu
Robin Tatu is Prism's book editor.
Image Courtesy of Amazon/Getty Images