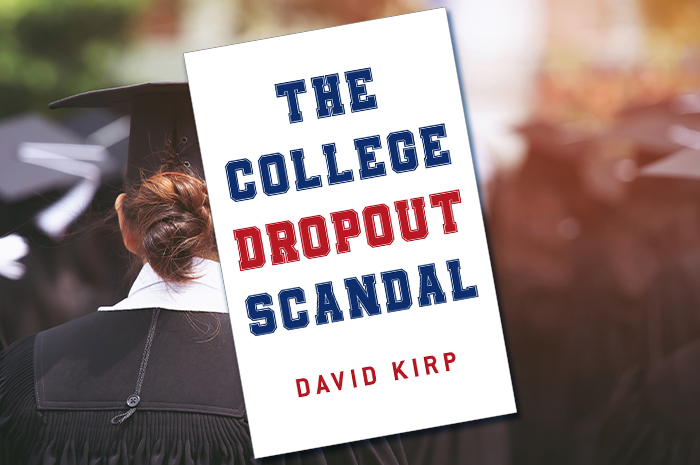 Mind the Gap
A public-policy scholar takes aim at our nation's abysmal degree-completion rates by highlighting schools that buck the trend.
Review by Robin Tatu
The College Dropout Scandal
By David Kirp.
Oxford University Press, August 2019. 184 pages.
The ivory tower has been airing a lot of dirty linen lately, from admissions bribery schemes (the Universities of Southern California and Texas) to devastating financial mismanagement (Antioch) and Harvard's alleged racial bias (which has since been overturned in federal court).
But to policy expert David Kirp, the real "dirty little secret" of American higher education is its staggeringly low graduation rates. Among 28 countries studied by the Organization for Economic Cooperation and Development, the United States ranked 19th—on par with Lithuania and Slovenia. Nationwide, 40 percent of college freshmen never make it to commencement, and those who do take much longer than the traditional two or four years to earn a degree.
Students quit for many reasons beyond financial woes. Some are overwhelmed by paperwork and deadlines. Others never get into that one course required for graduation. Too many repeatedly fail remedial courses—primarily math—and wind up barred from majors such as engineering. First-generation, economically disadvantaged, and minority students can feel marginalized and isolated.
Whatever the precipitating factors, the consequences are enormous. Timely graduation means more young people entering the workforce, paying off their student debt, and contributing to the country's economic and social viability. Yet today, fewer than 60 percent of U.S. freshmen graduate within six years, including community college students who linger for years, neither graduating nor transferring. Dropouts often end up worse off than if they had never set foot on campus, with no degree, slim job prospects, and crushing student-loan debt.
America's dropout struggles should be a national concern, argues Kirp, who served on President Obama's 2008 education transition team and is currently professor emeritus of public policy at the University of California–Berkeley. Rather than merely decry the failure, however, Kirp's brief, tight study focuses on colleges that have addressed it through effective, innovative programs. He spotlights public schools because these "mass-education institutions" educate nearly 80 percent of undergraduates and thus are "where the dropout problem is the most severe and where the need for action is the greatest." Whether through data-crunching analytics (Georgia State University), social media (University of Pittsburgh), revised remedial courses (Ivy Tech Community College in Indiana), bank loans, counseling and advisers, or even free bus passes (City University of New York), these schools have committed to supporting students through to a degree.
The Universities of Pittsburgh and Virginia have adopted a "light touch" that consists of sending text reminders to incoming freshmen about upcoming deadlines and where to file their paperwork. The approach helps circumvent "summer melt"—students who get so overwhelmed by completing financial aid forms, submitting final grades, and attending orientation and registration that they vanish before classes begin. Other schools have developed interactive help systems powered by artificial intelligence. At Winston-Salem State University in North Carolina, for instance, the aptly named "Winston" system responds to student inquiries about looming Pell Grant deadlines. It also rebuffs requests for a hook-up with a gentle, "I'm not sure a robot and a human would make good dates." Joel Lee, the school's assistant vice provost for enrollment management, suggests that Winston's warm, nonjudgmental style may have helped fuel the 2 percent boost of last year's freshmen who returned as sophomores.
At a time when many schools have defunded their advising programs, Georgia State has put its money into "a raft of advisers," lowering the ratio from 1,500 to 300 students per counselor. "From medieval times, the mentoring relationship was the key," asserts Tim Renick, Georgia State's senior vice president for student success. "'Your problems are our problems; you are valued—that's the message. If students don't feel that, then they leave."
While tactics vary according to community needs, Kirp's exemplary schools all strive to bolster their students' sense of belonging. Time and again, writes Kirp, research indicates that "belongingness" is the key determiner of success: Students thrive when they feel valued and when their professors and school are invested in their progress. Proven models adopted by schools such as the University of Central Florida, the nation's second-largest public institution, and Long Beach State University, which receives twice as many applicants as Harvard, can surely help "prod institutions with scandalous track records into action."
Robin Tatu is Prism's book editor.
© Amazon