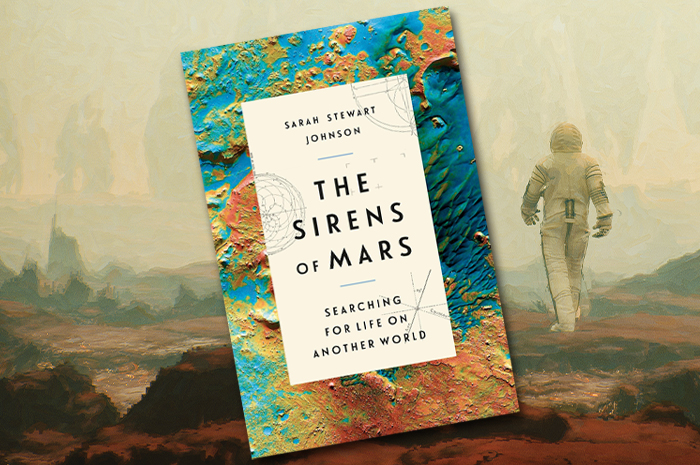 Object of Obsession
An astrobiologist weaves her own space odyssey into a mesmerizing history of the hunt for inhabitants on Earth's next-door neighbor.
Review by Robin Tatu
The Sirens of Mars: Searching for Life on Another World
By Sarah Stewart Johnson.
Crown, 2020. 266 pages.
Human fascination with Mars dates back millennia. Mesopotamian cuneiform tablets recorded observations of a distant "blazing red lamp" making loops in the sky. Ancient Chinese and Egyptian stargazers also took note. And even as Galileo made the first telescopic sighting in 1610, speculation about life on the Red Planet already was astir. "I should neither affirm it nor deny," wrote the cautious Italian astronomer and engineer, leaving "the decision to wiser men."
While modern investigators have yet to answer that question, The Sirens of Mars provides an engaging account of their centuries-old quest. Few scientists are as qualified as astrobiologist Sarah Stewart Johnson to serve as guide. A visiting scientist for NASA's Planetary Environments Laboratory, the former Rhodes Scholar and White House Fellow has worked on three of the four NASA Mars rovers—Spirit, Opportunity, and Curiosity. At Georgetown University, where she is an associate professor of planetary science and head of the Johnson Biosignatures Lab, her work focuses on detecting traces of life, analyzing data from current spacecraft, and devising new techniques for future missions.
The depth and breadth of knowledge that inform Johnson's book make for a highly rewarding read, whether we're learning about the first close-up images of Mars from 1965 "hailed around the world"; the first photographic image of Earth taken from another planet snapped in 1997 by the Mars Global Surveyor; or the thrilling yet ultimately disappointing investigations of ALH84001, the oldest meteorite fragment originating from Mars. In 1996, NASA geologist David McKay fiercely defended his claim that ALH84001 contained a nanobacterial fossil—suggesting Mars once harbored some form of life. Counterarguments and criticism unraveled his claim. Even Carl Sagan, long "the apologist for dispiriting results on Mars," found the evidence not "extraordinary enough" to be convincing.
Mars exploration has led to greater understanding not just of life as we know it, writes Johnson, but also of possibilities of "life as we don't know it." Evidence of chemical complexity, unexpected accumulations of elements, and energy transference could all "shine a light on life … even if it was very different from our own, even if it was built on an entirely different molecular foundation." For Johnson, who has led a National Science Foundation-funded study of long-term cell survival in Antarctica's harsh environment, pushing the edges of our understanding is both intriguing and humbling. "The limits of our perception and knowledge are palpable, especially at the extremes," she writes. "There is so little data to tell us who we are and where we are going, why we are here, and why there is something rather than nothing."
Such reflections lift The Sirens of Mars beyond a mere history of interplanetary exploration. So, too, does the fluid interweaving of the author's own journey of discovery, first as a girl in eastern Kentucky, joining her amateur geologist father for impromptu lessons in rocky coal fields, then as a budding scholar and accomplished planetary scientist. Throughout, Johnson pays tribute to those who inspired her. McKay is given full due. So is astronomer Percival Lowell, whose telescope's shaded images of a vast irrigation network in the 1890s ignited popular imagination about "Martian canals" created by industrious inhabitants in a world that had lost its seas. We also learn of Vera Rubin, the Georgetown University astronomer who produced the first evidence of dark matter in the 1970s, while Chapter 7 waxes eloquent about MIT geophysics professor Maria Zuber, Johnson's sophomore-year mentor, whose lecture on Mars, with its incisive explanations and remarkable mapped images, "was the first time I'd ever heard a woman give a planetary science talk."
Johnson's strongest influences, however, were her father—"in the backyard with sky maps from Astronomy magazine tucked beneath his elbow"—and mother, who ordered a college-math correspondence course one summer, prompting her middle school daughter to tackle Algebra II and trigonometry. For engineering academics, her book underscores the value of guidance, however informal, in igniting lifelong passions and innovation in striving young minds.
Robin Tatu is Prism's book editor.
© Getty Images/Gremlin