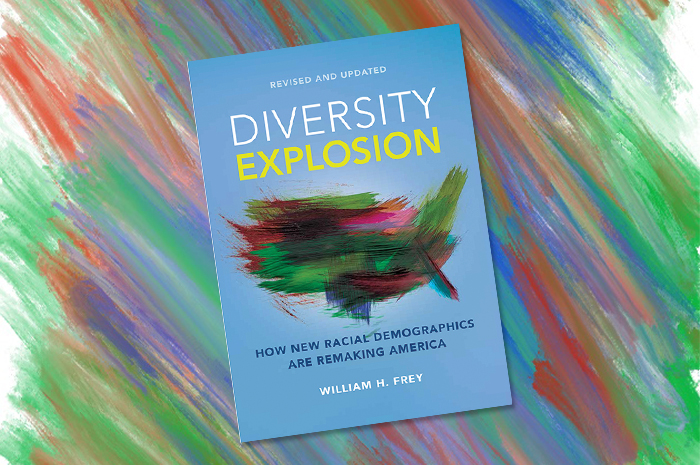 We, the People
A noted researcher sees more prosperity than peril in the nation's pivotal population shifts.
Review by Robin Tatu
Diversity Explosion: How New Racial Demographics Are Remaking America
By William H. Frey
Brookings Institution Press, 2018. 310 pages.
"Demography is destiny" may be a pronouncement most familiar to, and popular among, statisticians who study fertility rates and other changes in populations over time. Yet William Frey's Brookings Institution study makes a persuasive, data-driven case for the significance of population trends to America's future. The 2018 reissue of Diversity Explosion contains much of the original material from the initial 2014 publication, while providing updated numbers from U.S. Census Bureau surveys and a consideration of the "racial and demographic underpinnings" of the Obama and Trump elections. Frey's conclusion remains the same, however. And it offers a valuable lens as academics and professionals prepare for the next generations of engineers: "The United States is in the midst of a pivotal period, ushering in extraordinary shifts in the nation's racial demographic makeup."
As someone who has studied U.S. demography for decades, Frey writes that even he was surprised by the "sheer scope of racial change." By 2011, minority births outnumbered those of whites. With white births continuing to decline and no discernible white in-migration, the country's majority group will keep shrinking even as dominant minority groups—Asians, Hispanics, blacks, and multiracial Americans—increase. Within 30 years, no single group will form a majority, a change that has ramifications for education, business, government, and social unity.
These racial shifts raise concerns for some, but Frey sees benefits. Unlike countries such as Japan, where an aging, declining population threatens to stall the economy, the United States has a youthful population that can invigorate its labor force and offset population losses. The pathway to national prosperity, he argues, lies in recognizing, then skillfully negotiating, both the challenges and promises of demographic change.
Opening chapters examine the larger dimensions of this population makeover. Chapter Two, "Old Versus Young," for instance, delineates the needs as well as potential conflicts between aging whites and younger, nonwhite Americans. This "cultural generation gap" will inevitably lead to competing demands for public expenditure on schools and youth welfare services versus Medicare and Social Security. In Chapter Three, "America's New Racial Map," Frey identifies three regions defined by migration patterns of the 1980s and '90s—the Melting Pot, New Sun Belt, and Heartland—and then highlights recent transformations. In this earlier period, the Melting Pot cities of Los Angeles, New York, Miami, Chicago, San Francisco, and Houston grew rapidly from international migration. By contrast, the New Sun Belt centers of Atlanta, Las Vegas, Phoenix, Denver, and Seattle saw the greatest gains from domestic white and black migration, attracting people with warmer climates, lower living costs, and less congestion. Meanwhile, the Great Plains, Midwest, Appalachia, interior South, and New England experienced only small or negative migration, a pattern that has continued. The greatest change in recent decades has been an influx to existing and newly emerging Sun Belt centers.
Chapters Four through Seven examine "how the new racial dynamics are playing out" for each of America's four dominant racial groups: Hispanics, Asians, blacks, and whites. We learn, for example, that Hispanic and Asian populations will double in size between 2015 and 2060, while those identifying as multiracial will triple. Reversing the 20th century's Great Migration, when some 5 million Southern blacks left for Northern cities, significant numbers of black Americans are moving to the South, drawn by economic prosperity as well as long-standing cultural ties. That these transplants are "disproportionately young and well educated" suggests gains for areas such as Atlanta, Washington, D.C., Raleigh, and Dallas. Chapters Eight through 10 discuss developments resulting from these demographic shifts, from increased interracial marriage to greater diversity and integration in neighborhoods and suburbs. Chapter 11 analyzes the racial dynamics of the 2008, 2012, and 2016 presidential elections, concluding that both political parties must do more to close the cultural generation gap in order to stay relevant and viable.
America is experiencing "the most demographically turbulent period in the country's recent history," Frey writes in closing. While sometimes unsettling, this turbulence offers the "vibrancy, hope, and promise" of a youthful, innovative, and entrepreneurial labor force. The nation's future, and particularly the welfare of its youth, will rely upon community, school, workplace, and government support, with concerted efforts made to dismantle the barriers of segregation and inequitable access to quality education. Though not all readers may share Frey's optimistic outlook, this study offers valuable insights, with a clear, straightforward presentation enhanced by informative graphs, maps, and tables.
Robin Tatu is Prism's book editor.
© The Brookings Institution/Getty Images