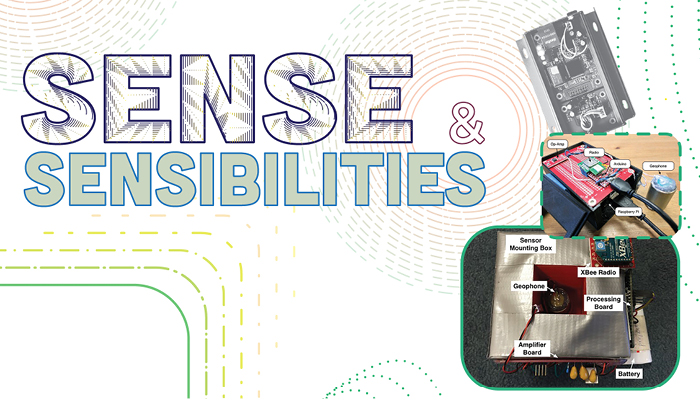 A cutting-edge engineering academic illustrates how research and international relations can intersect in the lab.
By Mark Matthews
"Watch your step, folks." Older adults hear that a lot, and no wonder: Falls send people to emergency rooms more often than any other injury and account for some 70 percent of accidental deaths in people age 75 and over. Survivors can spend long spells in rehabilitation or end up disabled.
In the world envisioned by electrical engineer Pei Zhang and his research team, the walls and floor sound a warning in time to avert a mishap. Sensors tracking vibrations generated by footsteps can pick up ominous irregularities in a person's gait and balance, alerting a nearby caregiver or urging the individual via a recorded message to stop and take a break. If prevention fails and someone falls, sensors can summon emergency responders. That's not all: The sensors can identify familiar occupants of a building by the way they walk and also tell if they're fatigued or under stress.
Peace of mind and greater freedom of movement for residents of eldercare facilities are just a couple of the benefits that Zhang, an associate professor of electrical and computer engineering at the University of Michigan, anticipates from a field of research that he and colleagues call Structures as Sensors. Combining electrical hardware, algorithms, data science, and physics, these tools afford a range of interdisciplinary applications, from assisting medical research to rearing livestock. Able to make individual footprints almost as identifiable as fingerprints, they also hold potential for sophisticated surveillance. But Zhang, who maintains ties with researchers in China and is acutely aware of the official scrutiny that can bring, tries to avoid work that could raise national-security red flags.
Zebra Crossing
Zhang traces his expertise in sensors to 2004 and the Mpala Research Centre in central Kenya. On that expanse of savanna and woodland, four Princeton graduate students, including Zhang, and three faculty members, developed a solar-powered wireless sensor network that tracked the whereabouts and behavior of wild zebras. Collars around the animals' necks contained tiny computers linked to other zebras as well as to GPS satellites and a base station. Led by Margaret Martonosi, who in 2019 became the National Science Foundation's assistant director for Computer Information Science and Engineering, the Princeton team proved they could "wirelessly update software on a network using peer-to-peer communication," a September 2007 Prism feature reported. The system, dubbed ZebraNet, provided the basis for Zhang's Ph.D. thesis and helped him land his first academic job—as a research assistant professor at Carnegie Mellon University's Silicon Valley campus.
Shaggy-haired and slim, Zhang, 41, could be mistaken for one of his twentysomething graduate assistants. He's intense when he talks about his research but jocular and self-deprecating in lectures, pacing with his shirttail out and pausing frequently to pose questions to individual students. A second-generation American, Zhang has spent three-fourths of his life in the United States, mostly in California. Yet a slight accent hints at his early childhood in Beijing and a family story woven tightly into the history of the People's Republic of China and the intersection of science and Sino-U.S. relations.
Family Ties
Zhang's paternal grandparents, both physicists, were key figures in a pioneering generation of Western-educated scientists and engineers who propelled the young communist country's rapid rise as a world power, one equipped with nuclear weapons, advanced missiles, and the ability to launch satellites. His grandfather, Zhang Wenyu, trained in China and at Cambridge; conducted research in the 1940s at the California Institute of Technology and Princeton, where he specialized in cosmic rays; and spent some seven years teaching and guiding research at Purdue. Zhang's grandmother, Wang Chengshu, came from China to earn a Ph.D. at Michigan and stayed on as a noted researcher, with two stints at the Institute for Advanced Study in Princeton, N.J.
Returning to China in 1956, Zhang Wenyu helped build the country's physics establishment, eventually becoming director of the Institute of High Energy Physics, now a sprawling array of research laboratories. Wang Chengshu was recruited by Qian Sanqiang, often called the father of China's nuclear program, to provide the theoretical underpinnings that led to China's successful test of an atomic bomb in 1964. After U.S.-China ties were restored in 1972, the couple reconnected with American colleagues. Their Ann Arbor-born son, Zhe Zhang—Pei Zhang's father—returned to the United States, earned a Ph.D. in electrical engineering at Caltech, and settled in southern California.
Pei Zhang followed in his family's footsteps: first to Caltech as an undergraduate, from there to Princeton, and then ultimately to Michigan, which hired him in late 2020. He had hoped to be a physicist like his grandparents, but his first undergraduate physics class put him off: "I did not see a single number. It's all letters." He switched to chemistry but says "I didn't have the patience" for one-drop-at-a-time titration experiments. Joining an engineering class, "I thought, 'I actually like this,'" Zhang recalls. "I liked more hands-on stuff, things I can grasp better, when I can touch and feel."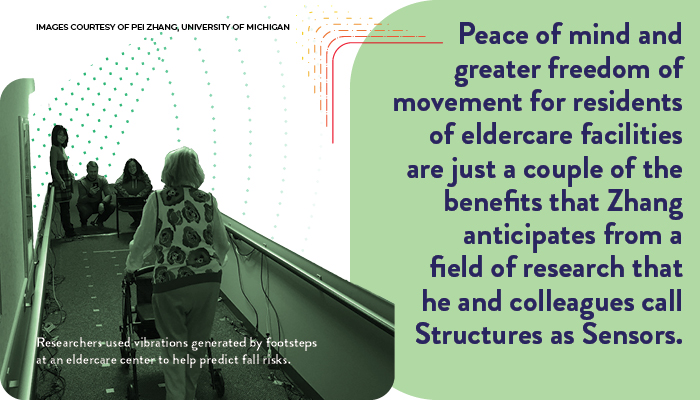 Good Vibrations
"Touch and feel" captures the sensitivity of the devices that Zhang and his colleagues deploy to turn buildings into sensors. "If we have one of these sensors, put it about a meter away from your chair," he says, "we can extract your heartbeat." Heart vibrations propagate to the chair and from the chair to the floor, where a sensor can pick them up. Vibrations induced by footsteps can indicate overall health status. From the force exerted, vibrations can reveal not only gait and balance and whether someone is about to fall, but also neurological, muscular, and bone conditions.
In the future, patients' rooms may be equipped with speakers, where a relative's recorded voice will urge them to stop walking and sit down. On the team's radar are systems geared specifically to Alzheimer's and Parkinson's diseases and cerebral palsy, says Zhang's longtime research partner Hae Young Noh, an associate professor of civil and environmental engineering at Stanford.
Vibrations can also identify an individual walker based on the signature of his or her footsteps, as the Zhang-Noh team demonstrated at Vincentian Home, a continuing care community in Pittsburgh. The tests there used staff members rather than residents because of regulatory restrictions but showed the system's potential to allow greater independence and prolong residents' ability to walk, says Nathan Doherty, executive director for facilities and support services at Vincentian's eight locations. To avoid penalties, nursing homes tend to discourage residents from walking unassisted if there's any risk of injury. Doherty, who gave Carnegie Mellon's team "almost unlimited access," can also envision the product's potential for older people living at home: "You would get a baseline measure of their regular cadence," and sensors could alert an adult child if the parent deviates from routine.
Describing their work in a talk at Ohio State, Zhang and Noh caught the attention of Linda Pax Lowes, a research scientist at the Nationwide Children's Hospital in Columbus. Lowes, a rare-disease specialist, invited them to collaborate on an outreach project for members of an Amish and Mennonite community with limb-girdle muscular dystrophy (LGMD). The progressive affliction, prevalent in the two insular populations, causes weakening and wasting of muscles, difficulty walking and engaging in other activities, and early death. Existing ways of measuring progression of the disease, such as analyzing a patient's gait, require an in-person visit to a specialist, often making families travel long distances.
The Zhang-Noh team designed an approach to monitor a patient's gait by sensing footstep-induced floor vibrations. In 2016, the Zhang-Noh research team strung wires and sensors along a wall at a Mennonite community center. Together with physical therapists, they compared the walking patterns and gaits of youngsters to identify those with the disease. In 2017 and 2018, they shifted the tests to the hospital, working with about a dozen children. Their method picked out individuals with the disease with 96 percent accuracy.
The collaboration was interrupted by the COVID-19 pandemic but is "definitely encouraging," Lowes says. She would like to see the sensor system made simpler for non-engineers and set up in patients' homes so they could be tracked remotely. "It has a lot of potential for clinical trials," she says. Like Lowes, Zhang and Noh want to see in-home monitoring. They also plan long-term experiments to test their system's ability to track disease progression. And combined with work now underway on a potentially game-changing treatment at Nationwide Children's Hospital, the technology could make a critical difference with one subtype of LGMD. Neurologist Jerry Mendell is leading a gene-therapy study to replace a defective β-sarcoglycan gene found in individuals with LGMD2E, one of about 20 subtypes. Lowes says sensors would allow her to conduct regular monitoring of study subjects.
Pigs and the Pentagon
Swine movement, it turns out, can be similarly studied. Working with the U.S. Department of Agriculture's Meat Animal Research Center in Nebraska, Zhang and Noh are studying the behavior of sows toward their offspring. Such data provide farmers with an early indication of whether a litter will thrive. Noh says that of all their subjects, pigs are the most challenging: Sensors must be installed under the pens—a messy, chemically harsh environment—and piglets tend to snuggle. "You can imagine the signals from multiple piglets," she says.
The same sensors that can study sows and identify individuals based on how they move can also catch unwanted intruders. Zhang's team looked at a potential application for secure facilities like nuclear reactors. That's the kind of project he might have tackled eagerly early in his career. In 2012, Zhang won a $400,000 NSF CAREER grant to develop SensorFly, a sturdy, lightweight drone about the size of a human hand. Equipped with a gyroscope and electronic compass sensor, it could detect fires inside buildings, aid search and rescue missions following an earthquake, or find radiation leaks. SensorFly evolved into a collection of mobile air vehicles operating as a network, which in turn morphed into swarms of MAVs, a concept encouraged by the Defense Advanced Research Projects Agency and the Army Research Lab for surveillance and situational awareness.
While at Carnegie Mellon, Zhang joined a Pentagon advisory group studying how computer science could best address the needs of the U.S. military. The group made four trips, each lasting a week, visiting one or two military bases each day. They flew aboard a tanker aircraft as it refueled an A-1 bomber and witnessed both stunning military advances and examples of backwardness, Zhang recalls.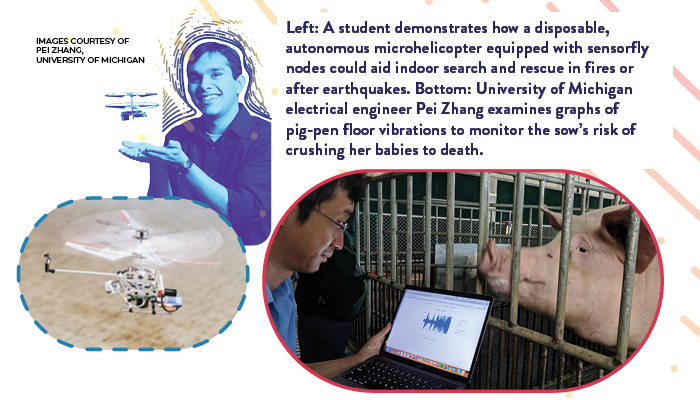 But nowadays, Zhang is alert to strains between the United States and China. He shares with other ethnic Chinese scientists—and researchers who collaborate with partners in the People's Republic—the feeling that they're the focus of particular federal scrutiny. More than a dozen academics have been charged in the U.S. Department of Justice's China Initiative, which aims, in part, to crack down on researchers with hidden ties to the People's Republic. Zhang has heard family stories about investigators questioning his grandparents during the U.S. anticommunist crusades of the early 1950s. A Physics Today obituary reported that Zhang's grandfather "endured an ordeal of harassment and uncertainty." The elder Zhang never secured a permanent faculty post at Purdue despite support from physics department colleagues.
As a result, Zhang now steers clear of military-related projects and tries to avoid situations where an accidental omission on a government disclosure form could land him in trouble. "I try to do my best to follow the rules. The issue is, I think if they dig deep enough, I'm sure they can find where you slipped up one time, right? . . . I mean, occasionally I speed while driving." So Zhang is watching his step. For the time being, corporate research funding will take the place of Pentagon grants. Sticking with "children, the elderly, and pigs," he can't put a foot wrong.
Former Prism editor Mark Matthews is a freelance writer based in Washington, D.C. He is working on a book about U.S.-Chinese research collaboration.