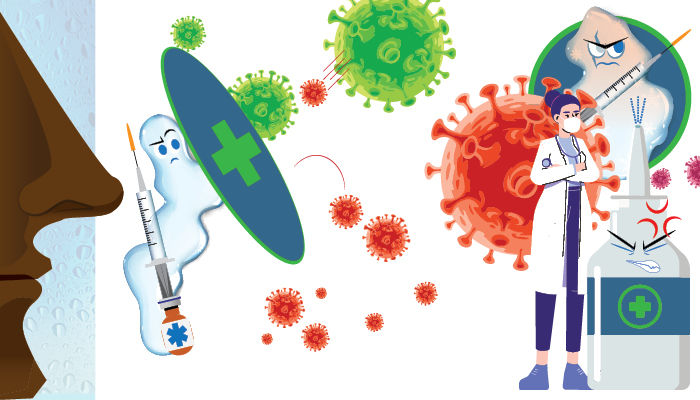 Engineers play a vital role in shepherding COVID-19 vaccines from lab to arm (or nose).
By Thomas K. Grose
Barely one year after a deadly new coronavirus ignited a global pandemic, the biggest immunization campaign in history is well underway. As of early April, at least 13 COVID-19 vaccines had been approved for use, with some 711 million doses administered worldwide. Another 67 vaccines are in clinical trials.
So far, science appears to be staying a step ahead of the coronavirus's mutations—including highly contagious variants first identified in Britain, Brazil, and South Africa that continue to spread rapidly. Yet even if "viral control is pursued effectively in every country," as Britain's medical journal the Lancet put it recently, full immunity will take years to achieve. That means engineering academics will continue to be at the forefront, leading or working with teams of biomedical researchers to update vaccines; develop booster doses and new treatments; and design more efficient manufacturing, distribution, and storage methods.
As the following examples attest, engineers are not only vital allies in the fight to vanquish this deadly viral foe but are throwing the first jabs.
A Nose Dose of Prevention
A major challenge in mass immunization efforts is getting shots into arms. Distribution complications arise with vaccines' typical refrigeration requirement—this was an early concern, for example, with the ultracold storage need of the Pfizer-BioNTech COVID-19 vaccine. Injections also require administration by trained professionals, generate waste that defies easy disposal, and inspire public dread.
Even before the current pandemic, researchers were investigating skin patches and other needle-free methods of vaccinating large populations safely, swiftly, and effectively to bolster defenses against global disease outbreaks. The COVID-19 crisis has given that work new urgency. Christopher Alabi, an associate professor of chemical and biomolecular engineering at Cornell University, is among the vanguard of researchers. Since 2015, his lab has worked in tandem with virologists at Columbia University's Irving Medical Center and a medical center test lab at Erasmus University in the Netherlands to successfully develop lipopeptides designed to block viral infections such as measles and Ebola. The team now is focused on creating a way to protect people against COVID-19 via nasal spray.
Each specialist plays a vital role. The virologists identify and isolate the pathogen's key peptide, which is a protein fragment. Then Alabi's group handles the tricky maneuver of wrapping the peptide in a lipid, or oil. The Erasmus team runs animal tests. Their lab-proven technology has yet to be commercialized because of low demand: Widespread vaccination has made measles pandemics rare, for example, while Ebola outbreaks tend to be localized. When the pandemic struck last year, however, Alabi and his colleagues quickly saw their innovation's potential—and were confident there would be a market should their delivery system prove effective.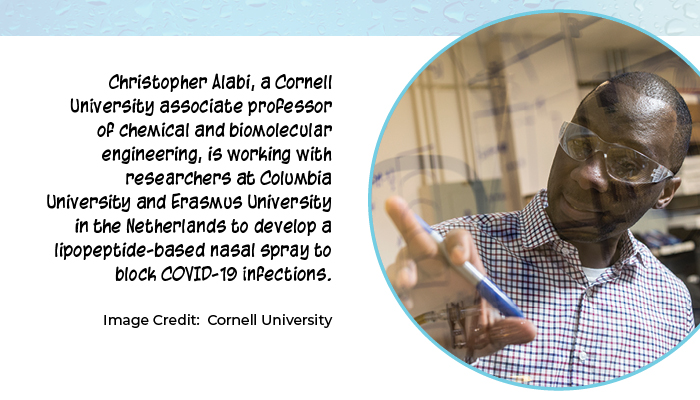 The Columbia team successfully isolated the HRC peptide, a molecule found on the coronavirus's spike (or S) protein that, like a skeleton key, unfolds to latch onto and infect human cells while evading immune systems. Next, Alabi's team engineered a way to encase the peptide in oil. When the lipopeptide recognizes the spike, it merges with the unfolded S protein and stops it from fusing with a cell.
Making peptide-lipid conjugates, Alabi's area of expertise, is hard to do. "Peptides are hydrophilic, they love water, and you can't easily mix oil and water," he explains. But the lipid is a critical "anchor" for keeping the peptide intact long enough to disrupt the mechanism of infection. "If you injected a naked peptide into your body, your body would destroy it within a matter of minutes," Alabi elaborates, hence the need for a novel delivery system. Moreover, the oil coating "also allows the peptide to dock onto a cell membrane," so it's ready to block the virus. That's because the lipid used is a component of the membrane. The membrane has the same hydrophobic properties as the lipid tag, Alabi says, "so there is a driving force for them to associate with each other."
At Erasmus, six ferrets were treated with the lipopeptide, then caged in pairs for 24 hours with a ferret that was infected with COVID-19. Ferrets are ideal test animals because they contract the disease easily but don't die from it. "We thought that was a win-win," says Alabi. None of the treated ferrets got sick or showed any trace of viral load—a strong indication the treatment stops infections and transmissions.
The researchers envision delivering a prophylactic dose of their lipopeptide via nasal spray that would provide protection against COVID-19 for at least 24 hours. The spray "would work hand in glove with a vaccine," says Alabi, since some people cannot be vaccinated, and no vaccine imparts total immunity. He also anticipates that the spray, which works to block current variants, would be easy to update using genetic sequencing if a resistant strain emerges. "Once we understand what the proteins look like, we just snap it into our conjugates," explains Alabi. Another plus: The peptides are commercially available, inexpensive, and already being used in other therapies.
While scaling up the process is "not trivial," acknowledges Alabi, "all the technology exists already to make it happen." The research team plans to work with a company versed in making nasal sprays, then launch human trials as soon as possible.
AI Vaccine Hunters
Viral vaccines, including those approved to combat COVID-19, work by safely mimicking an infection to elicit an immune response from the body's B and T cells, which recognize, respond to, and produce antibodies to thwart invaders. While there are many ways of making vaccines, one effective method uses subunits, or specific antigens (substances that trigger an immune response), on the exterior of a virus. In the case of the coronavirus, the key targets are the epitopes (or peptide chains of amino acids) on the spike protein by which the virus attaches itself to human cells.
Currently, identifying promising peptide sequences is slow, tedious work. Researchers must test each B-cell or T-cell epitope individually. But a team led by Paul Bogdan, an associate professor of electrical and computer engineering at the University of Southern California, has devised an artificial-intelligence platform based on machine learning that enables parallel testing and dramatically speeds up the process. As Bogdan puts it: "The AI's job is to select the best combination that would trigger a B-cell and T-cell response."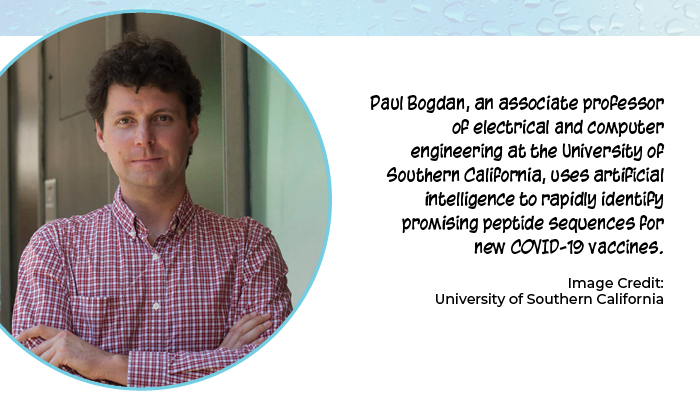 A trial run demonstrated the new approach's superior performance. Using an old laptop, Bogdan was able to zip through a list of 706,970 peptide sequences containing both B- and T-cell epitopes and cull a list of 26 potential targets in just one minute. If done by hand, the work "would have taken days or weeks," he says. When researchers then used the "old-fashioned way" of vetting those 26 candidates for characteristics such as safety and toxicity, they ended up with 11 possible vaccines.
Viruses mutate, however. And as with CoV-SARS-2, the novel coronavirus that causes COVID-19, sometimes these tiny genetic variations can make pathogens more infectious and able to sidestep immune responses. Bogdan says drugmakers could use his AI to quickly update current vaccines or create new ones that better target the new variants. Right now, only one subunit vaccine—made by Novavax, a Maryland-based biotech company with a decade of experience developing genetically engineered vaccines—is close to commercialization. But Bogdan is confident his team's AI platform would work with the messenger RNA vaccines made by Pfizer-BioNTech and Moderna that now dominate the U.S. market. "We would just have to change the [model's] input and architecture," he says.
In the meantime, Bogdan is developing a mathematical model that would predict significant CoV-SARS-2 mutations "way, way faster," so that a set of 50 vaccine candidates could be ready to use should those variants appear. "It sounds like sci-fi, and I'm not sure we'll be able to do it," Bogdan acknowledges. Given the disease's continued toll—India recently saw COVID-19 infections hit a daily record of over 414,000 new cases—the effort clearly is worth making.
Inspiration from Industry
Every year, according to the World Health Organization, more than half of all vaccines spoil and must be dumped. One of the biggest culprits: failure to keep them properly chilled. But Caryn Heldt and Sarah Perry, associate professors of chemical engineering at Michigan Technological University and the University of Massachusetts–Amherst, respectively, thought there might be a way to store vaccines without refrigeration, using a chemistry technique borrowed from industry to stabilize products like shampoo. And it worked. Last December, they published a proof-of-concept paper in the journal Biomaterials Science.
Viruses used in vaccines to spark an immune response will unfold and disintegrate if they get too warm. But there's another way to keep them from unfolding: crowding. The concept is akin to cramming commuters onto a train. "If you are home alone on your couch, you can spread out," Perry explains. "But in a packed subway car, you take up as little space as possible."
To crowd viruses, the researchers turned to a process called complex coacervation—used to manufacture products like shampoos—which creates a phase separation, or two distinct phases in a homogeneous mixture. "If you looked at it through a microscope, it looks like oil and water in a salad dressing," Perry explains.
Despite the technique's many industrial uses, "the idea of using it to stabilize proteins and medicines is kind of new," says Heldt. "What we've added is phase separation using concentrated polymers" of opposite charges. Once added to the solution, the polymers, which are polypeptides, bind together in a separate liquid phase. That polymer-rich liquid then crowds around the virus, coating its shell and forcing it to remain shut—not unlike those passengers in the crowded subway car who no longer have the luxury of spreading out their arms and legs.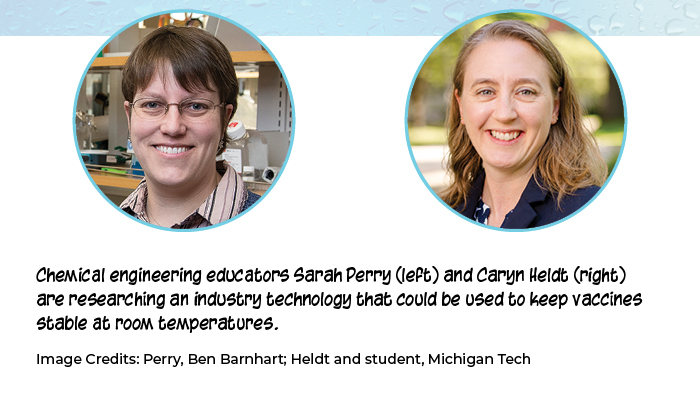 In their initial research, the pair proved the process works for nonenveloped viruses (without an additional exterior layer of lipids and proteins), such as those that cause polio or hepatitis A. But the COVID-19 virus is enveloped. So last March, the National Institutes of Health awarded the researchers a $400,000 grant to expand their work, including determining if the process works with enveloped viruses, which require more fluidity in a crowded environment. Unlike their nonenveloped cousins, these viruses can be stabilized by crowding in an environment that's more Jello-like. They "still want to move around a little bit or else they will break or fall apart," Heldt says.
Although their initial investigation used live, attenuated viruses, Heldt says the method should work with traditional types of vaccines, such as those that use inactivated viruses or rely on specific proteins from the pathogen. Their confidence extends to the two most widely used COVID-19 vaccines in the United States—developed by Pfizer-BioNTech and Moderna—which use messenger RNA to prompt cell machinery to make a harmless piece of the virus's spike protein to induce an immune response, as well as to Johnson & Johnson's and AstraZeneca's vaccines, which use the spike's DNA. All need refrigeration, with the mRNA vaccines requiring super-low-temperature storage. "This should work, in theory, with nucleic acids" to keep them from unfolding without need of extreme cold, Perry says. She notes that coacervation is "essentially a variation" on processes "used for decades in delivering DNA and RNA."
Pharmaceutical companies are expressing interest. And why not? It's a cool concept that could eliminate vaccine waste, ease distribution hurdles, and help save lives. Immunization drives may never be as simple as supplying shampoo, but engineering researchers are taking aim at future pandemics and giving it their best shot.
Thomas K. Grose, Prism's chief correspondent, is based in the United Kingdom.