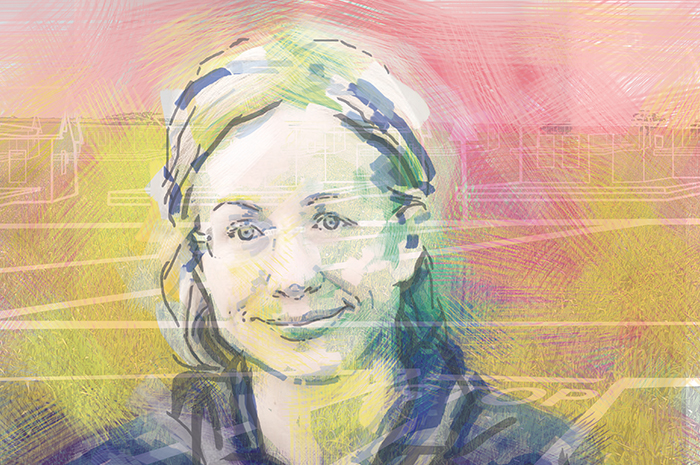 Safe, Sound, and Savvy
A civil engineer puts advanced construction and retrofitting techniques at the service of disaster-prone poor communities.
By Lucille Craft
Like many a freshly minted engineer, Elizabeth Hausler Strand finished graduate school convinced she was all ready to fix the world's problems. A decade later, she has hit the nail on the head with one of them – housing the planet's most vulnerable.
"Everyone has the right to a safe house, regardless of income," says Strand, CEO and founder of Build Change, an acclaimed nonprofit based in Denver. "This is something I felt I could change."
Founded in 2004, the NGO helps developing countries create low-cost, locally customized housing that will last long after the American experts leave, creating jobs and a base of knowledge. Under a mantra of "homeowner-driven reconstruction," Build Change teams up with locally hired engineers and architects. Using available low-tech but high-quality materials, they work to minimize waste, fraud, and graft in the housing industry by empowering the homeowner while ensuring their structures are resistant to quakes and typhoons.
Build Change has built or retrofitted 47,000 homes and schools for 236,000 people in 10 countries, from Haiti to Indonesia to China. Within days of the 2015 earthquake in Nepal, Strand's team was on the ground to run surveys and prepare for the process of rebuilding and refurbishing.
The Nepalese experience has added to already strong evidence that even during the worst of natural catastrophes, resilient structures save lives. "There were several school buildings that were retrofitted before the quake," Strand says, and most of these "performed well."
The Build Change website has downloadable videos, posters, and manuals in Mandarin, Creole, Spanish, Bahasa – spoken in Indonesia – and other languages, breaking down the dos and don'ts of sound construction into illustrated, easy-to-understand steps – so that even untrained homeowners can grasp the basics and keep a watchful eye to ensure their homes are constructed properly. "Build with timber instead of masonry," urges the Indonesian pamphlet. "Build a simple, symmetric shape, a square is the best!"
Where masonry is the optimal material, craftsmen are trained in how to mix and cure concrete blocks so they withstand quakes. National governments are advised on how to set up a subsidy program that guides homeowners on retrofitting their homes via a clever system of micro-payments to avert misuse of funds.
Strand literally grew up wearing a hard hat, slinging bricks and mortar for her father's masonry business in small-town Plano, Illinois. After earning a Ph.D. in civil engineering from the University of California, Berkeley, she traveled to India on a Fulbright fellowship to study post-disaster housing reconstruction. Intimately familiar with sound bricklaying and stone masonry techniques, she was stunned by what she saw as the needless loss of life in the 2001 Gujarat earthquake.
"They always say, it's not the earthquake that kills people; it was the poorly built building," she says. "Most people died because the house collapsed on them. So it was a manmade problem – with a man-made solution."
But her India experience revealed that conventional man-made solutions were inadequate, even detrimental to stricken communities. Donated replacement homes from foreign aid groups, for instance, often had small windows and other features of Western-style housing completely unsuited to torrid climates. These unwanted gifts did nothing to help struggling community economies, nor did they impart valuable skills to local construction workers. "What was clear from the very start is it's not just an engineering problem we were trying to solve," she recalls. "I learned the best way is not just to give them a house, but provide them with information, training, and knowledge to make their own decisions."
Seeded with a grant from the Echoing Green Foundation, which funds social-action start-ups, Strand founded her NGO with a handful of volunteers. It now has a staff of 102, including engineers and experts in finance and advocacy. Seventy percent of its senior managers, Strand notes with pride, are female. "We found there was an extra added value of having a woman engineer sit with a female head of household," she says. If her experience throughout the world is any guide, men generally focus on the design and size of a house. Women zero in on safety.
"Can one person change the world? I feel the answer is yes!" says Strand, with can-do aplomb. "But they need a lot of help – from their friends!" Build Change wants to ensure that 10 million more people are safely housed by 2024. This will require not just building and retrofitting but also leveraging connections and training others to do so – and new housing solutions that suit local cultures, users, and pocketbooks. Merely learning and applying building codes and accepted best practices is insufficient to meet the problems Build Change tackles in the developing world, Strand says. "Really, the ultimate goal should be to go beyond the code!"
Lucille Craft is a freelance journalist based in Tokyo.