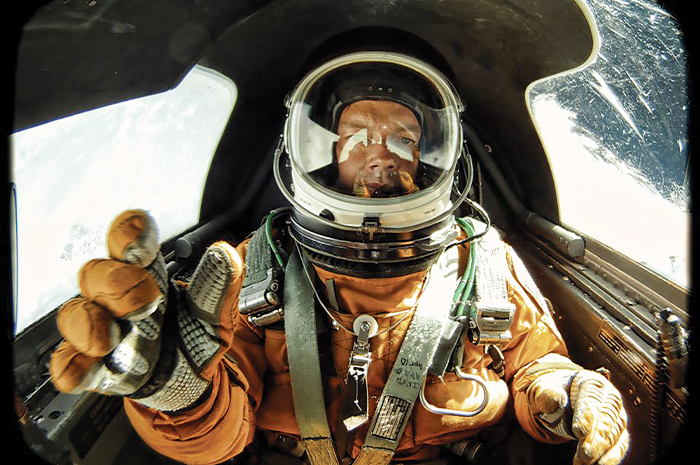 Depth of Field
The National Academies' inaugural artist in residence brings STEM's lesser-known subjects into focus while inspiring a new generation of scientists and engineers.
By Jennifer Pocock 
Christopher Michel has led many lives. As the National Academies' first-ever artist in residence, his photographs record many more.
Michel came to photography relatively late in life. He had barely picked up a camera before he was 30, and didn't consider it a career until he was 40, when he started winning competitions. The photographer specializes in shooting in extreme environments: from polar bears and nuclear-powered icebreaker ships in the Arctic to penguins in the Antarctic and all the way up to the blue curve of the Earth from a spy plane at 70,000 feet.
Since 2008, he has worked with the National Academies of Science, Engineering, and Medicine as a science communications consultant; the photographer and former tech entrepreneur advises the organization on how to tell the stories of science. Two years ago, he proposed the idea of a "New Heroes" project, arguing that "we need some better role models in society." The artist-in-residence position was the result, and Michel became the first. He wants to capture STEM professionals' inspiring work for the historical record, he explains. Many don't know how to promote themselves.
"I think it's the best job in the country," Michel says. "I get to go seek out the most interesting people in America and have an hour or two—or a week or a month—with them." When he visits subjects, he takes everything in: the state of their lab and research, and how they operate in their natural habitat. He hopes some projects could become long-term, with him returning annually over a decade to document their progress. It's important, he says, not just for the historical record, but for the scientists' and engineers' personal records as well.
"Photographs become more valuable over time," he says. He's been creating them for 20 years, and "in that time, a number of people I photographed are no longer with us. Those photographs have taken on a special meaning."
"Memories are the currency of our lives," he adds. "This idea has driven my obsession with helping people capture their stories in images."
Recently, Michel photographed Jennifer Doudna, one of the 2020 Nobel laureates for the gene-editing technology CRISPR, and DJ Patil, a mathematician and data scientist who served under President Obama. But he isn't just pursuing the famous names—he wants to feature anyone doing interesting work, whether they're at the height of their careers or just starting out. The photographer hopes to show a new generation of students what's possible in STEM careers. Among other venues, the photos will be published on Wikipedia under a Creative Commons license to ensure they're widely accessible.
Michel also wants to team up with writers to add stories to the photos. "The only way to convey the wonder of science and our natural world is a combination of science communications and art," he says. "A black hole cannot be fully understood just by mathematical formula."
Photography is only one of Michel's many careers. As a child, he didn't know what he wanted to be when he grew up, but he did know he loved technology. He got his first computer in 1979 and learned to program. An interest in politics took him into political science at the University of Illinois and on to a stint in the military, flying P-3C patrol aircraft with the Navy. Next he attended Harvard Business School, where he rediscovered his love for technology. He started two different social media companies that predated MySpace and Facebook; both were bought out.
Instead of launching another company, Michel decided to take pictures full-time. It's not unlike his technology work: "Building each photograph is like building a little product—it's something that didn't exist before."
In between his other major careers, Michel has also started a small venture capital firm, became an expert expedition leader in the polar regions, and collaborated on a book with esteemed travel writer Pico Iyer, due out next year.
If memories truly are currency, Michel is among the richest men alive—and he wants to share the wealth.
View Christopher Michel's work at www.christophermichel.com.
Jennifer Pocock is associate editor of Prism.
© Christopher Michel Photography