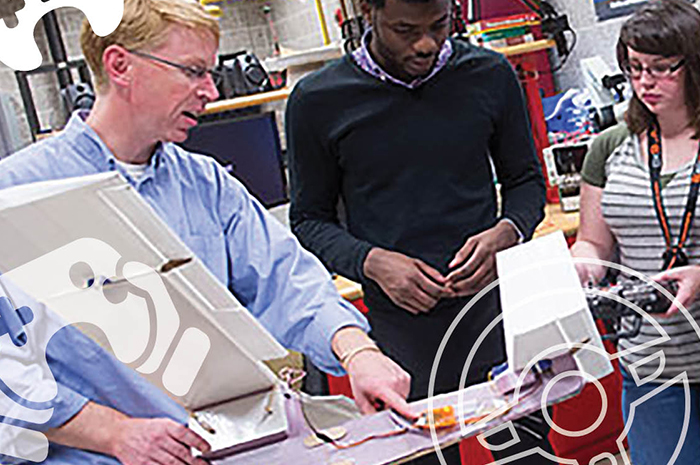 Virtual Fixation
A professor rivets students' attention with video-game challenges.
By Jennifer Pocock
Ever wonder how some kids can spend hours in front of a video game, solving complex problems, but then balk at problem solving in their homework? Brianno Coller did.
Coller, a professor of mechanical engineering at Northern Illinois University, first noticed his students' engagement with animation in 2004, when he showed a simulation of the Opportunity Mars rover hitting the Red Planet's surface.
"It was encased in this big cocoon of air bags, and it bounced around and it would unfold, and you'd see these automated systems uprighting themselves and taking care of themselves. Then you'd see [the rover] driving itself off the little platform," he said. "When I showed this video, the students in this class were just on the edge of their seats, watching it and recognizing how all this theory that we were teaching in class—how it played into the technology. And then, of course, the video ended and that was it. Back to the theory." The students' engagement immediately dropped. Coller wanted to find a way to extend that engagement and make it interactive.
He did so by designing "active and authentic learning exercises" to replace dull textbook problems. The first was a racecar video game in which students wrote algorithms to drive the vehicle. Since then, the games have grown more imaginative. Coller's latest and greatest game is called Spumone (pronounced like spumoni ice cream). The character is a brightly colored spacecraft ("spucraft") that moves through a world of obstacles, tasks, and challenges piloted by the user. Spumone is aimed at a sophomore audience. That year is the "sweet spot" for engineering dynamics—a difficult year that can make or break engineering students.
Some of the challenges are complex and maddening to the students, but Coller finds that many keep working at them with the single-minded intensity of gamers the world over—long after they would have dropped a simpler textbook problem. It helps that students can fail (or "die") over and over and work with the characters and code to come up with the right answer.
"While the virtual worlds are almost cartoon-like, the Newtonian physics are realistic," he says. "To beat Spumone, you must make engineering decisions. You must use analysis and express your strategies mathematically."
Coller is gauging student response and continually updating the game with new challenges and sub-challenges. "As students play with the game, we've recorded everything they've done—every little click and change in strategy," he says. To collect and analyze the material, Coller works with an educational psychologist named David Shernoff who developed surveys that are sprinkled throughout the game. His next step will be to use machine learning to analyze the reams of data over the next semester and an upcoming sabbatical. So far, though, the evidence shows that students learn more deeply with the game than without. "They're more engaged," Coller says, flat-out. "They have a combination of concentration and interest and feel like they're using their skills."
The gaming approach has drawn acclaim. Coller was tapped to deliver a TED Talk on engineering education in 2014 and in 2015 was named Illinois Professor of the Year. He has won the ASEE Mechanical Engineering Division Best Paper Award multiple times.
Coller's obsession with engineering began as a child. "When I was a kid, all I cared about was skiing and soccer," says the Reno, Nevada native. "I had a soccer tournament in San Francisco. When we drove across the San Francisco Bay Bridge, that just floored me. I was amazed by the huge structure. I knew right then and there that I wanted to be the person that designs and builds that sort of thing."
He began his engineering education at Cornell University as a structural engineering major, but soon learned that he preferred dynamics—and switched to mechanical engineering instead. "But that one trip is what sealed it for me." He received his Ph.D. in theoretical and applied mechanics from Cornell as well, and began teaching at Northern Illinois in 2003 following a stint at the University of Illinois at Chicago.
He has sought to maintain that childlike wonder in all of his classes, directing that energy toward training effective engineers.
Spumone is currently available only to Coller's students and two other educators involved in a study. But Coller, who is working under an NSF grant to continue the game's development and analysis, hopes he soon will be able to make Spumone more widely available. If successful, Coller will prove that video games aren't just child's play.
Jennifer Pocock is assistant editor of Prism.