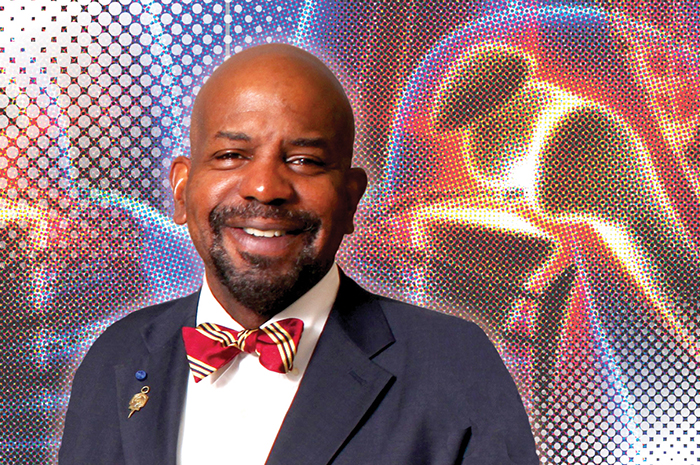 Grow Your Own
A visionary physician-engineer aims to regenerate missing limbs and damaged joints.
By Mary Lord
Most campuses mark Veterans Day with flags and tributes to troops. This year, the University of Connecticut stepped up its salute to wounded warriors, announcing the launch of an ambitious, multi-school research effort to regenerate a human knee within seven years – and an entire leg by 2030.
The initiative "could be a game changer for regenerative therapies," predicts Cato Laurencin, the orthopedic surgeon and professor of chemical engineering, materials science, and biomedical engineering who is spearheading the Hartford Engineering a Limb (HEAL) Project. That's no idle boast. The effort builds on the shoulder and knee expert's advances in clinical treatment and lab successes that include the patented L-C Ligament, a bioengineered scaffold found to completely regenerate tissue inside the knee. Highlighted in National Geographic's 100 Scientific Discoveries That Changed the World, the innovative therapy currently is undergoing human trials in Europe to treat torn anterior cruciate ligaments – a condition that afflicts 200,000 Americans annually.
Such interdisciplinary endeavors have helped win Laurencin a host of awards and honors, including election to the National Academies of Engineering and Medicine. His work as founding director of UConn's Institute for Regenerative Engineering has drawn acclaim from groups as diverse as the American Institute for Chemical Engineering and the Association of Bone and Joint Surgeons, with both the American Association for the Advancement of Science and President Obama recognizing him for mentoring underrepresented students in science and engineering.
While "it takes a bit of dedication to be able to move in both worlds," Laurencin acknowledges, "my world always has been a world that combines science and medicine." Early on, he'd see his mother, a family doctor, move easily between the office and lab she maintained at the back of their inner-city Philadelphia home. Laurencin, a science whiz, went on to study chemical engineering at Princeton and graduate magna cum laude from Harvard Medical School. There he met MIT chemical engineer Robert Langer, who later won acclaim as a biomedical innovator, and immediately "wanted to follow in his footsteps." That mentorship led Laurencin to join Langer's lab and simultaneously pursue a Ph.D. in biochemical engineering/biotechnology from MIT, followed by professorships in orthopedic surgery as well as biomedical and chemical engineering at the University of Virginia, where he was the health system's chief orthopedic surgeon.
At UConn, Laurencin, a university professor and former dean of the medical school, has continued to combine clinical practice, bioengineering research, and classroom instruction. "We have a very strong interdisciplinary culture," he says, noting that the young researchers in his regenerative engineering lab "embrace being interdisciplinary as the norm." Although based in the medical school, with no teaching requirements, Laurencin still teaches a variety of bioengineering courses. "Being involved in education is a great privilege," he says, adding that the institute's emphasis on teaching and service "says a lot about the integrity of the group." Laurencin also talks to youth about his work. "I tell them to make sure not to confuse action for accomplishment," he cautions. Rather, do things that are "purposeful."
For his latest project, Laurencin, who has volunteered as ringside physician to amateur boxers, heavyweight pros, and the U.S. men's national elite boxing team, must summon every ounce of interdisciplinary knowledge. Supported by a $4 million National Institutes of Health Pioneer Award and National Science Foundation funding, the HEAL project will require pushing the boundaries of advanced materials science, physics, stem-cell research, biomedical engineering, surgical techniques, rehabilitative medicine, and translational research. In addition to the UConn team, the project involves principal investigators from Columbia, Harvard, the University of California, Irvine, and India's Shanmugha Arts, Science, Technology and Research Academy, known as SASTRA University, along with 10 research fellows. Could humans one day create new tissue to restore injured sinews or missing limbs? "As with most grand challenges and grand goals," says Laurencin, the feasibility is not yet altogether clear. "That's what makes it a grand challenge." Given his record of regenerating bone, tendon, and ligament, medicine is sure to wind up transformed.
Mary Lord is deputy editor of Prism.