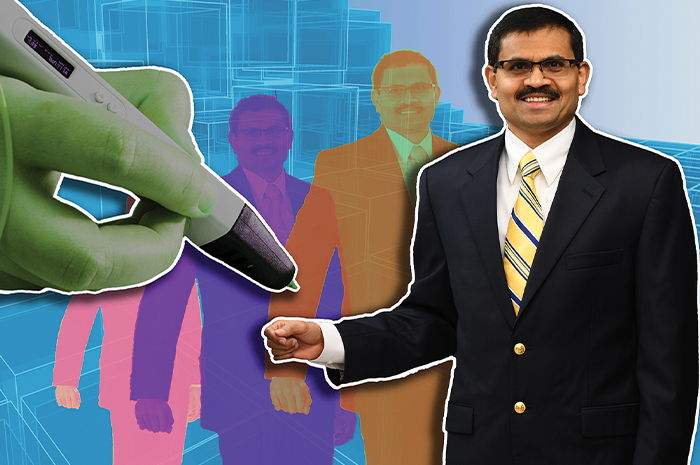 Strong Foundations
A biomedical engineering professor builds connective tissue and students' dreams, starting with solid support.
By Jennifer Pocock
One of the remarkable things about Salil Desai is the number of fingers he has in different pots. He is a full professor and interim codirector of the Center of Excellence in Advanced Manufacturing at North Carolina A&T State University. He has won more than $7 million in funding from government and industry. He holds two patents with two others pending and two further invention disclosures in biomedical engineering and advanced manufacturing. And on top of that, he has earned wide recognition for inspiring a generation of aspiring engineers—including, most recently, a Presidential Award for Excellence in Science, Mathematics and Engineering Mentoring (PAESEM).
Desai was born and raised in Mumbai, India. He attended a nontraditional technical high school that prioritized hands-on wood and metal shop and design work on top of traditional classwork, which is how he became interested in mechanical engineering. He went on to receive a two-year diploma and his B.S. in mechanical engineering and an M.S. and Ph.D. in industrial engineering.
In 1999, he was a mechanical engineering student at the forefront of a small emerging technology called 3-D printing. "It was not so popular yet because it was not vetted by the government," he says. Among his assignments was to print accurate models of the cross sections of brains and other organs so that surgeons could practice delicate procedures without human tissue. "You just get one shot—and if you get it wrong, the patient doesn't survive."
This was his introduction to biomedical engineering and advanced manufacturing. Where he once printed fake organs for mock surgeries, he now builds architecture that will help real tissues grow. One of his inventions is a tissue scaffold that works with patients' own stem cells to help regrow cartilage and connective tissues that can't be replaced with metal, like those in hips and knees. "There are maybe 100 researchers all over the world trying this, and maybe 10 will be successful. But that's OK, that's how science works. We build upon each other." No matter what, he just hopes to see this in production at some point in the future. All engineering should help contribute to society, says Desai, who earned a National Science Foundation CAREER award in 2008.
He has created another device for oncologists to directly target tumors in radiation therapy. "Typically, when you have radiation therapy, they aim it at the tumor region. But what happens is the regions beside it are also affected. You're losing healthy tissue along with the cancer tissue," Desai says. "I developed a structure and technology so that you can use 3-D printing to build a device to accurately focus the radiation only on the tumor and nowhere else. We've had a successful pilot trial, but we still have to go through FDA approval."
Desai finds his students to be instrumental to his success in research and invention. "I always like to bring what I do in the lab back to the classroom," he says. "I bounce the ideas off the students. Many good ideas and critiques come from them." And the students appreciate his teaching, which emphasizes taking theoretical concepts and turning them into real devices. Besides the PAESEM, he has won many accolades for his teaching and mentorship, including the University of North Carolina Board of Governors Teaching Excellence Award, and ASEE's DuPont Minorities in Engineering Award.
Desai enjoys working at North Carolina A&T, a historically black university. "This is one of the first places I interviewed, and I somehow just felt warm here. I felt a welcoming attitude, that this was the place I wanted to be." He has worked to capture that same atmosphere in his mentoring of students. Many of the students, he notes, are the first in their families to attend college, and they can use some extra assistance with the rigors of engineering. Beyond inculcating technical concepts, what matters most to him at the end of the day is the personal guidance he can offer.
Desai says that mentorship is really all about "a reciprocal partnership. Mentorship or mentoring—there's no single metric of success. It's more of an art than a science. What I have done over my entire career is to customize it based on the students I encounter."
In his work, Desai has succeeded by building upon what he loves: teaching, mentoring, and research. "I think when you get good at something, you tend to get good at other things," he says. "Not much of my success was intentional. It happened as part of enjoying the work. A major part of it is just enjoying what you do and doing what you enjoy." That's the kind of foundation on which a strong education is built.
Jennifer Pocock is associate editor of Prism.
© College of Engineering at North Carolina A&T State University, Alexander Saunders