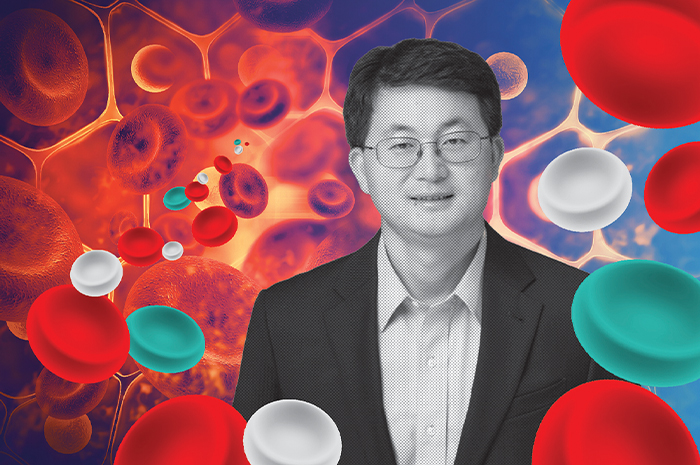 Small-scale, Big Success
A chemical engineer zooms in at the molecular level to achieve medical breakthroughs.
By Jennifer Pocock
Blood cells are vehicles that transport any number of things throughout the body, surging through arteries and veins with every beat of the heart. They can carry good things, like oxygen and nutrients, and clear away the bad, like lactic acid.
Some cancers can recruit, blood cells to shield them from the immune system, fooling the body into thinking they belong. Liangfang Zhang aims to reverse this often deadly process and use human blood membranes to fool the body into targeting toxic cells. Working at the cellular level both to treat diseases and remove toxins from the body, he has developed a novel drug-delivery and toxin-soaking technology, a "nanosponge," which is close to human trials and could win approval for general patient use in as little as five years.
"In traditional medicine, we have to find out what is affecting our cells," whether that's a virus, toxin, poison, or bacteria, he says. "Then we can develop the correct drug to bind and neutralize it. There are so many different types of toxins—there are over 80 families of toxins that target red blood cells alone. We can't develop thousands of drugs to countermeasure each one. When I looked into this area, I tried to imagine it from a completely opposite angle. If you're a toxin, your ultimate goal is to destroy my cell. What if I developed one drug that served as a decoy cell and that becomes the target? This way, I soak them up and get rid of them."
He took human cell membranes and used them as "jackets" that are worn by nanoparticles, making them look exactly like human cells from the outside, "but they are not live cells, they're a nanoparticles. When you infuse those nanoparticles into the bloodstream, the toxin will not distinguish which are the real cells and which are the nanoparticles. We can use this way to fool this toxin and let the toxin attack the nanoparticle and bind to it. Once it binds, it is now neutralized."
Zhang has been an innovative thinker from a very young age. Growing up in Wuwei County in Anhui, China, he entered Beijing's Tsinghua University at age 15 to study chemical engineering, earning both bachelor's and master's degrees by the time he was 21 years old.
At Tsinghua, Zhang helped create a tough rubber polymer that could be used in construction engineering. "We wanted to create a stronger, tougher rubber using polymer nanocomposites. The function is actually very impressive," he says, but developing it was just a matter of combining "rubber and plastics and it comes out with properties almost like steel." With China's building boom over the past 20 years, "they always need new materials for the buildings." He could have commercialized it and possibly become rich, but felt no desire to run a rubber factory.
He also wanted to experience life elsewhere. "At first, my plan was to go overseas, get my Ph.D., then go back and open my factory after I had more technology and knowledge," he says. That was 18 years ago. He tells students that graduate school "can really change your career and change your life." After earning a Ph.D. in chemical engineering at the University of Illinois-Urbana-Champaign, he moved to MIT for a postdoc. Zhang credits two mentors for his current career path. Steve Granick, at Illinois, inspired Zhang with his enthusiasm for small-scale science. "It's so cool. I never thought that I could use my eyes to watch a single molecule moving around right in front of me. . . . It opened the door to something I never imagined." At MIT, Zhang had the biomedical pioneer Robert Langer as an adviser. "He's very interested in translational research and bringing his studies to benefit society and human beings directly. So I had two very distinct trainings. One was science on the fundamental side, and the other was building on those fundamentals to create a product."
The University of California–San Diego's strong programs in both medicine and engineering offered Zhang a chance to use nanotechnology both to solve medical problems and generate a socioeconomic impact. Now a professor of nanoengineering and the director of the chemical engineering program—housed in its nanoengineering department—Zhang has witnessed the program's explosive growth. "When I started, we had 200 students. Now we have 500," he says. "Students don't just learn the traditional chemical engineering curriculum. They're so close to nanoengineering in this department. I joke that the biggest thing about our program is that the students study small."
Small studies, as Zhang has shown, can lead to big results.
Jennifer Pocock is associate editor of Prism.
©UC San Diego/Miguel Ventura