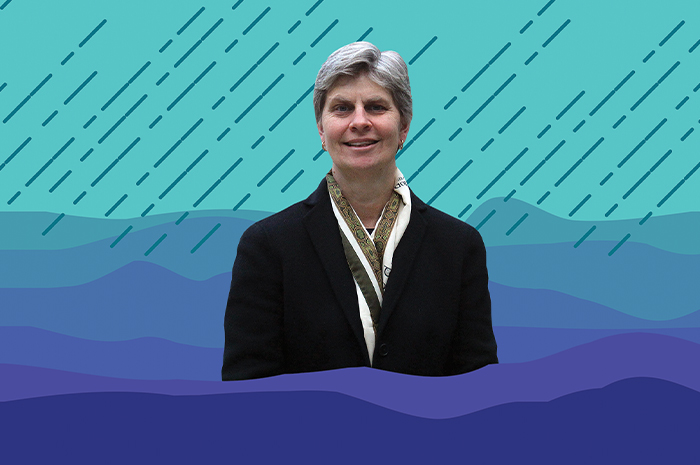 Grim Facts and Stubborn Mysteries
An author of a hard-hitting federal climate change report is struck by how little is known about water.
By Jennifer Pocock
It pours from the sky as rain, floats to the ground as snow, crashes ashore as the sea, and carves out mountains as rivers. Water is among the most powerful forces of nature. How it moves affects the world we live in, from how we get to work in terrible weather to how infrastructure degrades over decades of exposure. It's also mysterious. Scientists have no idea, for instance, how much snow there is in any given place, when and how much melt will occur, and exactly how it will flow.
Jennifer Jacobs hopes to figure this out, along with how and to what extent snowmelt will affect watersheds that are vulnerable to flooding. A professor of civil and environmental engineering at the University of New Hampshire, she studies how water affects the built environment and the likely future effects of climate change.
This last topic puts her front and center in one of the most consequential debates facing the nation and the world. A principal investigator with NASA's Applied Sciences Program, Jacobs was the lead author on the transportation sector chapter of the Fourth National Climate Assessment, a bombshell report released with the backing of 13 major federal agencies, including NASA and the National Oceanic and Atmospheric Administration. It detailed the increasingly visible effects of climate change and the severe threat it poses to the nation's health, infrastructure, and natural resources. President Trump famously said that he "didn't believe" the report, and many press outlets speculated that its release was timed for the day after Thanksgiving so it would make little impact.
Jacobs entered public policy through the Infrastructure and Climate Network (ICNet), a collaborative network of the nation's leading climate scientists, engineering researchers and their students, and federal and state agencies and their practitioners. She and her colleague Jo Daniel founded the group in 2012 with a $750,000 grant from the National Science Foundation after thinking about the National Academy of Engineering's "21st Century Grand Challenges" from a civil engineering perspective. In the broad challenge "Continuation of Life on the Planet, Making Our World More Sustainable, Secure, Healthy, and Joyful," she recalls that "the civil engineers were making no progress."
ICNet hosts a yearly workshop that brings the experts into one room to learn from one another. "What's novel is that it wasn't, say, the climate scientists lecturing the engineers. It was a back and forth." The ICNet workshop has been meeting for the past six years and making great strides in resilient infrastructure on a local scale. The engineers knew surprisingly little about the effects of climate change, so the idea exchange "adds an extra dimension to the work that they're already doing." While the NSF support ran out in 2018, the ICNet workshop will continue thanks to funding from state departments of transportation that have benefited from the network.
Jacobs's own specialty within climate science is resilient infrastructure—figuring out the best ways to climate-proof the nation's transportation pathways. Resilience planning for climate change and its impacts have become a staple of the real-world conversations in Jacobs's classrooms. She uses concrete (pardon the pun) projects like the federal highway system that are complicated and relevant to help get her students' attention. "We don't teach engineers nearly enough about climate change," she says.
Jacobs began her career working in the wastewater industry after earning a bachelor's in electrical engineering at Brown University in 1987. After a few years in industry, she went back to school for her master's and Ph.D. in civil engineering at Tufts and Cornell, respectively, finding that her water background was an ideal fit with the infrastructure she was studying. Her current research involves massive data sets produced by satellites that are fed into supercomputers for modeling moisture and stream flow, as well as with aircraft LIDAR to fill in holes in the data analysis. And that still doesn't complete the full picture. "This gap in our knowledge is the next big thing," she says.
Jennifer Pocock is associate editor of Prism.
© UNH Media – Broks Payette